Armor All is one of the most famous car care product lines.
The company makes products for many surfaces on the interior and exterior of your car.
It has a solid reputation, but a quick search reveals that it might not be protective of some surfaces.
In some cases, claims have been made that it has damaged surfaces, so what is the truth, and does Armor All protect or damage your car?
Armor All, when used correctly, will not damage your vehicle's leather, plastic, rubber, or paint. Armor All makes a wide line of products for cleaning and protecting all of the components of your car. Using one of their products incorrectly may cause damage, but Armor All is specifically designed to be safely used on vehicles.
It's vitally important that you only use the specific Armor All product for the part that you are cleaning.
An Armor All leather cleaner may very well cause damage to your paint. And, even if you use the correct product, but incorrectly, you may still find yourself worse off than before you started cleaning your vehicle.
For answers to all your Armor All questions, keep reading!
What Is Armor All And Why Is It Safe To Use On Cars?
Armor All began making car care products in 1962. It was advertised as a "miracle formula" designed to protect plastic, rubber, and vinyl from UV radiation and ozone.
Full production began in 1976, and it became a household name.
Since then, it has developed a large portfolio of products that all have different purposes.
Currently, Armor All makes a line of gels, sprays, wipes, cleaners, and protectants.
The main thing to remember is that each of these products contains different ingredients. They do not all adhere to the original product formula.
Armor All is a brand name and does not mean that the product is suitable for a certain use or not.
You have to choose the correct product for your purposes.
Currently, Armor All is owned by Energizer, but its products still retain the original name.
Approximately 34 products carry the Armor All name and logo. Each one has a different purpose.
If you do not use a product as directed, then it could damage any surface for which it was not designed.
It is important to read the package and determine if a product you are considering is appropriate for a particular use.
Does Armor All Damage Leather?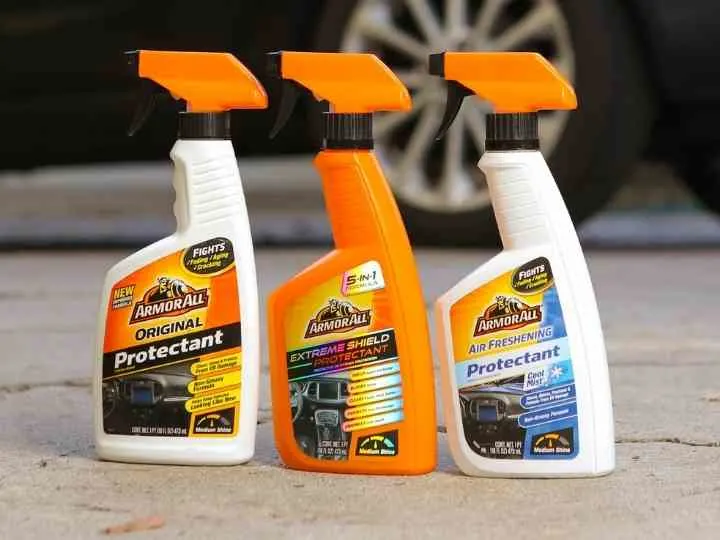 Armor All makes a line of products that are designed to clean and protect leather surfaces.
You should only use products that are formulated specifically for leather.
Armor All Leather Care with Beeswax, Leather Care Wipes with Beeswax, Leather Care Protectant, Leather Wipes, and Leather Care Gel are all made to be used on genuine leather and will not damage it.
One important consideration when it comes to interior seats and other components is to make sure they are genuine leather.
Some damage has occurred by using products designed for leather on synthetic leathers, which are actually vinyl.
For instance, Nappa Leather is real leather, but Leatherette is vinyl. Make sure you know what your surface is made from before using an Armor All product.
You can clean leather surfaces with Armor All Wipes. You can then follow up with Armor All Leather Care with Beeswax to protect and preserve them.
According to the company, this treatment will remove dirt, greases, oils, and other things that can cause the leather to dry, age, and crack.
Using these products from the beginning helps keep leathers looking new!
You must use these products as directed. Also, you can only expect it to restore badly damaged leather to a certain degree.
Also, if any other products were used on the leather before using Armor All, then this could be the reason for the damage.
Practicing proper leather care from the beginning is the most important step to keeping it looking and feeling new for a long time.
Does Armor All Damage Plastic?
Armor All makes a line of products that are designed to restore, clean, and protect plastic surfaces on the interior and exterior surfaces of the car.
The key to using any product on your car is to read the label and make sure that it is appropriate for your intended surface.
Not all plastics are the same, and your car has many different types of plastics on different components.
That is why it is important to only use products designed for the interior on the inside and those made for the exterior on the outside of the car.
Using an Armor All product that is not designed for plastic can lead to damage to the surface or even cause it to crack.
UV light is the enemy of plastics and can cause them to fade and deteriorate over time.
If you have a plastic surface that has severely degraded over time, and you attempt to restore it, then it could cause even more damage.
Armor All products are designed to be used on plastic surfaces that have not already deteriorated significantly.
Armor All products for plastics are designed to prevent fading, discoloration, and oxidation of the surfaces.
They also protect the surfaces from damage caused by UV light.
According to the directions, if the plastic is extremely faded, it might take several coats to achieve the best results.
Armor All Outlast is made to restore exterior plastics like bumpers, side mirrors, vinyl rooftops, and outer door handles.
For interior plastics, products like 3-in-1 Disinfectant Cleaner and Extreme Shield Protectant Wipes are products that might be appropriate for your needs.
Step one is choosing the correct product!
Next, you need to read the directions and use them as intended by the manufacturer.
When in doubt, it is always a good idea to test the product in an inconspicuous area and wait to see if it has the desired results.
Then you can use the product on a larger area.
As with leather, it is important to make sure that no other products have been used on the surface that could cause a reaction.
You should start with a clean, dry surface.
Does Armor All Damage Rubber?
Original Armor All products were designed to preserve your tires and keep them from getting dry rot.
The company still has a line of products that are designed for this purpose.
They make products to restore and clean your tires, and they make products for the wheels themselves.
Original Armor All protectant is still available today.
The product claims to restore and revitalize rubber, vinyl, and plastic. It also protects the tires from UV damage, dirt, debris, and dust.
The product claims to cover scratches and restore the original look of the tires.
Some claims could be found on a Google search where drivers claimed that they installed perfectly new tires, used Armor All, and then their tires rotted within a year.
They blamed it on Armor All, but many factors could have caused their tires to dry rot beside the product.
Things such as exposure to weather, extreme temperature fluctuations, oils, gasoline spills, and road salt can all contribute to the deterioration of tires.
In no cases did the person making the complaint describe the conditions in which the tires were kept, how many miles they drove, or other factors that could have led to the deterioration other than the Armor All products.
You can also find even more examples of people who have successfully used the product and were happy with the results.
Another factor that could have affected the results is the quality of the tires involved.
Claims of product failure causing tire damage were few when compared to the number of people who praised the product and how well it worked.
This is a case where you have to be careful when reading complaints and faulty product reviews.
The person blamed Armor All, but there were too many other factors that could have accounted for the damage.
It is one thing to find complaints about a product, but it is another thing to find substantiated ones.
Overall, it seems that Armor All works as intended when used according to the directions.
The company has been making the same product for over 50 years and has professionals that will use nothing else when detailing a car.
Does Armor All Damage Paint?
When it comes to paint, this is where you have to be careful with Armor All products.
They do make some products that are designed to clean and protect your paint surface, but many Armor All products made for other materials on your car have a warning that they can damage the paint.
Armor All makes a line of products that are designed specifically for washing and detailing the outside of your vehicle.
They also make a bug and tar remover that claims to be paint-safe.
They make wash and wax products that are designed to shine and protect your car.
They also make a line of brushes and soft cloths that are gentle on paint surfaces.
One thing you should never do is use Armor All glass and window cleaner on your car paint.
You should also avoid spills to the extent possible.
These products contain ingredients that can damage the clear coat and the underlying paint surfaces.
You should make sure to read the package and instructions for any product that you intend to use on the paint of your car, and only use products that are designed for that purpose.
You should only use Armor All Car Wash to clean the paint on your car.
Also, it has a warning that it should not be used in a power washer.
You should only use a bucket of warm water and soft cloths and sponges.
The Bottom Line On Armor All Safe Usage
When it comes to revealing the ingredients of its products, Armor All does not share its secrets.
One possible source of information is the Material Safety Data Sheet.
This source lists the care and handling of hazardous materials.
This sheet does not provide information on any ingredients that are not considered dangerous or any clues to the exact formulas of the products.
The bottom line is that Armor All makes a wide range of products that are specifically formulated to be used on a certain type of material.
When reading praises and complaints, it is important to consider whether the person used the product as directed and if any other factors could have caused the claimed damage.
Armor All products have an excellent reputation and have been the choice of professionals for many decades.
When used on the intended surface and used as directed, you can expect the products to achieve their intended purpose.