Although key fobs are designed not to break down, a dead key fob is not unheard of.
A dead key fob (if you don't have a spare one) is, at best, an annoying inconvenience. But in the wrong scenario, like in an unfamiliar or unsafe area, having a dead key fob can quickly become a dangerous situation.
If you manage to get into your car with a dead key fob, you may be wondering whether or not you'll be able to start your car, even though the key is dead.
If your key fob is dead, there are still several ways that you can access your vehicle and it's best to have a plan in place for when your key fob will inevitably fail. Most of the time and there are several steps you can take to get your car going even if your fob is dead.
Did you know that most key fobs have a built-in manual key inside of them?
When it comes to a dead key fob, there are different reasons why it isn't responding, and there are different solutions.
We've compiled a list of causes and solutions, so make sure to read this article to the very end!
Why is my key fob not working?
There are several reasons why your key fob might be acting up or not responding.
Most likely, your key fob has a faulty or used-up battery.
Before jumping to the conclusion that your key fob is faulty, make sure that the batteries are new.
Try changing them and reusing the key fob to see whether it works.
There's even a chance that the fault lies with your car's battery.
It sometimes happens that your car's battery is completely drained or not properly connected.
This might cause some issues with the electrical components of your car, including the car's automatic locking system.
How do I start my car with a dead key fob?
Now that we've gone over the different reasons why your key fob might not be working, let's talk about the solutions!
Replace the key fob battery
Changing the key fob battery is the first thing you should do. This will help reduce the potential causes of key fob failure, and if it works, that's a lot of time saved!
Getting into your key fob might require a screwdriver, and you might need a button cell for your key fob. These look like flat circles and can be bought from any hardware store or auto shop.
Removing the key
Most key fobs have a key in them, and you can remove it by pressing a button on the key fob. If that doesn't help, try opening the key fob to get the key inside.
A helpful tip would be to check the car's manual and see whether the key fob has the key included inside it or not.
Opening the car door
First, try opening the car door by holding the key fob next to it and pulling the door open.
Sometimes the key fob's battery has enough battery in it to open the car door when in extremely close proximity.
If you have an older car model with a visible key slot, then you can easily unlock your car.
If the car's a newer model, and the key slot isn't visible, there's still hope! most new cars have a hidden key slot behind the door handle cover, and you can remove the cover by carefully prying it off with a screwdriver.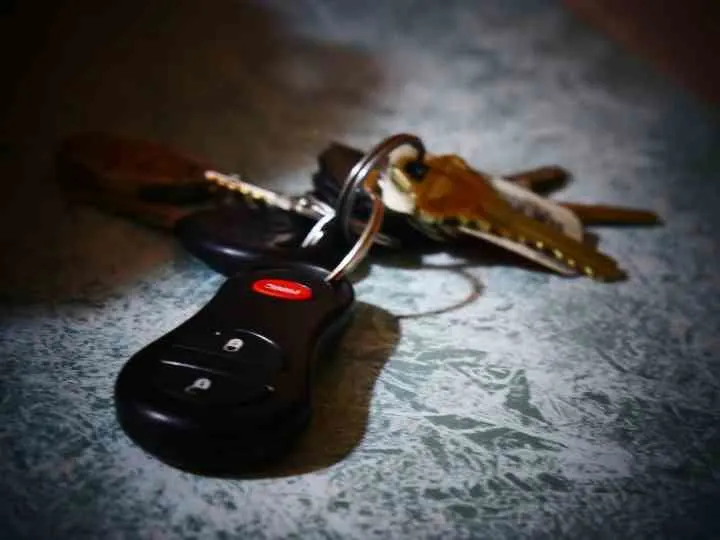 If your car doesn't have a key slot, then try using your car's remote access system.
Most manufacturers today provide an app that you can register to and use to unlock your car remotely.
The following is a list of different manufacturers that provide the remote access app:
Audi
Alfa Romeo
Buick
BMW
Chevrolet
Chrysler
Cadillac
Dodge
Fiat
Ford
GMC
Honda
Holden
Hyundai
Jaguar
Jeep
Kia
Karma
Land Rover
Lexus
Mazda
Maserati
Mercedes Benz
Mitsubishi
Nissan
Porsche
Subaru
Suzuki
Tesla
Toyota
Opel
Volkswagen
Volvo
All these companies provide remote control services that you can access to lock/unlock your car doors remotely.
Do keep in mind that you must register for these services, and these require a PIN that you'll have to remember.
You can find more information on the car manufacturers' websites, and the registration process isn't difficult at all.
Starting the car
Once you're in the car, different ways might be able to start the car.
Many cars have an ignition slot that's located behind the steering wheel and is covered with a plastic cap.
You can pop the cap off and manually start the engine if you have a physical key.
If the car has a push START button, you can try to start the car by pushing the key fob against the start button.
This is a backup system designed by manufacturers to deal with a dead key fob scenario.
Newer cars, like the Ford Taurus, also have an intelligent key fob holder, that you can place the key fob in, and start the car by pressing the START button.
The exact location of the key holder depends on the exact model of your model, and you can refer to the car's manual for further details.
Getting some help
While trying to fix the problem yourself, sometimes getting help is inevitable.
Chances are that these solutions might not end up working, and you will have to call your mechanic or a towing company.
Final thoughts
Well, hopefully, this article was able to help you in starting your car, even if you have a dead key fob.
Always remember to make sure that the key fob doesn't have an issue with its battery since that's the most likely thing to happen.
Either utilize the inbuilt key (if there is one) or try using the key fob in close proximity to the car door.
Once in, starting the car can be either from the manual hidden key slot or by pressing the fob against the push start button.
In other cases, there might be a key slot in the console that will hold the fob, and you will start the car.
If all else fails, it's always wise to contact a mechanic or a professional to help you start your car.
Your best bet would be to get this issue fixed immediately since no one likes to be stranded on the road with no way to start their car!
Good luck, and hopefully your issue will be solved as soon as possible!