Many vehicle owners will be familiar with the unpleasant feeling of a slightly sticky dashboard or grimy steering wheel.
The plastic parts of a car's interior are most susceptible to the accumulation of dirt because of how often they are touched and handled. Plastic cup holders and compartments may also be routinely exposed to food and drink.
Luckily, plastic is probably the easiest car interior material to clean – if you have the right product!
In this article, we're going to be reviewing the top 5 best cleaners for car interior plastic to get even the muckiest motors back in pristine condition!
Tight schedule? No problem! Check out our top pick:
Chemical Guys SPI22016 Total Interior Cleaner & Protectant
2-in-1 cleaner and protectant
Multi-surface compatibility
Gentle and non-caustic
UV protection
Erognomic application
Best Cleaner for Car Interior Plastic Reviews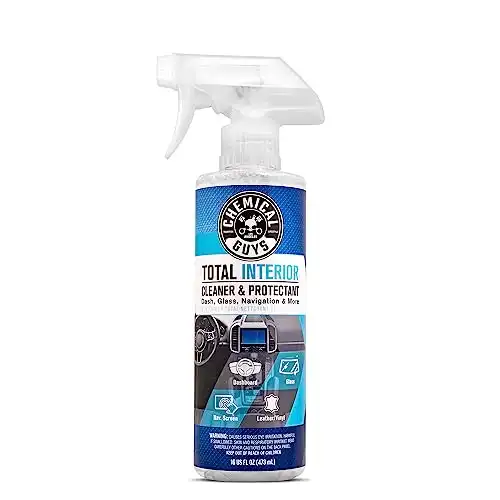 In our opinion, the best car interior plastic cleaner you can invest in is the Chemical Guys SPI22016 Total Interior Cleaner & Protectant.
This product provides an amazingly deep clean for just about any surface you can think of inside your car, from the windows to the carpets.
This means that while it's incredible on plastic surfaces such as dashboards and trims, you can also use it to bring every material in your vehicle back to its former glory.
While some buyers may initially have concerns about the ability of a single product to clean so many different surfaces without damage, this is a gentle formula that won't discolor or degrade any materials.
As well as functioning as a cleaner, this product is also a protectant, which means it will help your surfaces to maintain their newfound cleanliness for a long time.
The UV protection helps to shield your plastic surfaces from the damaging effects of sun exposure.
The spray bottle that this cleaner comes in makes distributing the right amount of product with each application an intuitive task thanks to the optimally-sized handle and container.
Pros
Cleans and protects
Suitable for all interior car surfaces
Gentle formula
UV protection
Easy application
Cons
Some buyers dislike the smell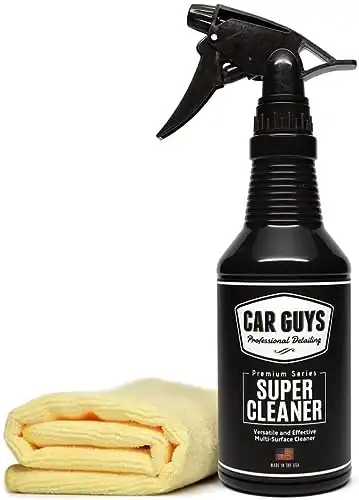 If you're looking for a product that will clean and treat your interior plastics to a high standard but can also be used on any automotive surface, CarGuys has another cleaner that's likely to be right up your street.
Allow us to introduce you to the CarGuys Super Cleaner!
You'll consistently find this product amongst recommendations for interior plastic car cleaners, and this is down to a few separate factors.
First of all, this Super Cleaner spray will clean just about anything off anything. No matter what kinds of weird and wonderful stains and streaks might have accumulated inside your car, the CarGuys Super Cleaner will see them off.
The reason the Super Cleaner is so effective is that it's been formulated using nano-technology to enable it to clean on a molecular level. This is a scientifically advanced formula that will save you a lot of elbow grease through its sheer cleaning power.
We should also mention the ergonomic design of the bottle, which looks like almost any other spray bottle but is actually so much more.
This bottle is designed to make the cleaning process quicker, easier, and less messy through its adjustable, leak-proof nozzle; stable, wide base, and ergonomic handle. A microfiber cloth is also provided so you can get cleaning straight away!
However, if your priority in a cleaner is achieving that coveted showroom shine, this probably isn't the best choice for you.
Although there's no question that this is a highly effective cleaner, it's not the ideal product for working up a polished finish.
In fact, due to this being such a powerful cleaning agent, some customers have reported a bleaching effect on some of their surfaces, despite the product containing no harsh chemicals.
That being said, the vast majority of buyers have been thrilled with this product and, as far as multipurpose automotive cleaning goes, this is definitely one of the leading formulas.
Pros
All-surface suitability
Cleans any substance
Uses nano-technology
Deep cleaning
No harsh chemicals
Ergonomic bottle design
Includes microfiber cloth
Cons
Doesn't create much shine
May be too much for some materials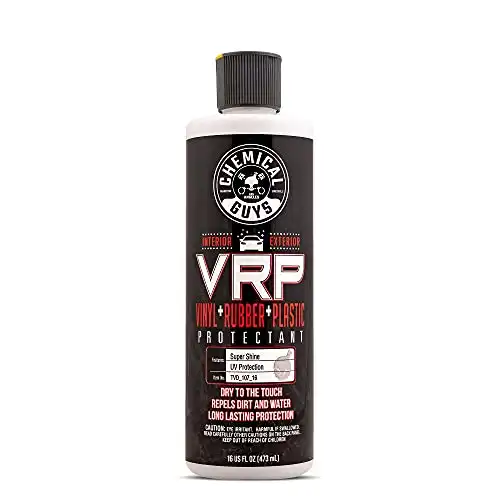 A high-quality formula for interior plastic automotive surfaces can cost you more than you might like to spend.
Luckily, this is not the case with the Chemical Guys TVD 107 Vinyl, Rubber, and Plastic Dressing.
Most customers purchase this Plastic Dressing in the standard 16 oz container, which is available for a very affordable price. However, if you want more product for an even better deal, Chemical Guys also manufacture this cleaner in 1-gallon containers.
But the Chemical Guys TVD 107 doesn't need to rely on its large quantities to appeal to customers.
The reason this product features on our Top 5 list that, while it's primarily marketed as a restorative agent, it's also a good cleaning product for low-level dust and dirt buildup.
This formula is water-based and has a creamy consistency, which means it's easy to work with and can function as a gentle cleaner for dusting purposes.
As it dries into the plastic, this product will restore and enhance its shine while providing additional protection due to its use of specialty UV blockers.
The bottom line is that this isn't the product you want for tackling deeply ingrained, tough, and greasy stains on your car's interior plastic.
However, it's a fantastic budget option for when you need to get rid of a little surface-level dust and dirt while achieving an incredible shine in the process.
Pros
Available in large quantities
Water-based
Easy to apply
UV protection
Budget-friendly
Cons
Not suitable for tough stains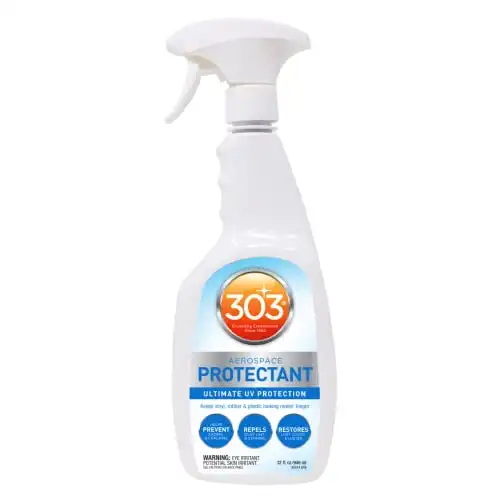 Of course, a good cleaning product for interior car plastic should be effective at lifting dirt and grime.
However, there are too many cleaners on the market that only tackle the immediate problem without providing enough long-term protection.
That's where the Aerospace UV Protectant Spray from 303 Products comes in.
This spray works well as a cleaner and will effectively help to lift dirt and dust from your car's interior when applied with a cloth.
In addition to being suitable for use on plastics, the 303 Aerospace Protectant Spray can be applied to many other materials, including finished leather, rubber, and fiberglass.
Not only will the 303 Protectant Spray leave your car's plastic interior surfaces squeaky clean, but it will also provide long-lasting protection against the elements as well as dust and dirt.
The formula also minimizes the risk of discoloration, fading, or cracking, so it's perfect for slowing the aging process of your vehicle's interior.
You can purchase this product in a wide range of container sizes, from a tiny 2 oz spray bottle to a huge 5-gallon container, so no matter how big or small your cleaning requirements are, you'll be able to buy the 303 Aerospace in a size that works for you!
However, a word of caution: Because this is a spray-bottle product, you will need to take care not to get it on any fabric surfaces in your car by accident.
This cleaner and protectant isn't suitable for use on fabrics and may damage or discolor certain materials. It should also not be applied to clear plastics as it may have a whitening effect.
Pros
Multi-material compatibility
Wide range of container sizes
Cleans built-up dirt and dust
UV protection
Shields against dust and dirt
Protects against fading and cracking
Cons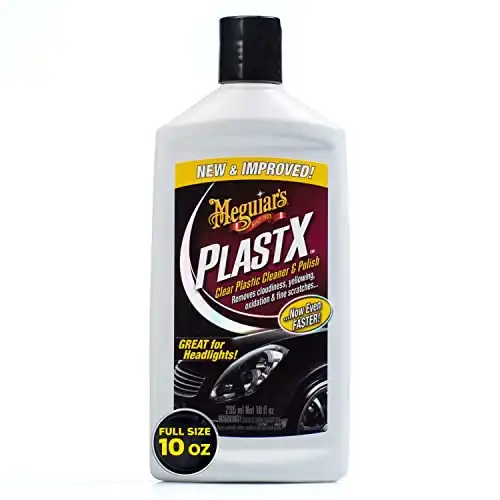 This plastic cleaner from Meguiar is a 2-in-1 cleaner and polish that will simultaneously blast through dirt while finishing your surfaces with a high-quality polish.
If you want your car's plastic interior to look good enough to show off the moment you finish cleaning it, this is the product we recommend. Additionally, if you have a lot of clear plastic surfaces inside your car, you'll struggle to find a better cleaner than this one.
Unlike many automotive cleaning products on the market (including some of those on our list), this cleaner and polish is suitable for use on clear plastics.
It will restore unbelievable shine to clear plastic car components, including windows and displays, without fogging up or discoloring the material. It can also be used on exterior clear plastic components such as headlights.
In addition to removing grime and providing an excellent polish, this cleaner also helps to reduce the appearance of any minor scratches your clear plastics may have sustained.
This product is water-resistant, so exposure to rain or moisture won't reverse your new polish.
The only critique we have of this clear plastic cleaner is the fact that the bottle lid is screw-on and doesn't have a spray function.
This, combined with the fact that the product needs to be scrubbed in quite vigorously, makes the application process less than ideal.
Pros
Works on clear plastics
Suitable for interior and exterior use
Cleans and polishes
Reduces the appearance of scratches
Cons
Best Cleaner for Car Interior Plastic Buying Guide
The 'trouble' when it comes to buying interior plastic cleaner for cars is that it's rarely as simple as one single product being superior to all others.
Different cleaners perform different services, have different effects, and require different application processes.
This is actually a very good thing because it means you can choose the cleaner that works best with your car and your priorities.
In order to do that, though, you'll need to understand all the most important factors that make a good cleaner.
Compatibility
First thing's first: it's crucial to make sure that the cleaner you're planning to use for your car's plastic interior is compatible with the surfaces you want to use it on.
Of course, all the products on our list are 100% safe and recommended for use on plastic, but there may also be other materials or components in your car that are in need of some TLC.
If this is the case, you should check the extent of your chosen cleaner's multi-surface compatibility.
For example, there are some cleaners in our review section that can be used on both the interiors and exteriors of vehicles, so if you want to clean plastic parts on the outside of your car (eg. bumpers), this is a factor you should consider.
Some car interior cleaners (including our top pick!) are suitable for use on different materials, including glass, rubber, and even fabric.
So, the chances are, you'll be able to find a car interior cleaner that will work for plastic surfaces as well as anything else you might want to clean.
Be sure to check for any specified materials that your chosen product shouldn't come into contact with so that you can take extra care or, in cases of extreme proximity between plastic and other no-contact materials, consider choosing a different product.
Ease of Use
When it comes to car maintenance, a vehicle owner should be prepared to put some effort into keeping their ride looking good.
However, there's a limit to this. Cleaning the inside of your car shouldn't have you working up a gym-level sweat – in fact, doing so would be quite counterproductive to keeping your surfaces spick and span.
For this reason (and for customer satisfaction in general), you should be able to expect ease of use from your cleaner.
Cleaning your car hopefully shouldn't take hours upon hours, but it should take long enough for the job to be thorough. Therefore, it helps if the bottle or container is comfortable to use.
Unless you're using a large multi-gallon container (in which case, we would recommend transferring the product to a spray bottle), the bottle should fit comfortably in your hand and be easy to dispense the product from. Spray bottles are normally the best for this.
The cleaner should also apply evenly without leaving streaks, and should not leave behind any greasy residue – otherwise, you're likely to feel as though you've made more of a mess than when you started!
Safety
Cleaning products for virtually all purposes have a bad rap for being unhealthy for humans and the environment.
Unfortunately, this reputation has precedent, and many car cleaners available on the market are still quite damaging from health and environmental perspectives.
Here at Vehicle Answers, we strongly believe that all vehicle owners deserve to enjoy a spotlessly clean car interior without having to compromise their health or environmental ethics. This is why we've made a concerted effort to include as many safe and eco-friendly products in our Top 5 as possible.
Firstly, a safe car plastic cleaner should ideally be non-caustic, meaning that it doesn't have any burning or corrosive properties.
This is not only safer for you and the environment, but also your car since there's less risk of the product reacting badly with a specific material and doing damage.
Harsh chemicals in general are also best avoided when it comes to a product you'll be using in a small, enclosed space such as your car. You don't want anything potentially irritating to linger in the air after cleaning.
This is not to say that you can't use a harsher formula to clean the inside of your car if that's what you prefer.
Many vehicle owners favor the deep, chemical clean provided by some of the more aggressive cleaning substances on the market, which is fine if it yields the results you like.
However, with more and more research being conducted into the health and environmental impacts of certain chemicals, an increasing number of drivers are looking for gentler, more eco-friendly formulae, so it's good to be aware that there are options out there.
Protective Qualities
As we're sure you will have noticed, a common 2-in-1 formula in car interior cleaners is a combined cleaner and protectant.
This type of product lifts away dust, dirt, and any other unwanted substances from your car's plastic parts (and potentially other materials) while also providing a protective layer against future dust and dirt deposits as well as sun exposure and moisture damage.
One of the most important features of a cleaner-protectant is some form of UV protection. This will prevent exposure to the sun from discoloring or 'bleaching' your car's interior plastic surfaces.
Often, this UV protection will be achieved through the incorporation of UV blockers, so be on the lookout for these words in the product information.
A protectant cleaner should also have a good level of moisture resistance, which is normally achieved by the product creating a sealing effect after application.
Even if you're just cleaning the inside of your car, moisture can still find a way in, so it's better to be safe.
Additional Features
An excellent cleaner can only do so much if you're applying it using the wrong tools.
A cloth or sponge that is too abrasive or sheds too easily can ruin your cleaning efforts and, in some cases, actually damage your plastic surfaces.
If you're not sure that the cleaning utensils you currently have at home are up to the task, don't risk it – opt for a cleaner that comes with a sponge or cloth included.
These product manufacturers really know what they're doing, so you can trust them to provide good-quality accessories for helping with the cleaning process.
Frequently Asked Questions
How often should I clean the plastic surfaces inside my car?
We should preface this response by pointing out that there's no clear cut answer to this question.
How often your car's interior needs cleaning is going to be correlated with how much regular use your car gets.
However, even with minimal use, the plastic surfaces in your car are likely to build up dust and bacteria all the same.
Additionally, a car that isn't regularly aired out might begin to smell musty, so it can be good to give it a refresher now and again.
Experts suggest that the inside of a car, plastic components included, should receive a relatively thorough cleaning once a month regardless of the level of use.
However, if your car is regularly exposed to a lot of dirt, you may need to do this more often.
Knowing how often you're likely to need to clean your car based on this information can help you to purchase the right amount of cleaner for both your budget and your lifestyle!
Related Posts