If you're after a subwoofer with some crazy bass that'll make your music pop off, then you'll need to read our following selections for the best car competition subwoofer.
Now, these subwoofer's purposes aren't for competitions, it's the quality grade to describe them. So if you are after an immersive sound experience then you're in the right place.
We've explored some of the top brands for competition-grade subwoofers and come to you today with this guide to help you pick your next one.
This guide includes 5 reviews of our top five choices, a buyer's guide for tips of what you should look out for when you buy a car subwoofer, and also some frequently asked questions from previous car subwoofer customers.
Ready to start blasting that bass?
If you're too keen to get some bass up in your place (or car) to read the entire article then we've fast-forwarded the hard part and brought you our top pick right here.
Our first choice is the Skar Audio EVL-12 D2 12″ 2500 Watt Max Power Dual 2 Ohm Car Subwoofer and here are a few reasons why we love it and why you'll love it.
High RMS
High Peak power
Crisp sound quality
Huge bass
Good temperature cooling
Well-engineered
High roll foam surround
The Skar may be our favorite, there are also other great options to pick from that may be a better choice for your depending on yours needs.
Best Car Competition Subwoofer Reviews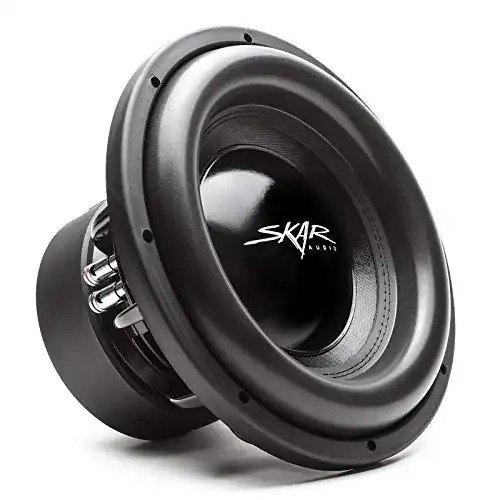 Our top pick for best car competition subwoofer is the Skar Audio EVL-12 D2 12 inch subwoofer, which boasts an incredible 2500 watt max power, which beats all our other recommendations out of the water.
For the amazingly reasonable price that this subwoofer goes for, you wouldn't expect the quality engineering and advanced design features that are incorporated into this product.
The cone design is made up of high-quality paper and high roll foam surround to ensure crisp and responsive audio even at low frequencies, whilst still producing incredible bass.
The Skar subwoofer has a frequency response range of 25 Hz – 250 Hz which is made possible by the double stack ferrite motor structure. However, you'd think that a subwoofer of this power and ability to jump through frequencies with no bother would struggle to keep cool, but you're wrong.
The 3-inch temperature voice coil along with the state of the art airflow design of the basket helps you play your music as loud as you want for as long as you want without the possibility of overheating and blowing.
If you did want something a bit smaller or larger then Skar does offer a huge variety of this range in different sizes all the way up to 18", so after some crazy mad bass (and you've got the trunk space for it) then you'll be able to upgrade.
The sub weighs roughly around 30lbs, so you'll want to make sure you've got a counter or somewhere to place it safely whilst you try and assemble it together.
It comes with a manual to help install it and you can also get in touch with the team at Skar if you have any problems trying to put it together or compatibility problems with amps.
The Skar packaging is super sleek but also keeps the sub extremely protected inside the box, so it won't get damaged during shipping.
The only downside to this sub is that it doesn't come in an enclosure within the design. However, these are pretty inexpensive to buy online or you could even build your own if you don't want to fork out on shipping again.
A custom-built enclosure for this model will make the sound so much better.
Pros
High RMS
High Peak power
Crisp sound quality
Huge bass
Good temperature cooling
Well-engineered
High roll foam surround
Cons
Doesn't come with an enclosed box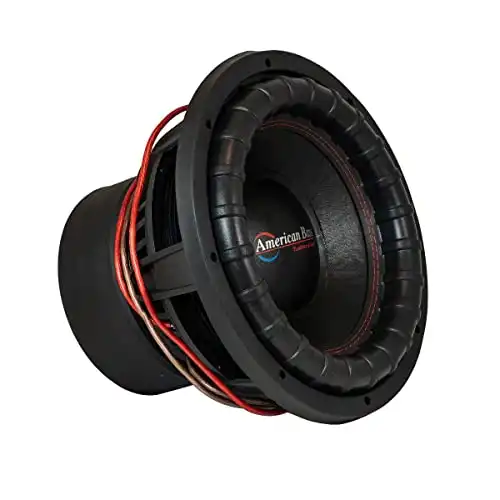 The XFL series of subwoofers by American Bass has set world records at competition arenas and it's not difficult to see why. This solid, clean, and reliable sub will give you the power to bring your car alive.
You wouldn't think that a 12" sub would create as much bass as this but then we are talking about American Bass and they take this stuff seriously.
Despite the size of this subwoofer, it is still very big and heavy compared to other models from different brands.
The cone of the speaker is made with non-pressed paper and aluminum which is stitched together and reinforced with carbon and tigh- packed foam, this keeps everything nice and neat and makes the speaker extremely responsive.
This 12-inch subwoofer has 1,000 watts of RMS power and 2,000 watts peak power capability so you can enjoy every genre of music at full blast without having to compromise on quality. Even songs with low frequencies have a crisp sound without distortion.
The conex spiders keep the subwoofer nice and cool for you during your music sessions so you won't have to worry about it overheating.
You've also got the triple-stacked 220z magnet which is supported by the 3-inch voice calls.
The overall design of the subwoofer is impeccable and really does lead the way for high-quality sound and design within the sound system industry.
Pros
Good value for money
High-quality sound
Durable build
Easy to install
Cools down easily
Premium design
Cons
Sound can pause and freeze sometimes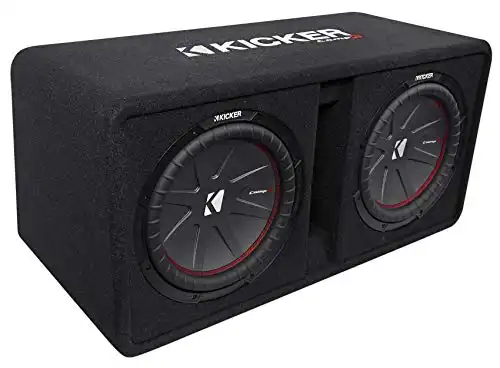 In our third spot, we have the Kicker Dual 12-inch loaded subwoofer enclosure that has a peak power of 2000 watts allowing you to have blasting bass whenever you need it.
The construction of this subwoofer is made from solid wood around the actual speakers and is covered in high-quality fabric to protect the frame.
Whilst the 12-inch dual speakers aren't the largest, the enclosed box will take up a lot of room in the trunk of your car, so you'll need to measure up the dimensions of your trunk before buying.
You'll get great sound quality and bass with these speakers made certain by the polyethylene cone around them that keeps them rigid regardless of what you listen to.
They'll even be able to reach even the lowest frequencies whilst still maintaining crisp quality sound.
They also have great ventilation in their steel basket to keep the speakers nice and cool even when they've been used for a while.
This Kicker subwoofer comes with a 1-warranty so will have you covered if you run into any problems with it or if the product arrives defective.
The subwoofer is easy to install and comes with all the parts you'll need to mount it into the trunk of your car. If assembling isn't your best trait then you'll have the manual to help you with putting it all together.
Pros
Comes in an enclosure so no need to build a box
Easy installation
High-quality sound
Very responsive
1-year warranty
Strong design
Cons
Not the loudest compared to other options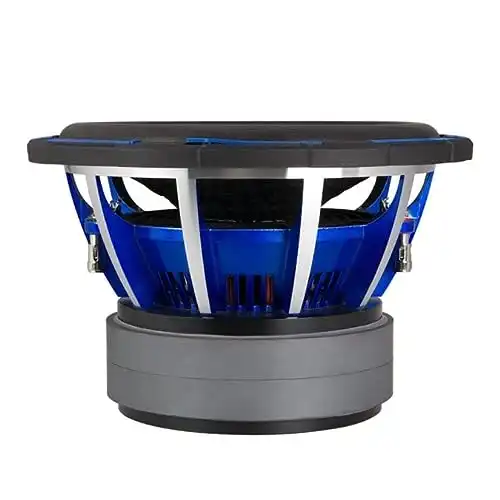 The Power Akoustic subwoofer is one of the most colorful and eye-catching subwoofers we've come across, it's royal blue finish really stands out and would be a great addition to your car, not just for bass but for aesthetic.
If you wanted a subwoofer to blend in with your trunk then you'll want to look elsewhere. The frame is made from nickel and aluminum and looks very high-quality, do you know that this sub will last you a long time without getting damaged.
The Power Acoustik MOFO-124X is the cheapest option on our list of recommendations, so if you've got a smaller budget then this will get you your bang for your buck.
Despite the speaker's small size, it is reasonably powerful and has an RMS power handling of 1,500 so you'll be able to get some pretty boom-bastic bass with this little sub.
The voice coils manage to cool down the sub in good time, so it won't overheat with extended use at consistent high power.
The new MOFO subwoofer consists of cloth and paper speaker cones to absorb vibrations and reduce sound distortion.
The subwoofer speaker is also fitted with a dust cap with aluminum stiffeners, this eliminates cone flex during low bass and high excursion.
The dust cap also helps cool the speakers down and keeps them free from dust.
Pros
Good budget option
Good sound quality
Easy to install
Powerful
Lightweight
Cons
Not as well made as the other models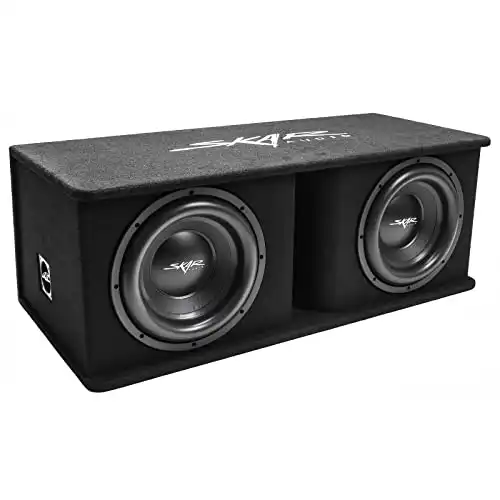 This is Skar's take on the enclosed subwoofer and it is definitely a good choice for one.
The sub boasts 1,200 watts of RMS power and 2,4000 watts of peak power to make sure you can blast your favorite tunes without having to turn it down when the bass drops to save these speakers.
The 12" sub comes in a vented enclosure and can be built into your trunk if needed or simply balanced in the boot of your car.
If you own a super small car then this sub may be too big for the trunk. The enclosure is tuned at 32 Hz for a deep and accurate bass that doesn't distort.
The subwoofer is easy to install as it is pre-wired internally and will only need you to connect the wires together in the car.
The build of the speaker and enclosure looks high-quality and is made from MDF and is finished in premium black carpet to reduce wear and to protect the speaker. It fits seamlessly within the trunk of the car without looking obnoxiously obvious.
The box did come slightly dented and worn, but we're not sure if that's due to Skar or just the courier service not taking care when delivering it.
However, there was no damage done to the speakers due to the denting on the box but maybe Skar should make the packaging a bit more sturdy in the future to avoid possible damage to the product.
Pros
Can easily play low frequencies
Covered in premium grade black carpet
Enclosed for better sound quality
Good temperature control
High-power
Good sound quality
Cons
Packaging had dents
Quite big so will take up a lot of space in the trunk
Best Car Competition Subwoofer Buying Guide
Here are some critical considerations to take into account when choosing a competition subwoofer.
Size
Subwoofers are normally installed in the trunk of the car as that is where there is most space.
Subs can vary from 6 to 15 inches in size and the larger you go the harder it will be to install.
All subwoofers will need to be enclosed within a box to create a more uniform sound, therefore, you'll need to have room in your trunk for the box that will hold the subwoofer itself.
So if you were thinking about buying a huge unenclosed subwoofer then you'll want to reconsider.
If you want high volume and space is no issue in your car, then you'll want to go with a larger sub as it'll move more air and it'll then be louder.
However, most regular cars will not have a lot of trunk space, so the average sub or pair of subs will take up a lot of room.
A 12" sub will take up most of the space, so you may want to size up your trunk beforehand and see what space you're willing to sacrifice for your sound.
Durability
You'll want to find a sub that is made by a good company that focuses on sound systems so you know you can trust them.
Make sure all the materials used in the construction of the subwoofer (and enclosure) is of high-grade quality, so you'll know they will last.
If subs are made from cheap materials, they won't last and will only end up breaking due to the power or volume being too high.
Warranty
Check that there is a decent warranty with the speakers. Some brands offer 60-90 days on their products whilst others can offer up to 1-year warranty.
If you don't want to end up paying for repairs or a replacement sub then look for something with a big warranty.
Most issues we see with subwoofers is that the packaging and/or the subwoofer gets damaged in the process of shipping or delivery.
Sometimes, damages to the packaging can cause no defects, however, if it arrives broken then you'll be able to send it back and get a replacement with a good warranty.
RMS Power
RMS (root mean square) power refers to the measurement of continuous power from your subwoofer.
So it is the average power that your sub can handle on a daily basis without affecting the sound quality or causing sound distortion. You'll also want to find out the maximum amount of power your subwoofer can hack.
These high powered moments should only happen in short bursts. If you buy an amp for your car with too high a rating and turn it up to full, then you could risk blowing up your subwoofer and causing a fire in your trunk.
You should get an amp that is 75-150% of your subwoofer's RMS.
Sound Quality
If sound quality is high on your priority list then you'll want to make sure you get an amp for your car that is compatible with your subwoofer, otherwise, you could risk losing out on the quality of sound.
Check the frequency range on the subwoofer to make sure you can achieve the bass levels that you want.
Casing Style
Enclosed subwoofers will enhance the acoustics and the bass will be better, whereas open subwoofers will have a louder volume but not as big bass.
You'll need to decide what you want more from a subwoofer before buying. If you haven't got the space for an enclosed subwoofer then just go for a free air subwoofer will work fine for you.
However, if you have got the room in your trunk you should consider getting an enclosed subwoofer or getting a box for your free air one.
Frequently Asked Questions
Can you connect the car subwoofer to a tv?
While possible, it's usually not a simple task.
You will need a power inverter, otherwise, the subwoofer and amp from your car will spark and fry if plugged into sockets in your home as it is only meant for the power level from your car.
You can find more detailed instructions online to help you set it up seamlessly.
Which way should I face my car subwoofer?
There is no right or wrong answer to this question, it just depends on how you prefer the sound.
If you want to build your subwoofer into the trunk of your car so it is completely integrated, then putting it with the speaker facing towards the trunk roof is a great option to save space and allow you to still fill the trunk of your car with stuff.
Why is my car subwoofer humming?
If your car subwoofer is humming or buzzing then your amp may be set to high it could also be a result of your amp picking up interference from other electrical signals surrounding the car and sending it to the sub.
Go and check the cables and the jack plugs of your subwoofer and amp, sometimes they can come loose and cause strange sounds.
Can I build my own subwoofer box?
Absolutely, if you cannot find an enclosed subwoofer in your budget or you want to build an enclosed box for your current subwoofer then you can totally do so.
MDF is the best type of wood to use for your box. You can find so many step-by-step simple guides to build your own subwoofer box on YouTube and some are only 10 minutes.
Related Articles