We all run into that dreaded scenario sooner or later: You turn the key in the ignition, and… nothing. It's not a wonderful situation, but it can be handled easily with a jump starter.
We recommend getting a starter that has an air compressor in case you're also experiencing a flat or under-inflated tire.
Best Overall Car Jump Starter
No products found.
The Jump Starter 2500a Peak Portable Car Starter by Flylinktech has solid ratings and an excellent reputation. It includes a powerful 2500 peak amp starter that is rated for all gas vehicles and up to 8.0-liter diesel.
Flylinktech claims the starter can jump your battery up to 30 times in a single charge, in only one to three seconds.
The compressor kicks out up 150PSI and has an automatic shutoff safety valve. It comes with three adapters for sports balls, inflatables, and air mattresses.
The power bank capacity is 24000 milliamp hours and has two USB outs, one of them a quick charge and a DC out, rated at 12-16 volts. It also contains a 5W LED flashlight that can help you get your car started in low light conditions.
The box comes with the jump starter/air compressor, smart clamp battery cables, a DC car adapter, a USB to USB-C cable, three-valve adapters for the compressor, and a storage case to hold all.
Users liked the ease of use and speed of the unit.
PROS
Reliability
Flashlight is very bright
Starts cars quickly
CONS
Initial charge takes a long time
Cables might not be long enough for all
No S.O.S. or flash mode
Best Value Car Jump Starter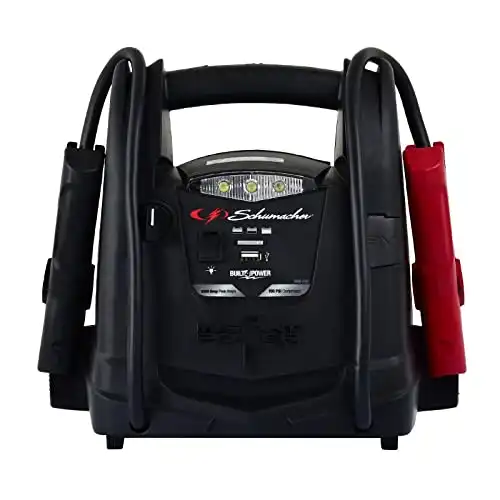 If you're looking for a value car jump starter with air compressors and need something that will get the job done, you should consider the Shumacher Rechargeable AGM Jump Starter. The Schumacher has 1000 peak amps and is rated to start vehicles up to 8.0-liter gas and 6.0-liter diesel.
This car starter has a safeguard alarm that will sound if the cables are incorrectly connected, and it weighs in at 10.95 pounds. It also contains a built-in LED light that allows you to see what you're doing in dark conditions.
The Schumacher also acts as a power bank with a single USB port and has a 12 volt DC charger. The air compressor on the unit is rated at a max of 150PSI.
Users liked the reliability of the car starter and that the power bank works dependably.
PROS
It's possible to charge with solar panels
The internal switch prevents overcharging
Customer service is flexible and fair
CONS
Will need regular charging
Battery will deplete quickly
Doesn't come with a car charger adapter
Highest Capacity Jump Starter
The JF.EGWO Jump Starter with 150PSI Air Compressor packs a whopping 4000 amps and is suitable for starting all 12-volt cars, trucks, boats, RVs, snowmobiles, and so on while weighing in at just 2.75 pounds.
JF.EGWO claims the car starter can jump a vehicle 70 times without recharging.
As with most jump starters these days, the AVAPOW also acts as a power bank, holding 28000 milliamp hours. In addition, it has two USB ports, one of them a quick-charge port.
There is an input for charging the jump starter, and it comes with both a 12V DC car adapter and a 100V AC wall adapter.
The jump starter also acts as a flashlight, with three modes: light, flash, and S.O.S. You can use the light mode to help you see if you need to jump-start a vehicle at night. It's rated to last 120 hours on a full charge.
The air compressor on this model is a 150PSI inflator with a 35 liter per minute rating.
There is a real-time pressure display so you can monitor the inflation progress. The compressor is rated for 10-15 maximum inflation.
The kit comes with an extension air hose suitable for car and motorcycle tires and four adapters: a needle end for balls, an extended cone adapter for inflatable pool toys, a short cone adapter for balloons, and a metal adapter for bicycles.
The kit comes with a carrying case, the jump starter/compressor, safety jumper cables, the extension hose for the compressor, four nozzle ends, and two power adapters.
JF.EGWO offers a 12-month warranty on the unit.
Users found that the jump starter worked well and was easy to use and that it saved them from being stranded with their vehicles.
PROS
Huge capacity of 4000 amps
28000 ma hour power bank
Very light
CONS
Cable wires might be too short for some
Users noted that the inflation labels are reversed
May not start totally dead battery
Most Compact Jump Starter
No products found.
If space is a consideration, you'll want to look at something that you can throw in the glove compartment, and the RUGGED GEEK RG1200 Safety Plus is just that. It checks in at just 6.3 x 2.9 x 1.4 inches.
This unit offers 1200 amps, which is rated for up to 7.0-liter gas and 3.5-liter diesel engines. In addition, it uses "INTELLIBOOST 2.0" safety technology which is designed to protect against reverse polarity, overheating, and more.
The RUGGED GEEK RG1200 Safety Plus also acts as a power bank, with a USB-C input for charging, two standard USB outputs, and a USB-C output. It also has a digital readout for the power level, so you can tell when it's time to recharge.
The jump starter also acts as a 100 lumens flashlight, with three modes: Light, flash, and S.O.S. The small size of the unit makes it perfect for holding while working on your car.
The RGO150 compressor is a 150PSI inflator with three adapters: a needle adaptor for sports balls, a Presta adaptor for bicycle tires, and a nozzle adapter for inflatables. It's powered by the RG1200 unit itself, so no need to plug in while inflating.
In the box, you'll get the jump starter/compressor, a carrying case, as well as the INTELLIBOOST cables, the RG150 compressor with three adapters, a USB-A to USB-C cable, a USB-C cable, and both a car charger and wall charger.
Users like the portability and the lack of wires, as well as the durability of the unit.
PROS
Easy to use
Compressor is efficient
Compact Size
CONS
Flashlight switch might turn on with contact
Plastic adapters for compressor can get hot
Charging Battery Pack can be problematic
Lightest Car Jump Starter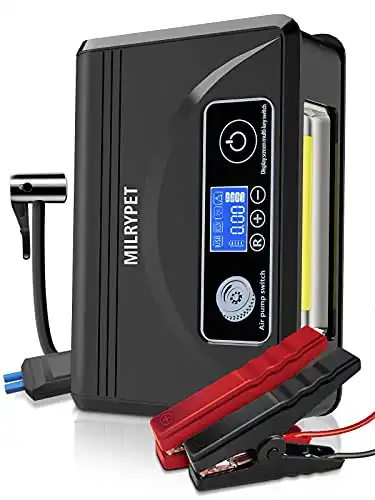 The MILRYPET Car Jump Starter with Air Compressor is a small-size lightweight unit that should have you back on the road in no time.
It trades raw power for size, carrying only a 500 amp peak current, capable of starting vehicles up to 7.0 liters gas, 5.5 liters diesel. What's more, MILRYPET claims the car starter can jump-start a vehicle 20 times on one charge.
The power bank on the MILRYPET is 12000 milliamp and capable of charging two devices simultaneously via a dual USB output, with one quick-charging port. This unit also has a flashlight mode, with four modes: normal light, warning light, flash mode, and S.O.S.
The air compressor is a high-power 22 cylinder single cylinder air pump, capable of a maximum of 120PSI.
It has a pressure detector to avoid over-inflation and claims to inflate a tire to 30 PSI in about five minutes. It also has a preset memory function to store the desired PSI for your tires.
The MILRYPET comes with the jump starter/compressor unit, an inflatable tube, three air valves, a car charging cable, a wall charging cable, one USB cable, a protective case, and a one-year warranty.
PROS
Lightweight
The flashlight is bright
Carry case makes storage easy
CONS
Unit needs to be near full charge for jumping
Charging cables may not be long enough
Only rated to -20C/-4F
FAQs
What Are the Features to Check for in a Car Jump Starter?
Be sure the jump starter is rated for your type of engine so that you won't face an underpowered starter that can't turn over your engine.
If you're using the starter for an RV or a commercial vehicle, make sure it's rated for higher than 12 volts. Also, check the cable length, as you'll need to place the starter unit close to the battery, but somewhere it can sit without falling.
Does It Matter What Kind of Car I Have?
It does. Jumpstarters are rated for different sizes of car engines, so while most starters will be able to handle a V4 engine, you'll need one with a decent amount of cold-cranking amps to start a V8.
Will Jump Starters Start a Completely Dead Battery?
Most car jump starters won't be able to start a completely dead battery. The problem is that the dead battery will be taking most or all of the power, and for your car to start, you'll need to send power to the starter engine as well.
Do I Need to Be Careful When Using a Jump Starter?
Very much so. Car starters put out many amps, which can cause burns, and in cases where a short-circuit occurs, it could cause the battery to combust or leak acid.
Go slowly and methodically, don't touch both terminals simultaneously, and make sure you've connected the positive and negative correctly.
Related Articles