The beauty of the Jeep Wrangler is its versatility, especially when it comes to removing the top. Unfortunately, the Wrangler hardtop is incredibly heavy and unbalanced, making it difficult to remove it manually. To take care of the top, you can install a Jeep hardtop hoist in your garage!
If you choose not to install a hardtop hoist, you will need a handful of friends or family members to help you. With the best Jeep hardtop hoist, you can take off the hardtop and put it back on by yourself.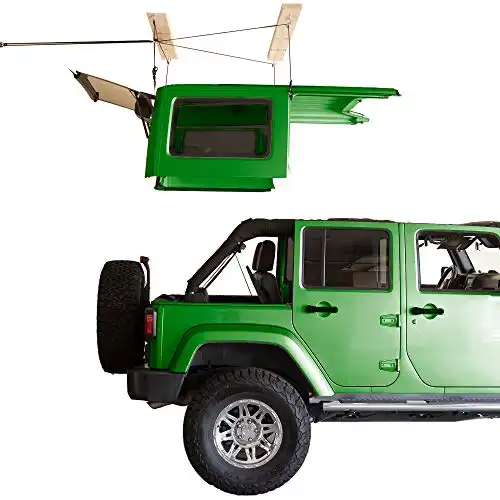 The HARKEN hardtop hoist works with all Jeep Wranglers and some other hardtops. The hoist can lift up to 145 pounds, which is more than enough for the Wrangler hardtop. It's a four-point hoist that offers a 6:1 mechanical ratio so one person can lift the top and store it against the ceiling.
It lifts and lowers with balanced action, and it has self-locking cleats, which is a significant benefit for anyone working on a Jeep top by themselves. The self-locking cleats serve as a safety precaution if you release the top by accident.
The high-quality material extends into the stainless-steel hardware and durable double-braided rope. You can trust that the hardware and rope will withstand the weight of the hardtop.
It comes in three sizes for a 10-, 12-, or 15-foot ceiling. You can install the system with a few basic power tools and a ladder.
Pros:
Easy to install
Self-closing cleats
Anti-drop safety feature
Balanced hoist
Cons:
Minimal instructions
Three sizes, so measuring is necessary (or at least strongly recommended 😉 )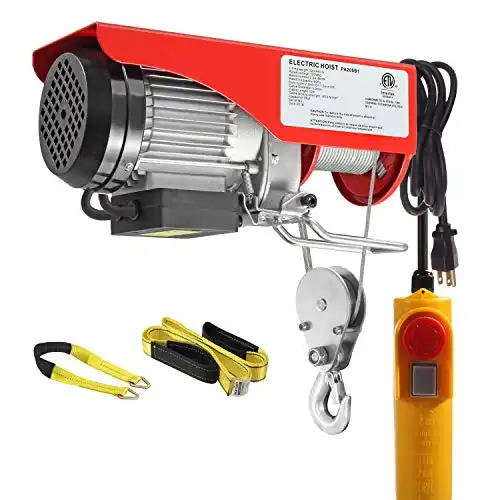 The Partsam 440 is a strong and affordable electric hoist. When you want to lift your Jeep top yourself, an electric hoist does it quickly and safely. This hoist comes with a remote control and a single-line capacity of 220 pounds.
If you double the lines, you can lift 440 pounds! The hardtop for a four-door JL and JK weighs about 140 pounds.
This electric hoist comes with a five-foot remote cord to lift the top from a safe but close distance. The motor has less than one horsepower, but it is enough to get the top to your ceiling.
The system includes a 36-inch strap and a 5.5-foot strap. The 12-foot cable offers plenty of flexibility for different garage ceiling heights.
Pros:
Low cost
Remote control
Comes with accessory features
Easy installation
Cons:
Needs an emergency safety switch
Comes with one cable size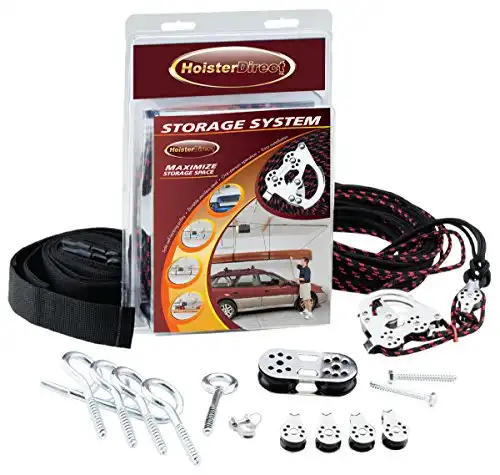 The Hoister Direct is affordable and high quality. They've created a DIY product that lets you lift heavy objects with an 8:1 ratio, so one person can smoothly lift 200 pounds to their garage ceiling. Hoister Direct makes its products in the United States.
Like the HARKEN hoist, the Hoister Direct has self-locking cleats for safety purposes. The Jeep hardtop can be heavy and incredibly expensive to replace if anything happened to it. The cleats grip the rope if an accident occurs.
The Hoister lift has a 12-foot capacity for the average garage. It includes the necessary hardware for easy installation.
Pros:
Easy to install
Self-closing cleats
High-grade hardware
Made in the USA
200-pound weight limit
Cons:
One size
Minimal instructions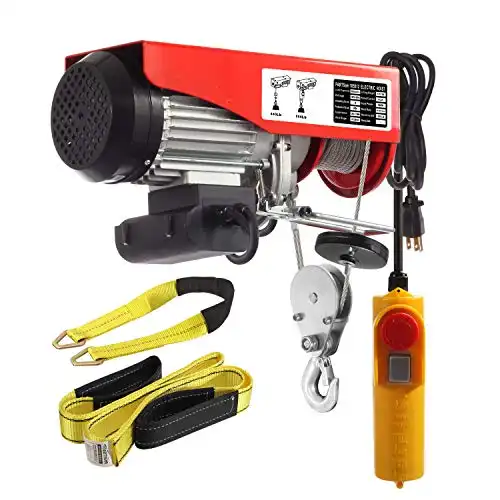 If you want to lift your Jeep top and a few other things, the Partsam 880-pound Lift does the job. This lift handles up to 880 pounds when you use a double line. With a single line, you can lift up to 440 pounds.
Both weight limits are well above the 140-pound Jeep hardtop. Some after-market hard tops weigh over 350 pounds, so the strength of your hoist matters.
This hoist needs some additional bracing, so it uses the full strength of your ceiling. You'll have to buy those braces individually. The lifting speed is 19-feet per minute, so it lifts with a purpose. It comes with an electric cord, a remote with a cord, and a 1.14 horsepower motor.
It comes with a pair of rope slings to slide under your Jeep hardtop, as well as steel-plated rope wires for added strength. The system is quiet, which is a bonus. You only need one person to work the hoist, but you might need more than one to install it safely.
Pros:
Easy to install
Strong straps and wire ropes
Strong hoist
880-pound capability
Cons:
Need extra hardware to install safely
Occasionally, parts are missing from the box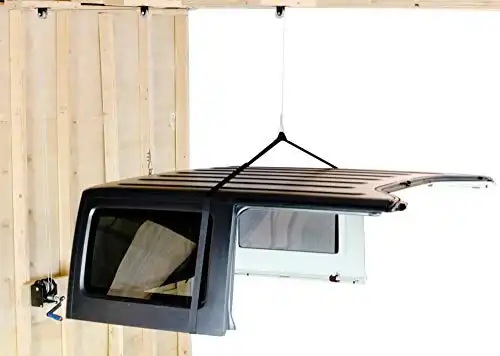 Some Jeep owners like to have complete control over their hoists, so the manual Lange Originals Hoist is their favorite. This hoist only works with the JL two-door and four-door models. Lange makes the original Hoist-A-Top, and this top uses the same methods.
One person can remove and lift JL hardtops with a Lange hoist. Installation includes two anchor points and a set of custom straps. The JL hooks keep the rear window closed (which is a big problem with the JK models).
To lift the hardtop, you crank the worm drive winch, which spins the braided steel cables. It's just as easy to lower the top as it is to lift it. You will need your lumber and sockets to install the hardtop lift on your ceiling.
Pros:
One-person lift
Designed especially for the JL
Affordably priced
Cons:
Need extra hardware to install safely
Some quality-control issues
Frequently Asked Questions (FAQs)
Before installing a hardtop hoist, take a look at what other Jeep owners asked.
What are the benefits of hoisting my Jeep hardtop?
When you hoist your Jeep top to your ceiling, you give yourself the tools to lift the top on your own. Otherwise, the weight and awkward shape require a minimum of three adults to remove and replace.
Lifting the top also removes clutter from your garage, giving you space for other items.
What are the different hoist types for Jeep hardtops?
You can purchase electrical or mechanical/manual hoists. The electric models often have a remote with a cord, so you can stand away from your top while it lifts.
To operate a mechanical winch, you will need to turn a crank or tug on a pulley system manually. Electric winches are easier to operate, but mechanical options are less expensive.
What is the ideal length for a hoist cable?
Each hoist needs a slightly different cable length. If you have a tall garage, you'll want a longer cable – maybe up to 15 feet. Most garages only need a 12-foot cable.
If you are uncertain, look for a cable or strap with full adjustability, so you do not lose any strength if you need to use less of the cable.
Remember that you will park your Jeep under the hoist, so you probably don't need an extremely long cable. The top will already be several feet off of the ground before you lift it.
Conclusion
Installing a hoist is all about being able to fully enjoy your Jeep Wrangler and its convertible tops. Without a hoist, you won't be able to get the Jeep hardtop off without help. When you install a hoist, you can lift your Jeep top in the summer months and use it for other garage toys in the colder months.
Don't limit your new hoist to just lifting a Jeep. It's a lot of work to install any type of hoist, as you have to find the joists to do it safely. After all of that work, put your hoist to annual use.
Related Posts