The best SUVs for seniors do more than fit the grandkids. They should be maneuverable and provide a smooth ride. They should also be packed with safety features that can make up for aging eyes and slow reaction times.
For a senior to love an SUV, it needs to be easy to get into, with wide doors and low door sills. And, it should offer an intuitive infotainment center that doesn't take a manual to use.
Below, I've listed our top seven picks for senior-friendly SUVs. Then I discuss why SUVs are a great option!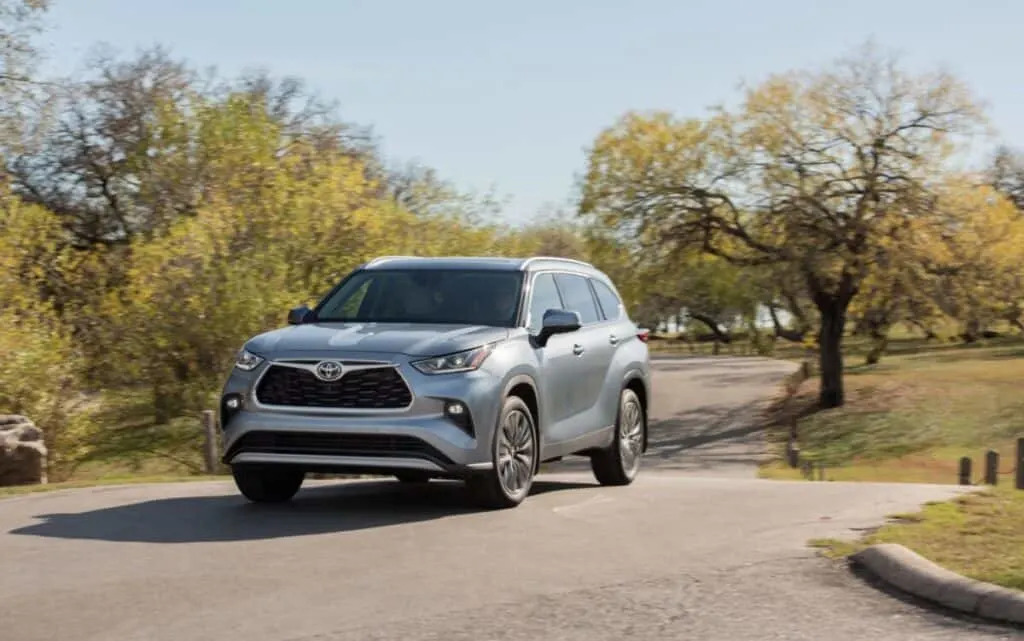 The ever-reliable Toyota Highlander is our top pick for seniors who want an SUV. With a powerful V6 engine and seating for up to eight, this SUV can fit all the grandchildren and pets.
Beyond its spacious interior, the Highlander offers an ergonomic design, giving an exceptionally comfortable ride that drivers of all ages will appreciate.
It also has easy-to-use controls with large visuals that are easy to navigate!
So even the less- than-tech-savvy won't have a problem turning on music, answering a call, or changing the interior temperature.
My favorite part about the Highlander, though, is its easy entry and exit. The car sits at hip height, and the door sills are low, so you can slide right into the seat.
This midsize SUV gets good fuel economy at 24 mpg (highway). And, if you're interested in further fuel savings, there are hybrid models available.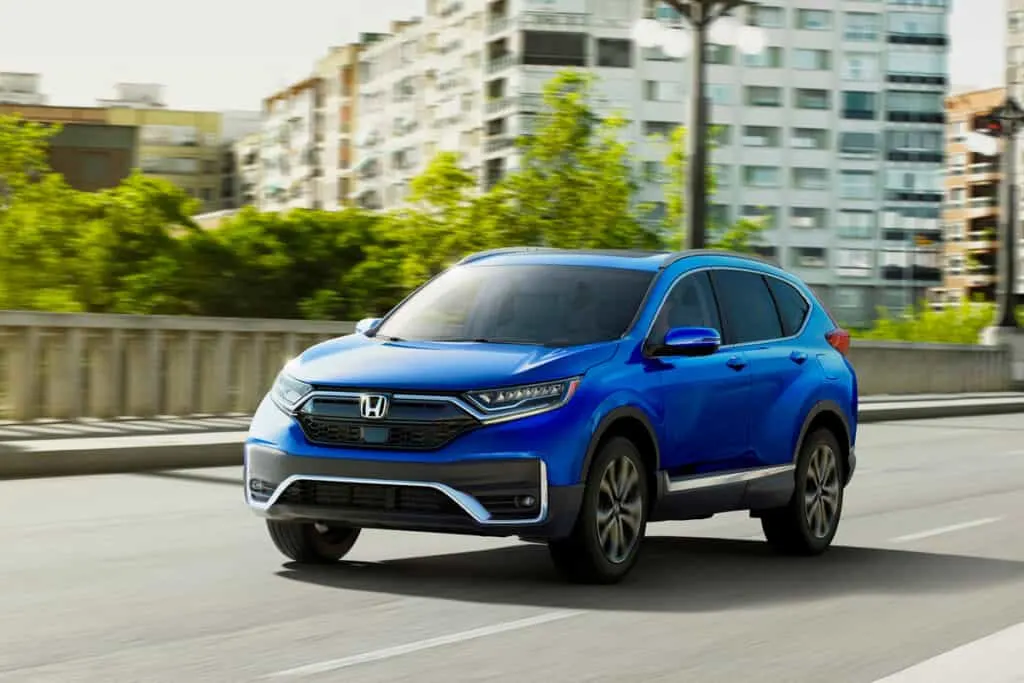 The Honda CR-V is a practical, midsize SUV that features a comfortable interior and excellent maneuverability.
At 34 miles per gallon on the highway, it offers some of the best fuel economies in its class. There's also a hybrid model you could look at if you want something more environmentally friendly.
You'll love that the CR-V can accommodate taller drivers, which many midsize SUVs struggle to do. There's plenty of headroom in the front seat.
It also offers the best in its class for luggage and cargo space, which is easy to expand thanks to a second row that folds completely flat.
The five-inch infotainment touchscreen is a little small but very intuitive to use. And while we wish certain safety features came standard, like cross-traffic alerts, you can get them in the upgraded EX model.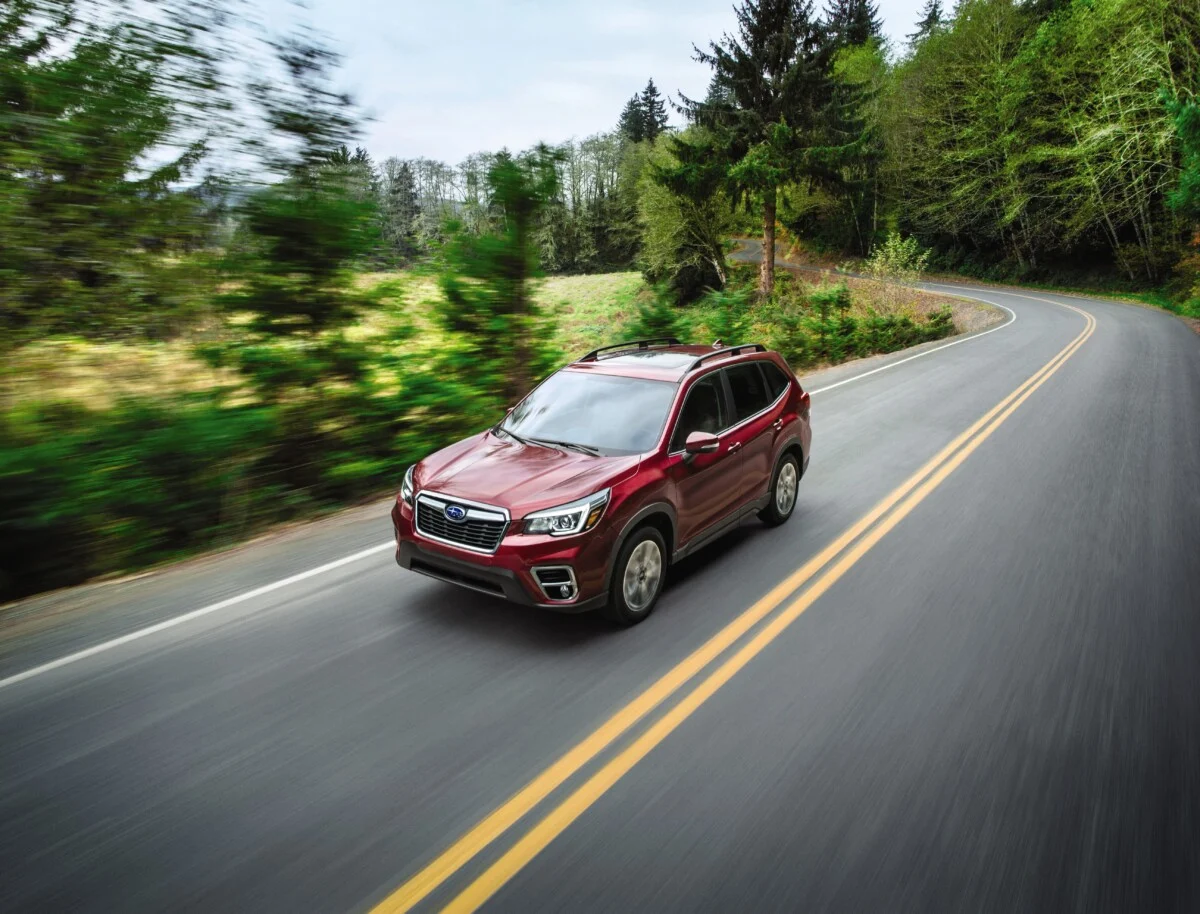 Affordable and packed full of standard features, the Subaru Forester is a favorite amongst seniors.
Subaru is known for its adventuring capabilities, which seniors might not take advantage of, but that's no reason to ignore the Forester or its standard all-wheel drive.
All-wheel drive provides more grip, making the Forester stable, even on wet pavement or in the occasional snow flurry.
Plus, the Subaru excels in safety categories. For example, automatic emergency braking and lane-keep assistance come standard in baseline models.
The Forester also has very intuitive controls inside. It's not too high-tech, and everything is clearly marked, making it simple to change the temperature or take a call.
Wide doors make this practically-sized SUV easy to get into, and it boasts plenty of cargo space. You also have the option of adding a height-adjustable liftgate.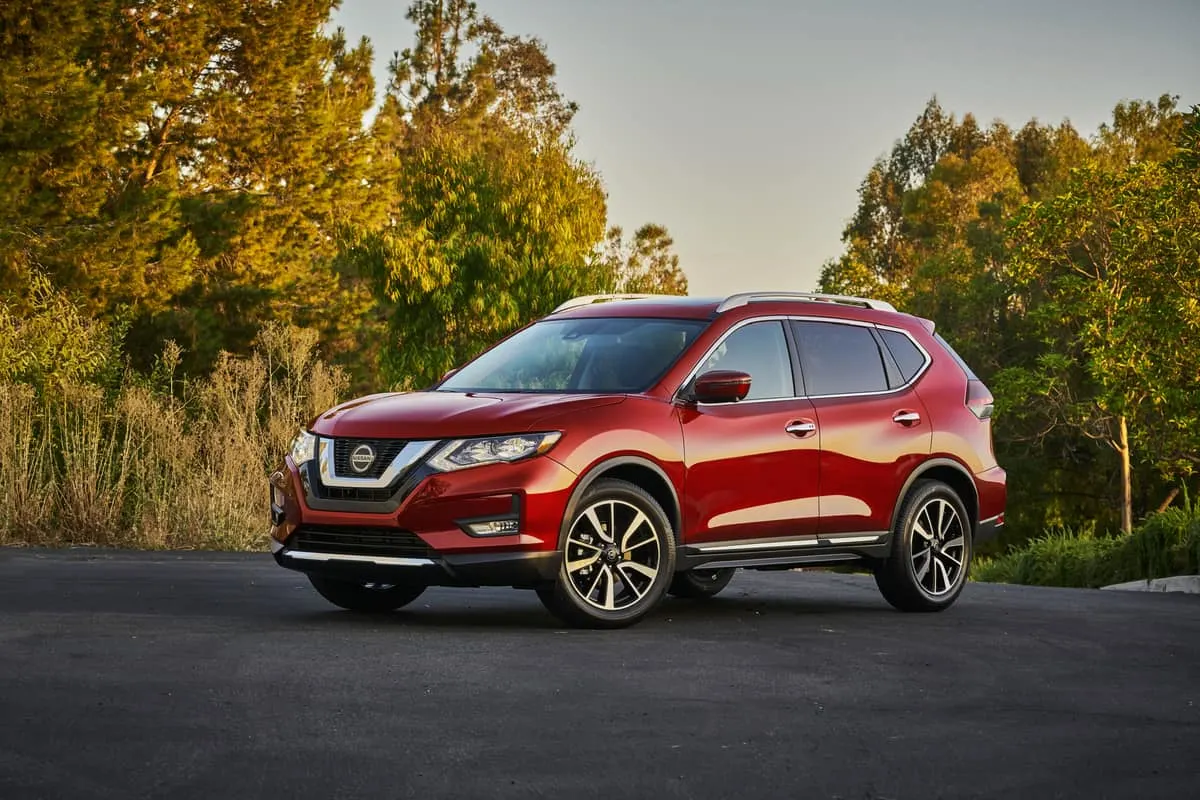 The Nissan Rogue is an excellent option for older drivers. It offers wide doors and unique door sills that slant inward, making it that much easier to get in and out.
Plus, the Nissan Rogue is an IIHS top safety pick thanks to features like blind-spot monitoring, automatic braking, and rear cross-traffic alerts.
Inside, drivers will find the Rogue is pretty high-tech, but it's still relatively intuitive to use. It offers a large touch screen and heads-up display for driving convenience.
However, for those who'd rather not use a touch screen system, the Rogue also offers backup knobs and buttons.
The Nissan Rogue only seats five, which allows the seats to be quite generous. As a result, it promises a comfortable ride for the driver as well as all passengers.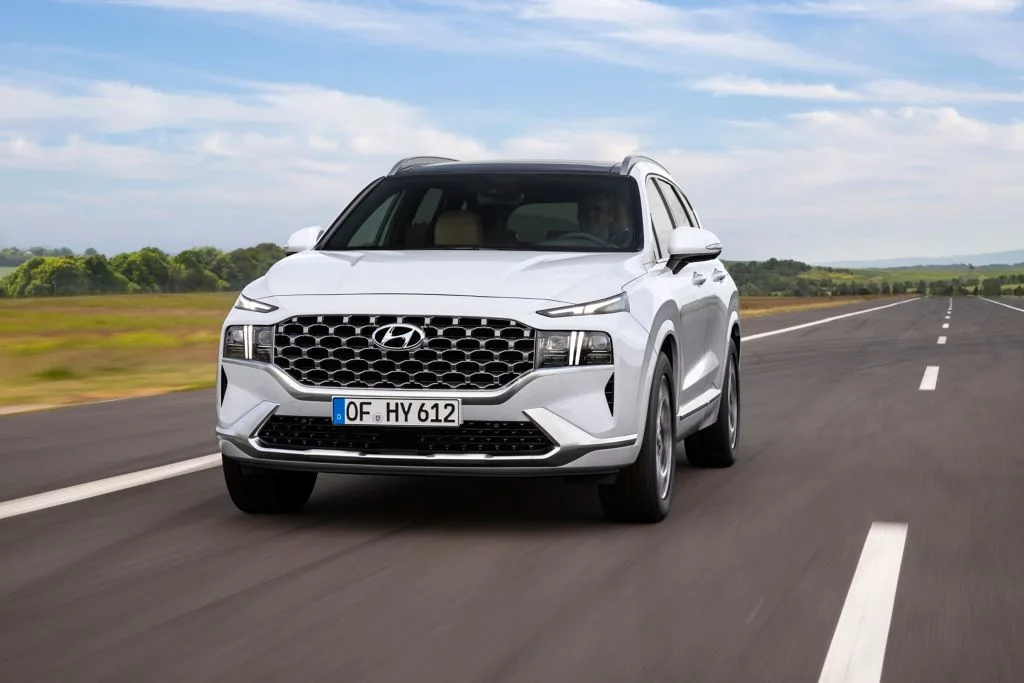 The Hyundai Santa Fe offers a few unique features that make it a top choice for seniors.
This vehicle offers a broad safety suite, with exceptional offerings like safe exit assist. This feature is a must if you have rambunctious grandchildren who like to let themselves out of the car.
It blocks passengers from exiting if it senses another car passing or pulling up.
It also features forward crash avoidance, pedestrian detection, and lane-keeping assistance, making it an IIHS top safety pick.
Inside, you'll find a large touchscreen that's relatively easy to use. You'll also find a heated steering wheel. Given that increased sensitivity to cold is a normal part of aging, it makes sense that seniors often love this feature.
Plus, the Santa Fe comes with 24/7 roadside assistance, giving every older driver peace of mind. If something should happen on the road, help won't be too far behind.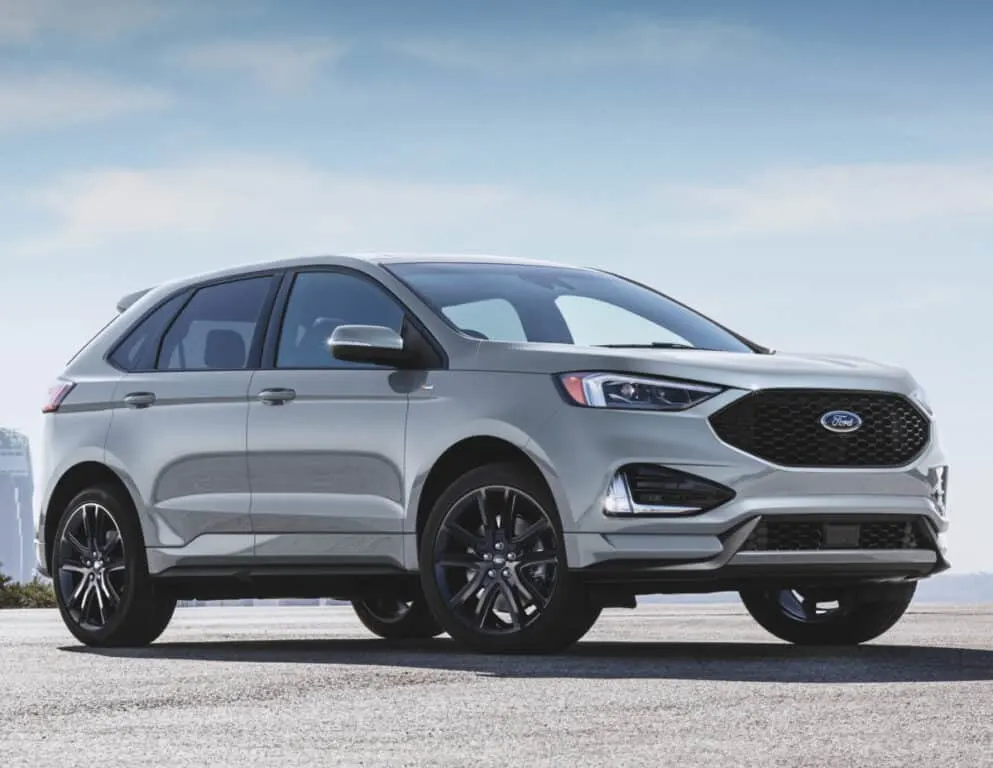 The Ford Edge keeps things comfortable for older drivers who might crave a more familiar design. This vehicle hasn't changed much, at least on the inside, since it came out in 2006.
It boasts a spacious cabin with an understated design. And, overall, this midsize SUV offers a comfortable ride, with plenty of cargo space, including several well-designed cubbies in the sidewalls.
You'll love the Edge's more recent tech updates, which include Ford's Co-pilot 360 and the Ford MyKey system!
Co-pilot 360 offers a broad range of safety features, including pre-collision assistance, automatic emergency braking, and evasive steering assistance.
The MyKey system allows you to set driver vehicle settings by programming your car key.
You can set things like maximum speeds and maximum radio volumes, ensuring an extra level of safety. When that key is used, the car responds accordingly.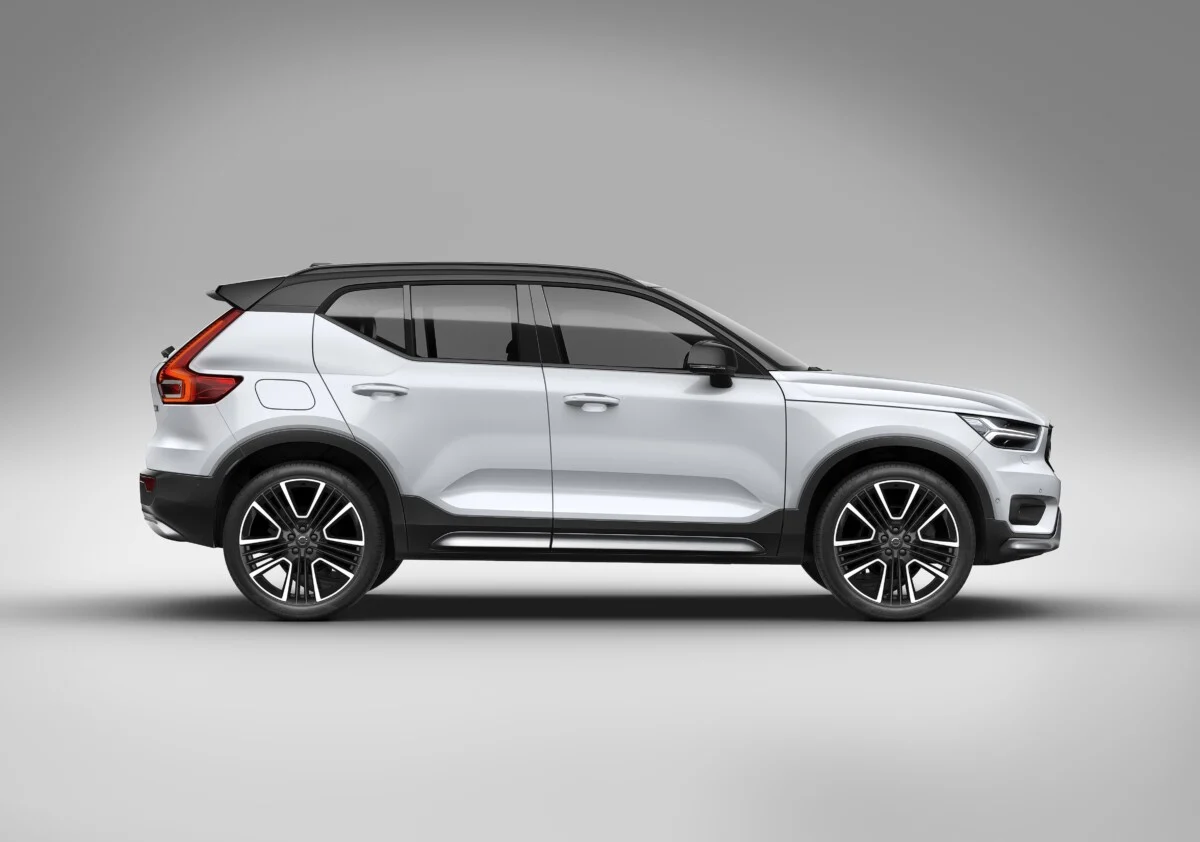 If you're a senior with a slightly more high-end taste, you might consider the Volvo XC40, a luxury, midsize SUV. The Volvo XC40 offers excellent reliability and is an IIHS Top Safety Pick.
The plush interior is exceptionally comfortable, and the vehicle offers a generously-sized cabin with a high seating position, making it easy to enter and exit.
The Volvo XC40 offers a full suite of driver assistance technology and even features a semi-autonomous self-driving mode.
As autonomous vehicles find approval in local ordinances, Volvo's 2022 vehicles will have the capability to update themselves to be fully self-driving on the highway.
A self-driving vehicle has the potential to be incredibly safe, making the Volvo XC40 an excellent choice for senior drivers.
Are SUVs Good for Seniors?
Intuitively, you may not pair seniors and SUVs, but in actuality, there are several reasons why someone in an upper age bracket might do better with an SUV than they would with another vehicle type!
Factor #1 – Entry Height
SUVs provide a higher entry than standard sedans, making it easier to get in and out.
Cars that require you to sink below hip level to get in can be challenging to get back out of. You basically have to perform the second half of a deep squat! That's a tricky task for most seniors.
Of course, an SUV that's entry point is too high will require a significant step up. The steep step is also challenging for many seniors, who might struggle with balance and leg strength.
So, the best SUV for seniors is often a crossover or midsize SUV. Keeping their entries near hip height and not featuring too high of a door sill provides an easy entry for anyone with balance or strength concerns.
Factor #2 – Visibility
SUVs offer better visibility than smaller cars in two ways. First, the driver can usually see the road in full, thanks to large windshields.
SUVs are also more visible to other cars on the road. You're less likely to sit in another driver's blind spot, and if you do, it probably won't be for very long.
New SUVs also come with advanced camera systems. Back-up cameras, blind-spot monitoring, and safety features work together to increase visibility.
This is crucial for seniors who may struggle a bit with vision or mobility limitations.
Other Factors that Make SUVs Good for Seniors
Many of today's SUVs were designed with ease of use in mind, making them fantastic for advanced-aged drivers.
Inside the latest SUV models, you'll find intuitive touch screens and voice control features. But for those less comfortable with technology, many SUV models still offer physical buttons and dials.
Midsize SUVs, especially, may be good for older age groups. They tend to offer the easy maneuverability of a station wagon at an ideal entry height.
Midsize SUVs also have low door sills and wide doors, making them extra easy to get in and out of.
Plus, they're usually available in hybrid or even electric models, giving seniors on fixed incomes better fuel economy.
What is the Safest SUV for a Senior?
Today, SUVs are inherently safe for seniors thanks to advanced driving systems, which can make up for some of the shortfalls aging brings.
The safest SUVs for seniors usually excel in this area and have top-notch crash-avoidance technology.
They'll also have incredible crashworthiness so that if the worst should happen, the driver and passengers will remain safe.
According to the IIHS, the following vehicles on this list are top safety picks:
Volvo XC40
Hyundai Santa Fe
Toyota Highlander
Subaru Forester
Out of those, we say the Subaru Forester is the safest SUV for a senior. It offers a forward-collision warning, automatic emergency braking, pedestrian detection, lane-keeping assistance, and a rearview camera, all standard.
Plus, the Forester features excellent traction and stability control thanks to its standard all-wheel drive.
On top of all that, the NHTSA gives the Subaru Forester five stars for crashworthiness in frontal and side crashes. It does bear a small rollover risk, but not more than other SUV options.
What is the Easiest SUV to Get In and Out Of?
The easiest SUVs to get in and out of feature wide doors and low door sills. Though all of the SUVs on this list are relatively easy to enter and exit, we think the Toyota Highlander is the easiest.
The Highlander offers an exceptionally low door sill. It's also narrow and easy to step over. The opening for the doors themselves is wide, even for the second row!
And though the second row is probably reserved for grandchildren and pets, it does offer a wide footpath, making it easy to access as well.
Related Posts