If you own an SUV, does this mean that you can't have the same experience as with a convertible car? Are there any convertible SUVs? Yes, there are, and we have found them for you.
While it might seem counterintuitive, there are indeed convertible SUVs. Some of these models included the Land Rover Evoque, Jeep Wrangler, Nissan Murano CrossCabriolet, and the Mercedes-Maybach G650 Landaulet.
If you haven't seen these cars before, you might not be used to the idea of a convertible SUV, but these give you the best of both worlds with a convertible top and lots of passenger and cargo space.
So, if you want to know more about these convertible SUVs, then keep reading!
Are There Convertible SUVs?
Well, although these are not as widespread as convertible cars, there are four different options to choose from when you want to drive a convertible vehicle that also has enough space for what you need.
So, not only are there convertible SUVs, but you have a few different choices that you can pick from!
This gives you the chance to have a large number of things with you on a trip while still getting the open-air feeling when you are on the open road.
Some older models have been discontinued, so we are not counting these options. However, you could be able to find older SUVs that are not in the best shape. (The Ford Bronco is one such model that comes to mind, although Ford has committed to bringing it back into production!)
Instead, we will focus on the models that have continued to be driven often as they were made within the last few years and even come with more modern technology and special features.
Without further ado, here is our list of the four examples of convertible SUVs!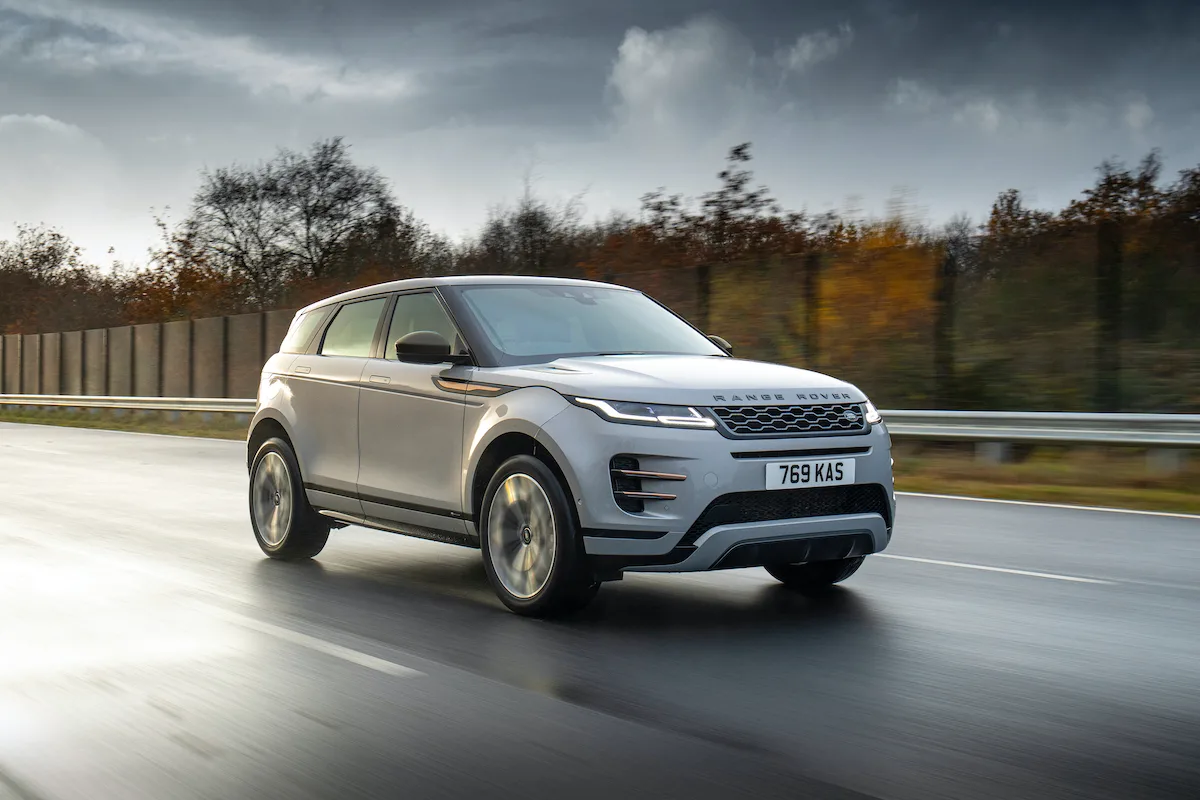 This three-door option is a luxurious option that comes with a stylish look that comes with a classic soft-top convertible roof that allows you to pull it back and feel the wind blow through your hair.
There are four seats in total so you are able to have three of your friends along with you for the ride.
However, like most convertible vehicles, the trunk space of this SUV is cut in half. This will force you to cut down on the items that you take with you on a weekend or day trip.
This option also comes with a third door that was made into a tailgate on this model of the Evoque, which makes it sportier-looking and more like a traditional convertible sports car than a boxy SUV.
With red and black sports-like seats and a sleek body design, this convertible SUV looks great and has the off-roading capabilities as the original model.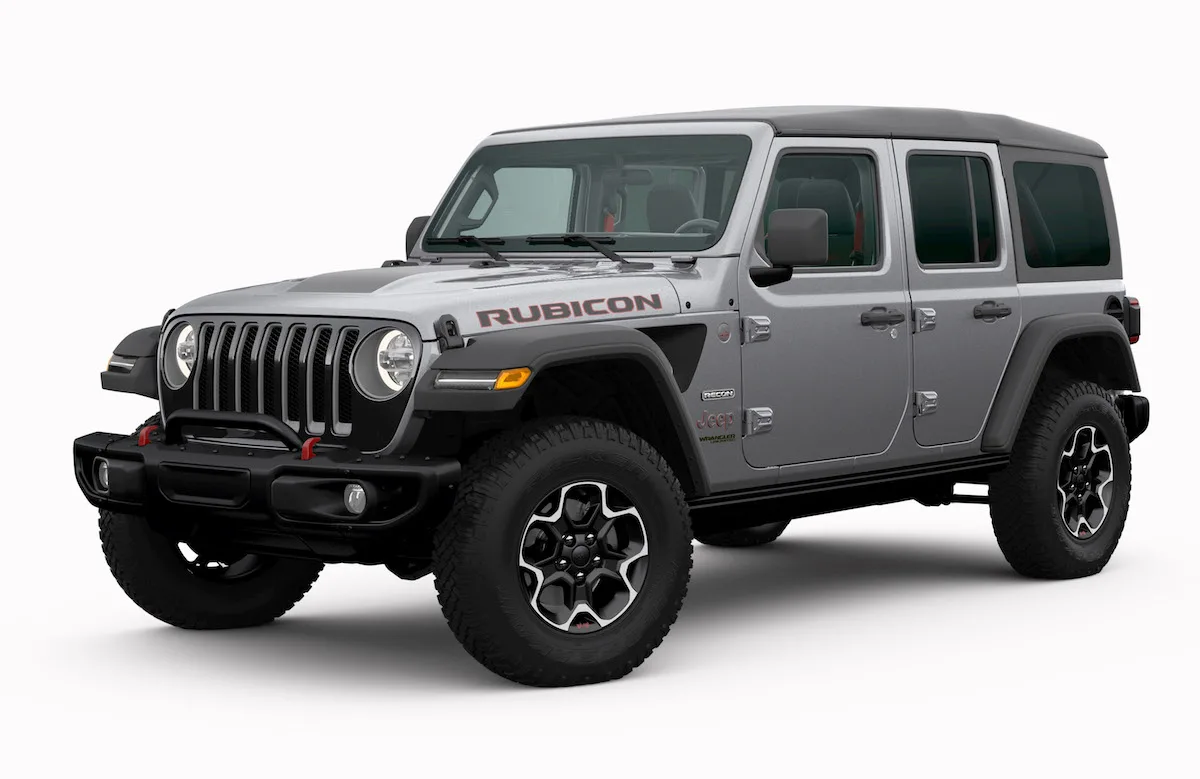 The Jeep Wrangler is an option that offers an off-roading vehicle that looks just as good when driving on the city streets. This option also has safety features that allow you to feel better about going onto the toughest terrain.
The top of the vehicle is not fully convertible with a top that goes back all the way, as there is a rollover frame over the top of the SUV, which could be a turn-off for those who want there to be nothing above them.
However, in true Jeep fashion, the doors of this SUV also allow you to take off the doors so that you can feel like you are not in a closed vehicle at all. This is perfect for cruising down the coast to the beach.
This model also comes with an eco-friendly option that allows you to choose a 3.0 L EcoDiesel engine. This allows you to get better gas mileage while on the road while still feeling like you are in the open air.
This is a fantastic option for adventurers or those who need to tow something. For more specific details on the Wrangler's towing capabilities, make sure to take a look at this article from FourWheelTrends.com.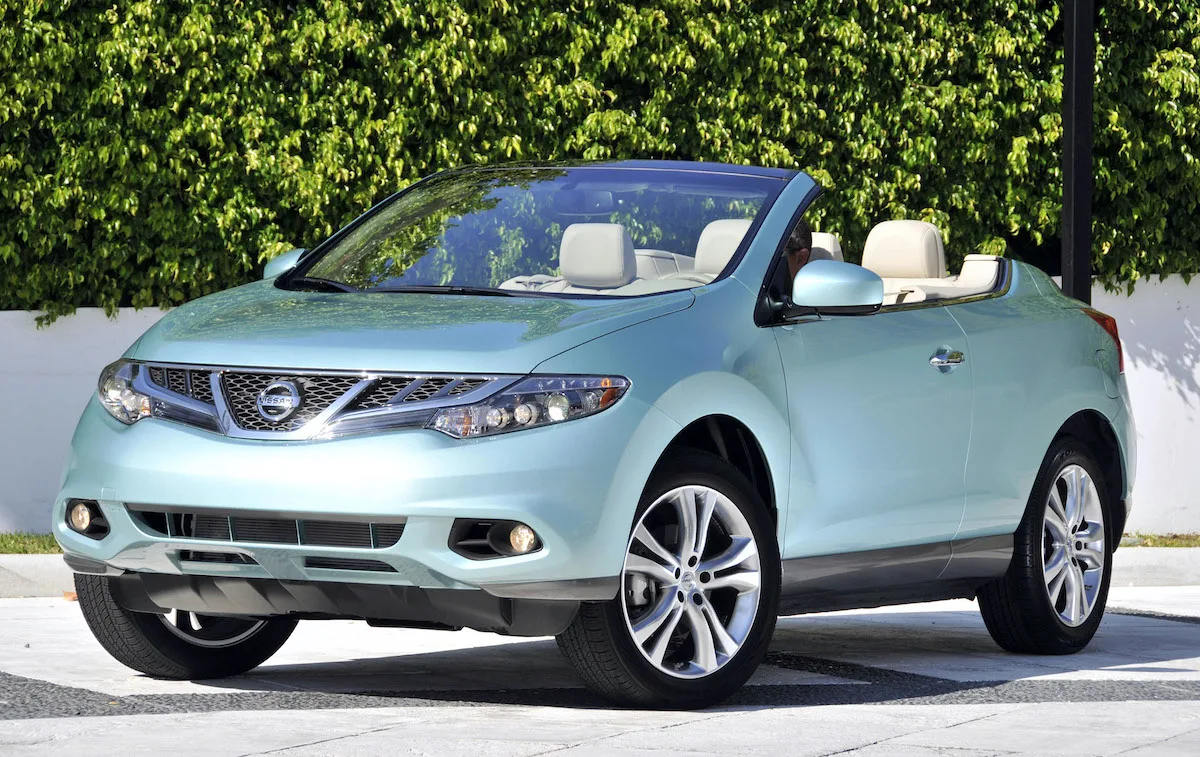 The Nissan Murano is known as the CrossCabriolet because it is considered a crossover and convertible vehicle in one body. The Murano has a classic Nissan style but comes with a soft top that can be folded into the trunk space to create a classic convertible style.
The shape of the vehicle has smooth curves and slopes that make it look a bit more like a sports car than an SUV and create a luxury feel as you are driving it. When the roof is completely down, you will not have a back window to look out, which might take some time to get used to.
Also, because of the soft-top roof, the back window when the roof is up is a bit smaller than regular rear windows. This can make it a bit tough to see out of the back window when you are driving, which can take some time to get used to if your current car has lots of visibility.
The driving experience is known to be very smooth on the freeway, so this is an ideal option for those who want a vehicle that can handle rough terrain and street driving without being too rocky.
One of the only caveats with this model is the fact that there are only two doors on the vehicle.
The doors were lengthened to allow for this instead of having four doors, so this can be seen as a problem because it could make getting in and out of the vehicle in tight spaces even more difficult.
With many beach areas offering tight parking conditions, this could be frustrating for drivers intending to use it each weekend!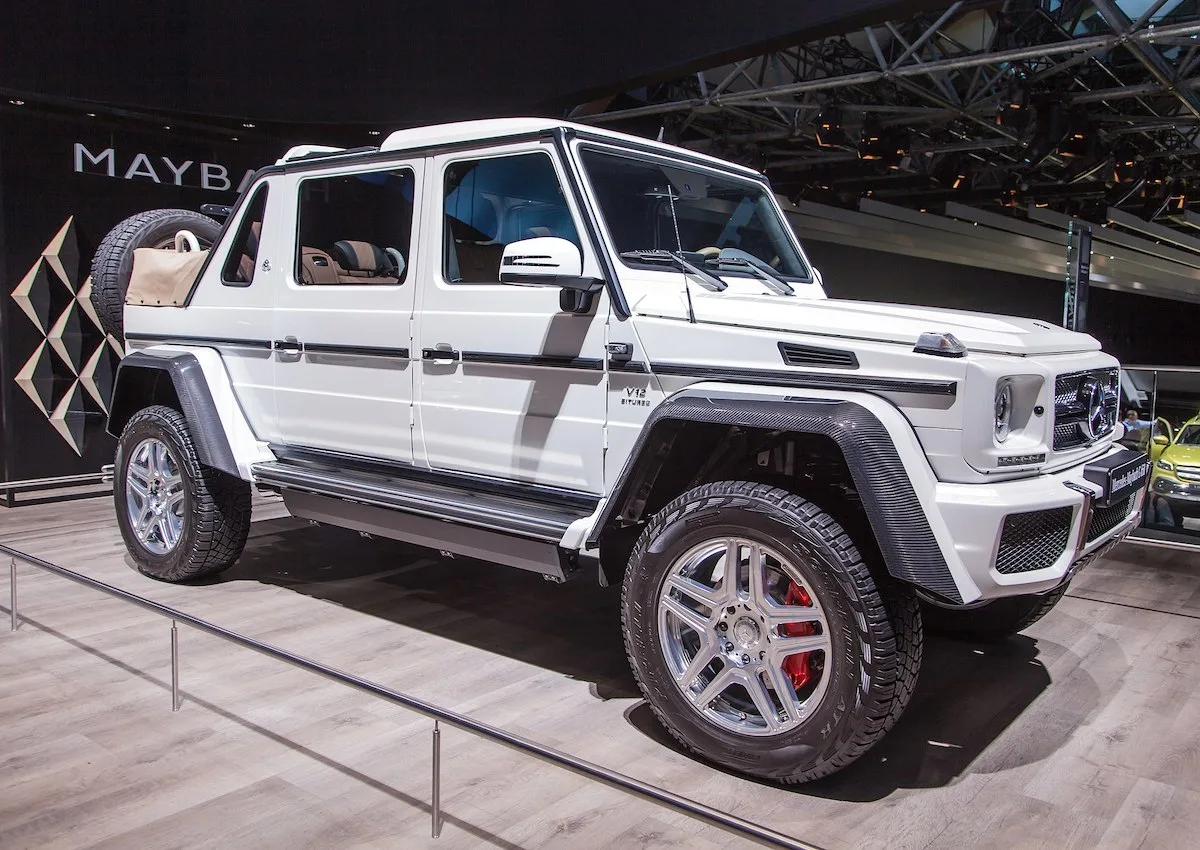 Now, when you think of the brand names of Mercedes and Maybach, you don't normally think about an SUV. You probably thought about the luxury Mercedes car or the Maybach sports car driving along an open street as you do in the commercials.
Well, don't let the name fool you, this SUV is made to be just as luxurious as both of these brands' names usually are!
Although this vehicle is a convertible, the roof does not go back like some of the other options here, but this does give the backseat passengers the feeling of being in a convertible.
The backseat not only gets the luxury of having unlimited headroom, but they also get a good amount of space for the smaller vehicle and fold-out trays so that you can eat or work while watching the flatscreen attached to the console in front of you.
The leather interior also comes with a classic black and cream color scheme that looks regal and expensive. However, the price of this model might be a problem for the average American.
There is only one imported to the US, which belongs to a famous rapper, and comes with a price tag in the hundreds of thousands. However, with Mercedes and Maybach teaming up to make this model, you know that you will get the most comfortable and smooth driving experience with a specially-crafted interior.
So, though the price tag is higher than some can afford, this convertible SUV is worth the money if you got it.
Also, with a Jeep-like exterior style instead of a curvier SUV shape like the Murano, you will get a bit of a rugged look that makes you feel like off-roading even though the vehicle is so luxurious. So, don't be afraid to take this vehicle anywhere you would normally take any other SUV.
Just be careful not to scratch it!
Benefits of a Convertible
Though you normally think of a convertible as a sports car, there are many benefits to having a convertible top on an SUV.
These are just a few to think about, but this will get you started!
1. More Headroom
When you have a roof that goes all the way back, you will have a large amount of headroom that will allow you to move around more freely.
This also accommodates taller passengers that might feel cramped when the hood is all the way up.
2. They Use Less AC!
When you have a convertible, you get the benefit of getting to feel a cool breeze as you drive. This will likely make you think twice about turning on your air conditioner.
This will save you some gas and allow you to be more eco-friendly by using the AC less, so you get two benefits at once.
If you live in a moderate climate where the winters are mild, then you will find yourself going roofless more often than not.
3. Additional Space
Without the confines of a fixed roof, you not only have more headroom but also space to transport things!
Whether it be a tall box or a surfboard stuffed in the back, the additional space of a convertible SUV can certainly be handy at times.
Think of this as an equivalent to a truck leaving its tailgate down to get a few extra feet of room when needed 😉
Final thoughts on convertible SUVs
Though you might not think about what the benefits of having a convertible are when you are shopping around for an SUV, this list might make you rethink that notion.
These SUVs all offer either a partly convertible or fully convertible roof that gives you the feeling of being in a sports car without having to purchase one.
With four different options that you might not have seen before, you will likely find one that changes your mind about whether a convertible SUV is a good idea. Well, if you were wondering: are their convertible SUVs, you now know that there are.
Whether you know what to look for one for yourself, or you just wanted to see what they looked like, you can see which ones you like by coming back to this article and taking another look at these options.
Related Posts