If you spend a lot of time behind the wheel, you'll know all about the aches and pains caused by uncomfortable seats and poor posture. You may experience shoulder pains, backache, neck pain, and discomfort.
This can be exacerbated if you have a job where you sit at a desk for long periods of time. A car seat massager is a great solution.
These useful little gadgets can be placed over your chair to massage you as you drive, leaving you feeling relaxed and rejuvenated. Some relieve tension by using little nubs that rotate and others use vibrations instead.
They're perfect for long journeys but can even be used outside of the car. Most car seat massagers can be used at home or work, so you can turn any chair into your personal massage chair.
In this article, we've listed the best car seat massagers on the market right now and explored their key features. Read on to my helpful Buyers' Guide to assist you with your shopping.
Ready to hit the road?
If you've already decided that you need a car seat massager and you're looking to dive straight in, here's a quick link to my favorite car seat massager on this list and a few reasons why we think you'll love it.
An attractive grey unit made from leather
Provides a Shiatzu massage experience
Rotating nubs can heat up for extra comfort
Unique air pressure massage function
Targets back, thighs, hips, and neck
The Best Car Seat Massagers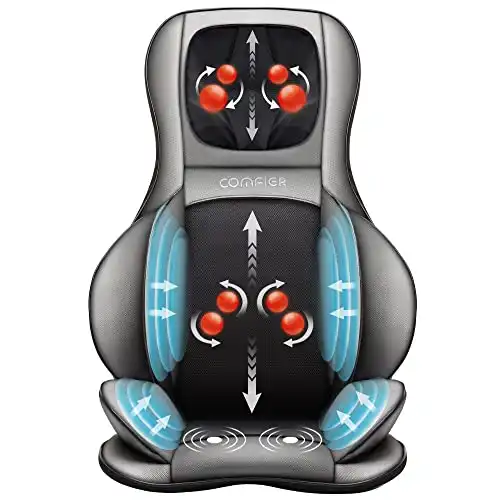 My Top Pick without a doubt has to be the Shiatzu Neck and Back Massager by Comfier. This massage chair pad provides relaxing massage on the neck, shoulder, back, waist, thighs, effectively alleviate fatigue, stress, and soreness.
The 4 massaging nodes move in an inward and outward motion to mimic the feel of finger pressure. The rolling massage feature, as well as spot massage nodes combined, provides double the relaxation.
There's even a heating pad throughout the whole chair which helps to relax muscles and relieve aching. This car seat massager stands out from the rest due to its unique air compression feature.
Two mini airbags positioned at the waist and hips provide a super relaxing compression massage.
Both the heat and air compression features can be switched off at any time and you can opt for a basic massage setting instead.
This massager can be used on chairs, car seats, sofas, office chairs, dining chairs, and even recliners.
If you're not happy with the product for any reason, the manufacturer offers a 30-day full refund policy, so there's no need to worry about commitment.
It's important to note that this model doesn't come with a car adapter and you'll need to purchase one separately to use it in your vehicle.
Pros:
Provides a Shiatzu massage on both back and neck using rotating nodes
Nodes can be warmed using the heat function
Air compression technology creates a unique massage experience
It's versatile- it can be used at home, on the go, and at work
30-day full refund policy
Cons:
It's quite expensive than some of the other options on this list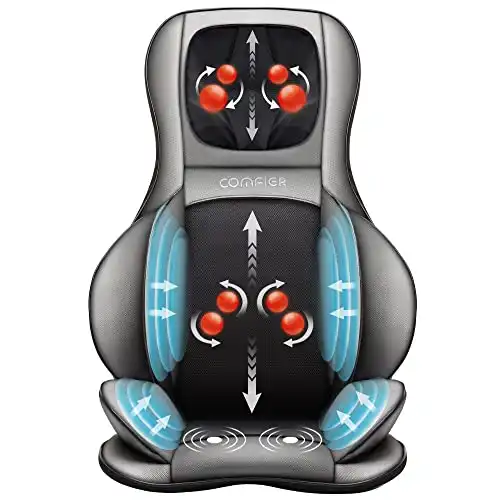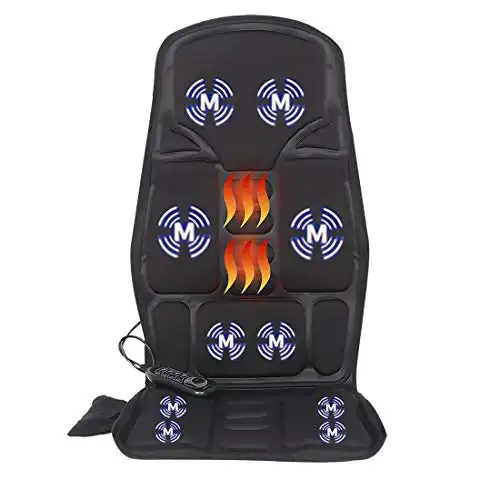 This vibrating massage seat cushion made by Sotion is a great option if you're looking for customizable massage settings while you're in your vehicle.
This seat cushion might look a little on the small side, but it's packed full with an impressive 10 vibration motors that can massage your neck, shoulders, back, and thighs.
This model even allows you to choose what unique kind of vibration you'd like for your specific muscle problems. It comes complete with three massage speeds and intensities and four massage programs that allow you to discover the perfect vibration for your needs.
You can choose a concentrated massage or even go wild and combine different body areas for an ultimate relaxation experience. As well as providing an all-over vibration massage, this car seat massager also has a heat function.
This soothing feature allows you to apply targeted heat to your upper, mid, or lower back for increased relaxation and comfort. You can just use the heat if you like, or combine it with the vibrations to achieve maximum relief from aches and pains.
The massage cushion includes built-in overheating protection and an automatic shut-off that'll turn the heat off after 30 minutes of being switched on to keep you safe.
Pros:
It uses 10 vibration motors that target the back, legs, neck, and shoulders
Adjustable vibration settings
Optional heat function helps to relax muscles and reduce stress
Lightweight for easy portability
Automatic overheat protection feature
Cons:
This car seat massager doesn't provide a Shiatzu massage but instead uses vibrations
No products found.
We love this Vibrating Car Seat Massager made by Mynt. It's an extremely affordable option but still provides a good quality massage experience.
This is yet another vibration massager and it uses 8 vibration motors that can work on two different intensity settings.
This model even features dual heating pads that are positioned at the lower back and thighs.
These help to alleviate aches and pains and improve blood circulation. The heating function can be used at the same time as the vibration massage function for double the benefits.
The heating function shuts off automatically after 30 minutes of use for safety reasons and to prevent overheating.
The Mynt car seat massage operates via an adapter that plugs into the cigarette lighter for power. It also comes with a power switch so you can use it at home or at the office too.
It comes complete with a remote control so that you can customize your massage. Overall, it's a light and foldable unit that makes it easy for on-the-go therapy. It is attached to any chair using the rear straps on the cushion.
Pros:
Super affordable for those on a low budget
Vibration massage function uses 8 motors
Heating function relieves muscle pain in the lower back and legs
Automatic switch-off function to prevent overheating and to keep you safe.
Can be used at home, at work, or on the go.
Cons:
The vibrations provided by this machine won't feel as intense as some people would like.
No products found.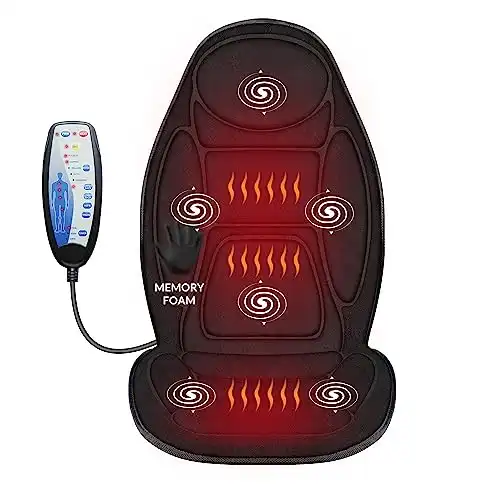 Snailax is one of the main manufacturers of car seat massagers and this Memory Foam Car Seat Cushion is one of their best selling products.
It has thousands of positive Amazon reviews to back it up and customers loved the product. This car seat massager mimics Shiatzu massage techniques using kneading roller balls.
The back massager seat cushion has 6 invigorating massage motors that provide a deep massage working into muscles and tissue to help relieve pain, tension, stress and eliminate fatigue after a long day at work or a road trip.
This Snailax model also has a heating function that targets the lower back and thighs.
This feature can be switched on and off as you please and can even be used in combination with the Shiatzu massage settings for twice as much relaxation.
It's made from soft and comfortable polyurethane memory foam. This ultra-plush padding gives the illusion of no gravity, making it perfect for alleviating pressure and pain.
Pros:
It's made from super comfy memory foam padding for optimum comfort
Heat function targets the lower back and thighs to ease muscle pain
Heat function can be used in combination with the massage feature
Quite affordable
Cons:
Some reviewers found that the power adaptor is a little too short
No products found.
Last but certainly not least is this heating and cooling car seat massager made by Gideon. Not only is it the cheapest product on this list, but it's also the only one that has a cooling function.
The chair is fitted with ventilating fans which expel cool air through tiny mesh holes in the cushion. This unique feature is perfect for cooling you down on those long summer drives.
As well as a cooling function, this car seat massager also has a heating function. There'll be no need to wait around for your car heaters to warm up. Plug in your car seat massager and it heats up in seconds.
This car seat massager works by using vibrations. The six vibrating zones penetrate deeply into your back and thighs to help relieve stress, aches, and pains.
This unit comes with an adapter that makes it ideal for use in the car, at home, or in the office. There's even a handy remote control that is attached to the chair with a cord.
This makes it easy to customize your massage and change the settings whenever you feel like it. The unit itself is fitted with an intelligent strapping system and an anti-slip bottom which keeps it firmly in place.
Pros:
The heating system provides extra comfort
The unique cooling function is perfect for summer months
Fitted with six vibrating zones
Can be used at home, in the car, or at work
Fitted with a user-friendly corded remote control
Cons:
Some reviewers found that the cushion can feel a little uncomfortable after long periods of time
No products found.
Buyer's Guide
It's not always straightforward when finding the right car seat massager. There are loads of different types to choose from and their features can vary. Here are a few things you should consider before buying a car seat massager.
Massage type
Believe it or not, every car seat massager will provide a different type of massage. The type of massage you choose should depend on what problems you're looking to target.
For example, if you have issues with blood circulation or fatigue, Shiatzu massages can help to eliminate these. Shiatzu massagers mimic a human's fingertips using rolling nubs which can invigorate your muscles.
Another option is the vibration variety of massagers. Vibration massages are great for reducing stress levels and can help to relieve muscle pain.
Keep in mind, however, that vibration massages aren't as powerful or as vigorous as Shiatzu massages.
Some models of car seat massagers have different massage functions to choose from which make them perfect for long-term use and for targeting multiple problem areas.
However, these types of models tend to be the most expensive. If you're on a small budget, we recommend choosing a massager that targets the area that is most important to you.
Heat Function
Some high-end car seat massagers have components that heat up. These aren't always necessary, but they're a great addition if you can spare to get one.
You can combine the heat function with your favorite massage setting to create the ultimate customized massage experience, all while driving!
Heated massagers are great for relieving lower back pain and improving stress levels.
Portability
If you're just going to be using your car seat massager in one car for the foreseeable future, portability probably isn't a huge concern for you.
But if you plan on taking it to work to use on your office chair or if you drive more than one vehicle, then portability is an important factor to consider.
If you want something you can take with you wherever you go, pay attention to its weight. The lighter the design, the more portable it is going to be.
Maintenance
Like all everyday appliances, your car seat massager will require regular maintenance to continue working effectively over time. Some car seat massagers are easier to clean than others.
Depending on the material and design, some can be easily wiped clean with a damp cloth. For safety reasons, it's a good idea not to overwork your massager and avoid using it for hours at a time.
Although some massagers have a safety function that's used to prevent overheating, we don't recommend using any model for long periods of time.
Car seat massagers can be used safely in increments of 10-20 minutes.
Frequently Asked Questions
What are the benefits of using a car seat massager?
If you can afford it, regular massages are proven to be great for your health. However, this isn't a realistic option for everyone.
Although car seat massagers don't compare to real human massages when it comes to quality, they're an affordable alternative. A car seat massager is capable of relieving muscle tension and pain if used correctly.
They're also great for reducing stress levels. Imagine this- you've had a terrible day at work, you're stressed and exhausted and aching.
What better way to turn the day around than getting a heavenly massage on your commute home? Or maybe you're stuck in traffic and you can feel your road rage brewing and your brow furrowing.
Simply turn on your car seat massager for instant relief and the danger of an embarrassing outburst is diminished.
In all seriousness, car seat massagers can be extremely beneficial to your health. Not only can they improve circulation which can, in turn, boost your immune system, but they're also proven to improve your mental health.
Research has found that having a massage can trigger the secretion of endorphins, literally making you feel happier.
How often should I use a car seat massager?
You can use your car seat massager whenever you feel like it. It can be as often as every weekday on your commute or just every now and then when you're having muscle pain or stress issues.
Experts recommend having massages regularly rather than infrequently, so go crazy. As long as you don't use them for hours at a time without giving it a rest to prevent overheating, then you'll be just fine.
What is a car seat massager?
If you've ever stared enviously at a co-worker at the office who has the fancy massager attachment on his chair? Well, it's essentially one of those but with an adaptor that usually plugs into your cigarette lighter.
They can utilize different types of massages including vibration and Shiatzu and include features such as a heat function. They're great for relieving back pain and boosting stress levels.
Does my size matter when purchasing a car seat massager?
Car seat massagers tend to be a one-size-fits-all situation. They're designed to work for people of average weights and heights.
However, as you're browsing for the right one, make sure to check the measurements if you're concerned about having sizing issues.
Simply measure yourself, and your chair to get an accurate picture of how it's going to fit.
Related Posts