Checking and maintaining the car's accessories can be tough for first-timers.
Some things may seem simple, others may seem a bit difficult.
But at the end of the day, you have to take care of your car.
Maintaining the fluids of the car can be confusing, but you'll soon get the hang of it!
Most cars have a tank capacity of around three-quarters of a gallon or between 2.5 to 4 liters of washer fluid. Exact tank capacities vary from car to car, and you can measure how much your car needs by marking how much it takes to fill your washer fluid tank.
But simply filling the washer tank doesn't get the job done! You need to keep in mind different things in mind, especially if you're a newer driver.
Windshield wiper fluid needs to be changed as well, and certain measures need to be taken in order to make sure that you don't cause harm to your car.
So, keep reading this article to the end and hopefully, your query will be answered!
How much windshield wiper fluid should I put in my car?
The exact amount that your car can take depends on the make and model of your car, and you would find an answer in your car's manual.
Another great method is to completely empty the washer fluid tank and fill it to the required level.
You can then measure how much it takes to fill the washer tank completely, and remember it the next time you need your tank filled.
Cars usually have much larger tanks than you might think, and once you start filling them up, it might actually take a few bottles to completely fill the tank.
The larger the tank, the less time you'll have to spend refilling!
However, smaller tanks aren't bad either, since you can measure and maintain the concentration of the windshield wiper fluid.
Can you overfill windshield washer fluid?
Overflowing the windshield washer fluid tank can cause issues. The wiper fluid can expand due to increasing temperatures, which can cause a strain on the tank if you've filled it to the brim.
A good practice would be to fill the tank about 80-90% of its full capacity, and refill it later when it's low.
However, spilled washer fluid due to filling the tank shouldn't be that much of an issue.
In the case that you've spilled some while refilling, simply wipe the fluid off the engine, and you're good to go.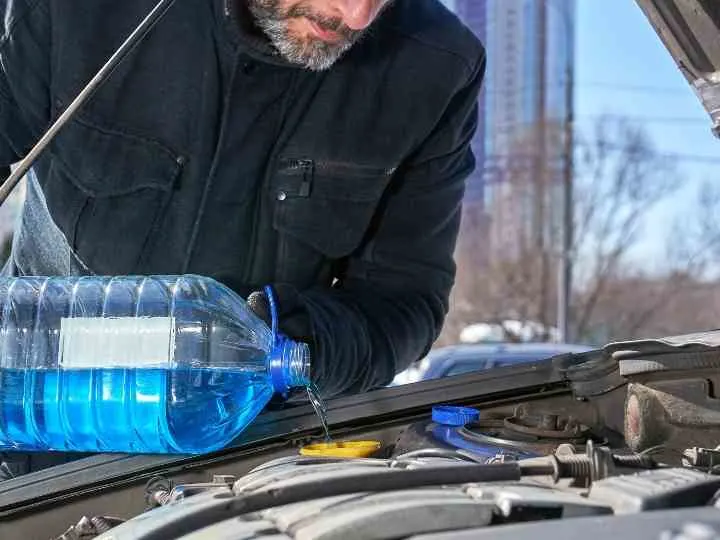 How do I make homemade washer fluid?
Homemade washer fluid can leave streaks on the window and cause damage in winters.
The fluid might lead to mold growth within the reservoir tank and freeze in the winter.
This can further damage your car's reservoir and the nozzles used to spray the liquid onto the windshield.
Check out our recipes for homemade washer fluid in this article.
How to make antifreeze washer fluid?
In order to avoid your homemade washer fluid freezing in the winter, you can use this recipe to make antifreeze washer fluid, which can be safely used to keep the windshield clean.
Combine half a cup of ammonia or vinegar with 1-2 tablespoons of dishwashing fluid and a gallon of water.
Mix this, and pour the concoction into the washer fluid reservoir. This will result in a homemade antifreeze washer fluid.
How to know when your windshield wiper fluid is full?
Usually, washer fluid reservoirs have a mark inside the tank that indicates how much you can fill them up and their maximum capacity.
How often should windshield wiper fluid be changed?
Windshield wiper fluid only needs to be refilled, not changed, unlike an oil change.
You can open your reservoir and check whether the tank is running empty, and if the fluid is less than 1/4th of the tank, you should refill it!
Washer fluids online
In order to give you more ease, we've also dropped the links of some good quality washer fluids, that are proven to give good cleaning!
Prestone AS658 Deluxe 2-in-1 Windshield Washer Fluid
Prestone is a well-known washer brand, with very good reception from different users.
Their formula is patented and can create a thin layer of repelling fluid onto the windshield, which repels water.
This is great when you have to drive in rainy conditions, and can't afford to compromise on visibility.
The cleaner is formulated not to freeze and keeps your windshield frost-free in temperatures around -27 degrees Fahrenheit.
The solution is ready to pour, meaning you don't have to dilute it before putting it into the reservoir.
Plug a funnel onto the tank, and fill it up!
You can check this product out on Amazon by clicking this link.
Qwix Mix Windshield Washer Fluid Concentrate
If you're looking for a concentrated fluid that doesn't have you returning to the store, then Qwix Mix might be what you're looking for.
This bottle makes around 32 gallons of washer fluid, meaning that you only need to buy one and revisit the store after several months.
You only need to use ¼ ounces per gallon of water to make one gallon of washing fluid.
The bottle also comes with an easy-to-use dosage container that you can squeeze to fill up with the required amount of washer concentrate.
Combining methanol will help protect against freezing temperatures, and there is an easy-to-read direction label on the bag which will guide you regarding the best way to combine the fluid with methanol and water.
You can check out the product on Amazon by clicking this link.
Final Thoughts on Windshield Wiper Fluid Capacity
Well, we hope this article helped answer your query!
Always remember to measure an empty tank before filling it to know exactly how much your car holds, and remember to keep the helpful tips we've given in mind whenever you have to deal with washer fluid issues.
We hope you have your query solved and get the best solution for your car!