Tesla has quickly become the world's most valuable car manufacturer.
Their electric vehicle lineup has opened up a whole new world of options for many consumers.
You may already know that Teslas have special tires, but do they come with a special spare tire?
Teslas do not come with spare tires because of the low likelihood of experiencing a flat tire and the increased cost of outfitting the vehicle with a spare tire is more expensive than the benefit provided. Additionally, flat tires are covered under Tesla's roadside assistance program.
Keep reading to learn more about why Teslas do not come with spare tires, and what other options you have!
Why Don't Teslas Come With a Spare Tire?
Spare tires can be incredibly useful if you're stuck on the side of the road with a flat. You've just got to lift the car up a little bit, so you can get the old one-off.
Then, you'll be able to replace the flat with something that can get you where you're going.
Why doesn't Tesla include them with all their new vehicles, though? Well, that's because it's not a good deal for the consumer.
Tesla researched how often spares actually get used by people. Believe it or not, only about 15% of spares ever end up getting used.
That means nearly 85% of spare tires just wind up at the dump once a car reaches the end of its lifespan! That's a ton of rubber to release into the environment.
Plus, it costs a lot to add a spare to all their cars, too.
As such, removing spares from all their cars has made them less expensive.
Tesla doesn't have to use as much plastic to make their vehicles since they don't have spares.
Getting rid of spares has made it possible for them to lower their asking price. So, they've helped reduce how much you've got to spend if you'd like to buy one of them.
One of the biggest reasons would be how often people use spare tires, though. Most drivers never use a spare tire, even if one is included with their cars.
The majority of spares never get used for their intended purpose.
Tesla views them as an unnecessary expense as a result. Building cars without spare tires don't cost as much money.
And, it's one less thing they've got to worry about when they're finishing up a car's production process.
How Much Is a Spare Tire for a Tesla?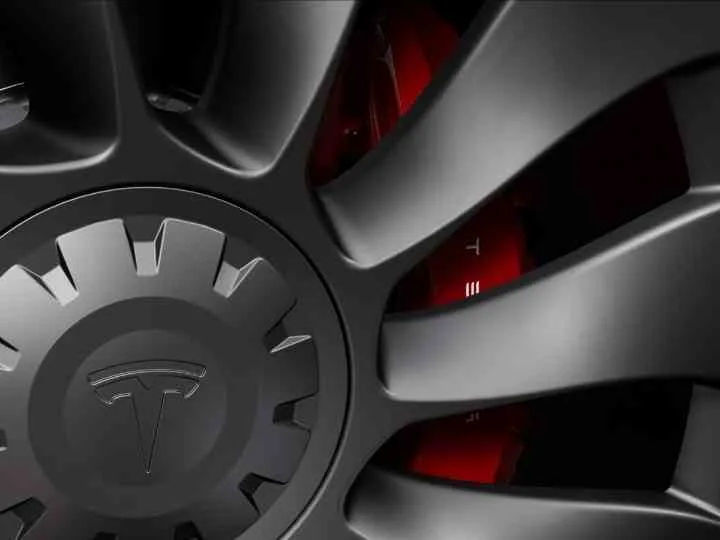 Just because your car doesn't come with a spare doesn't mean you're not able to get one. You're able to buy one of them aftermarket.
They're only about 6 inches wide, so they're not going to take up a ton of room.
Spare tire kits for Teslas vary in price depending on which model car you've got.
Another factor that can impact its price would be how large the tire has to be.
Large tires tend to cost a lot more than one that's smaller.
Expect to pay somewhere between $200 to $400 if you'd like to get a spare for your Tesla. Some of them cost more than others, so we've given you a price range.
Usually, you'll get a spare tire along with a few other things in the kit as well. A lot of them even come with a jack to help you lift the car.
That's going to make replacing a flat feel way easier if you're broken down on the side of the road.
A good kit also includes a bag to carry everything.
You can put them in the trunk of your car, so you'll always have it with you. Getting a flat doesn't mean you've got to stop traveling as long as you've got a spare tire.
Tesla used to sell a spare tire kit themselves, but they stopped. Now, you've got to purchase spare tires from a third party if you'd like to get one of them for your car.
Spare Tire Options
The simplest solution to your spare tire issues would be to get a donut for the trunk.
These tend to be a little smaller than a typical tire. As a result, they're not going to last a long time if you're driving on them.
However, you don't need a ton of room in the trunk to carry them around with you. They're also relatively simple to install as well.
So, you shouldn't have too much difficulty trying to put them on if you've got a flat.
Donuts usually cost a few hundred dollars, and you're able to store them in the trunk.
If your car ever gets a flat tire, a donut would help you finish the trip. They're typically durable enough to travel about 100 miles. Some of them don't even travel that far, though.
Make sure you're looking at the spare's specs before you buy anything. Not all spares will fit your car.
You've got to get one that's going to be the right size for your car. Otherwise, you won't be able to use them when your tire goes flat.
Some spares can fit a range of cars. For example, there's a spare tire set made for the Model 3. It's able to fit cars with tires as small as 18 inches or as large as 20 inches.
Alternatives to Spare Tires
Spare tires aren't the only thing you can do if you've got a flat. There are plenty of other options when you've got a flat tire to get back on the road.
If you've got a Tesla, then the easiest option would be to call their roadside assistance. Tesla's roadside assistance comes with their car's warranty. So, as long as you're under warranty, you can rely on them.
Calling their roadside assistance number will connect you with their call center.
Someone from there should be able to find a tow truck to pick you up.
They can take you somewhere that's able to help replace your flat.
Sometimes, you're able to get roadside assistance to help you on the spot. They'll send someone to your location to replace your flat tire there.
They can even help you balance them after they've put the new one on your car, too.
Another option would be to sign up for AAA.
The American Automobile Association (AAA) has been around for more than 50 years. Signing up for one of their memberships entitles you to a ton of benefits.
One of the best things about AAA is that you're able to use their roadside assistance service. You've just got to give them a call, and they'll send help to you.
You don't even have to spend a ton of money on a tow truck if you'd like to use your membership. Most of the time, it's included with your membership fees. So, you won't have to spend anything else if you'd like to use it.
How to Handle a Flat in a Tesla
Getting a flat tire is never fun. Even Teslas get them from time to time, though. You could purchase a spare from an aftermarket dealer.
Most of the time, if you've got a Tesla, you can use their roadside assistance. Tesla gives roadside assistance to their customers as long as they're under warranty.
They've got an affordable membership with roadside assistance as one of its benefits. You can ask them to help you find a tow truck. Then, you've just got to wait for them to arrive.