Driving is one of the great freedoms of the world. It gets you from A to B in record time and allows you to spend time with family while going on road trips to see natural wonders and fun amusement parks. But ending up with a flat tire in unfamiliar territory can be stressful and scary. Having some form of roadside assistance membership can be a great help in these times.
While AAA can inflate a tire or install your own spare tire, they will not patch a tire for you. If your tire is not able to be inflated and you don't have a spare tire that can be installed, the only other option AAA can offer is to tow your vehicle to a nearby service center.
Roadside assistance plans such as those offered by AAA can be a great investment to consider. Membership plans can cost $50 to $100 or more and will have a different range of benefits to suit every type of driver.
Whether you simply want coverage when commuting to work, or will be taking the RV out on a long road trip, a AAA assistance plan can be extremely useful to have.
What AAA Can Do To Help With a Flat Tire
The AAA roadside assistance plan can offer a few ways to help you if you are stranded at the side of the road with a flat tire. The first is they can remove your flat tire and install your spare.
The caveat is that you need to have a viable spare with you. AAA cannot bring you a spare tire!
Many newer vehicles may not have a spare tire due to changes in how vehicles are manufactured. If this is your situation, another option is for AAA to inflate your tire. If you have a slow leak, inflating the tire can give you enough tire pressure to drive yourself to a service center for patching or replacement.
If this is not an option due to your tire having sidewall damage or a severe puncture, the only other option AAA can offer is to tow your vehicle to a nearby service center. This may be free and covered under your roadside assistance plan, however, the distance you can be towed at no cost will depend on the type of plan you have.
For example, the basic AAA plan covers you for 5 miles of towing.
If your vehicle has to be towed further, you will be charged around $10 for each mile over the initial five. If you were on an adventure away from civilization when you got a flat, this towing charge may add up to quite a bit of money when all is said and done!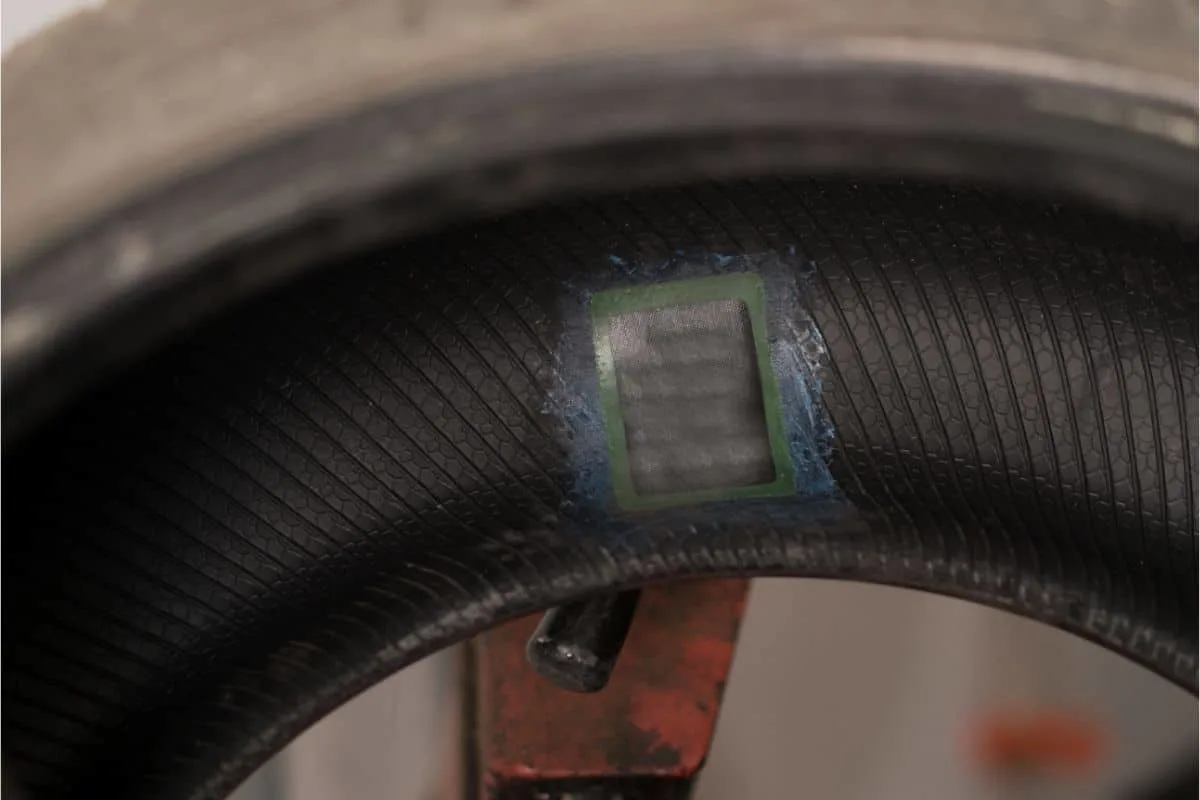 Tip: Make sure to also take a look at my article on the 7 most commonly asked questions about AAA here!
How Much Does it Cost to Patch a Tire?
There are various costs associated with patching a tire. It's not as straightforward as it may seem.
While the actual sealing or patch may cost a small amount of money at a mechanics shop or service center, the other costs add up!
1. Towing
If the puncture is only very tiny and the air is leaking out slowly, you may be able to inflate the tire and drive yourself to get repairs.
However, if towing is required the average fee from an independent towing company starts at around $75 for the first 10 miles and costs $3 to $5 per mile after that.
If you have an AAA plan, the towing fee may be completely waived depending on the distance your vehicle needs to be towed and which roadside assistance plan you have.
2. Sealant Kit
Having a basic sealant and inflation kit of your own may be extremely useful, but can also be costly. However, having it and not needing it is much better than needing it and not having it!
Depending on the inflation kit you purchase, this can be as simple as a can of expanding foam for a few dollars, to an electrical air compressor powered by your vehicle that can cost up to $300.
3. Patch or Replacement Fee
Once your vehicle arrives at the repair shop, several factors will determine how affordable or costly the bill will be. If the damage is minor and only includes a single small puncture, patching is an option and may only cost $30 or less.
However, if there has been severe damage to the sidewall, a large blowout, or multiple punctures from glass or nails, patching them may not be an option. In this case, an entirely new tire will be needed. Depending on the size and style of the tire you need, you may be looking at up to $250.
In addition to the cost of the tire, the service center may also charge for installing the tire. While this fee is normally small and is sometimes included with a new tire purchase, it can still be another unexpected addition to your overall bill.
Having an AAA membership will cost you an annual fee, however, it can help cut down on a lot of the costs associated with repairing a tire. If the problem is very minor, it can get you back on your way at no cost whatsoever.
Frequently Asked Questions (FAQs)
Can roadside assistance patch a tire?
Unfortunately, no. Roadside assistance offered by AAA will not be able to patch a small hole or slow leak in your tire. However, if you have an AAA plan they can inflate, install your spare, or tow your vehicle to a nearby service center at no cost.
Will AAA replace a tire?
If you have a spare tire with you, AAA can change your flat and replace it with your spare. Your AAA technician will not bring a spare tire with them, however, so you must have your own aired up and ready to go.
Does AAA fix flat tires at home?
No matter where you may be; at home, at the store, or in the middle of nowhere, AAA can come to you and inflate or change your flat tire with your spare. This is a great service for someone who is unsure how or unable to change their own tire.
Conclusion
While having an AAA roadside assistance plan is not the perfect answer to every situation, it can be a very valuable asset to have in some cases.
Always try to keep a spare tire with you, and ensure it is in good working order so your roadside assistance technician can get you back on your way in record time.
Related Posts