Toyota has made a name for itself in the automobile world by making some of the most reliable cars on the market.
And none more so than their best-selling Toyota Corolla and Camry models.
Both the Toyota Camry and Corolla have excellent fuel economies, lavish interiors, and comfortability across all trims levels. But where do we draw the line? What's the difference between the two models?
Which is the better car? And which one should you buy?
Read on to find out.
Engine Specs and Performance
When buying a vehicle, crucial aspects to consider are its engine, drivetrain configuration, and the power it delivers for a smooth drive around the city or a long upcountry drive.
The Toyota Camry and the Corolla have several engine options available depending on your needs, preferences, and budget.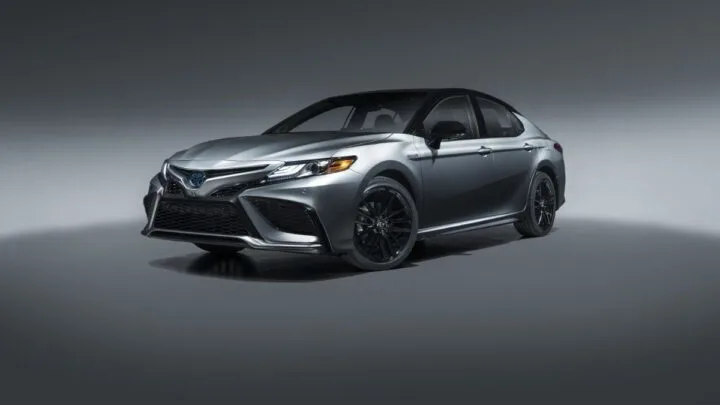 Toyota Camry
The Toyota Camry comes with a base 2.5-liter four-cylinder engine that delivers 202 to 206 horsepower and 182 to 186 lb-ft of torque, depending on the trim.
The base engine is paired with a silky Direct Shift 8-speed automatic transmission and a front-wheel drive (FWD).
Furthermore, it delivers sufficient power to get you up to speed on the highways, but suffers from below-par acceleration.
From our tests, the mid-size sedan accelerated from 0 to 60 mph in a slow 8.2 seconds.
You'd probably want to avoid the Camry's base engine at all costs and instead go for a better-performing V6 engine available in the higher trims.
For example, the TRD, XLE, and XSE trims have a more powerful and aggressive 3.5-liter V6 engine paired with a Direct Shift 8-speed automatic transmission and front-wheel-drive (FWD) drivetrain.
The V6 engine delivers 301 horsepower and 267 lb-ft of torque and is paired with large 12.9-inch front brake rotors and TRD-tuned suspension for improved performance.
Over the years, Toyota has been redefining the Camry, and the newer models are smoother to drive, allowing for better control and responsive handling.
The car is well-balanced with a sturdy chassis, responsive brakes, and a powerful engine that matches some performance models.
Additionally, the Camry has available hybrid trims that pair an engine with motors to produce a net 208 horsepower.
Toyota Corolla
Toyota Corolla offers a lot of powertrain and model options to choose from for your daily commute. And like most compact sedans, it's offered as a sedan or a hatchback.
Moreover, the entry-level Corolla sedan comes with a base 1.8-liter four-cylinder engine that delivers 139 horsepower and 126 lb-ft of torque through a continuously variable automatic transmission (CVT) to the front wheels.
You'll also get an available 2.0-liter four-cylinder engine that comes with an optional six-speed manual or the Dynamic-Shift CVT.
And, for better acceleration and smoother drives, go for this engine, as it delivers 169 horsepower and 151 lb-ft of torque.
Moreover, Toyota Corolla has an available sedan-only hybrid option with the base 1.8-liter four-cylinder engine, ECVT transmission, and a combined 121 horsepower and 105 lb-ft of torque.
As we've seen, the Corolla is a little underpowered compared to the Camry, but has advantages that have made it a high seller.
In terms of performance, the car has decent acceleration and braking, excellent agility, and good steering.
MSRP: Which is More Expensive?
The manufacturer's suggested retail price (MSRP) isn't an accurate indicator of the value you're getting in a car, since our needs and preferences differ significantly.
Nonetheless, the Toyota Camry and Corolla are well-priced, and you're sure to get what you pay for, or even more.
And to be more specific, the Camry is more expensive than the Corolla, with its entry-level model costing more than the highest-priced Corolla trim.
Toyota Camry Pricing
LE – $26,870

SE – $28,410

LE Hybrid – $29,005

SE Hybrid – $30,540

XLE – $31,620

XSE – $32,170

XLE Hybrid – $33,895

TRD – $33,935

XSE Hybrid – $34,445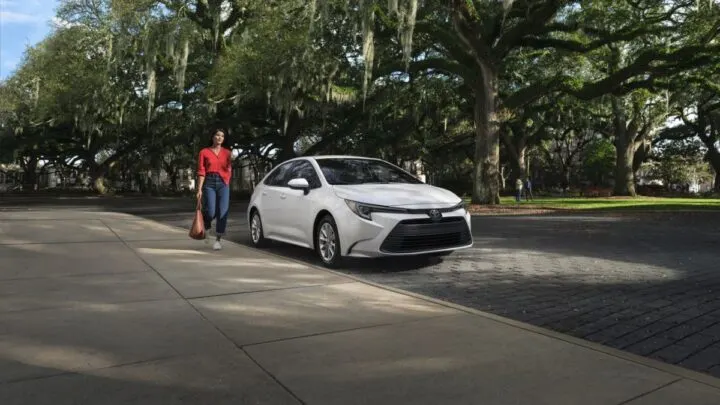 Toyota Corolla Pricing
L – $21,450

LE – $21,900

SE – $22,190

Nightshade – $24,190

SE Nightshade- $24,600

Hybrid LE – $25,075

XSE – $25,140

XLE – $25,850
Is the Camry or Corolla Better on Gas?
Overall, the Camry and the Corolla are very fuel-efficient vehicles, offering hybrid options for even better fuel economies.
However, due to its smaller engine and powertrain capacity, the Corolla has a slightly better fuel economy than the Camry.
Here, let's look at how the two models compare according to EPA fuel economy tests and estimates.
Toyota Camry
The four-cylinder Camry powertrain has one of the best-in-class fuel economies.
The model has slightly varying fuel economy figures due to its wide array of available powertrain and drivetrain options.
The EPA estimates show that the hybrid models have the best fuel economies compared to other powertrain configurations.
Let's take a closer look at its EPA-estimated fuel economy.
2.5-liter 4-cylinder automatic Hybrid LE: 51 MPG city/53 MPG highway/ 52 MPG combined.

2.5-liter 4-cylinder automatic Hybrid SE/ XLE/ XSE: 44 MPG city/47 MPG highway/ 46 MPG combined.

2.5-liter 4-cylinder automatic 8-speed engine LE/SE: 28 MPG city/39 MPG highway/ 32 MPG combined.

3.5-liter 6-cylinder automatic 8-speed engine: 22 MPG city/33 MPG highway/ 26 MPG combined.
Toyota Corolla
Toyota Corolla has two fuel-efficient four-cylinder powertrain configurations you should probably consider.
And if you need to drive longer with every gallon, I recommend using the hybrid powertrain.
Here's how each powertrain configuration performed in EPA fuel economy estimates.
1.8-liter 4-cylinder automatic Hybrid: 53 MPG city/52 MPG highway/ 52 MPG combined.

1.8-liter 4-cylinder automatic gasoline: 29 MPG city/37 MPG highway/ 32 MPG combined.

2.0-liter 4-cylinder automatic Hybrid: 32 MPG city/41 MPG highway/ 35 MPG combined.
As we can see, both models have hybrid models in their lineups that have similar fuel economy ratings, despite one boasting a bigger engine.
Therefore, go with the Camry hybrid trim if you'd like better acceleration, more torque, and power.
Infotainment Systems, Interior Design and Cargo Space: Which is Bigger?
You'll immediately notice that the Camry has a bigger interior space when you get inside both vehicles.
We can attribute this to the fact that it's bigger than the Corolla and falls in the mid-size sedan class, while the latter is a compact sedan.
Regardless, both interiors are well-crafted, with the Camry offering more cargo volume, whereas the Corolla provides a more compact ride across town.
In other words, the Corolla utilizes its interior space to ensure your comfort, whereas the Camry has more room for additional flexibility.
More precisely, the Camry comes with 100.4 cubic feet of passenger volume, dwarfing the Corolla's 88.6 cubic feet.
Additionally, the Camry has 15.1 cubic feet of cargo volume compared to the Corolla's 13.1 cubic feet.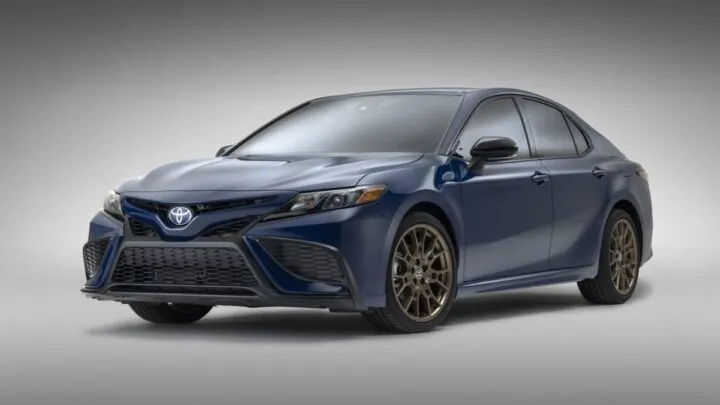 Toyota Camry
The Toyota Camry has something for everyone, with its cheaper entry-level trims packing good interior features.
However, you'll notice a massive drop in material quality between the higher-end trims such as the XLE and the cheaper SE trims.
Therefore, if you prefer luxury, I'd recommend going with the higher trims as you'll enjoy leather-trimmed multi-stage heated front seats and a 10-inch color head-up display (HUD).
Other features include the Toyota Safety Sense 2.5, a 9.0-inch touchscreen with nine JBL speakers, and a panoramic glass roof.
Toyota Corolla
Like the Camry, the Toyota Corolla's entry-level trims don't have much luxury, and its interiors are average.
You'll have an upgrade option for dual-zone climate control, interior lighting, and heated front seats.
The entry-level L trim has a 7-inch display, Toyota Safety Sense 2.0, Android Auto and Apple CarPlay, Alexa compatibility, and ten airbags.
Conversely, the higher-end XSE trim has an Audio Plus, including an 8-inch touchscreen, JBL speakers, Qi-compatible wireless smartphone charging, power tilt/ slide moonroof, and leather-trimmed steering wheel having paddle shifters.
Like the Camry, the wiser choice would be to go for a higher trim.
Is the Toyota Camry Better Than the Toyota Corolla?
Overall, yes.
Having compared both models, it's clear that Toyota designs its cars with best-in-class reliability and dependability over performance. Their engines are nothing exemplary, but will serve you for decades to come without much fuss.
However, the Corolla has better fuel economy, outstanding reliability, and is cheaper; hence suits drivers who value fuel efficiency figures.
On the other hand, the Camry has bigger seating and cargo space, a bigger performance engine, better acceleration, and excellent ride and handling.
Overall, the Toyota Camry is the better car in many aspects.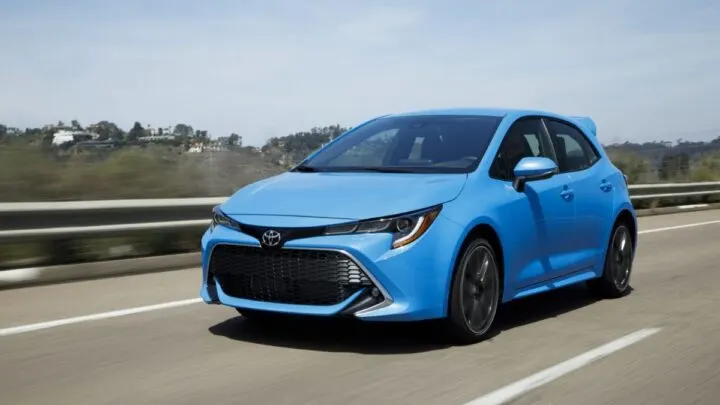 Final Remarks on Toyota Camry vs. Corolla
Toyota Corolla is arguably Toyota's highest-selling car ever. And, its popularity keeps rising as more people opt for reliability and fuel economy over luxury.
Moreover, as much as its entry-level trims have nothing to note, the higher-end trims have features that rival models from luxury brands.
On the other hand, the Camry matches the Corolla's interior features and betters the latter in most essential areas, such as performance and comfort.