One of the most popular sedans in the automotive industry, the Toyota Camry has proven itself to be durable, reliable, and also sporty.
If you're considering buying a Camry, you will be choosing either an LE or SE model. What are the key differences between these two? Here's what you can expect to see once you take a closer look.
The Toyota Camry LE and SE have the same safety rating and are similar in most other ways. The SE is a more luxurious Camry model, so it costs more but you get nicer interior features, like upgraded seats and a better air conditioner.
For a full breakdown of how the Toyota Camry LE stacks up against the SE, just keep reading.
Toyota Camry LE vs. SE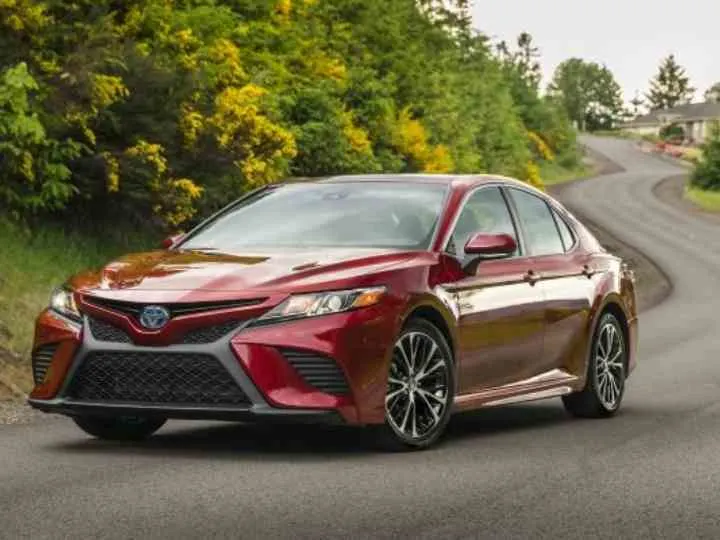 Camry Pricing
When you start comparing a Camry LE and SE, we know pricing will be a high priority.
Since both of these models are very similar to one another, it won't come as a surprise to learn that the pricing does not vary that much among them.
If you want to buy a Toyota Camry LE, its MSRP is $24,350. Should you be interested in a Toyota Camry SE, its MSRP is a bit higher, coming in at $25,550.
Unless that extra $1,200 will absolutely bust your budget, we suggest you consider buying the Camry SE, since it does have a few more features overall than the Camry LE.
Camry Interior
When talking interior, this may be one area where you will notice a significant difference between the Camry LE and SE.
Though both models are equipped with an Entune 3.0 Audio infotainment system that features App Suite, you'll notice differences just as we did regarding the steering wheels and seats.
First, let's look at the upholstery in these two Camry models. The Camry LE will give you front seats that are fabric-trimmed, while the SE offers a bit more comfort and style, thanks to having sport SofTex-trimmed front seats.
When it comes to a Camry steering wheel, the SE again offers a few more features geared toward luxury. In both cars, you will find a tilt/telescopic three-spoke steering wheel.
But in the SE, the steering wheel is upgraded to leather trim, giving it a luxurious look and a slightly better grip.
Camry Safety
If there is one thing all Toyota vehicles are known for worldwide, it is the levels of safety they offer to drivers and passengers.
Whichever Camry model you ultimately select, it will come equipped with the Toyota Safety Sense, which features an array of driver-assist safety features.
Both also come with integrated backup cameras that have the projected path feature, making it very easy for you to see what's behind you when driving or backing up.
Each Camry also comes equipped standard with ToyotaCare roadside assistance, giving you peace of mind when on the road.
The one major difference in terms of safety features between the Camry LE and SE is the tire pressure monitor system. On the SE, this system and its feature of direct pressure readout is standard, while on the LE this feature is not included.
Camry Seating
No matter which of these Camry models you choose, each will allow you to comfortably seat up to five passengers.
Engine and Fuel Economy
There is practically no discernable difference in the engines and fuel mileage between the SE and LE.
Both come with standard 2.5L four-cylinder engines that are dynamic force. As for fuel mileage, expect to get 28 miles to the gallon when driving in a city, and almost 40 miles to the gallon when driving either of these Camry models down the highway.
Keeping Cool
Should you be driving a Camry SE on a hot summer day, your AC unit will have single-zone automatic climate control. On an LE, you will have manual air conditioning.
Though both will keep you cool, the SE will give you more options to do so, and will probably be appreciated by any passengers who are along for the ride.
Luxury vs. Sporty
If you buy a Camry LE, you are getting an "entry-level" Camry in the traditional luxury category, which is certainly nothing to be ashamed of, since the LE is one of the best sedans on the road today.
However, a Camry SE is considered to be the sporty version. In many cases, younger buyers will drift towards the SE, while older buyers prefer the LE.
SE Nightshade
If you happen to want your new Camry to have plenty of black on its exterior, you can opt for the Nightshade version, which is not available with the LE.
On a 2022 Camry SE Nightshade, you can expect to see a variety of blacked-out trim. This will typically include black side mirrors, door handles, window trim, and a rear spoiler.
Should you want a Camry that is a hybrid version, you can get an SE Nightshade as a hybrid.
Camry Hybrids
Along with being able to get a Camry SE Nightshade in a hybrid version, you can also get both the standard LE and SE in hybrids as well.
If you opt for a hybrid, you will notice a significant difference in terms of fuel mileage. With a hybrid Camry, be it the SE or LE, your fuel mileage jumps from about 40 miles per gallon on the highway up to 53 miles per gallon. With gas prices going higher each day, hybrids are getting plenty of attention today.
Is the Camry LE or SE a Better Value Overall?
Since car buyers differ in so many ways when it comes to what they want in their vehicle, we often find this type of question hard to answer.
Since both the SE and LE get excellent reviews throughout the auto industry, we feel you can't really go wrong with either model.
However, as car prices have risen over the past year and your budget may have gotten tighter, we think you may be like many buyers and ultimately select the Camry LE.
Even if it is not as sporty, the LE and its base trim is a value for many car shoppers.
Though there are some key differences you will want to keep in mind when looking at a Camry SE and LE, the good news is that no matter which one you choose, you'll have a car that is safe, reliable, and looks great.
Related Posts