Ford makes an extensive line of vehicles for many different uses. It makes trucks for a wide range of jobs and capacities.
The F750 is a popular model in the Ford medium-duty commercial truck line. It is currently in its 8th generation and is outfitted with a large engine to handle the tasks of contractors, operators, and truckers.
Let's explore the F750 and see what it can do for your business!
Ford F750 Class & Uses
The Ford F750 is considered a medium-duty commercial-grade truck. It makes two different versions, each of which has different options and capabilities. This truck is versatile and designed for productivity.
The Ford F750 can be equipped with a wide range of upfit packages that allow you to turn it into a bucket truck with a lift, equipment truck, tow truck, or dump truck. Some transform their F750 into the ultimate RV.
F750 SD Straight Frame
The F750 SD Straight Frame comes as a gas or diesel version. The gasoline version offers a prep kit that can allow the engine to run on either natural gas or propane autogas.
The gasoline version is powered by a 7.3-liter 2V DEVCT NA PFI V8 engine, and the diesel version uses a 6.7-liter Power Stroke V8 Turbo Diesel.
Both of these engines are more than capable of getting the job done, and they offer advanced towing features that make hauling the load easy. You can choose either a standard or crew cab model.
The crew cab offers plenty of room for those in the back seat.
F750 SD Diesel Tractor
The diesel tractor offers many of the same options as the straight frame versions of the F750, only as a tractor.
Like the other F750 models, this one comes with features to give you confidence on the road, like hill start assist, traction control, and automatic high-beam headlamps.
It also comes with a long list of safety features, like a pre-collision assist with emergency braking, lane-keeping alert, and adaptive cruise control.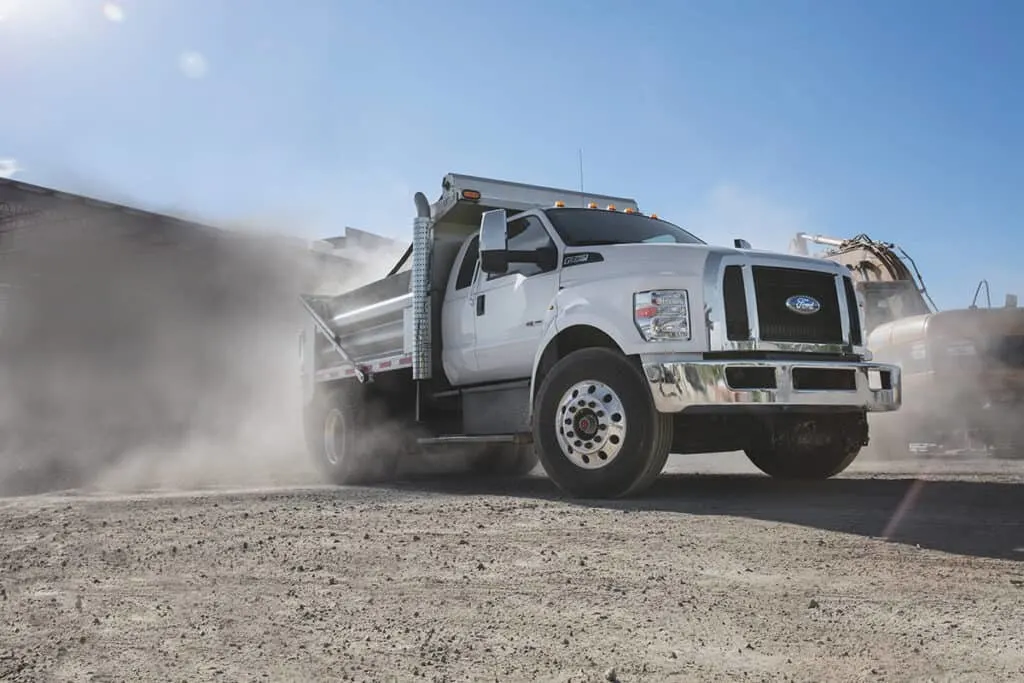 Ford F750 Weight and Dimensions
The dimensions of the F750 are the same regardless of the model you choose.
All models are available as a 114.4-inch regular cab version, a 135.4-inch SuperCab version, and a 149.9-inch Crew Cab.
The standard cab is designed for two people, and the longer versions are designed for up to five, including the driver.
The GVWR varies, depending on the engine you choose and options packages. The straight-frame gasoline model begins at 26,000 pounds and goes up to 37,000 pounds. The diesel is a little heavier at 31,000 – 50,000 pounds.
The tractor ranges from 27,500 to 50,000 pounds. These figures do not include the weights of any trailer or upfit packages. It also does not include any payload or additional cargo weights.
Do You Need a CDL to Drive a Ford F750?
One of the things you might be wondering is if you need a commercial driver's license (CDL) to operate the Ford F750. The answer to that depends on the state in which you live.
In most states, you do not need a CDL to operate a truck that does not go over 26,000 pounds GVWR. If you load it over 26,000 pounds, then, you do need a CDL.
It might be noted that depending on the options you choose, they could drive the GVWR of the gasoline straight frame over 26,000. The diesel version starts at 31,000 pounds, and the tractor starts at 27,500 pounds, so you will need a CDL for those.
The gasoline straight frame is the only version of the F750 that might not require a CDL, but that is only if you have a stripped-down version with no extras and no load. It begins at 26,000 lbs. GVWR, but adding any weight at all will send it over the limit.
If you are towing a trailer that brings the combined weight to over 26,000 pounds, then you do need a CDL. You will need a CDL – Class B if the trailer and cargo are under 10,000 pounds and a CDL – Class A if the trailer and load are over 10,000 pounds. If your F750 has air brakes, you will need an air brake endorsement in some states.
Another circumstance where you will need a CDL is if you are hauling hazardous waste that requires a placard. In this case, you will need a CDL – Class C. If you plan to haul passengers, then you will also need a CDL – Class C license. Special endorsements are needed for CDL carriers for hazmat and passengers.
What you intend to use your F750 for on a daily basis also determines whether you need a CDL or non-commercial license. In some states, you do not need a CDL if you are only using the truck for personal and non-commercial use. In other states, you need a CDL based on the weight of the truck.
The best advice is to check with your state Bureau of Motor vehicles and the Bureau of Motor vehicles in any state where you plan to drive the truck.
Some states, like California, have a lower GVWR of 10,000 pounds as the threshold for requiring a CDL. Also, some states automatically include knowledge about air brakes on the Class A test, while others do not.
How Much Does a Ford F750 Cost?
The F750 SD gas straight frame with no optional packages starts at around $62,100. You can move up to the F750 SD diesel-powered straight frame starting at $71,345. The F750 SD diesel tractor begins at $74,730.
This price reflects the 2021 base price according to the Ford website, but prices will vary from dealer to dealer. This price is just the base truck with no other optional amenities and packages.
You can add options like a 110v AC outlet, upfitter interfaces, driver-assist technology, or a heavy-duty alternator.
Ford offers a wide selection of options that allow you to customize your F750 the way you like it, but each of these will add to the cost. The Ford F750 is an excellent choice for many types of businesses.
They have a wide range of packages and upfit packages that are appropriate for agriculture, towing services, and many types of hauling.
The Ford F750 can be fitted with a range of third-party upfits and packages. It can also be fitted with options like a power take-off (PTO) and other hydraulic systems.
The F750 is an option you might want to consider if you have a business and need a medium-duty truck to add to your fleet.
Related Posts