Have you been thinking about, or have recently purchased, a Dodge Ram 1500? If so, you might be wondering if you can tow a fifth wheel. Find out here as we take a close look at the towing capacity.
The Dodge Ram 1500 has a factory towing capacity between 6,200 to 7,700. However, with a tow package or upgraded engine, you can actually be able to tow up to 12,750 pounds, allowing you to pull a fifth wheel within that range.
If you would like to know more about how you can tow more weight with your Dodge Ram 1500, then keep reading and find out what you can do to be able to pull a fifth wheel.
What Size Camper Can a Dodge Ram 1500 Pull?

The size of the camper or fifth wheel you want to tow will affect the overall weight of the model, which can be limited by your Dodge Ram's 1500 towing capacity.
The larger the size of the camper, the heavier the total weight will be.
If you have the upgraded model of the Ram 1500 with a tow package, then you will be able to handle much more weight and a larger-sized camper. This will allow you to choose a larger fifth wheel to purchase and tow.
However, if you have a base Ram 1500 model, then you will still have the capacity to tow a fifth wheel, but it will have to be a much smaller option. You will have an option to add an aftermarket tow package to allow you to tow more weight though, which could be useful.
So, take a look at the towing capacity of your particular Ram 1500 model capacity to see what size camper you will be able to haul.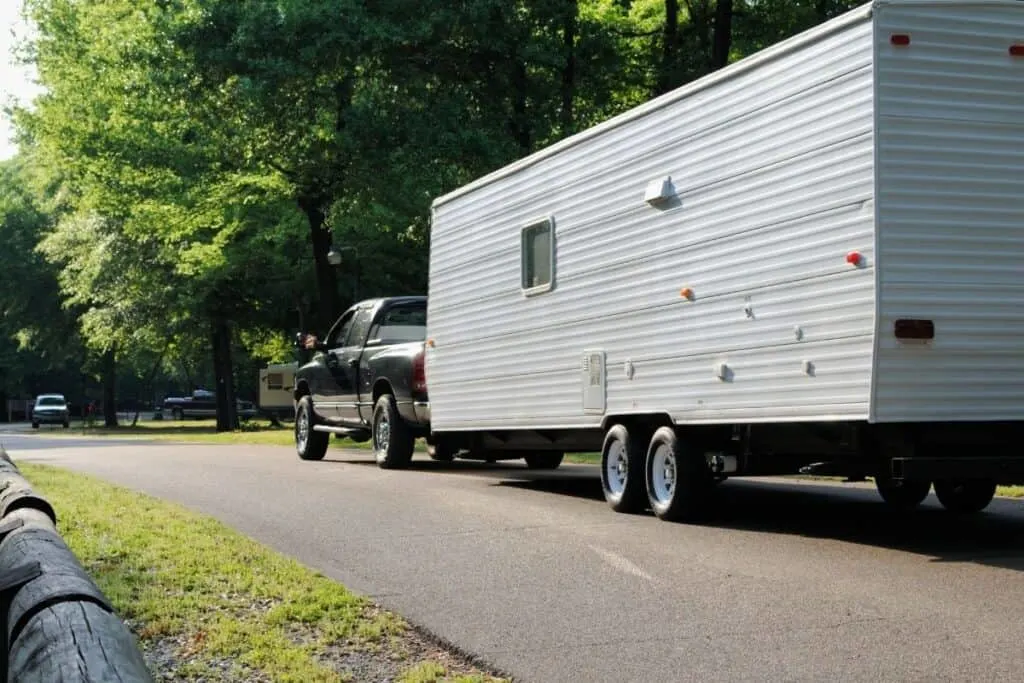 How Much Weight Can I Pull with My Dodge Ram 1500?
The size and weight of a fifth wheel are closely connected, so the weight of the camper you want to tow will determine if the towing capacity of your truck can handle it.
If you have a higher towing capacity, then you will be able to tow a much larger camper, but if you have a lower towing capacity, you will have to settle for a smaller and lighter option.
A camper can range between around 2,000 pounds to 20,000. This is a large range, but the average weight of a camper is between 12,000 and 15,000.
This could make it difficult for a basic model of the Dodge Ram 1500 to tow a camper, so you will have to look for a small and lightweight choice. This could be harder to find since most of them are heavier, but it can be done.
However, having a Dodge Ram 1500 that comes with a tow package or certain upgraded parts that will raise the towing capacity will be a model that you will want to opt for. Or, if you already have your Ram truck, you can add aftermarket parts that can help you tow more weight.
Total Weight Considerations
It is important to think about all of the weight that will be in the camper and the truck, which all need to be added together. This means that all the equipment that you will take with you in the camper should be counted as well.
This is also why you should add up the total weight with everything you intend on taking with you on your trip. If you will have multiple bags of clothes, food, and equipment, you will want to add that to the total weight.
This will ensure that you have the towing capacity for everything that you will take, and not just the camper itself.
This is also why you will want to allow the towing capacity to be well over the weight of the fifth wheel so that you will be able to have enough room to put all your things in the camper without going over the total weight capacity of the vehicle.
What is Included in a Dodge Ram Tow Package?
I have talked about adding aftermarket items as a tow package, but I have not yet discussed what you can get as a tow package when you first purchase a Dodge Ram 1500.
These tow packages are an option that you can get when you purchase your vehicle and are added to the total cost of the vehicle.
This makes it easier to add the price into the total amount for the car and allows for the cost to be absorbed into the monthly payments you will have for your truck. Most trucks have some form of tow package that comes as an option, but they vary with each brand and model.
The tow package for the Dodge Ram 1500 model comes with a hitch receiver, a trailer brake controller, a trailer brake-wiring harness, and a seven-pin wiring harness. There is also an upgraded engine cooling system that keeps your truck from overheating while towing a large fifth wheel and extra weight.
Getting a tow package allows your truck to be better prepared for larger items and makes it safer to tow items like fifth wheels that come closer to the towing capacity. Most of these additions make it easier to control the brakes so that the extra weight won't cause an accident by not stopping on time when your truck does.
You can also hook up a taillight system that allows the camper's taillights to act as your truck's and will allow the cars behind to see your signals better, which can also help the drivers and passengers around you to be safer as well.
Aftermarket Packages
If you are planning on buying a Dodge Ram 1500, you can add on to package items after you purchase the truck, but this often costs you more at once.
When you add on a tow package to your truck purchase, the amount is put into the total cost of the vehicle and is paid along with the monthly car payment.
However, with aftermarket items, you will likely have to pay more upfront and have a larger monthly payment on top of what you are already paying for your car.
This will cost more at once and might be harder to pay, so opting for a tow package at the original time of purchase is a great thing to do.
What is a Fifth Wheel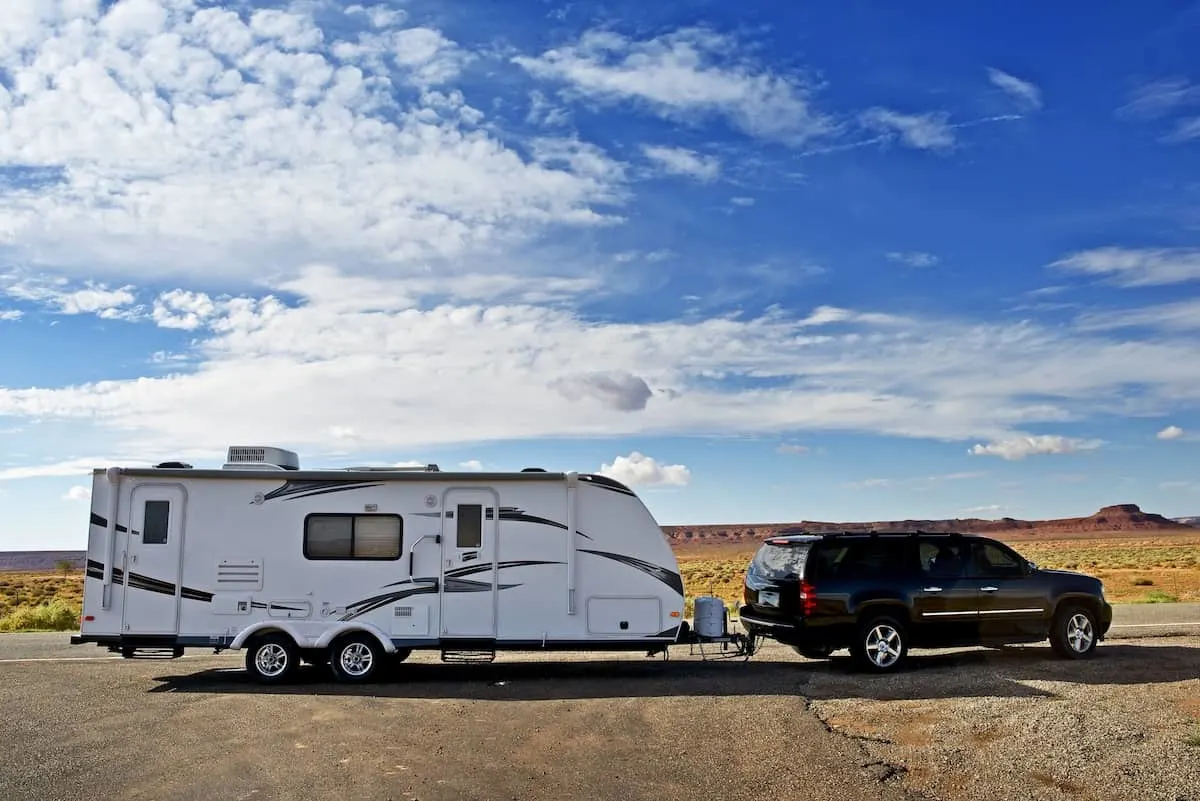 The term fifth wheel can be a bit confusing today since there are only four wheels on these types of campers, but the name refers to a camper that can be towed on behind a truck and originally came with five wheels.
The name was given because the original design was made for carriages and there was a fifth wheel on the front to help the camper pivot on its own.
Although this is no longer needed, the term is still used fairly commonly. A fifth wheel can weigh anywhere between 2,400 to 20,000 pounds.
This large range makes it difficult to tell if your Dodge Ram 1500 will be able to tow the fifth wheel that you want if you don't know the exact weight of the camper. However, if you are looking for a new camper with your Ram 1500's towing capacity in mind, then this could be a bit simpler.
However, if not, you will need to get the weight of the camper that you have or will get. This can be found by talking to a sales representative at a camper lot, or by checking online for an owner's manual that you can view.
The weight should be well under the towing capacity of your vehicle, so if you have a fifth wheel that is 8,000 pounds and you have a towing capacity of 12,000 pounds then you will be fine.
However, if you have the basic model with no additions, you will have a towing capacity of up to 7,700, which will mean that you cannot tow that camper model.
Final Thoughts
Pulling a fifth wheel with your Dodge Ram 1500 can be done, but the size of the camper will vary from each model if one has a tow package and one doesn't. It will also depend on the year that the model was released.
The size and weight of the camper might make you downsize the camper that you were thinking of buying, and getting one that is more lightweight, but if you have a Dodge Ram 1500 with a tow package, you will be able to handle towing many different fifth wheels.
Just remember that you should leave plenty of weight leftover for other items that you will need to take with you on your trip, and the items that you will keep inside your truck as well.
However, if you take all this into account and ensure that your camper is not too heavy for your truck, you will be able to safely tow a fifth wheel without any issues.
Recommended Reading
Before you go, make sure to also check out these other awesome truck-related resources!