Do you drive a Nissan Titan and want to know what it can tow? From a 5th wheel to a toy hauler, we will show you what exactly you can tow with your vehicle so you will know for sure before you attempt it.
The Nissan Titan has a total towing capacity of around 10,000 pounds, so your truck will be able to haul 5th wheels, boats, jet skis, travel trailers, toy haulers, and horse trailers. The model of each of these items will depend on the weight, but in many cases, a Titan can handle it.
Want to know exactly what types of towable items you will be able to handle with your Nissan Titan, then keep reading to see what your vehicle can tow without issue. Also, you can see which items you might want to skip.
Towable Items Your Vehicle Can Handle
With a higher towing capacity that allows for multiple items to be towed without any problems, you are likely not surprised that your Nissan Titan can tow many things. However, there is a cap on what it can do.
So, we will go over the different types of items that you can tow, and which kinds of each category that you want to stay away from. Though it will be able to handle a lot, certain larger items within these categories will be too heavy for this vehicle.
5th Wheels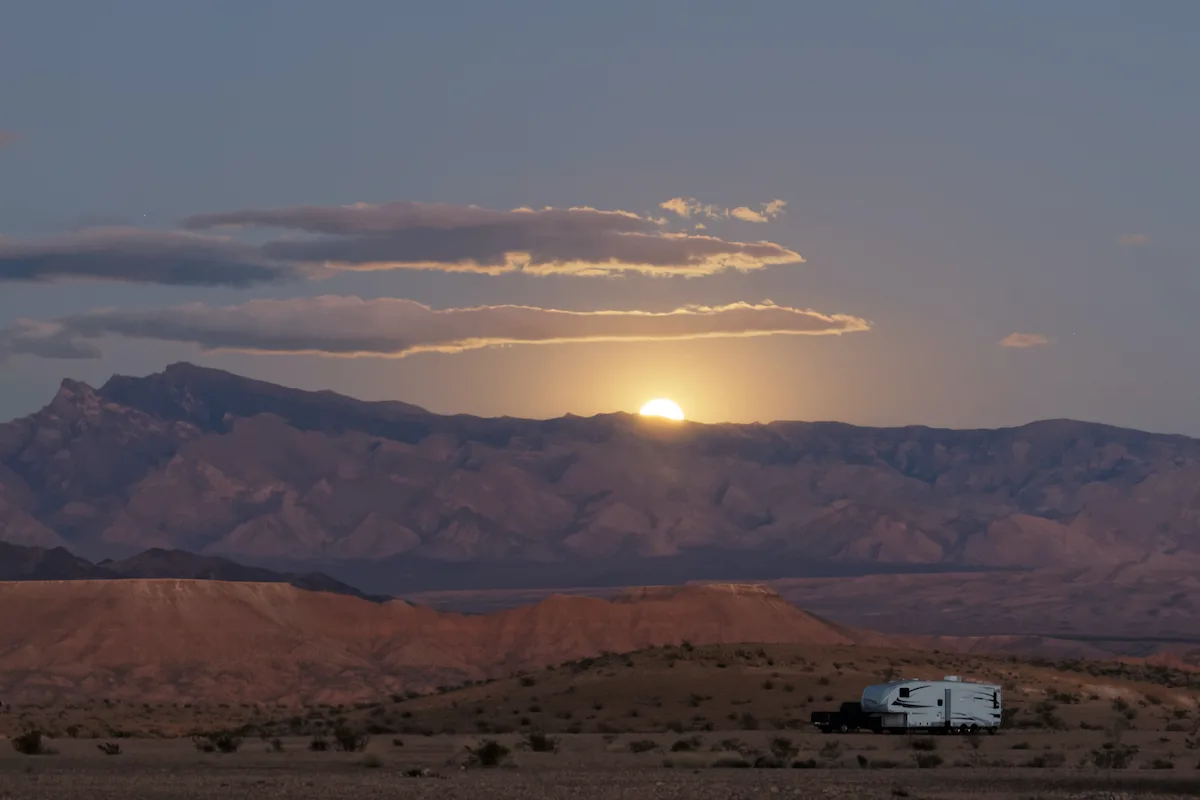 Let's start this out by going over the 5th wheel, which is one of the items that come with a large range of options to tow. From small options that weigh around just over 2,000 pounds to larger choices that can weigh up to almost 20,000 pounds, there is a large range to pick from.
So, with the towing capacity of the Nissan Titan being around 10,000 pounds, the smaller options of 5th wheels can be easily be towed. Some of these options will be closer to 7,000 pounds, but with that limit, you will still have no problem with towing these 5th wheels.
Some examples of 5th wheels that are in the smaller range that a Titan can tow are the Escape, Jayco Eagle HT, and The Scamp Deluxe. These vary a bit when it comes to weight but they are all within 2,400 and 8,300 pounds.
This means that these options are all within the range of the Nissan Titan's capacity and can be towed. However, this is not true for all 5th wheels, unfortunately.
The mid-range models are much bigger and can weigh between 10,000 and 14,000 pounds. This means that except for the smallest models that are close to 10,000 pounds, these models will all be too heavy for your truck to handle.
There are also luxury options that can near the 20,000-pound range because of the luxury items that are added to the 5th wheel. These are way passed the weight limit of the Titan and should not be attempted at all.
So, you will need to look for a smaller option that comes within your truck's weight range to ensure that it can handle towing it without going over the towing capacity.
Horse Trailer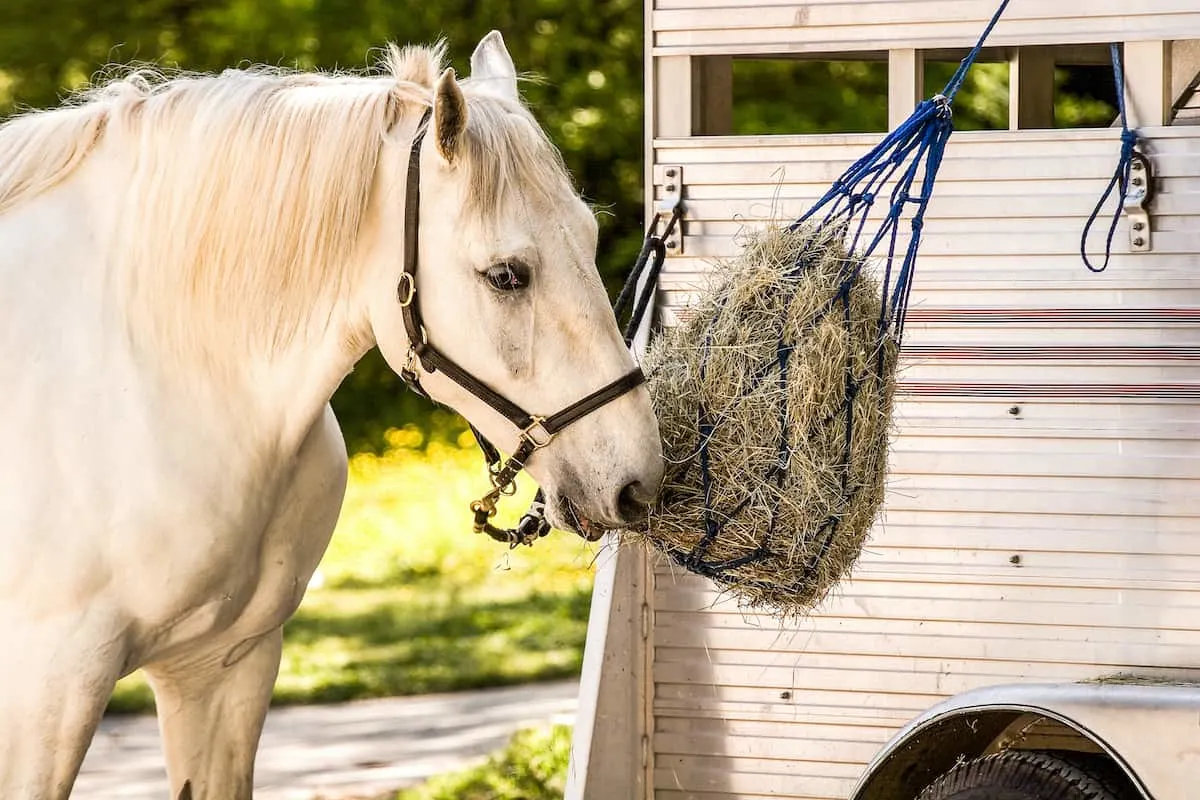 If you have reason to tow a horse trailer, then you will be happy to know that you will be able to handle this type of load with your Nissan Titan. The average empty weight of a horse trailer is around 2,900 pounds.
This doesn't include any cargo or horses, but this is a good starting point. However, you need to do a bit of math to ensure that the horses and items you need to fit in the trailer won't put you over the total capacity.
You will need to know the weight of the horse or horses that you intend to transport, as well as the combined weight of all the items that you need to take along with you.
This will require you to know these weights before you purchase a trailer because you will need to find an option that weighs a bit less than the average if you end up going over your truck's capacity with all your cargo.
A trailer that is meant to hold two horses can weigh about 2,400 pounds, which will give you more room to haul items in the trailer. If this is what you need to find, you will still be able to tow a horse trailer, just one that is made for two horses at max and whose weight is on the low end of the range.
Boat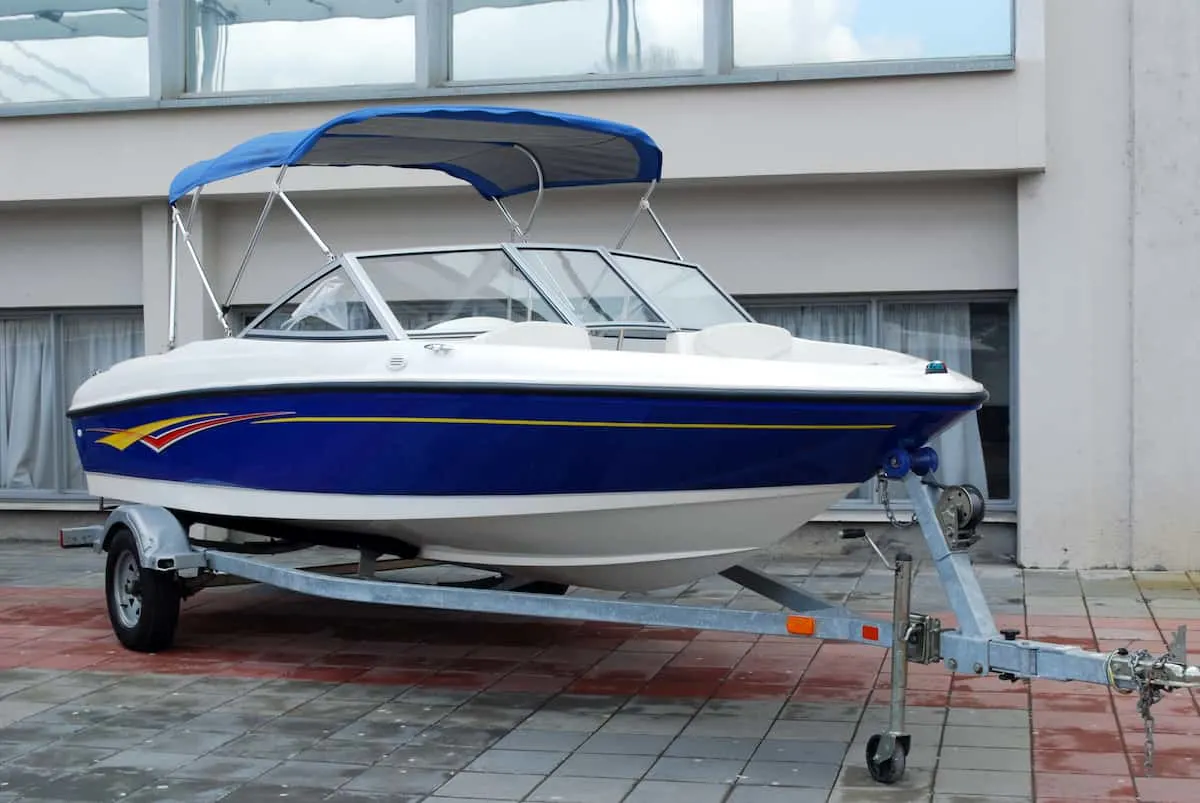 If you have a boat that you would like to tow, then you are in luck. There are many different types of boats that you will be able to tow with this truck.
There are many types of boats, canoes and kayaks are on this list, which allows for a long list of items that you can tow within this category. So, let us start with the canoes and kayaks.
These two boat types are normally around 50 pounds, which makes them super easy to tow. However, to tow a boat, you need a boat trailer.
This type of trailer can weigh a few hundred pounds up to about 1,500 pounds. This will need to be added to the total weight, but even so, canoes and kayaks are okay.
However, when it comes to sailboats that are around 7,000 pounds, this could be a problem if the combined weight goes over the capacity of your truck.
Sticking to smaller options like a motorboat that has an average weight of 2,500 pounds is the better option that leaves you plenty of room to add cargo too.
Jet Ski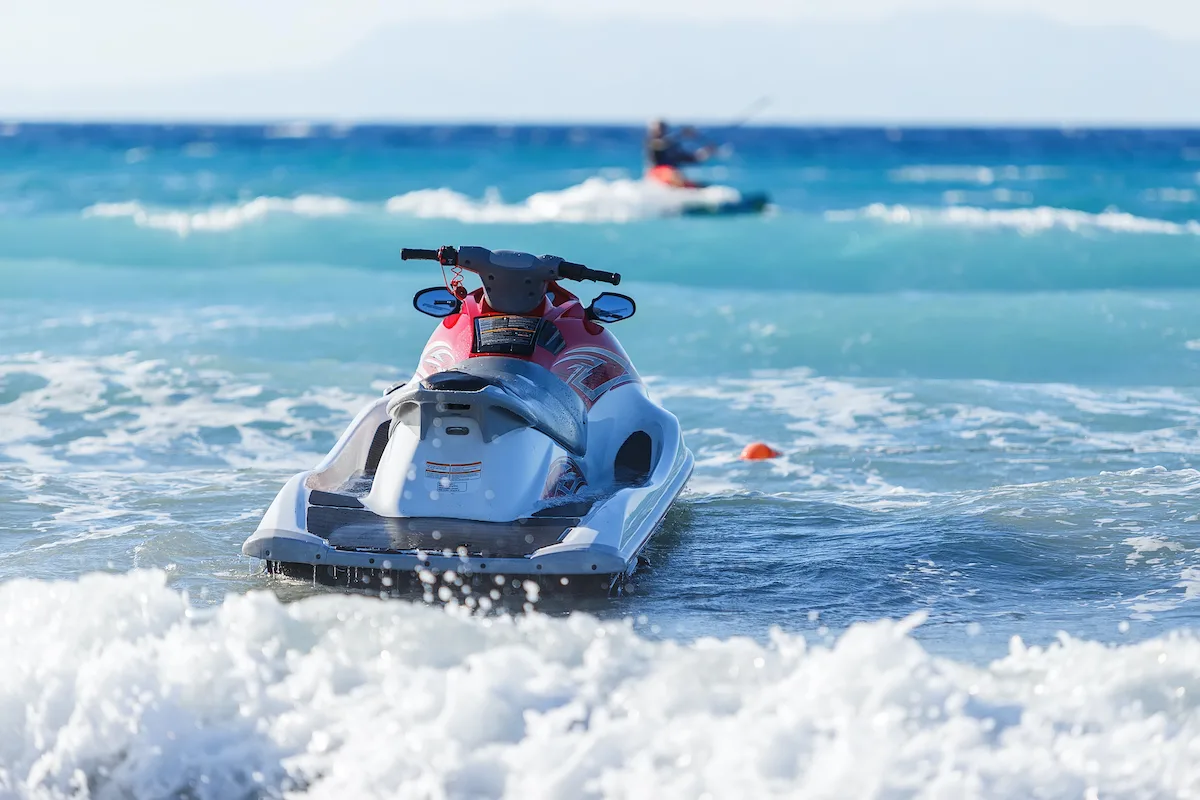 If you want to tow a jet ski, this is a simple thing to do. With a total weight limit of close to 10,000 pounds, the average jet ski that weighs 850 pounds is nothing to your Titan.
Even with the added weight of the boat trailer, you are still looking at about 5,000 to 6,000 pounds. This is well under the total weight capacity and allows you to add other items that you want to bring along.
You can even be able to get a larger trailer to be able to hold two jet skis. A larger trailer might weight around 3,000 pounds, but with the two jet skis, the total weight will be less than 7,000 pounds.
This is still under the limit, and you are actually towing the trailer and two jet skis, not just one jet ski.
Travel Trailer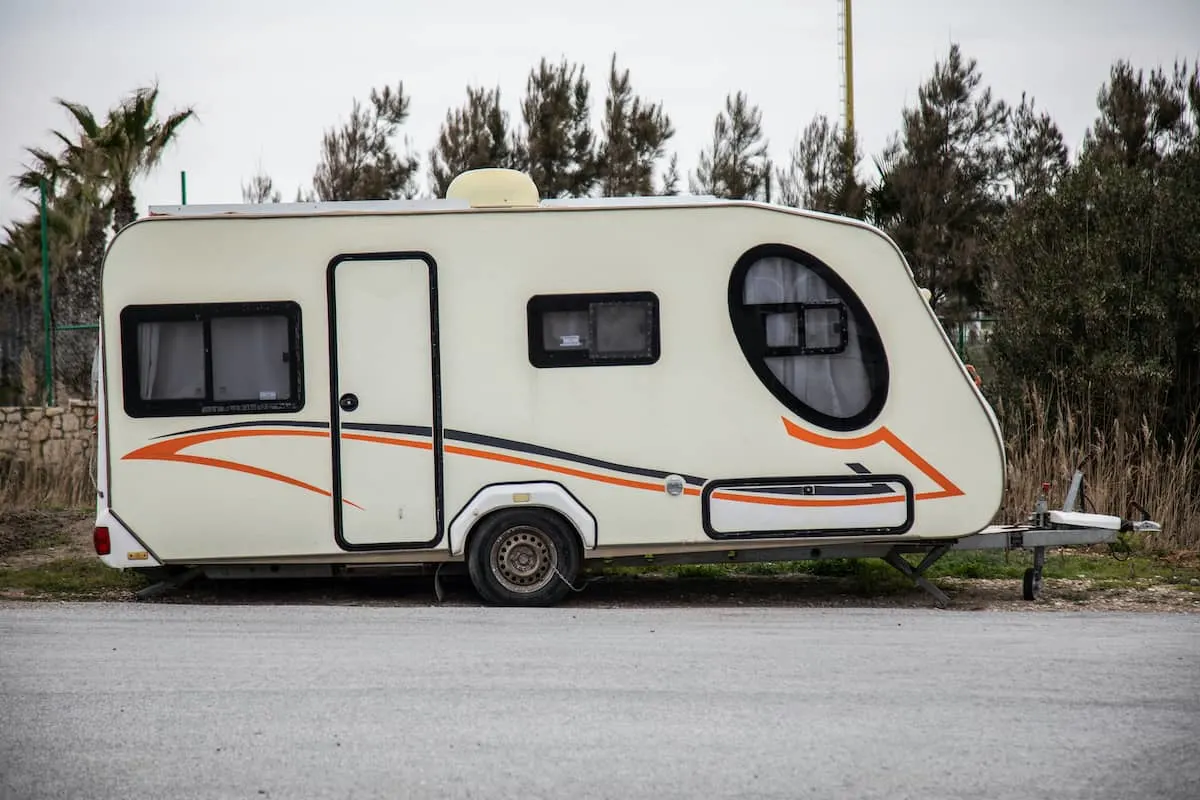 There are many styles of travel trailers, but the average weight for these trailers is about 5,200 pounds. This alone would leave plenty of weight leftover, however, this is not counting the weight of gas in the tank or items stored in the trailer.
You should add about 1,500 extra pounds to allow for all your storage items and gas. With this addition, the total weight comes to 6,700 pounds. This still leaves some space for more items, but it is much closer.
This means that you will not want to go overboard with storage in the trailer. You will also want to stick with a trailer that is the average weight or just above that 5,200-mark.
If not, you could get an option that is close to 7,000 and when that is added to the 1,500 for gas and gear, it could be too close to the weight limit for comfort. It would be easy to go over by packing lots of heavy items in the trailer.
So, keep it to the lower weight end, and don't bring along everything that you might need and just stay with the essentials.
Toy Hauler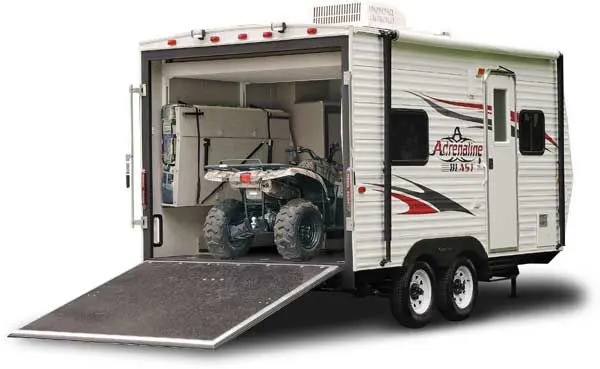 A toy hauler is an option that allows travelers to tow their "toys" along with them to use when they get to their destination. This can be a dirt bike, ATV, or a golf cart.
These items are fun to take with you on a camping or hiking trip to kick up the adventure while you are there, but they all add to the weight of the toy hauler itself. This can make them too heavy for a Nissan Titan.
These toy haulers typically run between 10,000 and 16,500 pounds, but you also have to add the weight of the toys you will haul, which could be another thousand or so pounds. The weight for most models is higher than the towing capacity of the Nissan Titan, coming in at 13,000 to 14,000 on average.
So, unless you happen to find a model that is lighter than usual, with all the toys inside, you won't be able to tow a toy hauler with your truck.
Conclusion
Having a Nissan Titan means that you have a high towing capacity, but that doesn't mean that you can tow whatever you want. You still have a total weight limit that you need to abide by.
However, this won't be too hard to do because your truck can take on most of these items. So, the next time you plan a trip, you might want to decide to purchase and tow one of these options to see what your truck is capable of.