Getting new tires can cost quite a bit of money if you're not sure where to find the best deals.
That's why Costco has been one of my favorite places to get them whenever we're in the market.
Costco has better prices on tires than many of its competitors, but they are not always the cheapest option on the market. However, their 5-year tire warranty and included lifetime servicing add value that makes them a great option to consider.
In general, Costco charges between $150 and $250 per tire. They've also given coupons to many of their customers, further reducing the price.
You can check their website to see whether your tires have a coupon available.
Costco Tire Prices
So, how much would it cost to replace the tires on your car at Costco? As we mentioned, each car is going to cost a different amount.
You have to figure out which tires it needs to see what they'll cost.
We ran some numbers to find out how much it would be to replace the tires on a Honda Accord. It usually has a set of 225/50R17 tires.
These are relatively popular throughout the world, and they're found on tons of cars.
Looking at Costco's website, we found several options that would fit an Accord.
The cheapest ones we saw were available for $142 per tire. That's not including any discounts that we could have used.
Of course, the cheaper ones don't usually come from the most well-known brands. We also took a look at the price for a Michelin Primacy 4 tire.
Getting one of them from Costco would run you $238, without any discounts.
That means you'd have to spend $955 if you replaced all 4 tires on an Accord. If you went with the cheaper ones, you'd still spend over $500.
That's still less than it would cost at another store, usually.
You can get an even better deal by buying a set that's got coupons available. Applying a coupon is easy if you're shopping online. Just put in the code at checkout to reduce your checkout total.
You've got to pay for more than just the tires, though. Costco also charges $15 per tire if they install them.
Plus, they tack on another $3 service fee per tire as well.
Is There an Advantage to Buying Tires at Costco?
Is there a reason people shop for tires at Costco, other than cost? Actually, buying tires at Costco has a ton of benefits!
Anything you've bought from them is covered by their 5-year warranty.
This protects you if one of the tires goes flat because of a road hazard. They'll give you store credit to use on another one, saving you money.
You can even ask them to repair a tire if it's flat, and they'll do it for free. You can rely on their warranty as long as you bought your tires from one of their stores.
Costco also fills all their tires using nitrogen instead of compressed air. That's going to make them last longer without losing pressure, prolonging their lifespan.
You might even notice an improvement in your fuel economy as well.
Everyone who buys tires from them also qualifies for lifetime service. Adding air to your tires doesn't cost anything if you're doing it at their store.
They'll even rotate them for free while you're there.
Balancing your tires is also part of their lifetime service guarantee. Each time you visit them, they'll put a new valve stem on your tires, too.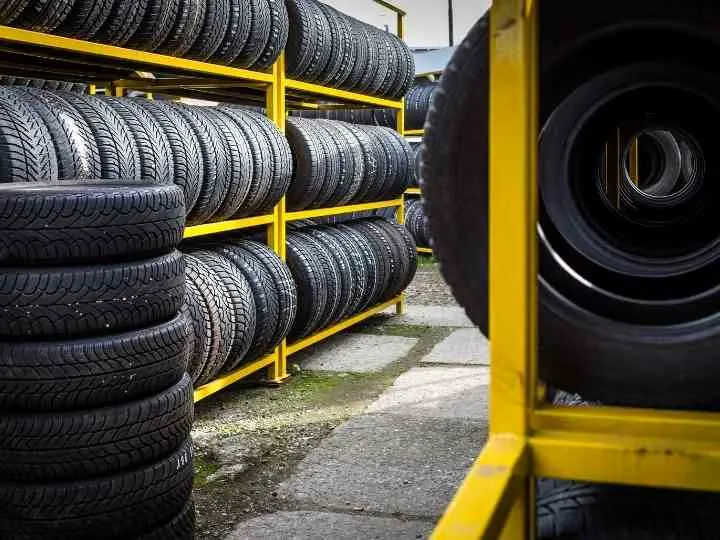 Are Tires Cheaper at Costco or Walmart?
Obviously, it's cheaper to shop at Costco than at a lot of other places. But, is Costco cheaper than Walmart when you're shopping for tires?
We compared the average cost of a tire at Walmart with what it would cost at Costco.
It seems like Walmart offers lower prices if there's not a discount available. However, Costco is cheaper after applying coupons.
It would have cost over $1,000 to get 4 Michelin tires at Walmart. The same tires only cost $850 if you get them at Costco and use their coupon.
You can buy Michelin Primacy 4 tires for $262 apiece if you get them at Walmart. Costco charges $238 for them, without any coupons.
It's even more of a difference if you include a coupon with your purchase.
Is It Better to Get Tires at Costco or Discount Tire?
If you've never heard about Discount Tire, you want to hear this. They're one of the nation's leading tire distributors, and they've set their prices low.
We took a look at how much it would cost to buy 4 tires from Discount Tire. And, it seems like they've set the lowest prices on the market. Another reason we're fond of them is how many brands they carry.
Costco has a relatively wide variety, but it's nothing compared to Discount Tire. They've built the most impressive selection we've seen while looking at tires.
You can buy a Michelin Sport tire from them for only $159.
That's one of the least expensive tires we've found, at any store. You might only spend $600 if you had to replace all 4.
Really, the biggest downside is how they don't include warranties.
Any tire you get from Costco has a 5-year warranty, automatically. You don't have to pay anything to get their coverage.
If you want a warranty from Discount Tire, it costs extra.
That may be why they're able to set their prices so low in the first place. Even paying for it won't get you the same coverage you'd get at Costco, though.
They've only offered a 3-year warranty at Discount Tire.
So, you might want to consider whether you'd like coverage. If so, Costco would probably be the better option.
Discount Tire has a standard warranty on their tires, at no cost. This is the same one you'd get from the tire manufacturer.
It's not as comprehensive as Costco's warranty, either.
Another thing you should keep in mind is their trade-in policy. You can't use your old tires as trade-ins at Costco. But, Discount Tire will buy them from you if you're getting new ones.
They'll give you credit that you're able to use on new ones, reducing your total.
The last major difference between Costco and Discount Tire is their selection.
Costco only has a few brands available in their store, even if they're inexpensive. Discount Tire carries way more variety, with 3 times as many options as Costco.
Related Posts