Costco has been one of the nation's leading retailers for quite a while. Not everyone knows about their tire warranties, though!
Costco's tire warranty covers tires for up to 5 years or until they have less than 2/32 inches of tread. Their warranty protects you if their tires go flat while you're driving under normal conditions, and they'll replace them if they break before they've worn out their treads.
Your warranty ends once either of these conditions has been met. Of course, not everything is covered by them!
What's the Warranty on Costco Tires?
Costco offers a warranty on every tire bought from its stores to protect customers. Their warranty has a few conditions, but it's a great deal, nonetheless.
Your tires will have a warranty if they're from Costco. That's because they've covered tires for passenger cars, trucks, and performance vehicles.
It's going to protect you if the tires fail after they've gone through normal use.
It won't protect you if you've had them for longer than 5 years, though. Even wearing down the treads could end the warranty on your tires.
How does the warranty work if you've got one from Costco?
Costco offers their customers store credit to use on another tire.
They've designed a calculation to determine how much they'll give customers. It looks at how much tread is still on the tires, adjusting the credit accordingly.
The more you've driven on them, the less you'll receive from the claim.
Costco also offers other tire services to their customers as well. You can ask them to help service your tires after you've bought some from there.
Costco Tire Warranty Conditions
Just because you've got them from Costco doesn't mean they're covered by their warranty. Costco only warranties tires if they've met certain criteria.
The biggest qualification is who bought the tires.
You have to be the one who bought them to qualify for coverage. They'll also ask where you bought them from if you're filing a claim.
That's because they only cover tires purchased from one of their stores. You'll have to show them proof of purchase as you're making a claim, too.
That's how they're able to tell whether you qualify for coverage. They've also set a few conditions on top of their qualifications. You'll void the warranty if you don't follow them.
You've got to rotate your tires according to the schedule set by the manufacturer. Usually, you can check their manual to see how often that is.
Also, your tires must stay at their recommended pressure level. Lowering their pressure would void the warranty.
Finally, they've got a form you'll have to complete when filing claims. The Costco Wholesale tire adjustment form is required on all claims.
Now, let's talk about what's covered by this warranty.
The biggest aspect of coverage is road hazards. This means you'll qualify for it if your tires break due to regular use. That means you can get a new one if they've got a puncture hole.
You'll receive a store credit to use on new tires, adjusted according to tread depth. If your tires have a lot of tread, your credit will be larger.
Your warranty will last until there's less than 2/32 of an inch of tread on them. It will also end if you've had them for more than 5 years.
Costco also specifies several things they're not going to cover with their warranty.
You can't file a claim if you've had a tire stolen by thieves. Vandalism is another thing they're not going to let you claim as a reason for replacement.
Their warranty doesn't cover tires that go on commercial vehicles, either. Even tires that wear rapidly won't qualify for coverage.
They've designed their warranty so that it only covers tires on the original vehicle as well. You can't take them off one car and put them on another without voiding it.
The last major stipulation is how you maintain them. You've got to follow all the tire's care recommendations to make sure they're covered.
If they've been poorly maintained, they'll end your coverage.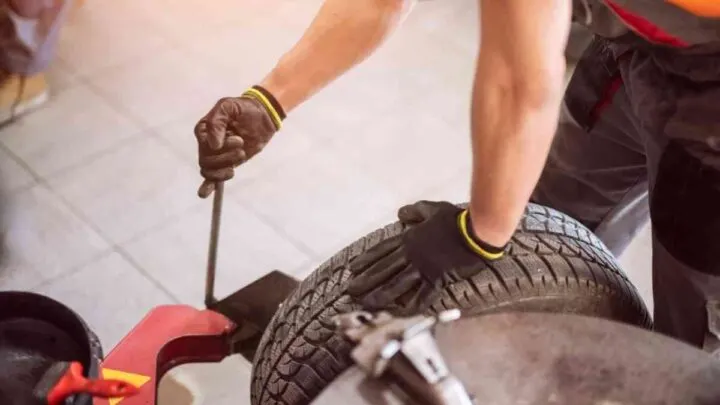 How to Get Your Tires Replaced Under Warranty
Has one of your tires gone flat, recently? If you're dealing with a flat, you'll probably need a replacement. Anything you bought from Costco would be covered by their 5-year warranty.
Filing a claim is a relatively straightforward process, too.
Just give them a call and speak to a customer service agent. They'll ask you a few questions about the tire to see what they're able to do.
Once you've told them everything, they'll let you know whether you've qualified. Usually, you'll receive an offer for a replacement or repairs.
Most of the time, they'll repair tires with fixable issues.
So, getting a nail in your tire wouldn't mean you'll get a replacement. More than likely, they'd patch it to make sure your tire doesn't stay flat.
You have to fill out a form when you're filing a claim on your tires. Ask the customer service agent if they're able to email one of them to you. It doesn't take long to fill out after you've got it in your hands.
Show them your receipt once you've taken the tire to their store. That's what they've got to see before giving you a new one.
They may also check to see if your tire is on the same car it was originally. They'll only replace them if they've been on the same car the whole time.
When your tire isn't repairable, you'll get a card with store credit. You can use this to purchase a new tire as a replacement for the old one.
Will Costco Replace Just One Tire?
What happens if only one of your tires has gone flat? You can still take it to Costco to see if they'll repair it for you.
Sometimes, they'll even offer you credit toward a new one as well.
However, they're not going to work on it if your tires aren't even. Replacing one of them isn't a good idea when the rest of them are old.
They'll only replace them if the rest of your tires have plenty of tread left. Otherwise, you've got to get a whole new set of tires for your car.
That's not usually a problem if they're able to repair the flat, though. If it's repairable, it doesn't matter how much tread the rest of your tires have.
Costco will patch the one that's got a hole, so you can drive safely.
Is There an Advantage to Buying Tires at Costco?
Why do so many people decide they'd like to buy tires from a wholesale retailer like Costco?
Buying tires from them has a ton of benefits, compared to other places. You won't have to worry about the price when you're shopping for tires at their store. They've listed all their prices with taxes included.
If you purchase their installation package, your tires get lifetime maintenance services, too. Costco will help you service them to make sure they'll last as long as possible.
You can ask them to check your tire pressure without having to pay for the service. Plus, they'll also balance your tires without charging you anything.
They'll also rotate them if you take your car to their shop. Rotating your tires can prevent them from wearing unevenly, so it's a good idea.
Costco installs a new valve stem each time you're serviced.
Your tires will get pumped full of nitrogen while you're there, too. That's going to prevent them from losing pressure as fast as usual.
Nitrogen has larger atoms than regular air, so it doesn't leak as much. Filling them up with nitrogen can extend the life of your tires, too.
Plus, your car's fuel economy should improve because nitrogen is lighter than air.
Frequently Asked Questions (FAQs):
It's not unusual for people to have a few questions about their Costco tire warranty.
Here are a few answers to the most common questions we've heard people ask!
Does Costco Rotate Tires for Free?
Costco offers free lifetime service on any tire bought at their stores. You can take your car to them, and they'll rotate your tires for free.
Does Costco Rotate Tires Not Purchased There?
Costco will rotate your tires if they're not from their store. However, you've got to pay a small fee if you got them from somewhere else.
How Much Does Costco Charge for Tire Repair?
You won't have to pay anything if your tires still have a warranty. If they don't, you'll have to pay $10.99 per tire for repairs.
Do You Need a Membership for Costco Tires?
Costco's rules state all decisions are made by the individual tire centers, but most of them won't install tires unless you're a member.
Some of them will sell you tires you can leave with to install yourself, but again, it's at the discretion of each individual Costco tire center. To learn more about the scenarios that can occur, take a look at my full article on Do You Need A Membership for Costco Tires.
How to Know If Your Costco Tires Are Still Under Warranty
Costco provides a warranty for tires that lasts for 60 months from the date of purchase or until the tread depth of the tire reaches 2/32 of an inch (1.6mm) or less.
The warranty coverage applies if you have regularly maintained your tires with activities such as frequent rotations, balancing, and ensuring that they have the proper tire pressure.
To learn more, take a look at my full guide on How to Know If Your Costco Tires Are Still Under Warranty.
Are Costco Tire Warranties Transferable?

Only the original purchaser of the Costco tires is eligible for the road hazard warranty, which is non-transferable. Additionally, the purchaser must comply with various requirements outlined in the warranty terms and conditions to qualify for the tire warranty benefits.
To learn more, check out my dedicated article on Are Costco Tire Warranties Transferable.
Related Posts