If you're searching for a vehicle suitable for carrying the whole family, you have probably considered either the Kia Sedona or the Kia Carnival.
They both offer a range of benefits to provide maximum comfort for the whole family, as well as plenty of cargo space.
So how do you choose between them? What's are the differences between the Sedona and the Carnival?
The most noticeable difference between the Kia Sedona and Kia Carnival is the overall exterior design of the vehicle. The Sedona looks very much like a minivan, while the Carnival looks closer to an SUV with a boldly shaped front and squared rear. For interior design, the Sedona has fewer seating options than the Carnival which has one additional seat for passengers.
But which one pulls ahead in the number of safety features, comfort, and engine power?
Let's take a closer look at both the Kia Sedona and the Kia Carnival so you can make an informed decision when you're ready to make a purchase.
Sedona vs. Carnival: Features
While the Kia Carnival is ultimately the replacement model for the Kia Sedona, both vehicles offer similar features.
The Sedona offered many features that were highly valued and appreciated by consumers, so Kia kept those in the newer Carnival model.
There were also areas where the Sedona could have been slightly improved upon.
In these cases, the Carnival offers these improved features and may suit the needs of your family better than the Sedona could.
Safety Features
Both the Kia Sedona and Kia Carnival share many of the same safety features you value in a family vehicle.
For example, you'll find the Kia Drive Wise amenities which include:
Collision avoidance assistance
Pedestrian detection
Forward and rear parking distance warnings
Kia's Smart Cruise Control
Surround view monitoring system
The Kia Carnival goes one step further and offers Level 2 semi-autonomous highway driving assistance which includes lane centering and adaptive cruise control.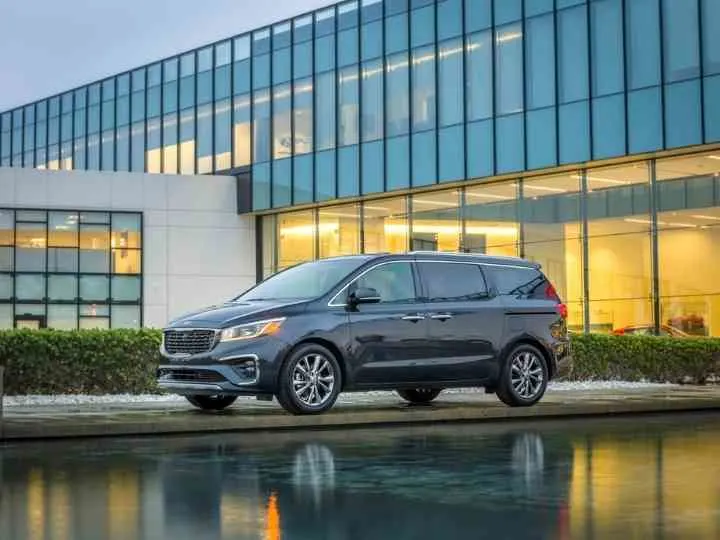 Exterior and Interior Design
The Kia Sedona offers a stylish and sleek exterior design that looks very much like a minivan. The Kia Carnival adds some extra flair with their exterior design with a larger and more impressive silhouette and a bold grill design, squared rear design, and flatter hood.
Once you are looking inside the vehicles, the Kia Sedona offers 8 seats with somewhat limited options for reclining and sliding for easier entry and exit.
The Sedona also offers a 7 inch digital display and multiple speakers throughout the cabin for full saturation from the audio system.
The Kia Carnival also offers 8 seats, however the rear bench seats offer more seating options for passengers.
Additionally, you will find a larger dual-screen digital display to provide the driver with all the information they need to navigate safely.
Passenger and Cargo Space
For passenger space, both the Sedona and Carnival are extremely similar.
Both vehicles can carry a good number of passengers, but the Carnival can hold up to 3 more passengers than the Sedona.
The Sedona can comfortably carry 8 passengers, while the Carnival can carry 11 with more options for comfortable entry and exit as well.
This includes sliding and reclining the walk-in seats for easier access to the rear seating positions.
Engine Power
If one of your main focuses is on engine power, the Kia Carnival will come out ahead over the Kia Sedona.
While the Sedona offers a 3.3L V6 engine which can offer 276 horsepower, the Carnival received a bit of an engine upgrade with a 3.5L V6 that can deliver a solid 290 horsepower.
While both the Sedona and Carnival have a towing capacity of 3500 pounds, the added engine performance from the Carnival means you can get a little more power when hauling your boat, RV or storage trailer up large hills or through rough terrain.
Different Packages
Depending on your needs, both the Sedona and Carnival have a few different packages you can consider when purchasing.
For example, if you are looking for the larger Carnival version which has up to 11 seats, you will want the "Grand Carnival" package.
You can also find a range of audio/visual options for both models including Bluetooth connection throughout the cabin, premium audio Bose 12-speaker sound system, and more.

Additionally, the Carnival offers up to 9 USB charging ports for passengers to keep their mobile devices charged, as well as rear seat entertainment systems, multiple sliding sunroofs, and black or gray colored SynTex seat trim.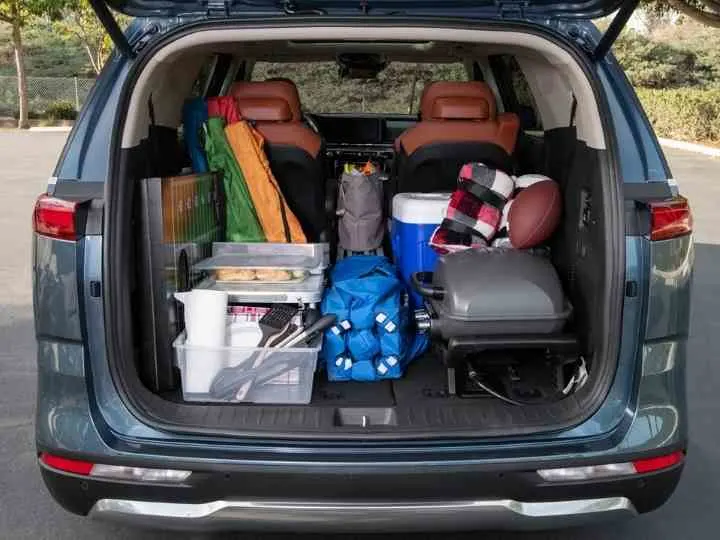 Quick Comparisons
Kia Sedona
Can carry up to 8 passengers comfortably
Shorter wheelbase at 120.5 inches
3.3L V6 engine with 276hp
10.6 engine compression ratio
Sleek and smooth minivan exterior design
Kia Carnival
Can carry up to 11 passengers comfortably
Larger wheelbase at 121.7 inches
3.5L V6 engine with 290hp
11.5 engine compression ratio
Bold and aggressive SUV exterior design
Related Questions / Frequently Asked Questions (FAQs)
Are the Sedona and Carnival the same price?
No. The Kia Carnival will be slightly more expensive than the Sedona as it offers a better engine, more seating options, additional interior features, and overhauled exterior design.
Does the Kia Carnival offer all wheel drive?
No. Even though it looks like an SUV, which normally offer all wheel drive, the Carnival is a minivan and is only equipped with front wheel drive.
Is the Sedona or Carnival safer to drive?
Both Kia models offer very similar safety packages that are standard in most Kia vehicles. The Carnival includes more highway assistance than the Sedona.
Is the Kia Carnival a minivan or an SUV?
Kia calls it a "multi purpose vehicle" but it falls closer to being a minivan than an SUV due to the interior design and engine power.
Conclusion
Now that you have a better idea of what both the Kia Sedona and Kia Carnival can offer, you can make an informed decision when you are in the market for a new vehicle.
If you're looking for an updated look and more seating options for passengers, as well as more space for cargo, the Kia Carnival pulls slightly ahead.
For fewer seating options, but a sleeker and less bold exterior, with many of the same safety features you are looking for in a vehicle, the Kia Sedona has a lot to offer.
Regardless of your selection, both the Kia Sedona and Kia Carnival are very suitable choices when you want to take the whole family on a vacation or simply want a reliable vehicle with ample amounts of cargo space.