Have you seen minivans with stow-and-go seats and thought that would be a good option for you? Well, if so, then knowing which minivans to look for will help you find the one for you.
The only minivans that offer the official Stow 'N Go seats are the Chrysler Town and Country, Dodge Caravan, Chrysler Voyager, and the Chrysler Pacifica. While other vehicles have similar systems, they don't compare to the convenience and function of Stow 'N Go.
Do you want to find a minivan with stow-and-go seating? Then keep reading to find out more about this easy stow system and what vehicle model options you have.
Table of Contents
Minivans That Have Stow 'N Go Seating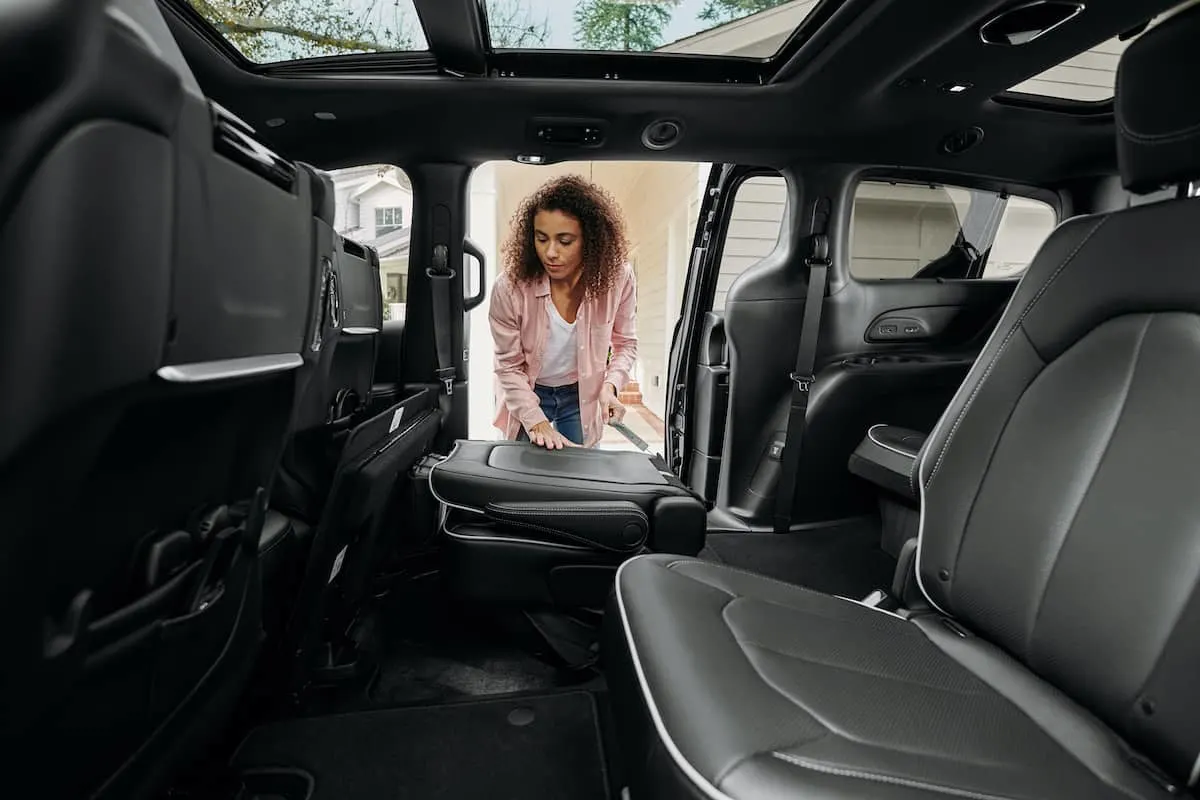 If you want to have a full list of all the minivan vehicles that come with stow-and-go seats so you can make your decision quickly, then here is a list of options that you can pick from.
Dodge Caravan
Chrysler Voyager
Chrysler Pacifica
Chrysler Town and Country
This, as you can see, is a pretty short list…
This is because stow-and-go seats are a specialty feature that was designed and used mainly for Chrysler minivans and do not share the technology with other brands.
There are other minivan options like split-and-stow, which is similar, but it doesn't offer the same ease of use.
What are Stow 'N Go seats?
The term stow-and-go is the name for a folding seat system that allows you to stow a seat away to allow for more room for other things.
This is ideal for minivan families that need to bring many items along with them for a vacation on the go, and also for those who handle grocery shopping so you won't need to smash any items against the seat to fit everything.
This is typically marketed for families who take kids to and from school and to sports games or dance practices since this type of minivan seating is meant for busy families.
Stow-and-go seats allow you to fold the seat quickly and get on the road faster.
These minivan passenger seats are often in the third row so that you can haul large items when the rear row is down and have more passengers when the seats are in the upright position.
However, some minivan vehicles also offer second-row stow-and-go seating for even more space!
The Inventor: Chrysler
The Stow 'n Go seating technology was introduced by the Chrysler Group, an American automotive company. The system was first featured in their 2005 models of minivans, the Chrysler Town & Country and the Dodge Grand Caravan minivan.
The stow-and-go seat features allowed for the second and third-row seats to be folded into compartments beneath the minivan floor, creating a flat cargo area and eliminating the need to physically remove seats for more storage room.
This minivan innovation represented a major step forward in van design, giving these vehicles significantly increased versatility, making them more popular, and leading to more minivans sold!
As such, it's no surprise that they chose to keep this ingenius system exclusive to their own brands like the Dodge Caravan, Pacifica and Grand Voyager.
Even top sellers like the Toyota Sienna don't get access to these amazing easy rear row stow features!
However, given space limitations, you won't find this available in their vehicles with smaller interiors such as the Jeep Cherokee, Grand Cherokee, Wranger, or Ram models.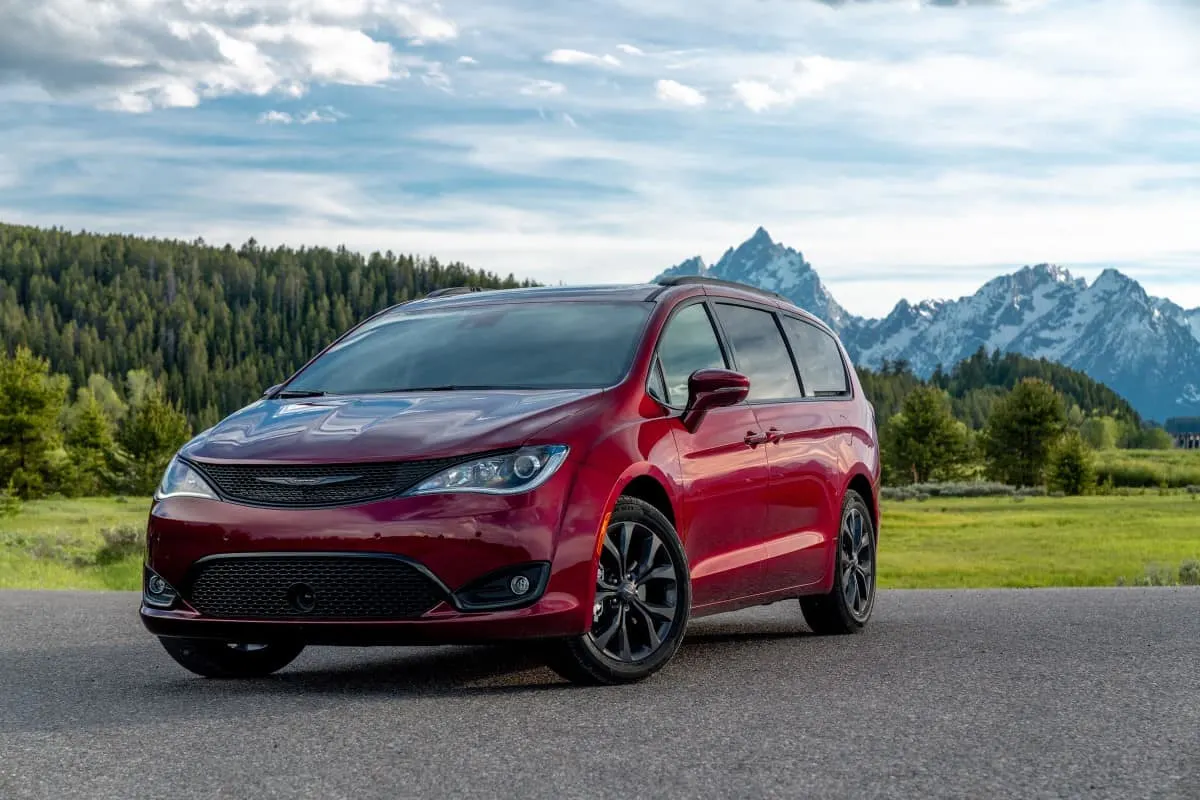 What are the Benefits of Stow and Go?
While the main benefit of this minivan seating option is the additional cargo room that it provides, there are actually several different benefits that you get when your van is equipped with stow style seats.
So, to ensure that you know all the ways that this type of minivan seating can benefit you and your family on the go, let's take a look!
1. Automatic Front Seat Adjustment
The front seats are made to move automatically at the press of a button, which keeps you from having to stow them manually.
When you are bringing home groceries, you have your hands full, and if you can't move the minivans rear row, you might end up dropping something.
This can also be an issue when you have a baby that you must carry and need to move the front seats to make room for the stow seating.
However, since you only need one hand to be able to move the seats, all you have to do is press the button to stow them!
This will automatically move the seats forward to allow for additional room, which makes it much easier to use the minivan stow style seating.
2. Provides a Level Surface for Cargo
Placing stuff on the seats of your van might not be a good idea because you could go over a bump and it could fall on the floor. This is not an issue with stow seating since it provides a level surface for your things.
The minivan seating folds down to a space under the floor level so that the seat is now level with the minivan floor. This allows you to lay items flat onto the cargo floor of the van so they won't fall over due to uneven ground.
This is especially beneficial when you have different bottles of liquid in the minivan at once.
Milk, juices, and alcohol bottles all have different shapes, and when they are on uneven ground it may cause them to fall over and possibly break a glass bottle.
3. Different Seat Configurations
Each time you use your vehicle, you will likely have a different number of passengers and cargo items. This means that you will sometimes need only one seat down, or the whole third row stowed.
It will depend on how many are with you and what you need to take along for the trip. If you are heading to the beach, then you might need more room for towels, an ice chest, and beach chairs.
But, if you are going to a family gathering, then having the whole family with you plus an uncle and aunt that you pick up will mean that you need all your seating.
With stow-and-go seating, you can use any number of seat configurations to fit your needs!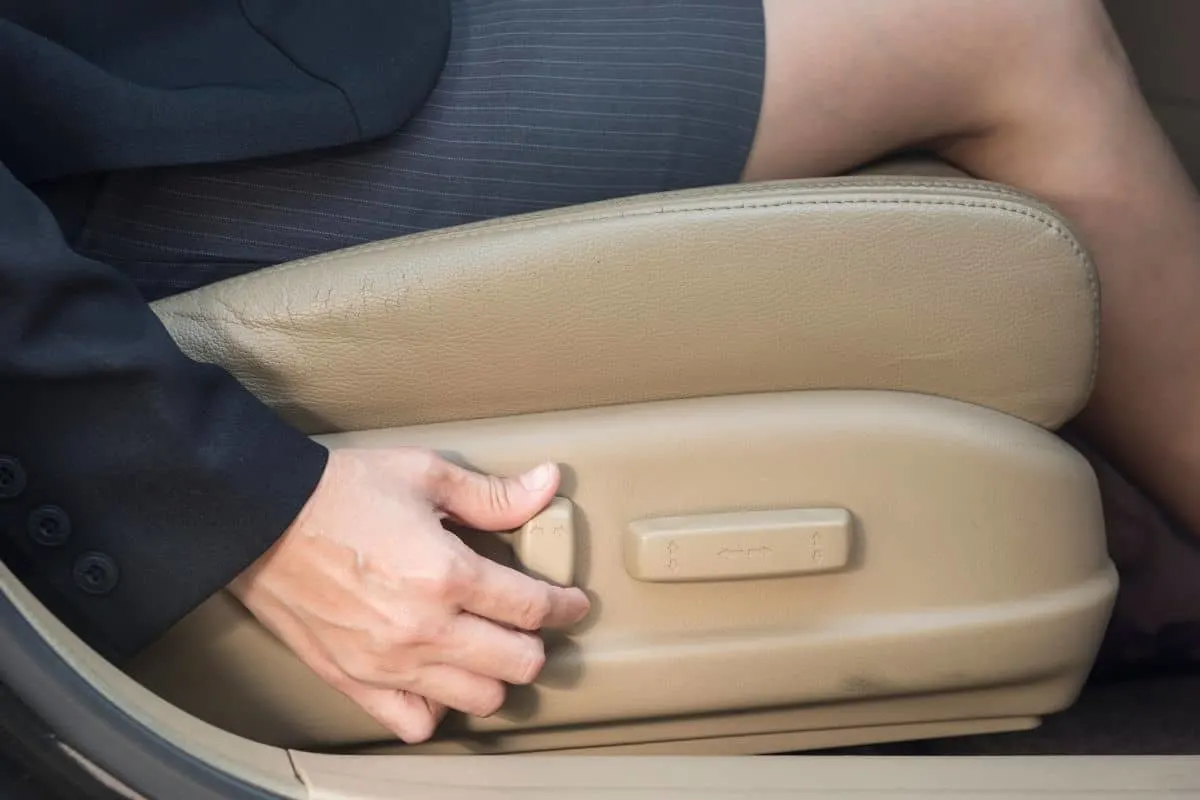 Does Stow 'N Go Recline?
Part of having good seats in your minivan is that they make you more comfortable when you take long drives or road trips. You don't want a stiff option that doesn't give you any back support.
One of the most requested features / products for seating in cars is that they recline! This will allow you to recline the seat and relax more comfortably during long drives.
But, with the ability to be fully stored away, is it possible for these seats that stow to recline at all? And, if they can, how much can they recline?
Although it might seem like there is no way that this seating could recline, they do! This is great for those who want to keep their vans second and third-row comfortable.
The minivan seating will not be able to be pushed forward or backward like in other vehicles, but they do recline. They do recline all the way where you could be almost in a lying position, but they do offer enough movement that you will be about halfway from the upright position to the floor.
This is enough to be able to fall asleep on long trips or watch a movie on a smartphone or tablet while in the car.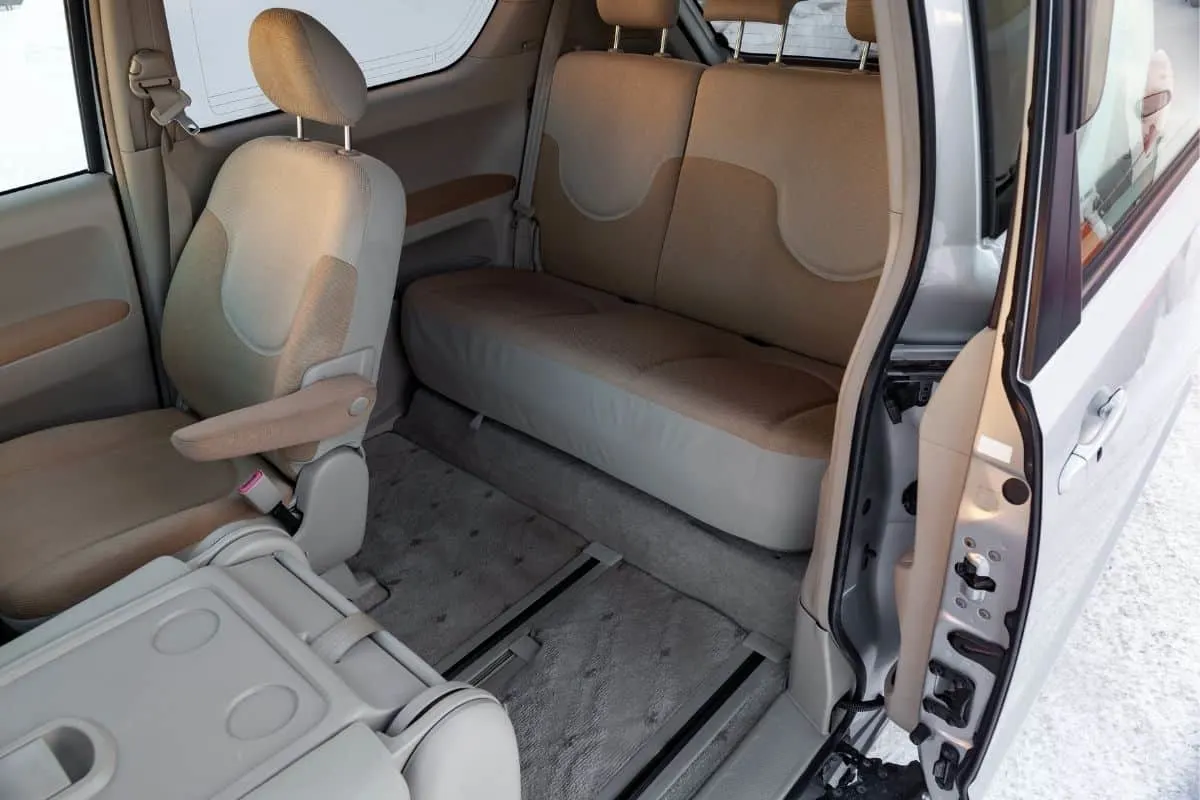 Can Stow 'N Go Be Removed from Cars?
Although the use of stow-and-go seating is versatile, there may be occasions when you won't need them for some time, and you want to take them out. Though this might not be the most common thing, it does happen.
And, if you want to remove them and place a mat over the floor to accommodate for extra space, then you should know that this is doable. It will take you about a half-hour to remove the seats, but you can get them out yourself.
However, though this can be done at home, you will only want to attempt this if you have some knowledge of vehicles and interior work.
The seating is installed a certain way to ensure that the minivan stow-and-go systems work correctly, and you don't want to mess them up so you can't replace them when you need them.
There have also been some cases where people who were inexperienced with vehicle repair attempted to remove their minivan stow-and-go seating and were injured. This is not common, but it can happen.
So, if you don't feel like you have the ability and knowledge to do this yourself, you can take it to a Chrysler dealership to have the service work done. This won't cost too much and it will allow you to have someone who knows a lot about the vehicle to do the work for you so that nothing will be messed up.
However, if you do attempt to do the work yourself, you should take a look at online videos of others doing it to get an idea of what to expect. Also, this could help you avoid some of the simple mistakes that first-timers make when removing the minivan seating themselves.
Things to Consider Before Buying a Minivan with Stow 'n Go Seats
1. Price
Stow-and-go seating is often a standard feature in many minivan models, such as the Chrysler Pacifica and Dodge Grand Caravan, but it can add to the vehicle's overall price.
Consider your budget and evaluate whether this feature is a must-have for your lifestyle. Do you frequently need extra storage space, or will traditional seating suffice?
Remember, the initial cost of the vehicle is not the only factor; you should also take into account potential resale value, fuel efficiency, and insurance costs.
2. Other Features
While Stow 'n Go seating is a notable feature, you should also examine the other amenities that come with the minivan.
Does it have advanced safety features like automatic emergency braking or blind-spot monitoring
What about comfort features such as heated seats, rear-seat entertainment systems, or dual-zone climate control?
Ensure the minivan checks off all the necessary boxes for your family's needs!
3. Maintenance and Care
Maintenance and care for vehicles with Stow 'n Go seats is generally similar to that of other vehicles. However, the mechanisms that allow for the seats to fold away neatly can sometimes require additional attention.
Ensure that debris or small objects don't get trapped in the storage compartments as they could potentially interfere with the seat folding mechanism.
In general, regular vehicle maintenance should keep your minivan in optimal condition, but it's worth asking the dealer about any specific upkeep related to the stow-and-go seating.
Buying a minivan is a big decision, but by considering these aspects in addition to the stow-and-go seating, you can ensure that you're choosing the best vehicle for your family's needs.
Be thorough in your research, take your time, and remember—your perfect minivan is out there waiting for you!
Final Thoughts on Vans With Stow 'N Go
Not many vans come with such easy stow seating, but those that do offer a simple and easy way to fold your second and third-row seating down to make more room for cargo in your minivan.
With these stow and go seats, you will have a much easier time changing the minivans seat configurations, and you will have a large number of seating configurations to choose from.
Parents and guardians of young kids often need to do things very quickly so they don't take their eyes off of their kids while on the go.
With stow-and-go seating allowing you to automatically move the minivans front seating forward and fold down the seating you don't need in just seconds.
While it's up to you to decide if this feature makes the car worth it, it goes without saying that it seems like a very practical one to me!
Stow 'N Go Seating FAQs
What year minivans have stow and go seating?
Stow and go seating was introduced by Chrysler in 2005, and it has been a popular feature ever since. The first minivan to offer stow and go seating was the Chrysler Town and Country, followed by the Dodge Caravan, Chrysler Voyager, and the Chrysler Pacifica.
Does the Honda Odyssey have stow and go seats?
No, the Honda Odyssey does not have stow and go seats. However, it does offer a similar feature called Magic Slide second-row seats, which can be moved forward and backward to create more cargo space.
Do Toyota vans have stow and go seats?
No, Toyota vans do not have stow and go seats. However, the Toyota Sienna does offer a similar feature called Split & Stow third-row seats, which can be folded into the floor to create more cargo space.
Related Articles