Before you shell out the big bucks on a new Sienna, it's important to investigate the exact specs of what you're getting! For people who frequently go on vacation or explore the outdoors, towing capacity is an important detail.
The Toyota Sienna has a towing capacity of 3,500 pounds when properly equipped with the towing package. This package is now standard for all trim levels on the 2021 Sienna but was an optional add-on in previous years.
With that in mind, there's a lot more to consider when it comes to safely tow with your Sienna. In this article, I'll step through everything that you need to know to make towing safe!
Toyota Sienna: What to Know Before You Tow
Since about 2001, most Toyota Siennas have been more than capable of towing a variety of heavyweight attachments up to a capacity of 3,500 pounds. In fact, it may be surprising to hear that it compares favorably with a range of pickup trucks, including Toyota's own sturdy Tacoma!
While the Toyota Sienna has received plenty of updates, one attribute hasn't changed, no matter the year or model: its towing capacity, and that's a good thing!
However, before you get to towing, there are some things you need to know about the Toyota Sienna to ensure you and your vehicle stay safe.
Tongue Weight
Tongue weight is the amount that the trailer (or whatever else you may be towing) puts on your hitch.
According to the manual, you must ensure that the tongue weight is somewhere in the middle of nine to eleven percent of the weight of whatever it is you're towing.
Otherwise, you may not have a stable journey and the item you're towing—whether a trailer or your little speed boat—may start to sway.
Gross Vehicle Weight Rating VS Gross Combined Weight Rating
Before you attach anything to your Sienna, you'll want to know both the Gross Vehicle Weight Rating (GCWR) and the Gross Combined Weight Rating (GCWR).
The GVWR is the overall weight capacity of the Sienna without anything attached to it. Toyota doesn't advertise this amount, but you'll most likely find the number located on the inside of your Sienna's door.
The GCWR refers to everything your Sienna can handle at once, from passengers and cargo to the trailer or boat you're hauling. Just make sure that your totals don't surpass the GCWR, or you may end up having a breakdown while out on the road.
Hybrid Towing
You may have noticed that the newer models of the Sienna run on hybrid engines. The hybrid from 2021 does, unfortunately, have less horsepower than the previous all-gasoline models.
Usually, less horsepower means less tow capacity. However, because of the way electric engines are designed, the hybrid model doesn't lose out on torque!
Gas-powered engines have many different components between the accelerator and the wheels turning faster. Electric engines—not so much!
It's a direct connection that ends up saving you power, allowing for the same torque and pull capacity as gasoline models.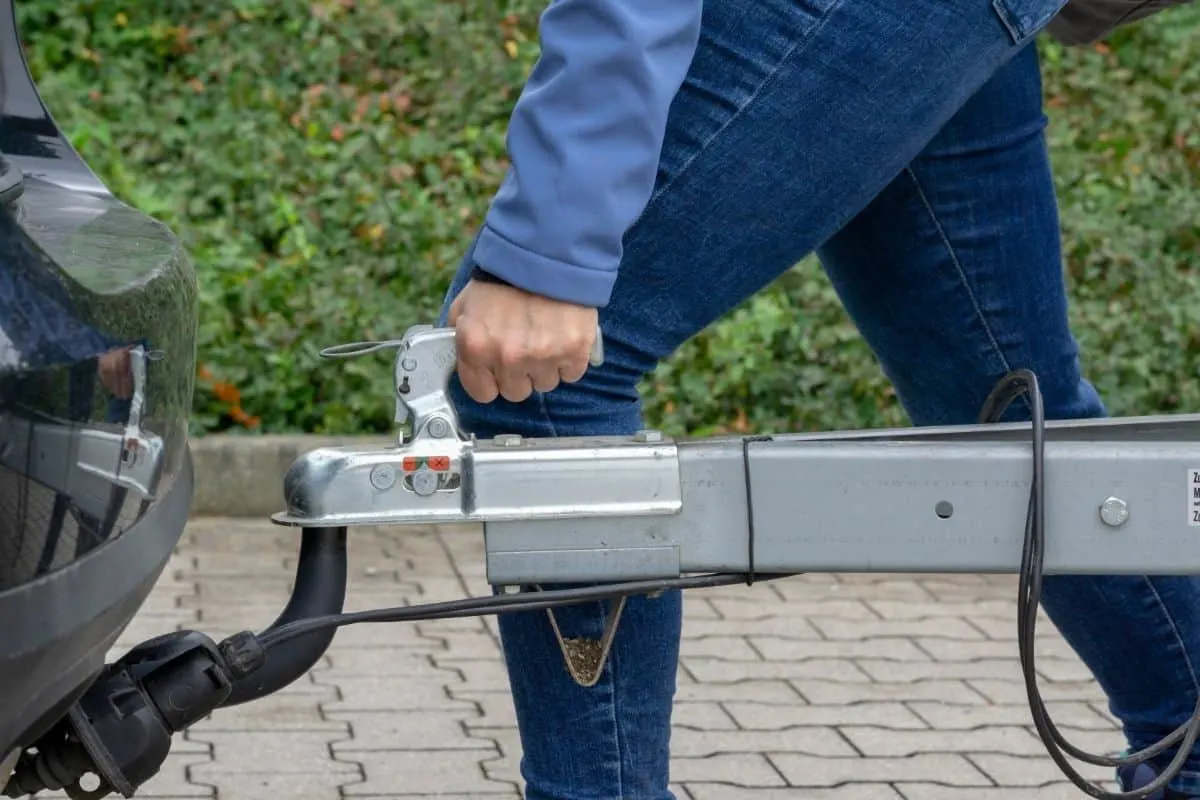 Toyota Sienna Towing Capacity
Now that you know all of the specs and features that set various Toyota Sienna model years apart, it's time to focus on one detail that they all have in common: their towing capacity.
All three of these Toyota Sienna models can tow anything up to 3,500 pounds. The only caveat is that you must purchase a tow package for your Toyota Sienna for models prior to 2021.
Tow packages for Toyota Sienna vehicles include an engine oil cooler, trailing wiring, a transmission cooler, a heavy-duty battery, and an alternator of 130 amps.
Without this tow package, you'll be stuck with a paltry 2,000-pound tow capacity.
One great change that Toyota made as of 2021 is that the tow package now comes standard on the Sienna across all trim levels. However, you will still need to add the optional "Tow Hitch Receiver" receiver package to allow for a secure connection.
If you're the DIY type, you could also consider purchasing the trailer hitch directly from etrailer.com and installing it yourself!
Is a Toyota Sienna Good for Towing?
With a Toyota Sienna towing capacity of 3,500 pounds, this make and model is a suitable vehicle to use for towing purposes.
Thanks to the towing package that can be added to the Toyota Sienna, you will experience the benefits of an engine oil cooling system, a high-speed fan, and a radiator that makes for a successful towing experience.
The engine of a Toyota Sienna enhances the towing abilities even more. I'll discuss the engine of the Toyota Sienna in greater detail down below, but for now, let's explore whether or not a Toyota Sienna can pull trailers, campers, and boats.
Can a Toyota Sienna Pull a Trailer?
If you frequently travel or often go camping with a trailer in tow, you will want to take a close look at the Toyota Sienna towing capacity to see if it can support the objects you plan to tow. For camping purposes, you are likely curious if a Toyota Sienna can pull a trailer.
Most trailers weigh less than the maximum towing capacity of a Toyota Sienna. The exact weight of a trailer will depend on the length of the trailer.
Here are some average weights of small, medium, and large trailers for you to reference:
Flatbed trailers = 3,000 pounds
Horse trailers = 2,900 pounds
Utility trailers = 2,700 pounds
Small trailers = 2,800 pounds
Can a Toyota Sienna Pull a Camper?
Campers are often similar to trailers both in length and weight. Adhere to the Toyota Sienna tow capacity limits and check the owner's manual of your camper for information about your camper's exact weight.
Does your camper weigh less than 3,500 pounds? If so, it is perfectly safe to tow your camper with a Toyota Sienna!
However, if your camper gets close to the pound limit, you may want to install trailer brakes. If you don't have these brakes, your limit may only actually be 1,000 pounds. That's less than a third of what you might expect, so check your manual before you tow!
Can a Toyota Sienna Pull a Boat?
On average, boats often weigh approximately 2,200 pounds, making these average-sized boats light enough to tow with a Toyota Sienna. However, many boats exceed the Toyota Sienna towing capacity, so the real question is, what type of boat are you thinking about towing?
Sailboats can weigh anywhere from 100 pounds to 30,000 pounds. With that in mind, only small and medium-sized sailboats can be towed by a Toyota Sienna. Similarly, yachts and speedboats are often too heavy to tow with a Toyota Sienna.
You should be able to reference your boat's manual, or the manufacturer's website to determine its total weight.
Pro tip! Don't forget to include the weight of fuel in this calculation as well as their specs most likely list its weight on an empty tank. Multiply the tank's capacity in gallons by 8 lbs, and add that number to the boat's weight.
As long as your boat fits within the parameters of the Toyota Sienna towing capacity, you can rest assured that towing a boat is safe!
Other Cargo a Toyota Sienna Can Tow
While I have gone over the most common objects a Toyota Sienna can tow, you can get quite a bit of mileage with a 3,500-pound towing capacity. At this towing capacity, you'll be working with a Class II hitch.
The Toyota Sienna should have no problem towing more compact vehicles like motorcycles. Additionally, smaller off-road vehicles like an all-terrain vehicle (ATV) can also be towed by a Toyota Sienna.
If you're the type of person who needs to travel out in the snow, you'll also be happy to know that the Toyota Sienna can tow your snowmobile as well.
What Makes the Toyota Sienna Towing Capacity so Impressive?
It all comes down to the powerful engine of a Toyota Sienna. Categorized as a 2.5L hybrid engine, the Toyota Sienna engine is the reason behind the exceptional Toyota Sienna towing capacity.
The horsepower of the engine can reach a maximum value of 243. Additionally, the estimated miles-per-gallon of a Toyota Sienna engine is shockingly good. Drivers can expect to achieve an MPG of 36 miles on highways.
The transmission of a Toyota Sienna is an electronically-controlled variable transmission, making it very robust and reliable. Thanks to all of these features combined, the Toyota Sienna towing capacity is impressive.
Enhance Your Toyota Sienna Tow Capacity With a Hitch
In order to safely tow objects with your Toyota Sienna, you must equip your vehicle with a secure hitch system. A hitch is a metal attachment that you put on the back of your car, so that towing is possible.
This piece of equipment will serve as the connecting device between your Toyota Sienna and any object you plan to tow. So, ensuring that your hitch system is properly attached and secured to your vehicle is key.
There are many different types of hitch devices, so if you are unsure which hitch style is best for your vehicle, don't hesitate to ask the dealership. However, you shouldn't have to worry about this detail because most Toyota Sienna vehicles will come with a hitch if you add the tow package at the time of purchase.
Since a Toyota Sienna cannot tow more than 3,500 pounds at any given time, the hitch you will receive is categorized as a Class II trailer hitch. These are specially designed for vehicles that can handle a gross trailer weight of up to 3,500 pounds.
All in all, a Toyota Sienna has a significantly high towing capacity, making it possible to tow trailers, campers, and boats alike! A Toyota Sienna is an excellent vehicle for both toting your family and larger items around.
Related Articles