The Ford line of SUVs has every possible combination of features you can wish for in a car.
The Ford Edge SUV is even more popular than ever. It's based on a front-wheel-drive platform (all-wheel drive from 2022), has two rows of seats, excellent fuel economy, and a decent interior. On the other hand, the Ford Explorer features rear-wheel drive architecture, three rows of seats, better technology, and more room.
Clearly, both cars have great towing capacities, but the Explorer has more muscle and can tow between 5,000 to 5,600 pounds compared to the Edge's 3,500 pounds.
So should you go with the Explorer? Does it suit you?
What are its advantages and disadvantages over the Edge? Read on to find out.
Engine Specs and Performance
One critical area that most buyers consider when purchasing a vehicle is its drivetrain specs and performance.
You wouldn't want to be driving around in a spacious but underpowered vehicle.
The Ford Edge and the Explorer have a lot of different engine specs that contribute to their varying performances.
Here's a look at their engine specs and performance.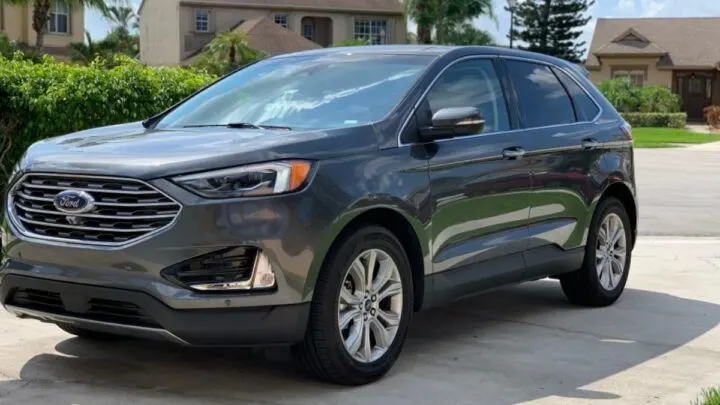 Ford Edge
The Ford Edge is an excellent family car that produces enough power to drive over most unforgiving terrains and surfaces.
With the Ford Edge SE, customers have two engine choices. The first is the standard Twin-Scroll 2.0L EcoBoost engine that produces 250 horsepower and 280 lb-ft of torque.
The standard engine also has excellent features that work in tandem to improve the Edge's responsiveness and efficiency.
They include a rotary gear shifter, eight-speed automatic transmission, active grille shutters, and front air curtains.
If you travel on less forgiving terrains, you should go with the Ford Edge ST line.
The ST trim is more powerful and has better horsepower and torque to match the performance of other vehicles in the mid-SUV bracket without straining its drivetrain.
The trim comes with a dynamic twin-turbo 2.7L EcoBoost V6 engine that delivers an outstanding 335 horsepower and 380 lb-ft of torque.
Moreover, the Edge ST trim has more performance features than you would find on the standard Edge trims.
The ST's Performance Brake Package includes:
High-end front rotors

21-inch premium aluminum plates

Performance brake calipers

Brushless radiator cooling fan

All-wheel vented disk brakes

Summer-only tires
Furthermore, all Edge trims run on gasoline fuel, and combined with a well-designed powertrain, the car can serve you for longer than 20 years as long as you do regular servicing and maintenance.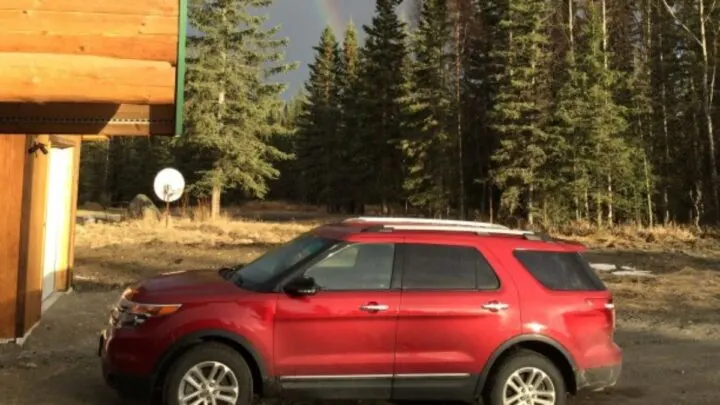 Ford Explorer
The Explorer is a more versatile and capable mid-size SUV than the Edge, especially for bigger families.
It has three rows of seats, sporty rear-wheel drive or four-wheel drive, more off-roading capability, a spacious cargo space, and excellent interiors.
And even as the SUV comes with several powertrain options, most drivers will quickly settle with the turbocharged 2.3L EcoBoost four-cylinder gasoline engine that produces 300 horsepower and 210 lb-ft of torque.
Drivers who prefer better power delivery from the Explorer can go with the ST, King Ranch, or Platinum models.
The trims feature a 3.0L EcoBoost V6 gasoline engine with 400 horsepower and 415 lb-ft of torque.
For example, the Explorer ST has a 3.0L EcoBoost V6 with Auto Start-Stop technology, a 10-speed automatic transmission, unique sport-tuned independent front, and rear suspension, rear-wheel drive and an optional intelligent 4WD.
And for lovers of hybrid vehicles, the good news is that the Ford Explorer hybrid has a 3.3L V6 cylinder engine that produces 318 horsepower and 322 lb-ft of torque.
Additionally, you'll be getting a versatile vehicle with a 500-mile range in the rear-drive powertrain.
Fuel Economy and MPG ratings
It's essential when purchasing a vehicle to buy one that has reasonable fuel consumption, depending on its drivetrain, fuel economy technology, and features.
Generally, the Explorer is heavier and more powerful than the Edge and consumes slightly more fuel per mile range.
Here is a fuel economy comparison between the two competing SUVs:
Ford Edge
The Edge has better fuel economy ratings given its smaller engine than the Explorer.
However, you'll have to sacrifice some cargo space, engine power, interior aesthetics, and towing capacity to go with the Edge.
Here's a look at its EPA-estimated fuel ratings.
2.0L turbo 4-cylinder engine with AWD: 21 MPG city/28 MPG highway.

2.7L turbo 6-cylinder engine with AWD: 19 MPG city/ 25 MPG highway.
Ford Explorer
Due to its wide range of drivetrain and powertrain combinations, the Explorer has several EPA fuel-economy ratings.
The most fuel-efficient Ford Explorer is the rear-wheel-drive model, with EPA estimates of 27 MPG city and 29 MPG highway.
Incorporating all-wheel drive in your car chops off the hybrid's fuel economy ratings by 3 to 4 MPG, leaving you with 23 MPG city and 25 MPG on the highway.
The 400-horsepower Explorer ST has a 25 MPG overall fuel economy rating, which is decent considering that other similar-powered SUVs have worse ratings.
Manufacturer's Suggested Retail Price
The Ford Explorer has a myriad of powertrain options and features, and you'll be able to find what you're looking for amongst its ten trims.
Here's a look at Ford Explorer trims MSRP.
ST-Line – $45,510

Limited – $46,820

Timberline – $48,800

ST – $49,740

Limited Hybrid – $51,000

Platinum – $52,125

King Ranch – $54,610

Platinum Hybrid – $55,000
Here's the MSRP of the Ford Edge trims.
SE – $38,640

SEL – $40,440

ST-Line – $44,240

Titanium – $44,240

ST – $47,440
The Edge and the Explorer are relatively equally priced, but the Explorer commands a higher fee due to its better interior features and drivetrain options.
Therefore, removing most of its premium features leaves you with a cheaper SUV than most standard Edge SUVs, despite the latter being smaller and having less-than-impressive features.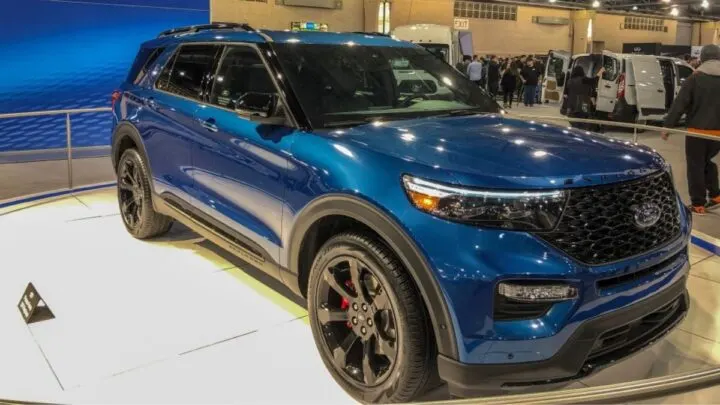 Interior Design and Cargo Space
Ford Explorer
The Ford Explorer's interior is nothing exceptional, but it's very functional and comfortable. Its first two rows are spacious, with enough leg and headroom to sit several adults comfortably.
And getting into the third row is as easy as pressing a button that triggers a mechanism to move the second-row seats out of the way.
Other than that, the third row is relatively smaller and won't suit bigger kids and adults. The various trims have different interior features.
For example, the base Explorer has a cloth seating surface, an 8-way power driver seat, and a second-row 35/30/35 split-fold-flat bench seat.
On the other hand, the King Ranch trim has Del Rio leather with Lasso-perforated inserts, second-row captain's seats, 8-way power passenger seat, 10-way power driver seat, PowerFold Third-row, and an optional second-row 35/30/35 split-fold-flat bench seat.
All Explorer trims feature an 8.0-inch infotainment touchscreen with Android Auto and Apple CarPlay capabilities.
Moreover, you have an option to upgrade to a 10.1-inch vertically oriented screen on the higher-end trims.
Regardless, all models have rear-seat entertainment systems, voice-activated navigation, 152.7 cubic-feet passenger volume, and 87.8 cubic-feet cargo capacity.
Ford Edge
The Ford Edge differs significantly from the Explorer as it is a five-seater, whereas the Explorer is a seven-seater. Regardless, the Edge has a decent interior that's spacious and well-crafted.
It's a two-row SUV with a maximum cargo volume of 73.4 cubic feet and a passenger volume of 113.9 cubic feet.
Additionally, the fact that the car is a row shy of the Ford Explorer leaves you with more second-row legroom.
The Explorer has a 39.0 inches legroom over the Edge's 40.6 inches.
The mid-size SUV also has similar driver-assist and safety features as the Explorer, but will have a standard dual-zone climate control compared to the Explorer's standard tri-zone climate control.
Other features on the Edge are:
Heated front seats

Two driver-configurable 4.2-inch LCDs

Universal garage door openers

Auto-dimming rearview mirror

Push-button start

10-way power driver's seat
Final Remarks on the Ford Edge vs. Ford Explorer
Both Ford SUVs feature many Ford-specific features, such as the Ford Co-Pilot for easier navigation, FordPass Connect, and the SYNC infotainment system.
Other features include the SiriusXM satellite radio, wireless charging pad, and the B&O sound system with 12 speakers.
Hence, the verdict for the better car between the two SUVs is that you should buy one that suits you best.
Both models are from Ford, whereby the Edge targets smaller families while the Explorer has an extra row of seats for bigger families.
Furthermore, the Explorer has a hybrid trim you should probably consider.
Make sure you do your research before buying, but you can't go wrong with either car!