The Ford Edge and the Chevy Equinox aren't necessarily equally-rated competitors, since they target different markets.
The Ford Edge is a mid-size sports utility vehicle (SUV), whereas the Equinox is a compact SUV. The Ford Edge offers great engine capabilities and notably more comfortable and stylish than the Chevy Equinox, whereas the Equinox is better for those on a budget, and also offers great gas mileage.
Regardless, both cars from two different and competing manufacturers hold some clear and distinct advantages that you ought to know.
In today's article, we are delving into the ins and outs of both cars to aid you in making an informed purchasing decision.
Engine Specs and Performance
When purchasing a vehicle, one area that's hard to ignore is its engine and drivetrain specs and performance.
The Chevy Equinox and the Ford Edge offer a ton of engine and drivetrain options that you can choose from depending on your needs and preferences.
Ford Edge
The Ford Edge SE comes with a standard Twin-Scroll 2.0L EcoBoost Engine that delivers 280 lb-ft of torque and 250 horsepower.
The four-cylinder engine also comes with a ton of power features such as the eight-speed automatic transmission, rotary gear shifter, front air curtain, and active grille shutters.
And if you want more power, the Ford Edge ST suits you best. The car has enough horsepower, pickup, and torque to maintain highway speeds without straining the engine.
A reason for such excellent performance is its dynamic twin-turbo 2.7-liter EcoBoost V6 engine that has aluminum heads and a lightweight but compact graphite block.
And paired with immense drivetrain components, the engine delivers an impressive 335 horsepower and 380 pounds of torque.
Also, the Edge ST has a Performance Brake Package that includes 21-inch premium aluminum plates, all-wheel vented disk brakes, excellent brake calipers, high-end front rotors, summer-only tires, and a brushless radiator cooling fan.
The excellent features make the Edge a perfect SUV for highway cruising as well as city driving, as they have reassuring stability in straights and corners.
Furthermore, its power delivery is balanced, and the suspensions aren't too stiff for off-road travel.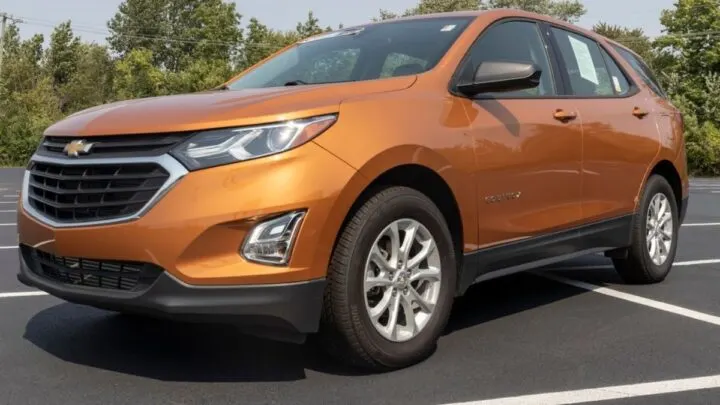 Chevy Equinox
The Chevy Equinox comes in four trims, the LS, LT, RS, and Premier.
And with its relatively underpowered 1.5-liter four-cylinder engine, the Equinox has many other features that surely attract most buyers to the brand.
The car comes with a standard front-wheel drive (FWD) and optional all-wheel-drive (AWD) system that alleviates the shortcomings of the frequently out of breath engine to give you a smooth ride to your destination.
Additionally, the standard six-speed automatic transmission works seamlessly, resulting in better fuel economy figures.
However, unlike the Ford Edge, the Equinox has nothing worth in engine specs and performance across the four trims.
They all have similar engine specs, are easy to drive, and have excellent fuel economies but struggle in rougher stretches of road.
Manufacturer's Suggested Retail Price (MSRP)
One area that the Chevy Equinox takes the floor with as opposed to the Ford Edge is pricing.
And to be more specific, the most expensive Chevy Equinox (the Premier trim) is cheaper than the cheapest base Ford Edge trim (the Edge SE).
Here's a look at the MSRP of the Chevy Equinox trims.
LS – $27,445

LT – $28,545

RS – $31,745

Premier – $32,645
Here's the MSRP of the Ford Edge trims.
SE – $38,640

SEL – $40,440

ST-Line – $44,240

Titanium – $44,240

ST – $47,440
As we've seen, the Chevy Equinox is slightly smaller than the bulkier Ford Edge and is one of the most competitively priced vehicles in the SUV market.
Therefore, it's the go-to car for smaller families that prefer better maneuverability and ease of handling at a lower price.
Fuel Economy and MPG Ratings
Due to its smaller engine and drivetrain, the Chevy Equinox has better fuel economy than the Ford Edge. Therefore, go with Equinox if you want a decent SUV with good fuel economy.
Equinox also has Automatic Stop/Start and Tire Pressure Monitoring System (TPMS) features that improve fuel economies.
However, going with the Chevy Equinox means that you won't enjoy the Edge's 1,500 – 3,500 pounds towing capacity when the car is fully equipped.
Here's a look at Chevy Equinox's fuel economy ratings. The EPA estimates that:
1.5-liter turbo 4-cylinder with FWD: 26 MPG city/ 31 MPG highway.

1.5-liter turbo 4-cylinder with AWD: 25 MPG city/ 30 MPG highway.
Here's a look at the Ford Edge's fuel economy ratings. The EPA estimates that:
2.0-liter turbo 4-cylinder with AWD: 21 MPG city/ 28 MPG highway.

2.7-liter turbo 6-cylinder with AWD: 19 MPG city/ 25 MPG highway.
Interior, Comfort, and Cargo
Chevy Equinox
The Equinox interior is well styled and should be appealing to most buyers.
However, for those that have driven or been in higher-end cars, the Equinox's interior is quite basic, cheap, and less appealing.
The seats are well designed, but the spacing is constrained and unsuitable for taller passengers and drivers.
Moreover, it has black headliners, black ice chrome accents, red interior stitching, and a not-so-appealing cloth seating.
The car also has excellent cargo storage capabilities, with its 63.9 cubic feet of maximum cargo volume and folding 60/40 split-bench seats that add decent storage space.
Additionally, the car has many driver safety features such as the front and rear park assist, adaptive cruise control, rear vision cameras, rear cross-traffic alert, HD surround vision, lane change alert with side blind zone alert, etc.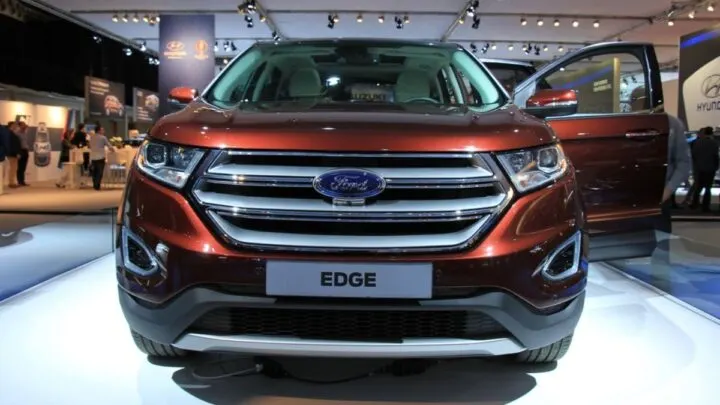 Ford Edge
The Ford Edge is superior, and by a distance, to the Chevy Equinox when it comes to its interior, comfort, and cargo.
The Ford's interior is spacious, has enough leg and headroom, and has nicely chosen interior materials.
For example, the Edge ST-Line has leather-wrapped steering wheels, 8 cup holders, heated front seats, front map lights, universal garage door openers, intelligent access with push-button start, and two driver-configurable 4.2-inch LCDs in the cluster, and a 12-inch center-stack multi-function screen.
Additionally, they have optional floor liners, cargo nets, evasive steering, and heated steering wheels.
The Ford Edge features similar driver-assist and safety features as the Chevy Equinox, but has 73.4 cubic feet of cargo space with the back seats folded down and 39.2 cubic feet behind the rear seats.
Final Remarks on the Ford Edge vs. Chevy Equinox
It may seem that the Ford Edge is immensely superior to the Chevy Equinox in all aspects, but to be honest, one is a compact SUV, whereas the other is a mid-size SUV.
However, the Chevrolet can better improve Equinox's interior if they want it to compete equally and challenge the bigger SUVs.
In conclusion, both car brands have their advantages and target different markets; hence your choice between the two depends on your needs and personal preferences. Make sure you research accordingly before making your decision!