Ford has excellent sports utility vehicles (SUVs) that are a perfect suit for most off-roaders and city drivers.
And, more so, given that the company has an impressive 16 trims between the Explorer and Expedition SUVs.
Across the trims, you'll find different features, drivetrains, and opulence options for your travels.
There are critical differences between the Ford Explorer and Ford Expedition. Namely, the Explorer offers better gas mileage and is often cheaper, while the Expedition is better for hauling and off-road.
So which SUV serves you better? Read on to find out.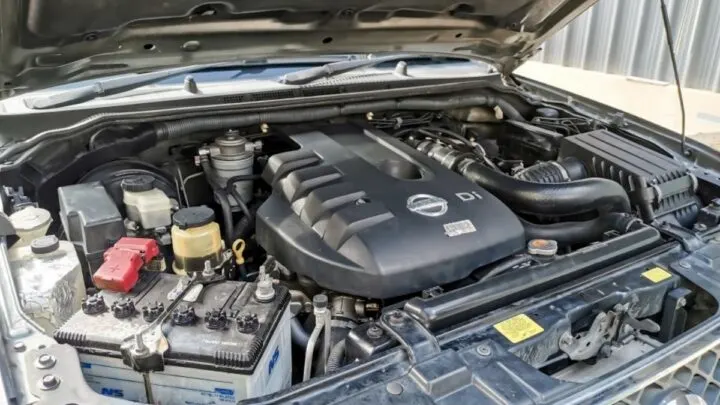 Engine Specs and Performance
SUV enthusiasts tend to buy certain vehicles out of their love for a brand or what they perceive to be a good value for money.
However, it can be pretty challenging when a company makes two similar but somewhat different vehicles that compete in the same market.
The Ford Explorer and Ford Expedition SUVs are two very different vehicles, even more so when you compare their engine and drivetrain performances.
Ford Explorer
The Ford Explorer is suited for family duty, as it has enough room to sit a maximum of 7 people.
With three rows of seats, excellent drivetrain components, a premium interior, and a ton of driver-assist and safety features, you're sure to reach your destination happy and safe.
The SUV's base model has an excellent 2.3-liter EcoBoost engine, 10-speed automatic transmission, rear-wheel drive, Trailer Sway Control, and a superb Terrain Management System.
The four-cylinder gasoline engine is powerful and generates 300 horsepower and 210 lb-ft of torque.
And if you're a serious off-roader, the Explorer has the ST, King Ranch, Timberline, and Platinum trims just for you.
For example, the Timberline trim runs on the base 2.3-liter EcoBoost engine.
Still, it has excellent handling features such as the Hill Descent Control, Terrain Management System, a 3.58 TORSEN Limited-Slip Rear Axle, a Trailway Sway Control, and an intelligent 4WD.
These features, coupled with the 10-speed automatic transmission and SelectShift Capability with Paddle Shifters, will get you through the most challenging terrains.
And if you need more power, go with the Explorer ST trim. The trim has a bigger 3.0-liter EcoBoost V6 engine with Auto Start-Stop technology that gives the SUV a more vibrant and athletic feel.
Additionally, you can combine Ford's performance engine tuning, direct injection, and turbocharging to generate a 400 horsepower, 415 lb-ft of torque, and a max speed of 143 mph.
The Explorer also has a more robust 3.3-liter V6 Hybrid engine that produces 318 horsepower, 322 lb-ft of torque, and a 5,000-pound towing capacity.
Ford Expedition
Unlike the Ford Explorer, the Expedition is a mammoth full-size SUV that can haul an impressive 9,300 pounds.
The SUV boasts a powerful twin-turbo 3.5-liter EcoBoost engine paired with a 10-speed Select Shift automatic transmission that drives well over rough terrain and highways.
The Expedition XL STX trim has extraordinary handling enabled by a non-limited-slip 3.31 rear axle, suspension-multilink independent rear suspension, EPAS rack-and-pinion steering, electronic stability control (ESC), and traction control.
And you'll also get a Hill Start Assist, and Hill Descent Control features on the 4×4 models only.
Furthermore, the standard base engine generates 380 horsepower and 470 lb-ft of torque, which you can boost to 400 horsepower and 480 lb-ft on the Explorer Limited models.
And if that's insufficient, you can go with the Limited and Timberline trims, whose powertrains generate higher 440 horsepower and 510 lb-ft of torque.
It's important to note that all Expedition trims use an independent rear suspension, improving interior comfort but imprecise handling and steering feel.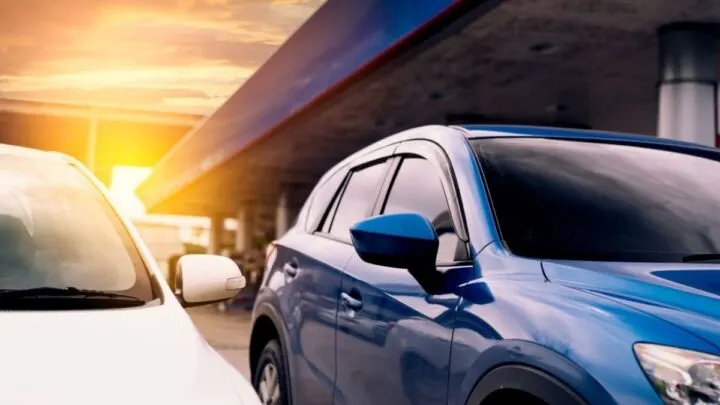 Fuel Economy and MPG Ratings
SUVs are fuel guzzlers, and buying one with good fuel economy is always a top priority, especially since fuel is getting scarcer and more expensive.
But would you sacrifice horsepower and torque for better fuel economy?
Where is the balance between a vehicle's performance and its fuel consumption? Well, the line is thin, and it gets thinner when comparing two cars from the same manufacturer.
Both Ford SUVs aren't the best in saving fuel, and the Expedition is bigger, heavier, and more powerful than the Explorer.
Here's a look at their fuel consumption figures.
Ford Explorer
The Ford Explorer has varying EPA fuel economy estimates owing to its myriad powertrain and drivetrain options.
The most fuel-efficient Explorer is the rear-wheel-drive base engine model, with estimates of 27 MPG in the city and 29 MPG highway.
Going with the all-wheel-drive option slashes a further 3 to 4 MPG off your RWD option figures.
This then leaves you with 23 MPG city and 25 MPG highway.
Here's a look at its EPA-estimated fuel ratings.
3.3L 6-cylinder Hybrid engine with RWD: 27 MPG city/28 MPG highway/ 27 MPG combined.

2.3L 4-cylinder engine with RWD: 21 MPG city/28 MPG highway/ 24 MPG combined.

3.0L 6-cylinder engine with RWD: 18 MPG city/26 MPG highway/ 21 MPG combined.
Ford Expedition
As we've seen, the Ford Expedition is a huge SUV that boasts a not-so-fuel-efficient engine.
Its rear-wheel-drive trims generally have better fuel economies compared to its all-wheel-drive trims.
For example, the RWD trims have roughly 17 MPG city and 23 MPG highway ratings, whereas the AWD trim maxes out at 22 MPG city.
Here's a look at its EPA-estimated fuel ratings.
3.5L 6-cylinder gasoline engine, 2WD: 17 MPG city/23 MPG highway/ 19 MPG combined.

3.5L 6-cylinder gasoline engine, MAX 2WD: 17 MPG city/23 MPG highway/ 19 MPG combined.

3.5L 6-cylinder gasoline engine, 4WD: 17 MPG city/22 MPG highway/ 19 MPG combined.

3.5L 6-cylinder gasoline engine, MAX 4WD: 16 MPG city/21 MPG highway/ 18 MPG combined.
Manufacturer's Suggested Retail Price
The Ford Explorer has diverse drivetrain and powertrain options, and you will always find what you're looking for amongst its ten trims.
Here's a look at the Explorer MSRPs.
Base – $34,010

XLT – $38,320

ST-Line – $45,510

Limited – $46,820

Timberline – $48,800

ST – $49,740

Limited Hybrid – $51,000

Platinum – $52,125

King Ranch – $54,610

Platinum Hybrid – $55,000
The Ford Expedition has lesser trims but offers excellent standard features that you might be interested in checking.
But first, here are the Expedition MSRPs.
XL – $54,315

XLT – $58,380

Limited – $67,430

Timberline – $71,490

King Ranch – $78,780

Platinum – $80,095
The Expedition is generally higher-priced than the Explorer.
The Explorer's most expensive Platinum Hybrid has almost equal prices as the cheapest Expedition – XL trim.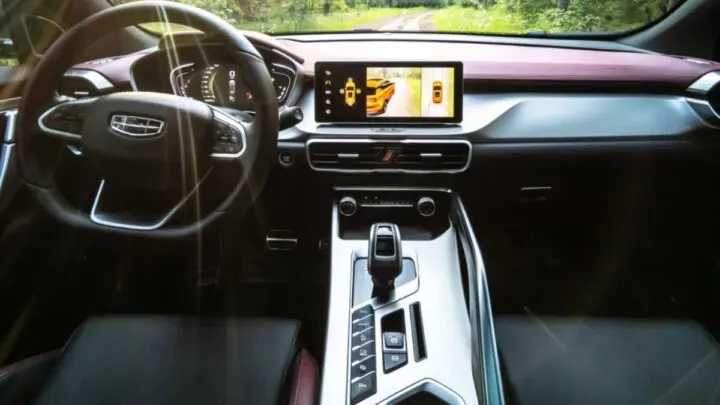 Interior and Cargo Space
We can all agree that a car's interior is one of its most important aspects, since we spend most of our driving time there.
It might not be the first thing you'll notice, but it goes a long way in fulfilling your satisfaction.
Let's look at how the two SUVs compare.
Ford Explorer
The Ford Explorer is smaller than the Expedition, but Ford designed it so well that it utilizes all spaces available.
The cabin is comfortable and functional, but nothing extraordinary.
The first two rows are spacious and comfortable, but the challenge comes with the third row.
It's relatively squeezed with bare minimum legroom that can sit kids and young adults.
Getting to the third row is easy as you only need to press a button. Additionally, the trims have different comfort and opulence features.
The King Ranch trim has 8-way power passenger seats, PowerFold third-row, rear-seat entertainment systems, 8.0-inch infotainment screens, and voice-activated navigation.
It also has 152.7 cubic-feet passenger volume and 87.8 cubic-feet cargo volume.
Ford Expedition
The Ford Expedition has seating space for eight people, with more leg and headroom than the Explorer.
In fact, the third row is very spacious and has an extra 8 inches of legroom than the Explorer.
Also, a three-seat foldable bench is standard on the second row, but you can upgrade it to a pair of captain's chairs.
The SUV also features a huge 12.0-inch infotainment system, a 22-speaker Bang & Olufsen stereo, and rear-seat entertainment systems. It also boasts a maximum of 104.6 cubit-feet of cargo space behind the front row.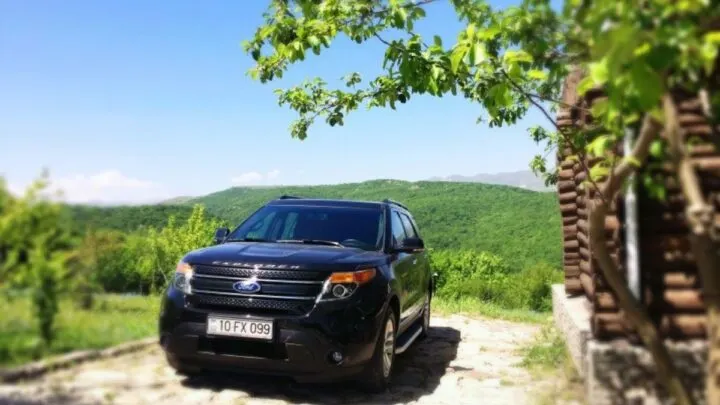 Final Remarks on Ford Explorer vs. Ford Expedition
If you need better cargo space, good third-row legroom, off-roading capabilities, and better towing, go with the Ford Expedition.
But if you're a city traveler, and prefer better fuel economies and smaller SUVs, go with the Explorer.
Regardless, both SUVs have a lot of similarities, and you'll find that both may suit your purpose.