If you're interested in purchasing a car battery from Walmart, then you may also find yourself wondering if they will install the battery for you as well!
Yes, Walmart offers battery installation services for automobiles. With a focus on customer convenience, many Walmart locations have dedicated automotive centers staffed by trained technicians who can install new batteries and perform other automotive services for customers. It is advisable to check with the specific Walmart store in question to confirm the availability and details of their battery installation services.
In this article, we dive into the world of automotive services offered by Walmart, exploring the convenience, expertise, and cost-effectiveness of their battery installation services.
So, if you're seeking a hassle-free solution to get your wheels back on the road, join us as we uncover the answer to this pressing question and unlock a world of automotive convenience at your nearest Walmart location!
Walmart Battery Installation
Almost every Walmart, no matter how small, will have a range of products for your vehicle. This may be as simple as a few oil choices, some car deodorizers, and maybe a few options for windshield wipers.
Larger Walmart stores will have a full and complete automotive section with a variety of vehicle fluids, accessories, tires, batteries, and other items necessary for proper maintenance or repairs.
These larger stores also normally have an attached Auto Care Center. This is where mechanical maintenance can be done, such as tire rotation, fluid checks and replacement, air filter replacement, battery installation, and more.
If your Walmart has an Auto Care Center, they will almost always offer battery installation. This is usually a free service if you purchase the battery from Walmart.
However, if you have a battery from another store, they will still install it but may charge a fee.
Normally this installation fee for a battery purchased at another store will be $10.00, but this fee can vary between stores. If you aren't sure, give them a call and ask before you decide to take your vehicle and battery to the Auto Care Center.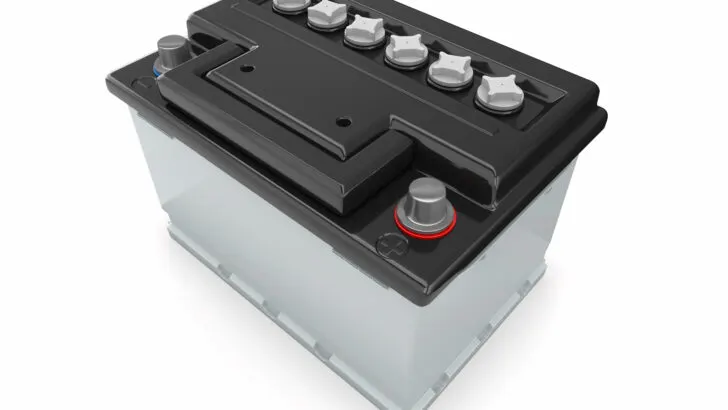 Other Battery Services Walmart Offers
In addition to installing new batteries, Walmart's Auto Care Center also offers a few other battery-related services for free or a small charge. One of their most common services is battery testing.
In most locations, this is a free service they can provide to let you know if your battery still has plenty of life left or if it is in need of a replacement.
Other services include terminal replacement for the battery. This is normally a small labor fee of $5.00 or $10.00, but you will need to provide or purchase the terminal end replacement parts yourself.
In most cases, this can be done in a short amount of time by the technicians working in the Auto Care Center.
Anti-corrosion treatment for your battery is also a service most Walmart Auto Care Center will offer. This normally runs $3.50 to $5.00 per battery.
Anti-corrosion treatment helps ensure the terminals and connecting wires are all free from corrosion, getting a solid connection and proper power from your new or existing battery.
What Car Battery Brands Does Walmart Carry?
You will find a variety of battery brands at Walmart, with Optima, ValuePOWER, and EverStart being the most common brands offered.
EverStart is the most common brand overall, and even in smaller stores that have a very limited automotive section, you can normally find a few EverStart options available. These are your budget options, with the most affordable EverStart batteries starting at $50.00.
In some areas, EverStart will be called ValuePOWER. This is ultimately the same battery from the same manufacturer but has a different name due to local regulations and preferences.
Same as the EverStart brand, ValuePOWER batteries will start around $50.00 and run up to $150.00.
Optima is your highest-cost brand but is one of their maintenance-free offerings. Making use of both Pureflow and Spiralcell technology, these batteries have a long lifespan and can offer a solid amount of power for luxury and large vehicles.
Optima batteries will start around $180.00 and can run as high as $364.00, depending on your specific needs.
Why Does it Take So Long to Replace a Battery?
You may be surprised to find out that having a battery replaced at a Walmart Auto Care Center can take an hour or longer.
While you might think this is due to other people being ahead of you for openings in the mechanic's shop, it could also be due to certain vehicles having more complex electronics and vehicle systems.
Older vehicles are much easier to simply swap an old battery out and drop a new one in, without having to deal with computerized electronics resetting or having any issues. However, in newer modern vehicles, the same cannot be said.
Modern vehicles make use of dozens and even hundreds of control modules. These modules are not always the easiest things to power down, which is exactly what happens during the replacement of a battery.
A module's job is to retain information, like a computer, and keep data and settings stored for your vehicle to run smoothly.
Improperly disconnecting a battery without taking into account the various computerized modules can wreak havoc on a variety of systems, including the steering angle sensor, electric window settings, throttle settings, transmission shift settings, and more.
Once a modern vehicle has had its battery replaced, calibration will need to be done to ensure these systems are working properly.
If calibration is not done by a licensed mechanic, you may notice rough idling, erratic transmission shifts, missing radio settings, improper window settings, ABS and other dash warning lights, and more.
Mechanics at Walmart's Auto Care Center can avoid all of these problems by hooking your vehicle up to a memory-saving device. This is a way to keep power provided to your vehicle even when the battery is completely removed in order to ensure no settings on vital systems are lost or messed up.
If you found this article helpful, make sure to take a look at the related posts linked below!