Curious about Carvana's pricing and negotiation policies? Wondering if you have room to negotiate with Carvana when buying a car online?
Carvana operates with a no-haggle pricing model, which means the listed price is typically non-negotiable. The company aims to provide transparent and upfront pricing, streamlining the car buying process and eliminating the need for negotiation.
In this article, we explore Carvana's unique approach to car sales and delve into whether negotiation is possible in their car buying process. Get ready to uncover the truth behind Carvana's pricing strategy and gain insights that will help you navigate the world of online car purchasing with confidence.
Are Carvana cars overpriced?
When comparing Carvana prices to those of other dealerships, it is important to consider the value of convenience when buying online and the cost savings associated with it.
Since Carvana is an online dealership that allows you to view and purchase cars online to have them delivered directly to your home, it eliminates the need to drive to a dealership, deal with gas prices or traffic, haggle with a salesperson, and wait for paperwork to be processed.
In addition to this convenience, almost all Carvana vehicles come with a 7-day return policy and a 100-day warranty on their wide selection of used and certified pre-owned vehicles.
Many buyers may also be able to get a loan pre-approval online and have the option to finance their vehicle through Carvana directly.
When comparing Carvana cars to those at other dealerships, it is important to consider the overall quality of the vehicles. Carvana's pre-owned vehicles come with a 150-point inspection and a CARFAX report for transparency.
Carvana also provides detailed information about the vehicle's history, including previous owners, mileage, and service records, so you know exactly what you are getting.
Whether or not the cars sold by Carvana are overpriced will depend on your personal needs and preferences.
For buyers who value convenience and the ability to purchase a car without leaving the comfort of their own home, Carvana may be the best choice.
However, those who are looking for the best deal on a pre-owned car may find other dealerships to be a better option, especially since haggling in person can be more effective than haggling online or over the phone.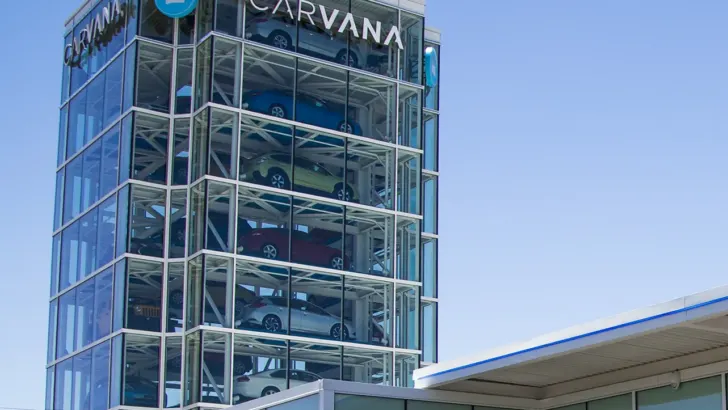 Can you negotiate a trade-in with Carvana?
Yes, you can negotiate a trade-in with Carvana, and in fact, they often welcome negotiations!
Carvana has a unique trade-in process that allows you to get a guaranteed offer for your current vehicle before you purchase a new one.
To begin with the trade-in process, you will be asked to provide information about your current vehicle, including the year, make, model, mileage, condition, and any extra or notable features.
After that, Carvana will give you a guaranteed offer for the car, even if you don't plan on buying a car from Carvana.
The offer they provide is usually valid for up to seven days, so you have plenty of time to discuss it with family and friends before accepting or declining it.
You can then use the trade-in offer to purchase a new or used vehicle from Carvana or can decide against purchasing another vehicle at that time.
If you do decide to purchase a different vehicle, the trade-in offer will be added to a payment calculator to offset the cost of the other vehicle you have chosen.
The trade-in process is also very flexible. If you decide to change your mind and not purchase a car from Carvana, the trade-in offer is still valid.
You can also choose to have Carvana pick up the current vehicle, or you can bring it to one of the Carvana Vending Machines and drop it off yourself.
Negotiating a trade-in with Carvana is a simple and straightforward process and should definitely be something you do when considering some new wheels.
You will simply provide information about your current vehicle, get a guaranteed offer from Carvana, and then decide whether you want to just take the offer or use it on the purchase price of a new or used vehicle from Carvana.
Is Carvana cheaper than dealerships?
The answer to this question will depend on the car and the dealership in question. Generally speaking, Carvana offers competitive prices on used cars, and they can often be cheaper than dealerships with a much higher level of convenience as well.
Carvana offers their customers the ability to shop from a wide selection of used cars from a huge range of different makes and models, and they are all priced to compete with the current market.
Carvana also offers customers the ability to purchase certified pre-owned vehicles, which are cars that have undergone a rigorous inspection process to ensure quality and safety, whether you are looking for a short-distance errand vehicle or a family van to take on your next cross-country road trip.
Dealerships, on the other hand, typically offer a much smaller selection of used cars or specific brands, and they may not be as competitively priced as Carvana, depending on how often they check current market fluctuations.
However, dealerships often offer additional services such as financing, warranties, and trade-in options that can make them a more attractive option for some customers.
They may also be more willing to haggle for different pricing and could also be willing to offer more for certain classic vehicles or specific makes or models that sell well in your local market.
The best way to determine which option is best for you is to compare prices between Carvana and a local dealership or two. Compare the make, model, and year of the car, as well as the additional services offered by the dealership.
You can also check online reviews to get an idea of the quality of the car and the customer service offered by both Carvana and the dealership to help make your decision more informed.
Negotiating tips for Carvana
1. Research the vehicle you are interested in
Researching the vehicle thoroughly in advance is essential when negotiating with Carvana because it helps you understand the true worth of the car.
Considering the vehicle's features, specifications, and history can help you make sure that the car is the right fit for your needs as well as your budget.
2. Determine the market value of the car
Knowing the market value of the car will help you to negotiate effectively and fairly while also allowing you to make an informed decision.
Determining the market value can be done by researching the car's make, model, and year and then comparing it to similar vehicles for sale locally or checking online listings.
This will help you to determine a fair price for the car and ensure that you are not paying too much.
3. Consider the financing options available
It is important to consider the financing options available because they can make a vehicle seem more affordable or help it be a better fit for your budget.
Having a few financing options available can help to ensure that you will be getting the best deal possible.
4. Ask for discounts or incentives
Asking for discounts or incentives is important because it can provide you with a better value for your money and help to make the purchase more cost-effective.
Extended warranties, certain pre-sale inspections, and other incentives may make a negotiated price seem more appealing.
5. Be prepared to walk away if the deal is not right
Being prepared to walk away from an offer is important because it shows that you are not desperate for the vehicle and can potentially make Carvana more willing to work with your pricing offer or terms!
If you found this article helpful, make sure to take a look at my related posts below on car buying!