Most people don't consider Jeeps as SUVs due to confusing advertisements and a general belief that Jeeps have better offroading abilities than other SUVs.
Have you ever been to a dealership to buy an SUV and they kind of sell the Jeep as a "superior" vehicle that's much similar to an SUV?
That happens quite a lot, especially in the US. And it's a big lie that's been passed down for decades. Well, if you want to know the difference between a Jeep and an SUV, you're in the right place.
Most Jeeps are SUVs, but not all SUVs are Jeeps. A Jeep is a registered trademark of the Stellantis N.V automotive manufacturing corporation for its American Jeep SUVs. On the other hand, SUVs are a class of vehicles with high rider height and larger approach and departure angle capabilities, along with 4WD.
And if you've been keen, you can notice that Jeeps and SUVs have similar characteristics and features.
Some Jeeps have body-on-frame platforms similar to modern SUVs, while others are more like crossovers and trucks. So for today's article, we shall focus on full-size and crossover SUV Jeeps.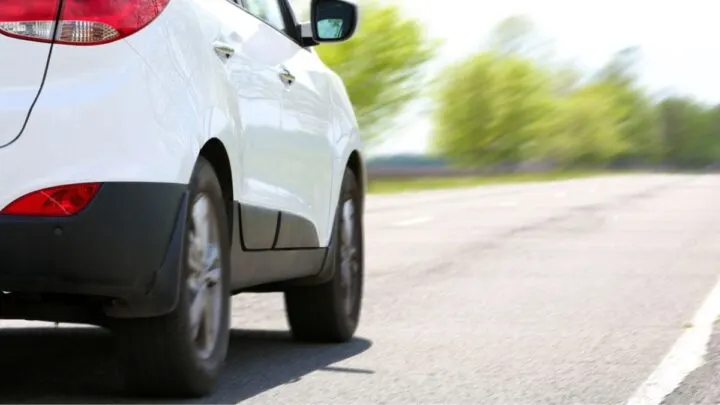 What's an SUV?
Sports Utility Vehicles (SUVs) are high-performing cars with spacious interiors and features that blend those of a wagon, minivan, pickup trucks, and trucks.
They have higher ground clearance, a higher rider height, and a boxier bodystyle than most family sedans.
Furthermore, they have excellent offroading and tarmac/city capabilities and can be driven on a range of surfaces that include sand, ice, grass, gravel, snow, and dirt.
However, it would help if you remembered to change your SUV's tires for winter tires to maximize its traction on slippery surfaces.
SUVs arose having body-on-frame construction similar to pickup trucks.
The new frame was much sturdier and paired with a bigger engine that gave the vehicle immense towing and off-roading abilities similar to those of trucks.
SUVs feature robust rear-wheel drive (RWD) and four-wheel drive (4WD) systems for tackling rough terrains. They also have better suspensions to stabilize the car and prevent swinging and rollovers while offroading.
Additionally, they have 5-8 people sitting capacity, depending on their size and classification.
We have mini, crossover, compact, mid-size, and full-size SUVs here, whereby you'll get different offroading and city road capabilities.
If you go off-road occasionally, the best compact and city-friendly offroading SUV is the crossover sports utility vehicle.
It offers the features of an off-roading vehicle but in a smaller and cheaper package.
What's a Jeep?
Generally, a Jeep is an American vehicle that deals in crossover and full-size off-road SUVs in addition to one pickup truck line.
But I'm sure that's not what you meant by Jeep.
The company deals in SUVs such as the Grand Cherokee, Wagoneer, Wrangler, Compass, Renegade, Grand Cherokee WK, and one pickup truck, the Gladiator.
So, why do most people prefer not to classify Jeeps as SUVs?
Well, Jeeps were General Purpose Utility vehicles (GPs) from WW2 that were primarily synonymous with the United States Marines and Armies.
Originally, the American military would refer to their offroading beast as GPs, which when pronounced loudly would sound like "jeeps," hence the rise of the name Jeep.
And, as much as they retain their traditional boxy and rugged look, most Jeeps are SUVs.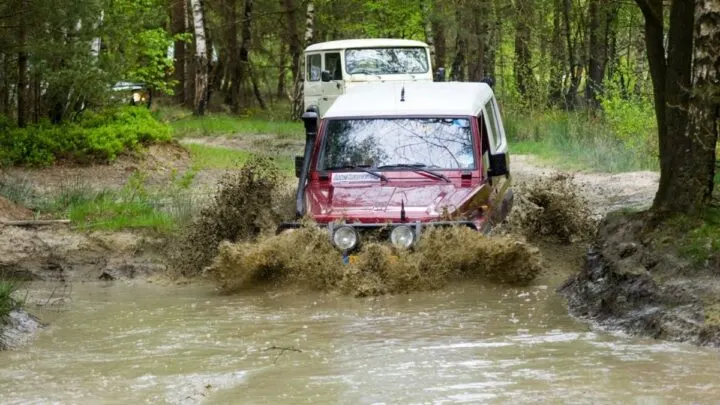 Are All Jeeps 4WD?
Jeep is known for reliable and durable vehicles that can drive in any type of offroad condition without damage.
In fact, its box-style body gives it a rugged look that offroading enthusiasts swear by.
But as much as we all know it as an offroading beast, are all of its models 4-wheel drive?
Most Jeep models come with 4WD, while some use the all-wheel-drive (AWD) option.
The Jeep Wrangler, Jeep Wrangler Unlimited, and the Jeep Grand Cherokee offer all trim levels with 4WD configurations.
The Jeep Compass, Cherokee, Renegade, and Patriot have some of their models offering a front-wheel-drive option.
If so, you may be wondering why some Jeeps are AWD while others are 4WD?
The Differences Between Jeep's AWD and 4WD
All-wheel drive (AWD) systems apportion power to the wheels that need it most, while four-wheel drive (4WD) has a center differential that divides torque and power between the rear and front axles.
For serious off-roaders, the 4WD drivetrains feature low and high-range gearing. The low range makes it easier to climb very rough or steep terrain much easier than the high range.
For the Jeep, the 4WD option is offered as a standard feature for all SUVs primarily designed for offroading.
However, for smaller Jeeps, such as the crossover SUVs, the 4WD option can be turned "on" and "off" depending on whether you need it since they aren't primarily for offroading.
Consequently, they are smaller and lighter than full-size SUVs that feature 4WD drivetrains.
Should You Buy a Jeep AWD or 4WD?
Your choice of a Jeep depends primarily on how you plan to use it.
If you're a city person that loves the Jeeps for their enhanced handling and traction, you should go for the AWD options.
AWD is much lighter than 4WD, so you'll enjoy better fuel economy, maneuverability, and an optional 4WD.
Therefore, the Jeep Cherokee and the Jeep Renegade are your best suits.
However, if you're a serious off-roader who drives miles on rough terrain, 4WD vehicles such as the Jeep Wrangler and the Jeep Grand Cherokee will get you to your destination.
They're stronger and heavier to accommodate the 4WD drivetrain weight and will excel in most environments and road conditions.
Also, go for a 4WD SUV if you use your vehicle to tow and haul heavy loads.
You'll then tune them between low- and high-range settings for dialing the perfect amount of torque and power delivery to the wheels for best traction.
Final Remarks on Jeeps vs. SUVs
As much as Jeep is marketed as a better and stronger vehicle that's distinct from other SUVs, it's still an SUV.
In other words, Jeeps share similar features to SUVs and are just a brand, but SUVs aren't Jeeps.
The only thing that might differentiate them is their looks. Jeeps retain their traditional box-like look while modern-day SUVs from other automotive manufacturers feature a sportier look.
Regardless, all have powerful engines, heavier drivetrains, higher ground clearances, excellent towing and hauling abilities, and 4WD/AWD options.