Okay, so you have yourself a Tonneau cover for your truck, now what? What accessories should you get to make your truck bed cover experience even better?
The great news is that there are plenty of cover accessories to choose from, from truck bed toolboxes to car racks to even cargo slides. Whatever activities you set out to do with your truck, these accessories can give you a leg up!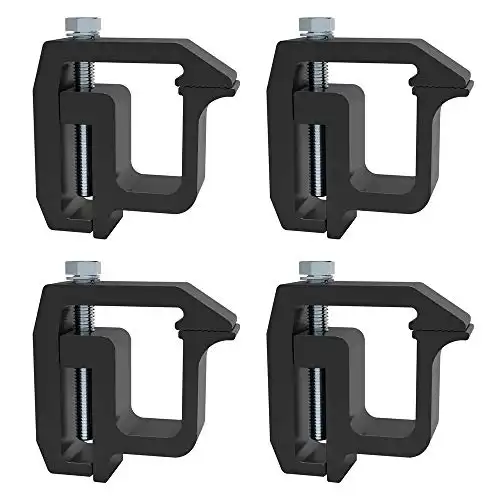 While several Tonneau bed covers may come with clamps to fit the cover to your truck, you can never have too many extras on hand for emergencies. The purpose of these clamps is so you do not have to drill into your truck bed to insert attachments for a truck bed.
The Y-Autopart truck clamps contain aluminum, a non-corrodible metal that can stand up to the elements for a long time. They should stay tight for a considerable length of time, too, holding a bed cover to your truck even in high winds or bad weather.
These clamps are huge, so they are versatile in fitting all kinds of covers to all types of truck beds.
One nitpick is that they might lose their black coloration after prolonged exposure to bad weather. If you are not worried about appearances and just want something to hold your truck bed down, you might be in good shape with these clamps. The plain aluminum version is also available.
Pros
Can clamp around any truck bed cover and truck bed
Huge size for better clamping power
Non-corrodible to stand up to bad weather
Keeps truck bed cover secure in high winds
It comes in a black or plain aluminum model
Cons
Loses black coloration after some time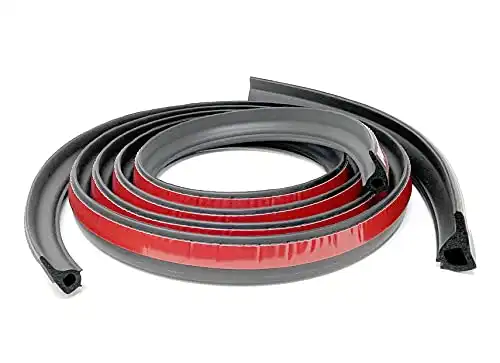 Sometimes truck clamps are not enough to keep the bad weather out of your truck bed. In that case, you might turn to a tailgate seal to further protect your cargo.
The EDI tailgate seal comes in ten feet of EPDM rubber that uses 3M ST1200 tape. These materials help the seal adhere to your truck bed and to reduce tailgate vibration for better protection.
For the best installation, make sure you install the seal when both your car's surface temperature and the air temperature is between 55 and 104 degrees Fahrenheit.
Keep in mind that while this product works pretty well, it might not be compatible with all truck bed covers. Click on the product link to learn which car models might not fit this particular seal.
ESI has incredible customer service if you ever have an issue installing the product or it does not work right. They work well with customers to figure out the problem until the customer is satisfied, so you can rest easy if something ever goes wrong.
Two quick notes about this seal: make sure that you thoroughly clean the truck bed edges before applying the seal. It comes with an alcohol toilette for that purpose, so make sure you use it before installation.
Pros
It comes with quality adhering tape
Includes an alcohol toilette for easier installation
It stays airtight and waterproof
Excellent customer service
Cons
It might not fit all truck models available now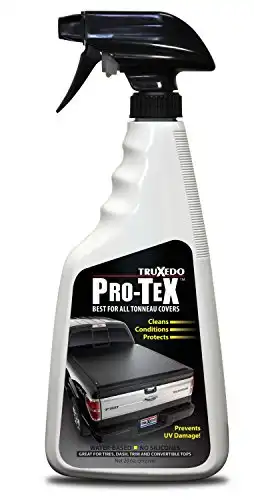 The Truxedo Pro-Tex Protectant spray is not as much an accessory for a Tonneau truck cover as it is a necessity. After all, anything that needs to keep performing well over several years needs occasional cleaning.
You use this particular spray to clean, condition, and otherwise extend the life of your Tonneau truck cover. You can also use it to clean your tires, dashboard, and convertible tops.
The spray itself is safe to use because it is water-based and contains no harmful silicones. All you need to do to spray and then wipe dry with a clean, dry towel.
Keep in mind that this spray will not get tough stains or animal droppings off your truck cover. You will need to use a gentle detergent or soap and water to get those stains out first. Once the truck bed cover is clear of any tough messes, then you can use the protectant to finish the job.
You should also only use this spray on a soft vinyl cover. It will not be as effective on hard truck bed covers.
It is a little expensive, though, for how many uses it has. Many customers claim that they only get three good uses out of the bottle before it empties.
However, the product continues to treat soft covers for a while, so maybe one bottle will do you good for a while. Plus, since it cleans more than just the truck bed cover, you can get your money's worth using it on the whole truck.
Pros
Conditions and treats vinyl truck covers well
Water-based for a healthier, safer clean
Cleans dashboards, tires, and vinyl trims too
Cons
A little expensive
Only has about three or four good cleans in one bottle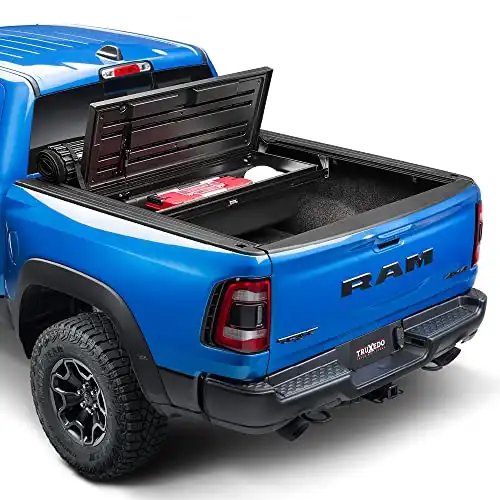 Every trunk bed needs a toolbox!
Or, sometimes, just a place to put extra cargo when the truck bed cannot hold it. That is where the Truxedo TonneauMate Toolbox comes into play.
The toolbox mounts underneath your truck bed rails, so you can place it anywhere you like beneath your bed cover, be it in the front, middle, or rear.
You do not need a truck cover to enjoy this toolbox, as you have bed rails installed in your truck bed. That is because the toolbox sits above the truck bed, so you have the bottom free for other cargo.
Thanks to its rail-mount design, you do not have to drill into your truck bed or take any extra installation steps. Just line up the toolbox with your truck bed rails, and you are good to go.
The toolbox comes from heavy-duty material to support heavy loads, be they tools or a cooler for a day out. Such material also does not rust or corrode if you leave it out in bad weather.
It sits below your truck bed cover so that you can secure it out of sight. A key and twist-lock increase security on the toolbox.
The toolbox should fit most truck bed sizes and is compatible with multiple types of Tonneau covers. However, you may need extra truck clamps or hardware kits for proper installation, depending on your truck model.
Pros
Fits in the front, middle, or rear of the truck bed
Operates as a toolbox or another place to store cargo
Heavy-duty plastic material does not rust or corrode
It fits below the truck bed cover and has a key/twist lock for extra security
It does not require additional steps for installation
Cons
Some models may need a clamp or hardware kit for better installation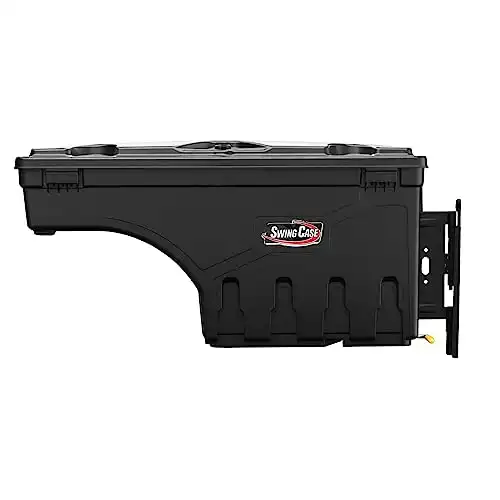 It is an ingenious idea to use a toolbox that attaches underneath the truck bed cover, but one that fits over the wheel well is just as cool.
The SwingCase truck bed storage box sits three inches off the truck bed. They sit over the wheel wells and can swing outward like doors, allowing you to keep your tools or other cargo out of the way, but always within easy reach.
The toolbox locks into place so it will not swing around on hard turns or other adverse driving conditions.
For extra security, the toolbox has a lock and key for the lid. On the smaller side, the box can only hold around 75 pounds of cargo.
However, it does have a moisture seal for helping keep contents dry from rain and has an organizational tray that can slide out. If that is not enough for you, the top of the box even has two cup holders for tailgating or just holding your drink on the go.
Do not worry about the box corroding, because it is made from the same ABS material as many other truck covers. The material may be lightweight and easily portable, but it packs a punch keeping everything safe and compact on the road.
The box attaches to your truck bed using six self-tapping screws, allowing you to install (or uninstall, if necessary) the box in a few minutes. It does not have to stay in the back of your truck either.
The toolbox can function as a carrying case for whatever you need, on and off the road. Plus, you can install the case on either side of the truck, along with a second one to complete the set.
Strangely, though, the only way the cases open is to swing them out from the wheel well. It might be inconvenient sometimes, but perhaps it is for better security.
Pros
Lightweight but strong ABS material protects cargo
Can attach to truck bed on either right or left side
Includes two cup holders on top
Swings 180 degrees out for better reach
Easy installation with six self-tapping screws
Cons
The cases only open when swung away from the wheels.
Related Posts