The Jeep Gladiator sure turned heads when it first entered the market back in 2018. This innovative vehicle took the classic look of the beloved Jeep Wrangler and added a truck bed, appealing to both off-roaders and truck lovers alike.
But as cool as the Jeep Gladiator might look, it's certainly not for everyone. The mid-size pickup truck with the recognizable name and cab might not be all it's cracked up to be.
Learn why we feel this way below!
Why You Shouldn't Buy a Jeep Gladiator: The Quick Answer
If you're looking for someone to tell you why you should not buy a Jeep Gladiator, you've come to the right place.
We have 5 reasons below for you to consider:
It's expensive
The bed is short
Too long for off-roading
It's a fuel guzzler
Disproportionate appearance
These reasons may or may not be enough to dissuade you from buying a Jeep Gladiator, but we'll let you be the final judge.
Most of the reasons why you should not buy a Jeep Gladiator are fairly self-explanatory. However, it's always helpful to have a little more information during the decision process. Read on to learn more about why the Jeep Gladiator isn't our favorite mid-size truck on the market.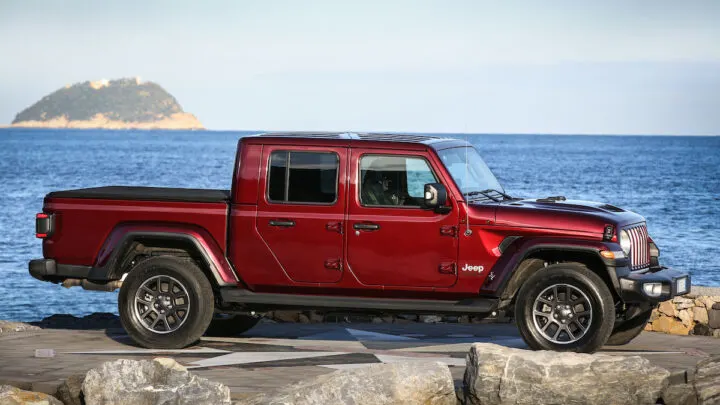 Reasons to Not Buy a Jeep Gladiator
Plenty of people and businesses on the web work hard to convince you to buy things, but we're here to do the exact opposite.
While the Jeep Gladiator may be the perfect fit for some people, it has a few issues that might not suit your needs.
1. It's Expensive
If you want to purchase a Jeep Gladiator, you better be prepared to shell out some serious cash!
The cheapest version of this Jeep-truck combo is about $35,000. Considering the price tag that usually comes with any Jeep vehicle, that's pretty much to be expected.
However, this truck is $2,000 more than the base Wrangler model. And we haven't even touched the bells and whistles you can add, all of which drive the price up to over $60,000!
You can have just as much fun in the base level Wrangler as you could in the base level Gladiator. If that's the purpose for buying this vehicle, there's no good reason why you shouldn't just stick with the Wrangler.
2. Short Bed
One of the main reasons people are interested in buying the Jeep Gladiator is for the convenience of having a truck bed. Whether for work or play, truck beds certainly offer additional storage space in tandem with the vehicle's great towing capacity.
But this truck bed really isn't anything to sneeze at. It's only five feet long, which is shorter than the average truck bed you'd find on other brands like Ford or Chevrolet.
The Gladiator might be a fun addition to a small camping trip or day trip, but it may not be large enough for serious equipment or business.
3. Poor Off-Roading Skills
If you're not buying the Gladiator for business, you're buying it for pleasure. The majority of Jeep owners love their vehicles because they're perfect for off-roading adventures. These built-tough cars have features and upgrades that can literally help you climb rocks!
But the Gladiator? Probably not.
For starters, the truck is just too long. One of the best things about the design of the original Wrangler is that it offered a compact, box-like shape that let you ride through pretty much any kind of terrain you wanted.
The length of the Gladiator makes it super difficult to handle serious off-roading and presents you with some tricky angles to maneuver, and that's the last thing you want to worry about when you're off-roading with your buddies.
All of that said, this truck can still give you some fun on the trails. It just may not measure up to your expectations.
4. Fuel Guzzler
The standard Jeep Gladiator has a 3.6-liter V6 engine, which means that it takes regular fuel. This midsize truck may not be the largest on the market, but it sure guzzles gas like it is. With this engine configuration, the Gladiator gets just 16 city miles per gallon and 23 highway miles per gallon.
Now, these numbers are pretty much on par with most standard pickup trucks. But other trucks also offer more features and larger beds, so many people would consider them more worth it.
And the Gladiator doesn't even come close to touching some of Ford's trucks in terms of mileage. The Ford F150 can get up to 20 MPG in the city and 27 MPG on the highway – and that's just one competitor.
You can upgrade your Gladiator to a diesel engine, which will improve your mileage, but it's going to take an extra $4,000 onto your final price. Diesel fuel also tends to cost more than standard fuel, so that would have to be a price you're willing to pay long term.
5. Undesirable Appearance
This last reason not to buy a Jeep Gladiator comes down to personal preference, so bear with us. In general, we feel the Gladiator just looks kind of… funny, for lack of a better word.
Is it a Wrangler, or is it a truck?
The answer is supposed to be both, and that's supposed to be a good thing. But honestly, it looks like the Jeep brand took the front half of a Wrangle and glued it to the tail end of a pickup truck.
It seems that car owners range from one side of the spectrum to the other on this issue. Serious truck owners think it looks strange and that the vehicle isn't a "real" truck. Jeep owners tend to lean toward the other side of the stick, impressed with the addition of a bed to their favorite brand.
As this issue is a matter of opinion, it's tough to take a solid stance here. The opinions on the appearance of this Jeep are widespread and deeply rooted, though, so be prepared to hear from both sides if you commit to purchasing one.
Frequently Asked Questions
What is the Jeep Gladiator's towing capacity?
The Jeep Gladiator tops out at a 7,650-pound towing capacity. This capacity is quite impressive when compared to other trucks of similar size and build.
Is the Jeep Gladiator 4-door or 2-door?
The Jeep Gladiator only has a 4-door option at the moment, even though many customers would like to see a 2-door option.
Is the Jeep Gladiator considered a truck?
In short, yes. The Jeep Gladiator is described as a midsize pickup truck, similar to trucks like the Ford Ranger, the Chevrolet Colorado, and the Toyota Tacoma.
To qualify as a midsize pickup truck, a vehicle usually falls under these categories:
– Has a bed
– Tows up to 7,000 pounds
– Averages up to 300 hp
– Weighs under one ton
There are certainly exceptions to these rules, but in general, you can expect most midsize trucks to align with the above standards.
Final thoughts on buying a Jeep Gladiator
The still-new Jeep Gladiator has some impressive features to offer, including a convertible cab top, great towing capacity, and several smart utility features.
But like with any vehicle, it's essential to consider the downsides, too. Keep in mind these reasons why you should not buy a Jeep Gladiator before you make your final decision.
Related Posts