Trying to find a vehicle that can tow your camper might seem like an easy task at first, but truth be told, it is a lot easier said than done. But if you do have a small camper that you need to tow for all of your warm weather adventures, then the Kia Telluride might be the vehicle for you and your family.
The Kia Telluride is perfectly capable of towing a pop-up camper. But if you are trying to tow an RV, you should know that the Telluride's towing capacity maxes out at 5,000 pounds. This means that you will be restricted to towing a smaller RV that is loaded up with cargo.
What can you expect from the Telluride while it is towing a camper or small RV? And just which components of its design help make the Telluride so capable? Read on to learn more.
Kia Telluride's towing capacity
Most SUVs in this segment can tow somewhere between 2,000 and 3,500 pounds when properly equipped. The Kia Telluride maxes out at 5,000 pounds in terms of towing capacity, so you get a lot of power to pull.
Since many buyers in this segment crave spaciousness and comfort over towing capacity, a lot of SUVs top out at 3,500 pounds. That is because they are built on auto platforms, whereas the Telluride is built on a different type of unibody platform!
The Telluride's engine is able to produce enough power to keep this SUV moving smoothly while towing a camper or small RV. This third-row crossover receives its power from a standard 3.8-liter Lambda V6 engine. Said engine serves up a solid 291 horsepower and 262 lb-ft of torque.
Paired up with an 8-speed automatic transmission, the Kia Telluride's powertrain is one that provides the smooth performance required for towing a camper.
Kia Telluride's specs and performance
Let's talk a little bit more about the Kia Telluride's specs since those should paint an even clearer picture as to why the Telluride is capable of towing a camper or small RV!
The Kia Telluride is a long vehicle – 196.9 inches, to be exact. This is longer than many SUVs, save for perhaps the Ford Explorer.
It is about 78 inches wide and 69 inches high. This means that the Telluride is indeed big and boxy for being a crossover.
The Telluride is built on a unibody platform, although it might be easy to mistake it for a truck platform given its boxy dimensions. It shares this platform with the Hyundai Palisade. The Telluride was introduced as a concept vehicle back in 2016, but it did not make its debut on the market until the 2019 model year hit.
It has been successful due to its comfort levels, performance, and now Kia is planning both a larger SUV and a truck!
Now, if you plan on getting the most out of the Kia Telluride's towing capacity, you will want to add on the towing package. It comes with a tow hitch and a self-leveling rear suspension. The latter lifts the rear end of the Telluride in order to enhance the vehicle's braking capabilities (which, like any vehicle towing a heavy load, lose some of their strength when towing hefty weights).
In other words, regardless of the load's weight, the Telluride can stay at a consistent ride height while towing. As you can imagine, this massively comes in handy when you are towing a camper.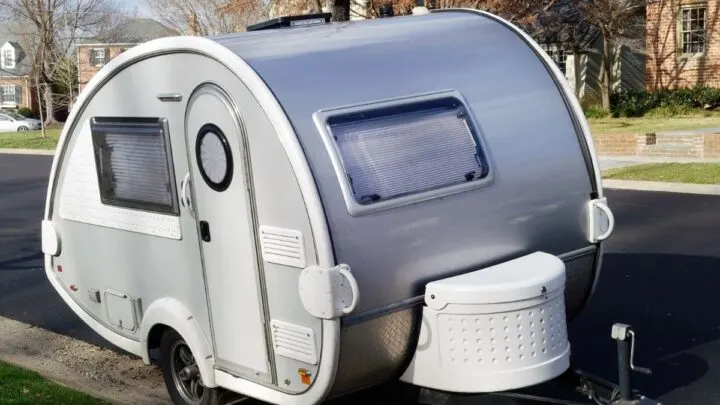 Types of RVs that the Kia Telluride can tow
So, just which kinds of campers and RVs can the Kia Telluride tow? The key here is to think small.
You need to consider both the weight of the camper and the weight of any cargo you might be carrying along with you, as well as how much the trailer hitch is able to support.
Although the Kia Telluride can tow a hefty 5,000 miles, you probably will not want to push it to the max. Should you actually overdo it, you could do some serious damage to the transmission or the engine. And, as we all know, those make for some costly repairs. Steep grades, wind gusts, and less-than-ideal road conditions can also contribute to the stress that gets put on a vehicle.
A teardrop trailer generally weighs somewhere around 2,000 pounds, so the Kia Telluride can certainly tow that without any issues. Pop-up campers are also within the weight range for that which the Telluride can tow. Their canvas material is lightweight enough to make them ideal for towing behind the Kia Telluride.
These campers are easy to tow due to their compact, collapsible design. Even when you fill up their tanks and load them up with items, they are still within the Kia Telluride's towing range.
The thing to bear in mind about the Kia Telluride is that it does not give you a trailer brake connection or any direct power into the trailer in order to charge the onboard batteries. The four-pin connector's only function is to keep your lights correctly working.
You will probably want trailering brakes, so this presents something of a problem when towing a camper behind the Telluride. Other mid-size SUVs do have trailering brakes available.
Closing thoughts on towing a camper with a Kia Telluride
The Kia Telluride is a vehicle that is entirely capable of towing a small camper. The camper's lightweight and compact design makes it ideal. Do not try to push the 5,000-pound max towing capacity though, as that could cause damage to the Kia Telluride's engine or transmission – neither of which you want to have happened.
Many people would probably prefer to have a full seven-blade connector available for the Kia Telluride. It would make a great deal of sense and would likely attract even more buyers. Kia seemingly had that connector on the docket for 2020 as they were designing the tow hitch, but it never came to fruition. The only Tellurides you can get with the seven-blade connector is the 2021 line-up.
In closing, the Kia Telluride is a capable tower. However, towing is at its best on the 2021 line-up due to its inclusion of the seven-blade connector. The 2019 and 2020 models do not give you that option.
Keep your camper small and light, and you should be all set to go on your next camping adventure. The Telluride will still give you a comfy enough ride quality and has that self-leveling rear suspension to help with that.
Related Posts