The Mercedes-Benz G-Class or the G Wagon is a military-themed car that will feature in any top 10 list of the most popular luxury SUVs with off-roading capabilities.
And, it isn't a fluke that it is so popular; it's an accolade that it has earned and retained for decades.
It would be best if you didn't wonder why it's so popular. But why don't we see it on our roads daily?
G Wagons are so expensive because they cost quite a bit to maintain, on top of the cost it takes to build them. They also have excellent on and off-roading capabilities.
How expensive are they really though? Read on to find out. Today's article talks about the G Wagon, its exorbitant price tag, and the features that contribute to it.
How Expensive Are We Talking?
We all know that G Wagons are very expensive, but the question on every individual's mind is how expensive they are.
The spacious, luxurious, advanced, and timeless G 550 is crafted by hand and tested with state-of-the-art technology.
As a result, you'll have to part with $131,750 to enjoy some of these premium features.
On the other hand, the AMG G 63 wagon has unwavering road confidence, advanced luxury, and an option for extensive individualization.
And for the above options, you'll part with a $156,450 starting rate price to get yourself one.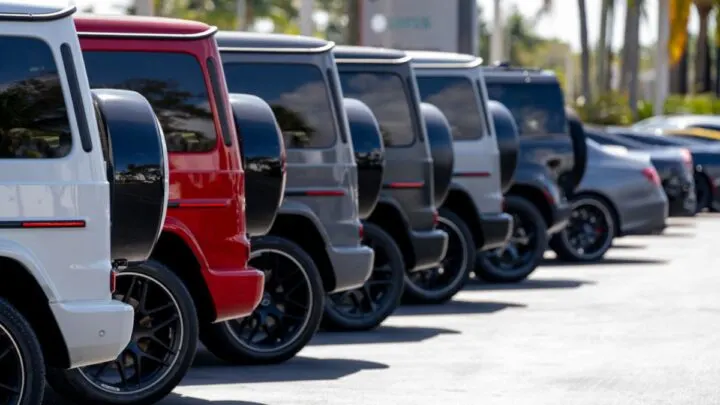 6 Reasons the G Wagons Are So Expensive
G-Wagons are synonymous with celebrities and business moguls who rarely utilize the vehicles' capabilities but rather use them as status symbols.
But is the association with the rich the sole reason why the SUV is so pricey? No.
Here are 6 reasons why G Wagons are so expensive.
Excellent On-Road Capabilities
Given its humongous price tag, few people actually use the G-Wagon for off-roading, but it's not because it's incapable.
The SUV is one of the most reliable off-roaders in the current automobile market. In fact, most owners use it for city and highway travel, since they're more reliable and secure than most other vehicles on the road.
Additionally, you'll enjoy the power of a handcrafted AMG 4.0L V8 Biturbo engine, an ECO Start/Stop system, and a CAMTRONIC cylinder management system.
The AMG G 63 also offers 577 hp of power at 6,000 rpm, 627 lb-ft of torque at 2,500 to 3,500 rpm, and a 26.4-gallon fuel capacity to ensure that you reach your destination on time.
The G 550 offers a slightly lower 416 horsepower at 5,250 to 5,500 rpm, 450 lb-ft of torque at 2,000 to 4,750 rpm, and a 26.4-gallon fuel capacity.
Furthermore, the SUVs have incredible acceleration, with the AMG G 63 starting from a stop to 60 mph in 4.4 seconds while the G 550 in 5.6 seconds.
That's relatively quick for a car with 5,554 to 5,800 pounds of curb weight.
Excellent Off-Road Capabilities
It isn't a fluke or a matter of coincidence that the G Wagon ranks highly amongst off-roading beasts.
Boasting an adaptive suspension capable of adjusting to city roads and rocky off-road, the G Wagon can "cruise" comfortably through rough and muddy roads.
And, by cruise, I don't mean moving through the mud at 30 mph; instead, the SUV's drivetrain offers the right amount of power to the wheels to drive it out of the mud while maintaining sufficient traction.
The result is that you won't experience massive wheel spins in muddy environments or slippery roads that have reduced traction.
Also, the SUV has three electronically-controlled locking differentials, low range aid with low-speed traction, and standard dampers with frequency-dependent valving to absorb off-road shocks.
You can then add optional variable dampers to increase your vehicle's stability.
Premium Interiors
The G Wagon's interior is about opulence, comfort, and quality. And the level of luxury varies with the features you want in your car.
Standard features include heated seats with leather upholstery, a standard 12.3-inch digital infotainment display, automatic climate control, and a power steering wheel.
You can then opt for ventilated front seats with massaging capabilities, a heated steering wheel, and a Nappa leather upholstery.
You'll also enjoy 38.1 to 68.6 cubic feet of cargo capacity, depending on whether you fold your back seats.
Durable and Reliable Drivetrain
Mercedes-Benz invests massive resources annually to produce excellent G Wagons with exemplary drivetrain capacities.
The G Wagon's 416 horsepower v8 engine is very durable, and you're assured of 500,000 miles or an equivalent of 20 years plus service if adequately cared for and with regular servicing.
The G 550 has a standard all-wheel-drive (AWD) option that channels power from the engine to the 9-speed automatic transmission.
And, as much as Mercedes engineers the G Wagon as an off-roader, it still has a low center of gravity and stable front suspensions to prevent rollovers during collisions or when going over steep surfaces.
Furthermore, the SUV has a low-range gear option and three locking differentials to combat any terrain you might drive on.
G Wagons Hold Their Value Well
The resources and materials used in making the G Wagons are top-end and very durable.
As a result, the SUVs don't depreciate as fast as other cars in the luxury SUV market.
They have the best value retention of all vehicles in the luxury SUV segment.
Therefore, if you have the money to buy one, go for it; you won't lose much if you decide to resale the SUV.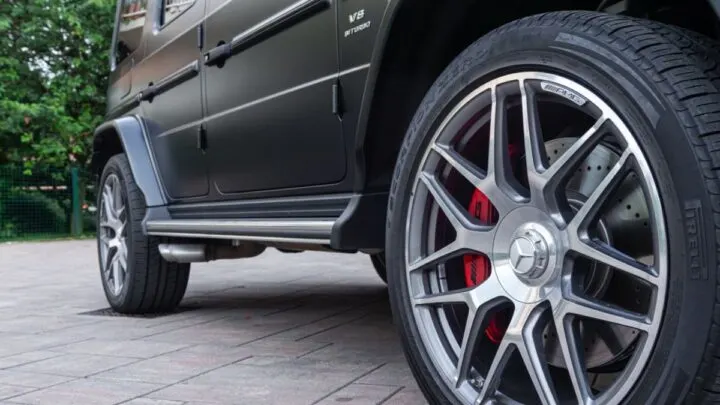 Unique Rugged and Tough Look
Similar to Jeep and Land Rover, the G Wagon has retained its relatively box-shape exterior for decades.
The car is deliberately the same year in and year out, and you may be wondering why it's so.
To be precise, it's only the shape that remains while building materials change from time to time.
The engineers have transitioned the SUV to an aluminum exterior to reduce weight and improve fuel economy ratings.
Currently, the car has 13 miles per gallon city and 17 miles per gallon ratings on the highways. Honestly, they are moderately okay but could have been better.
Additionally, they have retained their traditional exposed hinges, door handles, flat panels, push buttons on the door handles, and the ever-addictive Mercedes G Wagon door click sound.
Final Remarks on G Wagons Being Expensive
Very few people hate the G Wagons, and a vast majority of owners love the SUV. Well, that's until the price tag and maintenance costs come up.
The SUV is damn expensive and not your regular option for a car.
Well, it justifies its high price tag with years of good service, reliability, comfort, and prestige.
Additionally, it's very durable and will give you more than 500,000 miles of service before needing any major repairs.
However, remember that all luxury cars are expensive to maintain. You'll have to part with substantial money for any significant repairs.
But you can avoid such scenarios by following the manufacturer's owner's manual to the latter.