An SUV that is perfect for your family, a vehicle that is perfect for off-roading, and a machine that offers a safe and comfortable driving experience. The Jeep Patriot offers a 3 in 1 experience when it comes to these domains and is the perfect partner for your travels.
With the four-cylinder Jeep Patriot, you comfortably go off-road. This machine offers the option of driving 4×4, further supported by its 8-inch ground clearance and 17-inch tires. From slopes to stones, from sand to even snow, the Jeep patriot can conquer almost every sort of trail or terrain.
With this article, we shall educate ourselves more on the capabilities of the Jeep Patriot, what to consider when taking it off-roading and what things one should look out for. From terrains to avoid SUV comparisons, this article covers it all.
Can A Jeep Patriot Go Off-Road?
The Jeep Patriot, or 'Pattie' as it's called by its loyal customers, is an SUV known for its versatility and multi-use capabilities. From having amazing traction control on its 4WD systems to having very spacious and roomy interiors, this vehicle has its user's experience ease and efficiency in the same mix.
The SUV offers a nexus between comfortable drives in urban settings, to ruggedness for off-roading experiences. But the question remains, how good is the Jeep Patriot for Off-Roading?
Let us take a look at the characteristics of the patriot boats for their off-roading, and how they fare in helping it succeed in such settings.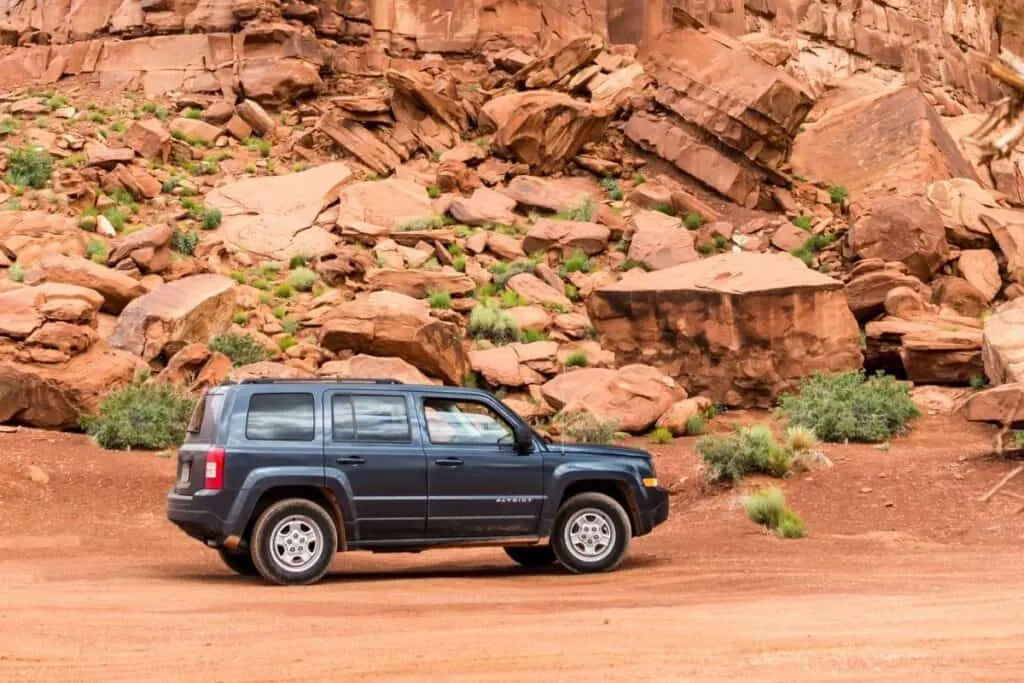 Jeep Patriot off-road features
The Patriot is trail-rated, and it earned this title due to its ability to steer through difficult environments and challenging conditions without breaking a sweat.
Boasting skid-plated 17-inch tires, and a 19:1 crawl ratio for inclined terrains, we can rest assured that the undercarriage of the patriot is definitely protected if it's ever called upon to go off-road.
Now when looking for a good off-road vehicle, it is often advised that one takes a look at their ground clearance, the lift potential, the towing power of the machine, and of course the size of the tires.
Other features such as the ability to shift to 4WD and inbuilt capabilities do come in handy as well.
Now the Jeep Patriot has very good ground clearance, as mentioned before, of 8 inches, alongside an angle of approach of 26.4 degrees. Its other angles include having a 29-degree departure angle and a 24 degrees break-over angle, which all are very handy when the machine has to traverse through slopes, stones, and rocky patches.
It also has a feature called Freedom Drive II, which is aided by a lockable center coupling to allow the driver to manage sandy or snowy roads better.
The patriot also boats high air intake, which ensures that it can cross waterways up to 19 inches deep with absolute ease. Puddles and streams are no obstacle for this SUV.
Its off-road traction control, Hill-Descent, and Hill-Start Assist feature provide much-needed assistance to the driver during hilly or mountainous driving.
Now, this all is great, but it is reported from lots of users that although the Jeep Patriot offers comfort in urban and hilly environments, it doesn't reach that level where it is perfect for both settings and there is a bit of room for improvement or compromise on part of the user, due to it being a cross-over machine.
Best Jeep Patriot trim level for off-roading
Given the high popularity of the Jeep Patriot since its introduction back in 2006, the company rolled out various trim levels for the SUV.
These variants of the Patriot have been spawning over production lines and can be classified as the Jeep Patriot Sport, Jeep Patriot Latitude, The Sport Altitude II, or the High-Altitude model of the machine.
These four trims do have their individual charms and attractions, but what we would be looking for is the ideal trim level for off-roading and a good trail experience.
To start, let us look at the Sport Variant. It consists of a strong 2 Liter I-4 engine that gives out approximately 158 horsepower, plus 141 lb.-ft. of torque. This is aided by towing capacity of 907 kilograms.
It offers the standard manual and automatic transmissions with five and six speeds respectively, alongside an Off-Road Crawl Ratio as well as 4X4 and FWD.
If we compare the sports variant with the Sport Altitude II, we shall see that for a similar yet slightly higher price this version of the Patriot offers higher horsepower, up to 172, and almost 165 lb.-ft of torque.
This is due to a stronger 2.4-liter I-4 16 valve dual VVT engine. The rest of the features are more or less the same as the original sports trim level.
The Jeep Patriot north edition is almost the same as the Sports Altitude II, with a similar engine but with more high-tech functionalities inside the vehicle, such as seat reclining, etc.
And finally, the most comfortable Jeep patriot is the Patriot High Altitude version with a very technologically gifted console and superior comfort to the other models.
In short, if you want higher power and more efficiency in your off-roading then the Sport Altitude II version is for you!
As we already discussed towing capacity and power are important characteristics for determining a machine's ability to off-road, this puts almost all the trim levels on the same boat.
If you wish to get more comfort then choose the high-end trim levels but for more efficiency in rough terrains then the Sport Altitude II variants take the lead by a small feather of a margin as compared to the Latitude or Sport versions.
Is the Jeep Patriot A True 4×4?
Although the Jeep Patriot might not be the biggest or most rugged 4×4, as per the reviews of most users it does classify as a true sturdy and strong 4WD machine.
For the price that it is offered at, and for the quality, it gives at that rate, it is definitely worth the money and a good SUV to own.
Lots of users have talked about how even in the most difficult of terrains, from intense rain-showers or snow-laden roads, their little Jeep Patriot has been more than reliable in getting them across.
It can negotiate curvy inclines, difficult terrains, has amazing traction control, braking capabilities with its abs, the proper ground clearance, and just the right amount of horsepower to classify as a good starting 4×4 for this domain of off-roading. It might not be a conventional 4×4, but it definitely classifies as a reliable one.
Jeep Patriot vs. Other Vehicles for Off-Roading
Lots of Jeep users or fans of off-roading tend to not be huge fans of the Jeep Patriot, apart from its usual fan following.
Ever since its debut lots of consumers have had minor complaints when comparing its attributes with other vehicles in the 4×4 domain, although most of these issues had been addressed in its early years the critics were still not satisfied.
However, most of the issues that people have with the Jeep Patriot are that its interior isn't as fancy as other expensive versions of 4×4 machines, or that it doesn't command a whopping amount of horsepower or torque as compared to others (such as the Wrangler, etc.)
In this regard, they are not wrong, but even with its comparatively lower power, and less dazzling interior, the Jeep Patriot still remained market-competitive due to its reasonable starting prices and reliability.
Sure, other off-roading vehicles might command faster and sturdier handling of terrains, but this little SUV can still get the job done in one way or another.
The problems that most users have identified in its models are more or less linked to maintenance requirements, poor acceleration due to lower engine power, slightly noisier interiors, and soundproofing when going on high-ways, and occasional water leaks.
All of these are not major issues and can easily be addressed or fixed if looked upon, many users offer recommendations that can further improve the off-road capabilities of the SUV making it improve in the departments where it lacks.
From rear-mounted fog light assemblies to slight changes in tire models, a few minor adjustments can upgrade the machine into a beast on the trails, and what could be better than that.
The Patriot might not be a premium jeep model, but it is still a loved off-roading vehicle for those who can't afford to invest more.
Final Words
Although this small SUV might not be a monster on the 4×4 trails and it might not finesse its way through any swampy, bumpy, or snowy obstacle of a road. This little Jeep Patriot still has what it takes to be classified as a great off-roading vehicle.
Although it might not be the best for large-scale excursions, its low towing capacity, medium ground clearance, and ability to resist being lifted high making it an invaluable asset for small part-time adventures. It will undoubtedly give you a worthy performance and will be a reliable ally for your journeys.
With the right maintenance and slight adjustments or upgrades, this economical SUV can be the perfect link between enjoyable driving in the city to a reliable off-roading partner.
Related Posts