The traditional way to wax a vehicle is time and labor-intensive. You need a lot of elbow grease, and you must also purchase special (and expensive) buffing equipment. However, if you don't want to use a buffer, there is another way to wax your car.
To wax your car without a buffer, be sure to clean the surface first. Once your car is clean, you can use a single-step car cleaning product or use traditional wax and microfiber cloths.
Do you want to learn more about waxing your car without a buffer? If so, keep reading. Here is everything you need to know to ensure your car looks great.
Option 1: Use a Single-Step Car Cleaning Product
You don't have to buy multiple products to keep the exterior of your vehicle looking great. In fact, you can purchase a waterless car wash that comes in an easy-to-use spray bottle. With this type of product, you get a wash and wax all in one.
Some people claim that products that do several jobs in one don't provide the superior results you may be hoping for. However, with a quality waterless wash kit, you can get the desired results with less time and work involved.
The best part about this solution is that you don't have to purchase an expensive buffing machine or replacement pads to wax your vehicle.
Wash and Wax – All in One Step
While this may be common sense, it is worth mentioning that when you use fewer products to wash your vehicle, it doesn't require as many steps. With the right product, you are washing and waxing your vehicle at the same time.
The waterless wash solutions available today are made to effectively lift dust and dirt away from the surface of your vehicle. When you wipe the product off, you don't have to worry about scratching your vehicle's finish.
When you combine washing and waxing into a single step, you can reduce the amount of time the job takes and eliminate extensive drying time.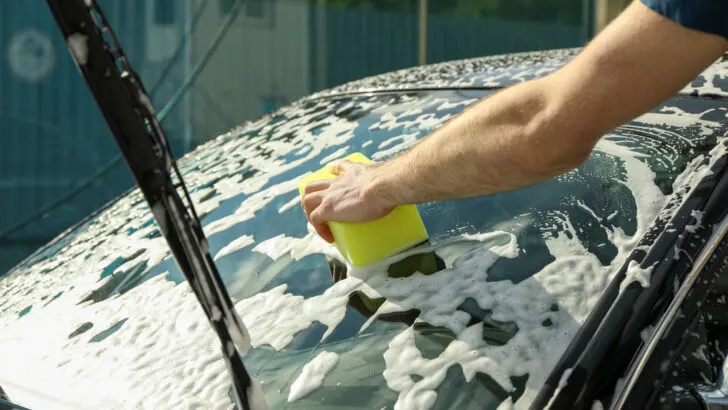 Keep Your Vehicle Cleaner for Longer
Modern waterless car wash products include a polymer. This helps repel dust, dirt, and other debris.
As a result, your vehicle will look shiny longer and not require you to clean it as often. Also, you don't have to worry about applying the car wash by hand or using an electric buffer for polishing and waxing.
Polymers have another purpose, too. They repel dirt and protect your vehicle's paint job. This means that you can make your vehicle look better and increase its overall resale value.
Option 2: Use a Traditional Wax
If you don't have a buffer (and don't want to spend money on one), you can still use traditional car wax and make your vehicle's exterior look amazing.
To do this, follow these steps:
Wash the vehicle. Use a car-safe soap and water to wash all the dirt and dust off your vehicle.
Rinse it. Rinse the vehicle with fresh water.
Dry it. You can use microfiber towels to dry your vehicle. Be sure it is completely dry before you apply wax.
Park in a shaded location. You need to find a spot that is not too cold or hot. Heat and direct sunlight will cause the wax to dry too quickly.
Apply the wax. You can use a waxing pad or microfiber cloth to apply the wax. When applying the wax, use small circular motions. Be sure to wax a small section at a time and work your way across the vehicle's exterior.
Let the wax dry. You must wait around 10 to 20 minutes for the wax to dry. You can find specific recommendations on the wax container.
Polish your vehicle. To polish the vehicle without a buffer, you will wipe away excess wax using a microfiber cloth. Rub it in a circular motion across your vehicle. When the rag feels like it has started to drag, flip it to a clean side.
Repeat. To achieve a professional shine, you must repeat the waxing process.
Make sure you don't rush through the steps mentioned here. This is going to result in streaks that can be difficult to remove.
Why Traditional Waxing May Not Be the Best Option
To wax your car the "old-fashioned" way, you need to wash and dry your vehicle. Next, you must apply a quality vehicle wax and start buffing.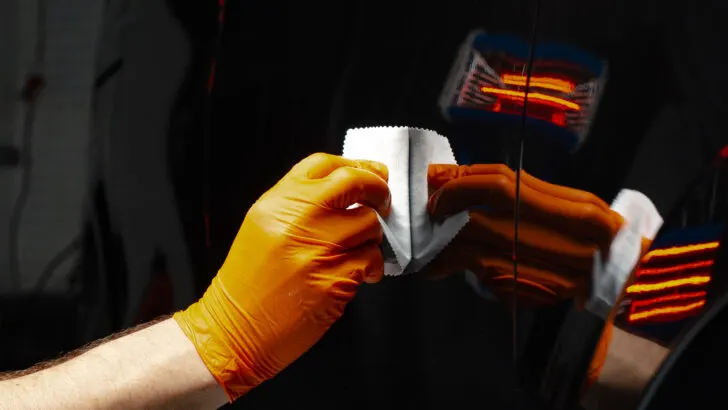 Once you have used a buffer, you must wait for the wax to dry to wipe it off without leaving any residue. This process can eat up a whole day (or more) easily.
Even if you wait for the wax to dry, residual wax may still be left behind, which you need to remove using a clean and dry cloth.
While using this method to wax your vehicle may be fine in some situations, you may not want to put this much effort into the process.
Final Words on Waxing a Car Without a Buffer
If you are looking to wax your car without a buffer, there are a few simple and easy ways you can do this. Some options include using a single-step cleaning product or using traditional wax.
Make sure you read up on how to safely wax your car without a buffer so you don't cause undue damage to your vehicle!