The SUV market is already buzzing with new and more advanced models that the average car enthusiast has difficulty finding the best fit for their needs.
And that's more so for the Honda loyalists who have to pick between the Pilot and the Passport models.
As much as both fit in the mid-size SUV category, there are vital features that differentiate one from the other. But how similar are the two?
Can their differences affect performances? How do they compare side by side?
Let's take a closer look.
Engine Specifications and Performance
A vehicle's powertrain and drivetrain components are crucial considerations in any automobile purchase.
And as we all know, the engine is the heart and soul that makes a drive smooth, successful, and well-balanced regardless of the road conditions.
In this case, both Honda SUVs share a standard 3.5-liter, 24-valve, SOHC, Direct Injection, i-VTEC engine paired with a 9-speed automatic transmission.
The engine produces 280 horsepower at 6,000 rpm and 262 lb-ft of torque at 4,700 rpm.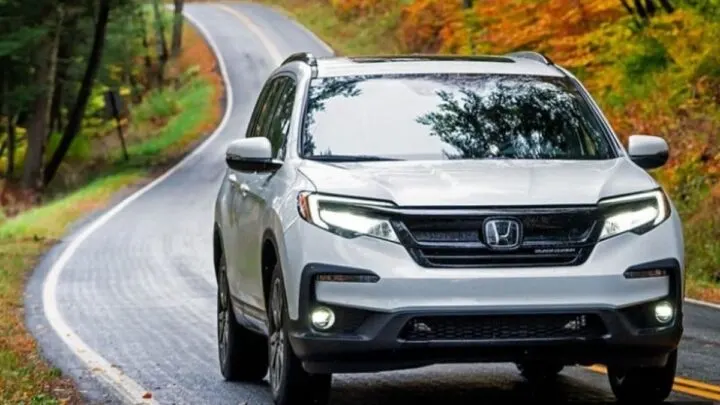 Honda Pilot
The Honda Pilot mid-size SUV has been around for some time and has consistently delivered beyond expectations.
From the spacious interiors, standard driver-assist features, and easy access to the third row, this mid-size SUV performs well, especially on highways and city traffic.
The Pilot still offers a smooth ride and is easy to maneuver, especially in traffic, despite its bigger size.
However, the SUV's 9-speed automatic transmission isn't the smoothest you can find; hence you'll occasionally notice some harsh shifts while on the road.
Additionally, the SUV's bigger size makes it seem heavy while cornering, and its light steering on the straights impacts its presence while driving at highway speeds.
Regardless, it's still a capable SUV that clocks a 0-60 mph acceleration in a respectable 6.2 seconds.
For the Honda Pilot, you'll have access to a standard 2WD 9-speed automatic transmission, or you can opt for a more vibrant i-VTM4 all-wheel-drive (AWD) system at an additional $2,000 charge.
Honda Passport
The Honda Passport shares a common drivetrain and powertrain as the Pilot despite being smaller in size.
And what it offers than its bigger Pilot cousin is better maneuverability, control, and steering.
And compared to the Pilot, the Passport's true finesse comes when you venture off-road. The SUV is more rugged and off-road-oriented than the Pilot, with 7.5 inches of ground clearance on a 2WD.
For the offroaders, you'll have to dig deeper for the all-wheel-drive (AWD) models that come with a higher 8.1 inches of ground clearance.
One such excellent offroader is the TrailSport trim. The TrailSport features off-road tires, lifted suspension, and skid plates and is purposely built as an offroader for demanding terrain exploration.
And unlike the Pilot model, the TrailSport trim benefits more from the Passport's traditional rugged exterior design that's more accommodating for rugged terrain exploration.
Additionally, it's a capable SUV that has a respectable off-the-line acceleration of 0-to-60 mph in 6.2 seconds.
Cargo Space and Interior Room
Most people going for an SUV usually have their families or friends in mind and want a vehicle that offers excellent cargo and passenger volume.
And in that regard, both SUVs have lovely interiors and roomy cabins.
Honda Pilot
The Pilot's interior is spacious, with enough seating for eight people. However, the higher trims can only accommodate seven people but compensate for their inadequacies with affluent interiors and two captain's chairs instead of the bench.
Across the trims, you'll have spacious front, second, and third rows comfortable enough to sit adults.
And as much as we feel that "something better" could be done to improve the third-row spacing, it's still spacious and will comfortably host you until you get to your destination.
Moreover, the Pilot's dashboard is clearly illustrated and easy to use, especially when accessing the settings menu.
The lower-end Pilot trims feature the LX 5.0-inch display that's pretty basic compared to the 8-inch infotainment system on the higher Touring and Elite trims.
For your convenience, you'll also get an impressive 16 cupholders throughout the Pilot's cabin.
Regarding cargo space and legroom, the Honda Pilot has 83.8/ 46.8/ 16.5 cubic feet of space behind the first, second, and third rows, respectively.
Furthermore, it has 40.9/ 38.4/ 31.9 inches of legroom behind the first, second, and third rows as well.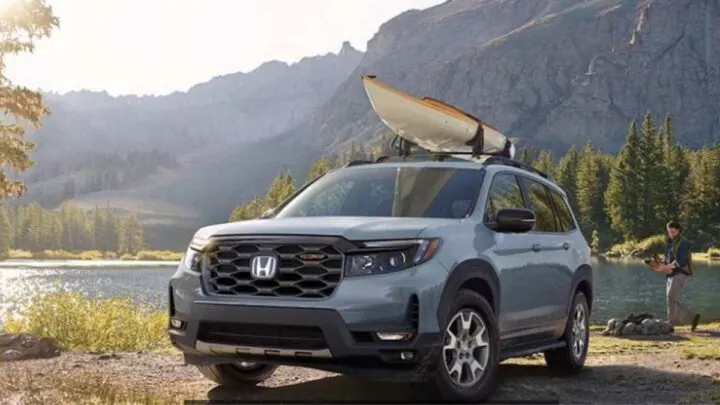 Honda Passport
The 5-seater Passport has a generally smaller cabin with 114.9 cubic feet of passenger volume compared to the Pilot's 151.7 cubic feet.
If you've ever driven the Pilot, you'll find that both SUVs share many features.
These features include the Honda Sensing safety technology, available heated and ventilated front seats, leather upholstery, an available power liftgate, wireless phone charging, etc.
Unlike the Pilot, the Passport features an 8.0-inch infotainment system with Android Auto and Apple CarPlay across all its trims.
However, you'll have to go for the higher-end Elite and Touring models to enjoy a WiFi hotspot, built-in navigation, premium audio system, and a 115-volt power outlet.
Regarding space, the Passport offers 77.9/ 41.2 cubic feet of cargo space behind the first and second rows, respectively.
Additionally, it has 40.1/ 40.1 inches of headroom behind the first and second rows, respectively.
Manufacturer's Suggested Retail Prices
We always tend to purchase items that offer great value for money, and the same principles apply to SUVs. It's precisely more so when dealing with two SUVs from the same manufacturer.
Generally, the Pilot and the Passport share similar trim names, with the Pilot's being higher priced.
Honda Pilot
Honda Pilot has seven trims that are priced as follows:
Sport – $38,080

EX-L – $40,310

Special Edition – $40,910

TrailSport – $44,810

Touring – $44,870

Elite – $50,370

Black Edition – $51,870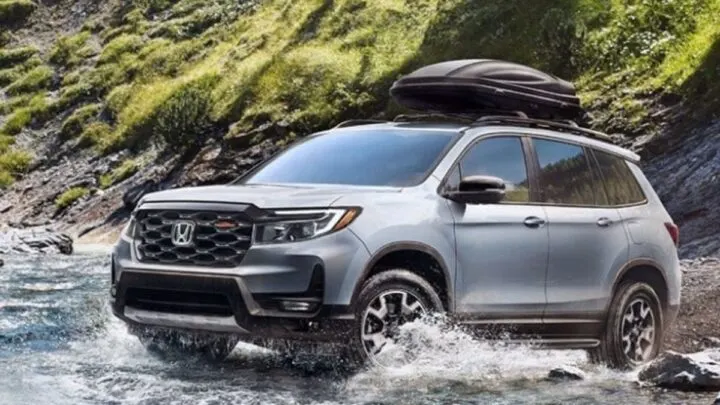 Honda Passport
On the other hand, the Passport has three trims, with the EX-L being the base model.
EX-L – $38,370

TrailSport – $42,970

Elite – $45,930
When compared to other SUVs or higher-priced trim levels, the base EX-L performs well and has some great features such as:
Leather-trimmed seats

Heated front seats

7-speaker, 215-watt audio system

Wireless phone charger

Smart entry/ walk away auto lock

Push-button start

Leather-wrapped steering wheel, etc.
Fuel Economy and MPG Figures
Fuel economy is an important consideration, especially when buying bigger vehicles that otherwise are fuel guzzlers.
On their part, Honda combines its 3.5-liter engines with a more fuel-efficient 9-speed automatic transmission to improve its MPG.
As we've seen, the Pilot and the Passport come with 2WD or AWD drivetrains. Let's look at their EPA estimated MPG figures:
Honda Pilot
3.5-liter, 6-cylinder with FWD: 20 MPG city/ 27 MPG highway/ 23 MPG highway

3.5-liter, 6-cylinder with AWD: 19 MPG city/ 26 MPG highway/ 22 MPG highway

3.5-liter, 6-cylinder AWD TrailSport: 19 MPG city/ 25 MPG highway/ 22 MPG highway
Honda Passport
There isn't a significant fuel economy difference between the two vehicles as they share the same drivetrains and powertrains.
However, the Passport has a poorer highway fuel economy.
3.5-liter, 6-cylinder with FWD: 20 MPG city/ 25 MPG highway/ 22 MPG highway

3.5-liter, 6-cylinder with AWD: 21 MPG city/ 24 MPG highway/ 21 MPG highway
Driver-Assist and Safety Features
One area that both the Passport and the Pilot excel in is in driver-assist and safety features.
The Insurance Institute for Highway Safety (IIHS) rated the Honda Pilot and Passport highly regarding driver safety.
On the other hand, the National Highway Traffic Safety Administration (NHTSA) gave both SUVs an overall safety rating of 5-stars.
Here are some safety features that come with the SUVs.
Vehicle Stability Assist with Traction Control

Intelligent Traction Management System

Electronic Brake-force Distribution (EBD)

Tire Pressure Monitoring System

Anti-Lock Braking System (ABS)

Multi-angle rearview camera

Advanced front airbag system
Here are some driver-assist features that come with the SUVs.
Collision Mitigation Braking System

Road Departure Mitigation System

Blind Spot Information with Cross Traffic Monitor

Multi-Angle Rearview Camera

Adaptive Cruise Control

Lane Keeping Assist

Auto High Beam Headlights

LED Daytime Running Lights

Hill Start Assist
The Takeaway Between Honda Pilot vs. Passport
There isn't much difference between the two premium mid-size sports utility vehicles with many overlapping features.
And, as much as the Passport is more agile and maneuverable than the Pilot, it lacks the bigger passenger and cargo space that comes with the latter.
But on the brighter side, both SUVs have a 3,500 lbs towing capacity for their 2WD trims and a 5,000 lbs towing rating for the AWD trim models.