If you own a Honda CR-V and want to use it for towing, you might be interested in knowing Honda CR-V's towing capacity.
The Honda CR-V is a good SUV. It delivers a comfortable ride, energetic acceleration, and decent mileage.
These traits make it an easy pick in the minds of many people looking to buy their first car.
The towing capacity of the Honda CR-V is 1,500 lbs, which is not a bad figure for SUVs. For instance, the CR-V's rival, the Kia Sportage, is capable of towing 1,635 lbs.
This shows that Honda CR-V can offer decent towing capabilities. Although the Honda CR-V is classified as a compact vehicle, it is not small.
This SUV features plenty of internal room and a strong towing capacity in case you need to haul a large amount of equipment.
Having tested the Honda CR-V's towing prowess, we will discuss the SUV's towing capacity in detail to help you decide whether this is the SUV for you.
What Is the Maximum Towing Capacity of a Honda CR-V?
The Honda CR-V can tow up to 1,500 lbs.
The towing capacity has nothing to do with trailer weight or most of the other more intricate towing-related figures you might read about.
In simple words, your Honda CR-V won't be able to tow a trailer that weighs more than 1,500 lbs.
How to Find out the Towing Capacity of the Honda CR-V
There are two simple ways to check your Honda CR-V's towing capabilities. First, consult the owner's manual of your Honda CR-V.
While all Honda CR-V versions have about the same towing capacity, it's a good idea to get into the habit of checking for your particular model's towing capacity because it may vary if your model is very old.
If you don't have your vehicle's manual, then the second option is applicable.
You can check the Honda CR-V's towing capacity on a sticker that will be found in the driver's side door frame if you unlock the door and look inside.
You can discover your car's towing capacity if the label is still undamaged.
While these are the two most basic methods for locating the info, they are not the only ones. You can also look up the owner's manual of your automobile on the internet.
Go to the maker's website and look for your required information there.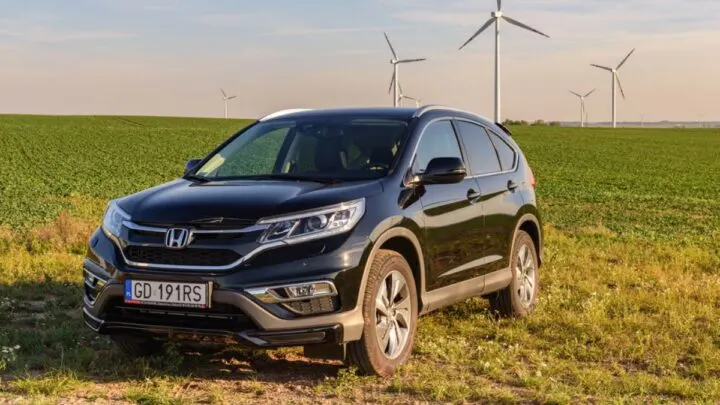 Honda CR-V Towing Package
When you buy a Honda CR-V along with a towing package, you're not truly boosting the towing capability of your automobile.
So, what exactly do you get when you purchase the upgrade? For starters, you'll get a Honda CR-V tow hitch in the receiver type.
You will not be able to connect anything else without it.
You will get a hitch, a hitch harness, and a drawbar to help you hook up any trailers that you wish to pull.
Towing Features of the Honda CR-V
While the features mentioned below don't change the maximum towing capacity of your Honda CR-V, they can surely make towing easier and safer.
Vehicle Stability Assist Feature With Traction Control
This feature helps you maintain traction and navigate corners.
It uses different sensors to monitor conditions and intervene to reduce the possibility of skidding and other loss-of-traction events.
Hill Start Assist
By shifting your feet to the throttle pedal from the brake, you can avoid rolling back.
Real-Time AWD
This feature provides increased grip and stability by delivering greater performance and much more energy to every wheel.
Brake Assist
The brake assist helps prevent an accident by applying full braking force.
None of these characteristics are exclusive to tow trucks, but they certainly make the towing process much smoother.
This indicates that whether or not you plan to tow heavy loads, a tow kit for a Honda CR-V could be well worth the money.
Is a Honda CR-V Capable of Towing a Trailer?
If the trailer's weight is less than 1,500 lbs., then you can definitely tow it with a Honda CR-V!
Let's have a look at some trailers that a Honda CR-V can tow easily.
Teardrop Trailers
Teardrop trailers are compact and easy to haul, making them ideal for vehicles with limited towing capacity.
The Papa Bear and MyPod are both excellent tow vehicles for a Honda CR-V. They don't have many conveniences, but they provide a place to put your belongings and sleep at night.
They're a wonderful alternative for people who want to be able to carry their equipment with them everywhere they go!
Stand-Up Trailers
Even while stand-up trailers are smaller, unlike many RVs, you'll have to cope with it if you're towing using a Honda CR-V.
An average-sized adult can stand up within a stand-up trailer, but they are usually shorter than what you might expect.
The excellent thing about these trailers is that you can tow various stand-up trailers using a Honda CR-V, but keep in mind that they are often bulkier than teardrop campers.
The Relic and MeerKat are our top picks for towing with a Honda CR-V. The MeerKat has a small dining room and kitchen, while the Relic can be customized to your liking.
Each of these is in the range of 1,000 lbs. which is ideal for Honda CR-V owners.
You can not only pull them but also fill them up with equipment without constantly worrying about overloading your SUV.
Summing Up The Towing Capacity of a Honda CR-V
The towing capacity of a Honda CR-V is 1,500 lbs. This is a pretty decent figure for an SUV, but make sure you check your owner's manual or the internet in case you have an older model. If the car is older, it might be a different number, and you could cause damage to your vehicle if you try towing something too heavy.