If you have ever needed to move or transport something heavy, then you can understand how important towing is. Most people need to have something towed, yet they don't have their own SUV or pickup truck that can help them accomplish this task. It might be a head-scratcher if you don't own the equipment or the right vehicle to tow.
Most rental companies allow you to use their vehicles for towing, however, each will have its own guidelines around whether you're allowed to use outside equipment such as trailers or need to use theirs.
With that in mind, let's take a look at some of the nuances of towing with a rental truck.
Can You Use A Rental Truck For Towing?
A commonly asked question is, can you use a rental truck for towing?
In most cases, yes, you can tow using a rental truck. However, it's essential to go through a rental company's website and look through what options they have. The vehicles they offer will differ depending on your towing needs.
Depending on your load, they offer rentals starting from the standard pickup truck or a full-size moving truck. They also rent out equipment you might need during the towing process.
That means that you should know the type of equipment you will need before contacting a rental company!
Let's take a look at the towing stance from a few of the most popular rental companies.
Can You Tow With a Hertz Rental Truck?
Hertz Penske rentals allow towing using their vehicles. However, they require that the tow bar and packages be installed in-house.
They also require that you rent their trailer and not your own to prevent liabilities in case of damages.
Can You Tow a Trailer With a U-Haul Pickup Truck?
U-Haul is one of the few flexible companies that allows you to choose either to rent their trailer or use your own.
They offer advice on the right equipment you will need on their website. However, they require that you speak to a representative when renting a truck to know its towing capacity.
Can You Tow a Trailer With a Budget Rental Truck?
Budget rental trucks can be used to tow except for trucks with lift gates. They also require you to rent towing equipment together with their 16′ and 26′ moving trucks.
With that in mind, let's take a further look at the basics of towing and useful tips you might need to make towing easier for you!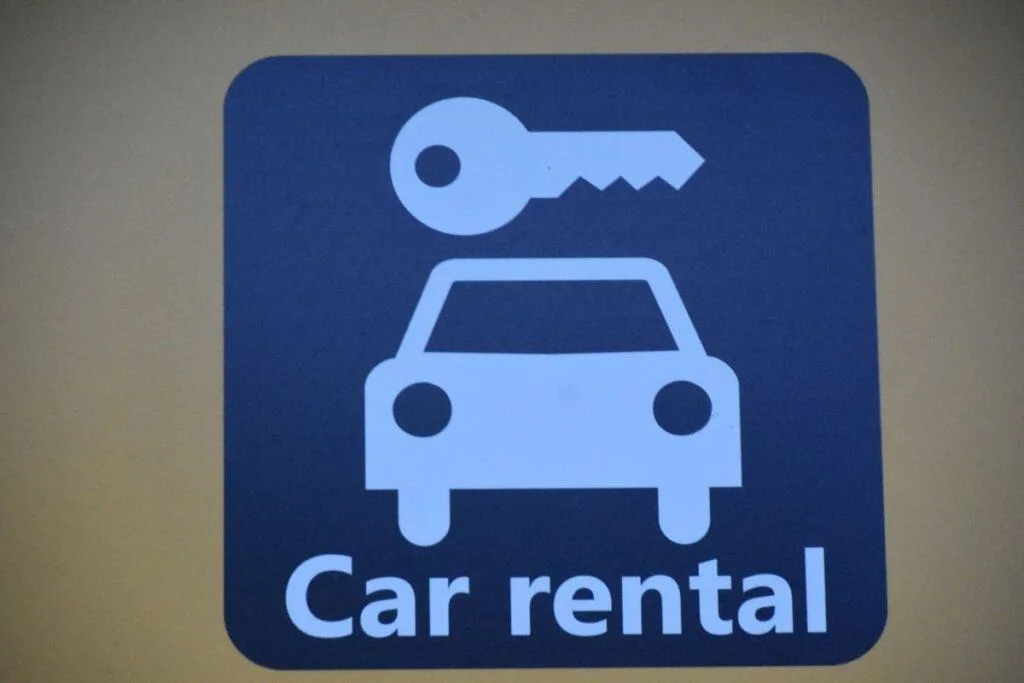 Factors to Consider Before Contacting a Rental Company
1. Your Expertise Level
If you have never towed anything before, you need to understand that this is dangerous business. If you are unsure of yourself, you can get someone to accompany and guide you throughout the journey.
Complete beginners might need some insight into the requirements and what they might need to tow successfully from point A to point B.
It's best to communicate this information to the rental company so that they can guide you accordingly. Once you provide all the details on your load and distance of travel, they can advise you on the best vehicle to get and will even install your hitch if you ask them to.
2. The Distance You Need to Tow
The towing distance will determine the kind of truck you will rent. The terrain can also impact the type of vehicle you will choose for the journey.
If you are expecting a long drive, it's best if you can seek out a friend to accompany you on the journey to help you drive when you are tired.
It's also good to have company during such drives!
3. Equipment You Will Need
It's hard to know what equipment might be useful during the towing process, especially if you have never towed before. You might need help matching towing components to your vehicle.
You will need a towing company that offers expert help to ensure that everything is secure. They can also explain the tools you will need and how to use them.
4. Torque Weight
Torque weight refers to the amount of pressure on your vehicle because of the hitch. This pressure is usually determined by the load being towed.
The more the weight at the hitch and the weight at the front of the trailer, the higher the torque weight. The torque weight will determine how stable the vehicle and the trailer are.
5. Payload
The payload refers to the weight in the vehicle, including the occupants and any cargo that's in the car and not the trailer.
For example, a motorcycle in the back of the truck will add to the payload. It's essential to keep the payload below your vehicle's maximum weight.
Steps to Follow Before and During Towing
To ensure that you and everyone else on the road are safe, you need to know a number of tips. They are vital and, in most cases, will be emphasized by your rental company during the transaction.
These include:
Ensure the equipment you have is in working condition
Practice hitching your trailer or have the rental company hitch the trailer for you
Practice backing with your trailer attached
Check to see all your tires are in good condition. Worn tires won't be able to support the weight for a long distance. Ensure they have the correct pressure in them.
Make sure the trailer is correctly secured to the hitch
Ensure all your lights are working
Consult with experts to know if your vehicle has towing capabilities
Make a short trip to learn to drive with a trailer
Drive slowly
Drive a safe distance from other vehicles in case you need to stop
One-Way Pickup Truck Rentals
This is when you rent a truck in one location and drop it off for the trucking company in another location. Depending on the rental company you use, this might be part of the package and might have a fee charged.
This is different from a round trip that requires the rental vehicle to be returned to the exact location it was rented. This is especially an inconvenience if you are going to the airport or an extremely long drive.
Reasons for Towing
1. Moving Personal Items
You can get a rental truck to move bulky personal items, especially after purchasing them, e.g., a refrigerator, couch, mattress, etc.
You can get a rental truck if they can fit in the back, but you can also get a tow dolly or a car carrier if there are multiple items.
If you don't have a lot of personal belongings, you can also get a rental truck with a trailer instead of getting a moving truck.
2. Home Improvement Projects
If you are doing a significant home project where you anticipate a lot of trash, you might rent a truck or a trailer to transport all your garbage at once. A rental truck will also come in handy if you are transporting building materials to a construction site.
Rental trucks are beneficial during one-off DIY home improvement projects because you don't have to keep borrowing your friend's truck all the time.
You can also choose extended days or added miles in case the project takes longer than you had planned.
3. Special Occasions and Events
Rental trucks are essential to transport party essentials to a party venue. You can transport heavy cargo, delicate pieces, and even catering supplies.
If you are in charge of an event and don't need to buy your own truck, renting is the easiest option for you. You can also control how important party items are handled to avoid damage.
You can also use rental trucks to transport gifts after an event, e.g., after a wedding.
Holidays such as Halloween, Thanksgiving, and Christmas have many items requiring transportation, such as Christmas trees, lawn decorations, groceries, etc.
4. Camping or Outdoor Cookouts
These are seasonal activities that require transporting heavy equipment. You can carry everything you need at a go without overloading your personal vehicle.
Items such as grills, propane tanks, tables, lawn chairs, etc., are a few bulky items that might require the space a rental truck provides.
Frequently Asked Questions (FAQs)
Do You Need a 4×4 for Towing?
This will depend on the terrain you intend to drive on. If you plan on driving on soft ground, A slippery boat ramp, a hill, or a road with loose gravel, you might consider renting a 4×4. A 4WD is a sturdy vehicle and might serve you well, especially with a heavy trailer to pull.
Can You Rent a Truck With a Tow Hitch?
There is no simple answer here because it will depend on the rental company. Although all you might need is a 2-inch hitch, some companies' policies don't allow towing using their vehicles. It's best to check if a company allows towing using their vehicles.
Can You Rent a Truck to Tow a Fifth Wheel?
Yes, you can, and in addition, most companies with trucks that can accommodate a fifth wheel will also provide a fifth-wheel hitch. If you have your own fifth wheel, make sure that it is compatible with the rental truck hitch.
Conclusion
After doing your due diligence, contact the rental company that you are comfortable with. Discuss with the representative and give them the specifics of what you need to tow.
If you have any questions, don't be afraid to ask!
Look through their packages and enquire if they provide any special equipment that will help you during towing. Most rental companies will not charge you for equipment.
You are simply borrowing the equipment you need to enhance your towing experience!
Related Articles