It's not uncommon for families to rent a vehicle to travel not only around the United States, but into Canada or Mexico as well.
You may want to rent a vehicle for a few reasons such as a rental vehicle may get better gas mileage than your personal car, or it may have more storage space for clothing and other travel necessities.
Being able to take a rental car across an international border often depends on the company you're using, how long you'll have the car, and other considerations as well. International border crossings can a hassle even without a rental car, and will require a bit of knowledge up front to make the crossing as quick and problem-free as possible when using a rental car.
If you plan on taking a rental car across the border into either Canada or Mexico from the United States, there are several things you need to keep in mind. In addition, you may need to obtain alternate insurance and added vehicle licensing before making the crossing in order to remain legal on both sides of the country border.
Border Crossing Considerations With a Rental Car
Both Canada and Mexico have similar general requirements when it comes to crossing the border in a rental vehicle, as well as each country having a few requirements that are specific to the country itself.
When traveling to or from Canada, for example, you will need a variety of valid legal and rental company documents, including:
Proof of US citizenship in the form of a resident card, passport, or birth certificate
Any FAST or NEXUS program membership cards
Valid United States driver's license, or WHTI enhanced driver's license
State ID, Military ID, or Tribal ID
Valid car rental documentation from the United States office
When traveling into Mexico or moving from Mexico back into the United States with a rental car, some of the specific documents will include:
Valid car rental documentation from the United States office
Proof of US citizenship in the form of a passport or birth certificate
Valid auto insurance from a Mexican based company, or approved border company
Valid Mexican tourist ID card
Entry permit issued at an INM office
As long as you are able to provide these documents when asked during either a Canadian or Mexican border crossing, your passage should be quick and simple without any hassles or problems coming or going.
You may be delayed 10 to 15 minutes at a border crossing while your information is validated, so be sure to plan this extra time into your travel estimates. Knowing in advance that your rental papers will need to be checked before you can be allowed to enter the country can help keep everyone calm and make the trip much more enjoyable and less stressful overall.
Can You Take a Rental Car to Mexico?
Many car rental companies in the United States do allow their vehicles to be taken into Mexico. Some of these companies include:
Enterprise
Avis
Budget
Hertz
National
If you plan on using one of these rental cars to move across the border into Mexico, always be sure this is brought up in advance with the rental company.
In most cases, you will need additional liability insurance from a Mexican based or Mexican approved company. These companies can be found within Mexico, or in California, Arizona, or Texas, and must be contacted in advance of your trip to ensure proper coverage can be provided.
Can You Take a Rental Car to Canada?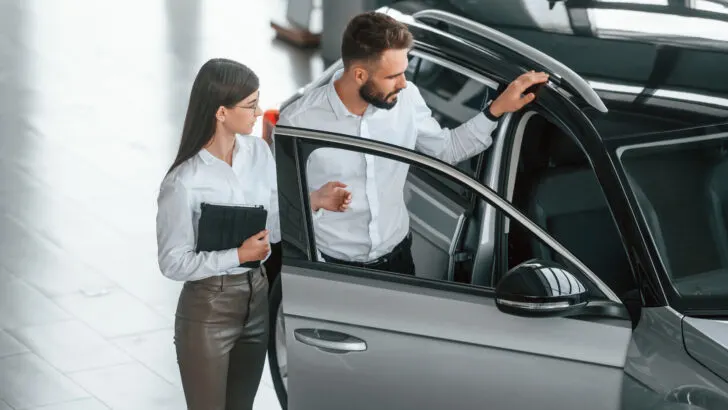 A large number of US based car rental companies will allow their rentals to be moved into Canada without many additional costs or hassles on your part during the initial rental. These companies include:
Enterprise
Avis
Budget
Hertz
National
Advantage
Alamo
Thrifty
In most cases, your US vehicle insurance will be valid in Canada and no additional insurance coverage or plan will need to be purchased. However, in order to be sure there are no random issues you may run into along the line, it's important to let your rental company know in advance what your travel plans are.
While you most likely will not need to purchase any additional insurance plans for your United States rental car traveling into Canada, you may need a non-resident insurance card obtained in advance.
This may differ from each rental company, so again, be sure you discuss your travel plans with your rental company before you take the keys and start your drive.
The benefit of a non-resident insurance card for Canadian travel is that it will not cost you anything additional to obtain. It will make use of your existing United States vehicle insurance and only adjust it for temporary travel by abiding by Canadian law for visitors and temporary workers.
Key Takeaways to Taking a Rental Car Across the Border
Taking a rental car into Canada or Mexico often depends on the car company and if you have the valid documents needed.
Make sure you plan ahead of time if you're planning on taking a rental car across the border.