Regardless of how big your truck is you've probably found yourself wondering if truck bed extenders are a good investment. If you find yourself routinely transporting tools or supplies, then this is an even more pressing issue!
I have moved goods on my truck for a few years now. One notorious problem I have faced is increasing the size of the trunk bed. My struggle to fit all goods, especially wood, in the pickup has met hiccups.
For those who routinely haul long or large goods, a truck bed extender is a worthwhile investment. The cost of renting vehicles when needed can quickly add up, and the added risk of trying to unsafely transport is unnecessary.
With that in mind, let's take a deeper look into truck bed extenders as well as few good ones to consider!
Table of Contents
What is a truck bed extender?
A bed extender is a useful device that allows me to carry oversize equipment like boats. The device extends the pickup truck bed by up to 3 feet.
I have also noticed that the truck bed extender fits all types of trucks I have used. It is cost-effective as I no longer need to hire trucks to carry lengthy kinds of goods.
The most significant advantage is that it has more than one use since I can use it as secondary storage with just a few tweaks.
How does a bed extender work?
How does the magic happen?
To understand how the truck bed extender works, let us look at the most typical bed extenders components.
A bed extender consists of two side walls matching the pickup walls, a connecting wall, and two mounts.
The side walls are connected using the sidewall. The tailgate acts at the floor to the new extended compartment.
Installing a truck bed extender
The good news is that the installation of a truck bed extender is a simple process!
The most unimportant thing I needed is to carefully go through the installation manual and check the diagrams within it.
I always have a friend around to help with the heavy lifting 😉
You shouldn't be afraid if you are alone because most extenders are made of rigid plastic. All you have to do is connect them to mounts to the pickup's sides and screw relevant parts for a good grip.
Who makes the best truck bed extender?
So many bed extenders have flooded the market since 1996. But with so many options comes the difficulty of selecting one!
With that in mind, let's take a look at a few different popular options for truck bed extenders.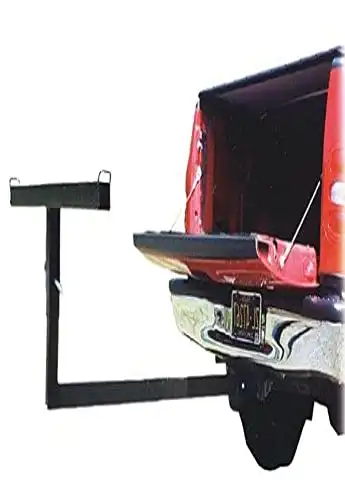 If you're looking for a simple but effective way to transport lumber, kayaks, ladders, or really any long item then this may be the one for you!
While it doesn't provide a large surface area for containing smaller items in your truck bed, it does do a fantastic job of extending its effective length.
This bed extender mounts directly to the hitch, making for simple installation, and features a 4-foot wide horizontal support. The vertical support arm is also adjustable to support roof top hauling if its desired as well.
Darby understands the dangers of elongating a truck on the road; therefore, they provide a red flag for use on the road. The red flag promotes and ensures road safety as it is also securely fitted to the vehicle.
The last perk I found is the easy installation and removal. The installation process can take a maximum of fifteen minutes. When not in use, the truck extender fits snuggly in the trunk, leaving space for other goods.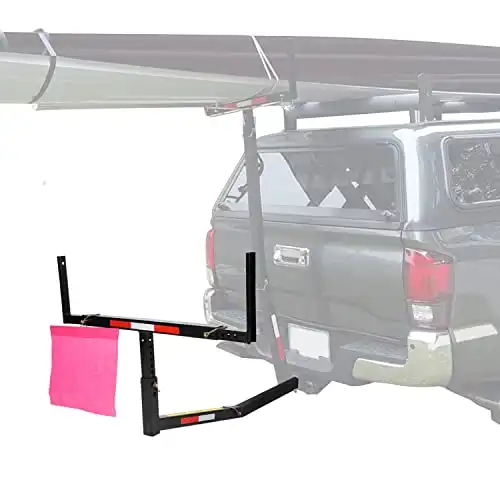 Here is another serious contender for the best pickup bed extender. This is the best choice for a strong spacious. It was chosen for its stable build and generous weight and space.
I found this suitable for moving furniture and other bulky but still delicate goods.
Did I mention that it has a weight capacity of 750 pounds?
Yes, you read that right!
The steady design allows it to take on heavier and longer goods.
Moreover, these items offer height, weight, and length advantage. It has been proven to provide the projectors that come as prepacked to secure elevated objects.
The extender is versatile thanks to a hitch extender that will fit all trucks with a two square hitch receiver. It also has an adjustable width that gives it room to expand to almost double its size. This is room for more goods when in need of more space.
In the final analysis, this is the best choice for moving heavy objects around. I never thought I would get a trunk bed extender with an adjustable extender.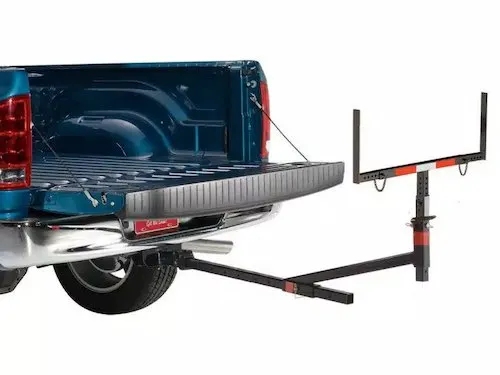 I began using a truck extender due to the need to transport timber around to customers. This was the first extender I ever used. I vouch that I haven't experienced any problems using this truck bed extender for hauling wood.
The extender can carry heavy loads such as building and construction materials. Lengthy material such as planks are moved with ease. What long construction material do you have in mind?
This extender has you sorted in all aspects but more so too long goods. It keeps cargo off the ground with seven-inch clearance from the ground. Cargo being secure steadily above the ground avoids damages, especially with large speed bumps.
Lund Truck bed extender supports loads of up to 750 pounds, so I don't have to worry about the weight of the goods I ferry. It has foldable support that holds weight in. It is so versatile that my friends with kayaks and canoes sear by it in transporting the vessels to sea and back.
The Kayak bed extender that comes with it is DOT approved. It has broad wings that can be adjusted to fit well in the truck without making noise.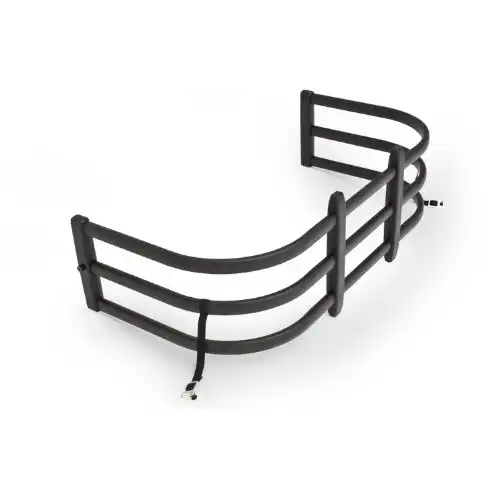 The amp is a classic U-shaped extender. The u-shape provides more space than rectangular extenders. When installing, this extender makes sure the tailgate is opened and flipped out so the bed extender can fit in firmly.
Unlike other types of extender in its class, The AMP uses its simplistic design to its advantage. How does it accomplish this feat?
It uses its U-shape design to fit inside the trunk rather than provide extra space outside the trunk. The trunk extender is light and flexible, allowing users to lift it and flip it in ways they like.
I used to turn it either way, with the tailgate closed. That helped keep all the items securely in the trunk. A revolutionary feature is its clam-shell design.
The design clam-shell design provides extra durability. It is made of aluminum alloy tubes, which are light and robust. This makes it torque resistant.
This kind of trunk bed extender is suitable because of its attractive design. It is compatible with all sorts of pickups too. Take a look at the link below to get started, then find your specific truck model!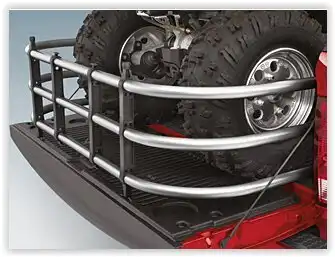 Order is one thing that keeps us all sane. Freaks of order like me find it handy working with Dodge Ram. The Device gives space for groceries and household items.
It is aluminum, which makes it strong and lightweight. The quality makes it easy to install and detach. Since the material is rust-resistant, it makes it safe to carry with groceries.
The trunk bed extender easily attaches to the interior edges of the truck trunk. I position it in or out, depending on the load. The feature works great for storage.
I found it nicely fitting in the trunk after use. There is no more stress in attaching and detaching. That explains why this is my favorite extender for lightweight goods.
Recommended Reading