On any Saturday night during the mid-1960s, the air was filled with the sounds of The Beatles and the rumble of classic muscle car engines.
Everyone will recognize muscle car classics like the Pontiac GTO, Dodge Charger, Chevrolet Chevelle, and Plymouth Road Runner.
Surely, the Ford Mustang, the quintessential icon of American muscle, is also considered a muscle car, right?
Although a Mustang largely fits the description of a muscle car, it is more often classified as a pony car due to its smaller size. Pony cars still have powerful engines, only they are in a smaller package that is smaller than a muscle car and larger than an American sports car.
Let's take a look to understand the various classes of cars, and see why or why not a Mustang may fit the bill of a true muscle car!
What Is a Muscle Car?
The idea of a muscle car is all about power and speed. It was a race to see who was the toughest!
By the strictest definition, a muscle car is any car that has a powerful engine, beefy suspension, upgrades to the interior, and sportier tires.
They also tended to have paint jobs to make them look sleek and powerful with some featuring racing stripes or flames painted on the sides.
By this definition, the Mustang might seem to fit the description. This also means that compacts like the 1964 Chevy Nova and the Corvette would be included on the list.
Some purists in the crowd limit the definition of a muscle car to only include midsized cars.
This eliminates many cars from the list, including the Mustang!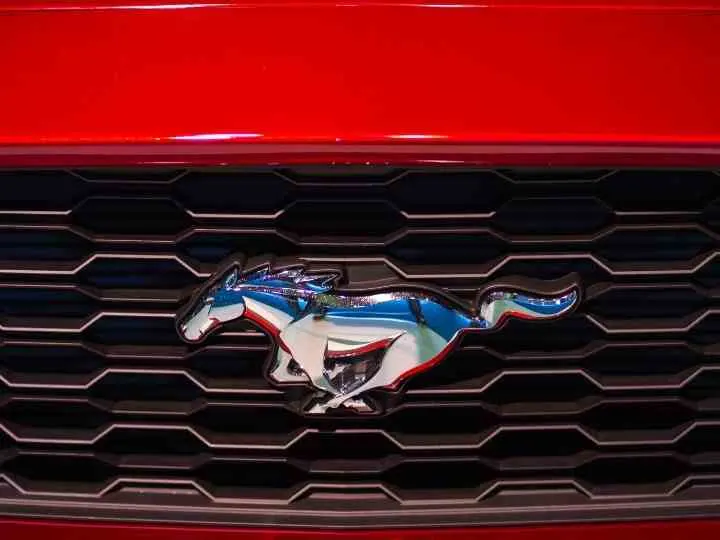 Is the Mustang a Muscle Car or Pony Car?
The Mustang has its place among performance cars, but it might not fit into the definition of a muscle car.
Other performance car classifications include pony cars and American sports cars.
Let's explore these two categories!
American sports cars emphasize speed and maneuverability. They have powerful engines, but they often have a low body style and only offer seating for two.
Some examples include the Chevrolet Corvette, Shelby GT500, and Corvette Stingray.
Another group of performance cars to emerge in the 1960s included the pony cars category. Cars in this category can be a coupe or convertible.
They often have a longer hood, sporty styling, and an "open mouth" front-end design. They are compacts and can carry four people.
Pony cars still have powerful engines, only they are in a smaller package that is smaller than a muscle car and larger than an American sports car. They were made for the masses and were more affordable.
They had stock engines and did not include special components associated with race cars.
Some examples include the original Dodge Challenger, Plymouth Barracuda, Chevrolet Camaro, and Ford Mustang.
Ford Mustang Evolution
The Ford Mustang is the creation of Ford designer, John Najjar. He was a fan of the famous World War II P-51 Mustang fighter plane.
This would serve as inspiration for the namesake and the design of the first Mustang. The design began in 1961, and production began on March 9, 1964, in Dearborn, Michigan.
The Ford Mustang was introduced in April 1964. Ford sold 400,000 of them in its first year.
In September 1964, the Mustang was featured in the James Bond movie "Goldfinger." Bond girl, Tilly Masterson drove the white convertible with a red interior in a chase against an Aston Martin D85 driven by Bond through the Swiss Alps.
By 1966, there were 1 million Mustangs on the road. In 2018, Ford sold its 10-millionth Mustang, proving the longevity of its loyal fan base.
The success of this launch led to the introduction of competition in the pony car class like the Pontiac Firebird, AMC Javelin, and Dodge Challenger over the next few years.
The original prototype featured a 170 cubic-inch 2.6-liter Inline 6-cylinder engine. It was rated at 105 horsepower. It had a bore and stroke of 3.500 x 2.940. The compression ratio was 9.1:1, and it had a single exhaust.
The first Ford Mustang was available as a three-speed manual or Ford-O-Matic automatic transmission.
By 1966, the size of the engine had grown to 200 cubic inches. It was considered fast and could go 0-60 mph in 13.9 seconds, which is about 103 mph.
The gas mileage was around 13 mpg. Gas was around 20 cents per gallon, and you could fill up for around $2.50, which was enough to drive your Mustang around all week.
From 1965 through 2004, the Mustang shared a rear-wheel-drive design and chassis with other Ford lines. From 1974 to 1978, they produced the Mustang II which had a longer wheelbase.
Since 2005, each generation of Mustangs used a different platform that is unique to each one.
Today's Ford Mustang
The Ford Mustang is now in its sixth generation. It has come a long way since 1964.
Many things might have changed, but its reputation and image as a performance car continue to gain adoring fans.
The classic open-mouth grille has been replaced by a modern trapezoidal one. It features increased passenger volume and now offers three engine options.
You can choose the fuel-efficient 2.3-liter EcoBoost 310 hp engine, the 3.7-liter 300 hp V6, or the 5.0-liter Coyote 435 hp V8.
The Coyote V8 reflects its performance car roots with thrilling acceleration and power under the hood that you can feel.
With the other engine options, you can have the look of a performance car, only in a more fuel-efficient model.
In 2021, Ford introduced the Mach-E, which strays from its pony car roots. It is classed as a compact crossover SUV.
It is available as a rear-wheel-drive or all-wheel-drive version. It is built on the Ford GE1 platform and is powered by an electric engine.
It still retains the Mustang name and a hint of the sporty styling that you think of when it comes to a Mustang, but this new Mach-E represents a new direction in the line.
You know that in some circles, the Mustang will always be called a muscle car. For true muscle car aficionados, the Ford Mustang is not in the club, but this does not make it any less powerful and stylish.
Whether you are in the muscle car camp or the pony car camp, there is no doubt that the Ford Mustang is legendary and helped shape the performance car category as we know it today.
Related Articles