Having undergone a redesign, the new Toyota Tundra features lightweight body panels over high-strength steel frames for better towing.
Additionally, the truck offers two engine options paired with Toyota's Electronically Controlled Automatic Transmission with intelligence (ECT-i).
As a result, the Tundra selects the most suitable gear ratio at any instance without your intervention. So how does this affect towing?
The new Toyota Tundra has a maximum towing capacity of up to 12,000 lbs when it is has the adequate equipment attached.
What's the truck's engine capacity? Does it have a towing package? How does it compare to other trucks? And, how much can the Tundra tow?
Read on to find out.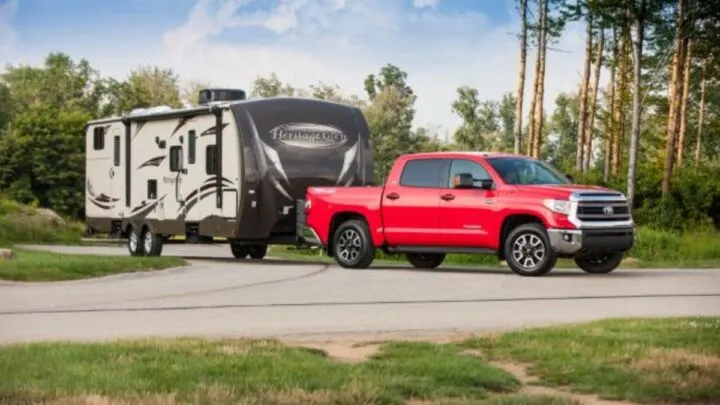 How Much Can the Toyota Tundra Tow?
The 2022 Tundra features new improvements over previous versions, beginning with an upgrade in suspension components and technology.
Additionally, Toyota broadened the full-size pickup truck's rear frame member to improve its towing capacity and stability.
As a result, the new Toyota Tundra has a maximum towing capacity of 12,000 pounds when adequately equipped.
However, the maximum it can tow depends on factors such as its payload, weight of the passengers, and any other modifications added to it.
Moreover, the Tundra has several trims that have different maximum towing capacities, as shown below.
Toyota Tundra SR = 8,300 pounds

Toyota Tundra SR5 = 11,160 pounds

Toyota Tundra Limited = 11,120 pounds

Toyota Tundra Platinum = 11,180 pounds

Toyota Tundra 1794 Edition = 11,310 pounds

Toyota Tundra TRD Pro = 11,175 pounds
Moreover, if you need the trim with the highest capable towing capacity, go with the Tundra SR5 trim and pair it with Toyota's trailering package.
The trim is very equipped, featuring an i-Force 3.5-Liter Twin-Turbo V6 engine capable of delivering up to 389 horsepower and 479 lb-ft of torque.
Is the Toyota Tundra Good for Towing?
Yes, it has great towing capabilities! As much as the Toyota Tundra doesn't have the best-in-class towing ratings, it still performs beyond expectations.
Towing 12,000 pounds without straining the drivetrains, powertrains, or suspensions qualifies it to stand its ground against towing specialists such as the Ford F-150.
However, Tundra's towing is still a few tons lower than most full-size pickup truck capabilities.
According to Toyota, the current towing capacity is satisfactory, and they prefer a comfortable truck that can tow.
And one way to improve comfort while towing is by adopting rear suspension coils in place of leaf springs.
The Tundra suits the active lifestyle of most truck owners that may need a tow truck every once in a while to take their boat, ATVs, or even snowmobiles across the country.
On the other hand, Ford produces towing heavyweights whose setup and design are towards achieving the highest towing rating possible.
Can a Toyota Tundra Tow 12,000 Pounds?
The Tundra is a competent full-size pickup truck that can tow a maximum of 12,000 pounds when fully equipped with the appropriate trailering package.
However, different Tundra trims have different curb weights and payload capacities, and this impacts their maximum towing capabilities.
Therefore, the heavier and luxurious trims have lower towing ratings compared to the entry-level trims, such as the SR5 trim.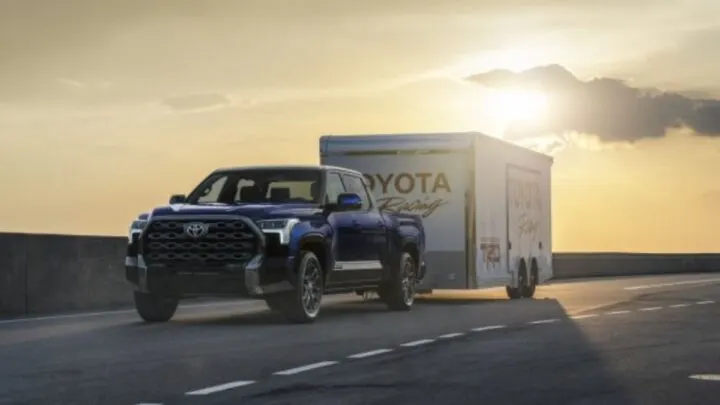 Toyota Tundra Towing and Trailering Package
If you would like to use your Toyota Tundra for towing, it's imperative that you buy it together with its tow package.
The package comes with the following three technologies that aid the truck get the maximum out of its powertrain.
Tow/Haul Mode
The Tow/Haul mode is standard on all Toyota Tundra full-size pickups, and aids dial in the throttle response for improved sensitivity while towing.
While it's activated, the Tundra adjusts steering response for better control, especially when towing smaller and lighter loads.
You'll also get an option to go with the Tow/Haul mode for aggressive towing when pulling heavier loads. And what's wonderful about this is that it's all possible at the turn of a dial.
Moreover, note that activating the Tow/Haul mode deactivates the Toyota Hybrid Start/Stop function.
Air Suspension System
Most full-size trucks are now equipped with air suspension to reduce vibrations, noise, and bumpiness that contribute to driver discomfort and fatigue.
Other advantages include a better fuel economy, ease of hitching the trailer, less suspension wear, reduced bouncing, and versatility.
In the Tundra, you'll have three ride heights available, depending on your loading.
The ride heights are either low, normal, or high, and the truck can adjust the rear loading to help you tow while maintaining stability.
Trailer Back Guidance with Straight Path Assist
We all know how challenging it is to back up to a trailer, especially when we have no one to guide us.
And Toyota eliminated the need for a human "third eye" by introducing an array of sensors, cameras, and RADAR to ease reversing and towing.
Additionally, the smart 7-pin connector that comes with the full-size truck enables it to use backing up technology to calculate lengths of trailers without driver input.
Other features included in the towing package are:
A power extending and folding tow mirrors

Downhill Assist Control

Multi-Terrain Select

Load-Leveling Rear Height Control Air Suspension

Wiring Harness with 7-Pin Connector

Class-IV Towing Hitch Receiver

Multi-Terrain Monitor (MTM) with Selectable Front, Side, and Rear Views
Can a Tundra Pull a 30-Foot Trailer?
One crucial consideration to towing is that it's more of a weight than a size issue.
However, as much as size and weight are relatively correlational, it isn't the case with the trailers.
We know that trailers are primarily for transportation or storage, and most probably weigh less while empty.
To be precise, they weigh between 5,000 and 7,500 pounds while empty and between 6,500 and 10,000 pounds while loaded.
Therefore, with a towing capacity of 12,000 pounds, the answer to whether a Tundra can pull a 30-foot trailer is YES.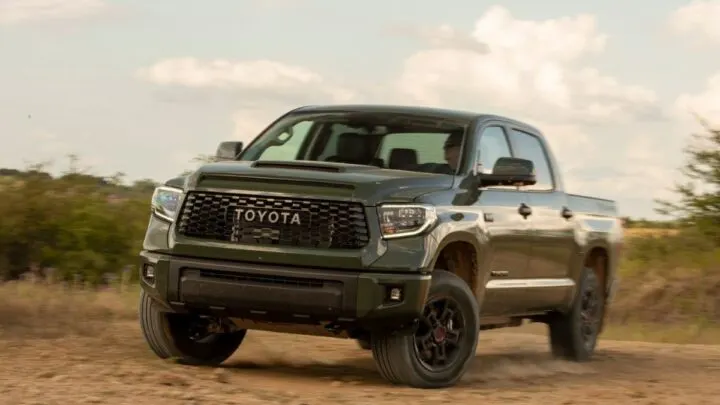 Here's What You Should Know About the Tundra Trailer Tongue Weight
If you happen to know something about trailers and towing, you must have heard about the trailer tongue weight and the catastrophic consequences that might befall you if it's not honored.
Generally, most trucks accommodate a tongue weight that's 10-15% of the total trailer weight.
And what do I mean by this?
Let's take the new 4×4 CrewMax 5.5-ft. Bed trim as an example.
The truck has a maximum payload of 1,820 pounds, a Gross Vehicle Weight Rating (GVWR) of 7,210 pounds, and a base curb weight of 5,390 pounds. Now let's get what these terms mean concerning vehicle weights.
The GVWR is the total weight your pickup truck or any other vehicle can handle without the trailer.
It includes the weight of fuel, cargo, passengers, and the truck's curb weight. And from calculations, we can see the Tundra's GVWR of 7,210 pounds is the sum of the payload (1,820 pounds) and its curb weight (5,390 pounds).
Now, what if you're towing a trailer?
The answer is that some percentage of the trailer GVWR (its curb + cargo weight) will automatically transfer to the Tundra's hitch receiver socket.
So, here's how you'll ensure that the tongue weight doesn't fall below or above the 10 to 15 percent range. And since you can't alter your truck's curb weight, you'll have to play around with the payload capacity.
For the 4×4 CrewMax 5.5-ft Bed trim, let's assume that your gas, cargo, driver, and passenger weights sum up to 900 pounds.
You'll be left with 920 pounds (payload – occupancy and cargo weights) to play around with while loading the trailer.
In effect, to remain within the 10-15% range, you'll be left with approximately 6,133 to 9,200 pounds of total trailer weight for your cargo.
And if the trailer has a curb weight of 5,000 pounds, you'll have 1,133 to 4,200 pounds of cargo weight.
What Happens When You Fail To Honor the Tongue Weight?
Just like having the proper tire pressure while towing is important for your safety, honoring the correct tongue weight improves your truck and trailer stability.
Here's what happens when you load your trailer poorly, or you overload it.
Case 1: The tongue weight is greater than the recommended 15%.
For the trailer tongue weight to be greater than 15%, let's say it's 18 percent, it means that you've either overloaded your trailer or you've placed too much weight on its front-end.
The effect is that the excess weight strains your Tundra's rear suspensions, axles, and tires. Actually, you'll lose a fraction of your truck's front wheels' traction, which then makes it difficult to steer.
The result is that your truck sways from side to side and transfers the motion to the trailer.
Case 2: The tongue weight is lesser than the recommended 10%.
When the tongue weight is lesser than 10%, say it's 7%, it means that you've loaded most of your cargo at the back-end of your trailer.
The result is that you'll lose some rear-wheel traction, and the trailer will sway from side to side. The higher the speed, the more aggressive the swaying.
Final Remarks on Toyota Tundra Towing Capacity
The new Toyota Tundra has bold styling, better technologies, and a sturdier high-strength steel frame that's improved its towing capacity significantly.
However, the truck falls short when compared to the Ram 1500 (12,750 pounds), GMC Sierra 1500 (13,000 pounds), Chevy Silverado 1500 (13,300 pounds), and the best-in-class towing of the Ford F-150 (14,000 pounds).
On the brighter side, the truck is very comfortable and smooth to drive, has a decent 0-to-60 mph in 6.1 seconds, and has a ton of driver assistance technology.