A pickup truck's towing capacity is crucial to its performance, especially when towing heavier loads.
Presently, the vehicle market is full of trucks promising versatility, dependability, practicality, and reliability, but few match the quality of the Ford Ranger.
Additionally, Ford has the same towing packages for its Ranger trucks, making it easier for you to find your preferred truck.
The Ford Ranger is a midsize pickup truck powered by a 2.3-liter four-cylinder EcoBoost engine that outputs 270 horsepower and an impressive 310 lb-ft of torque.
The Ford Ranger's towing capacity ranges from 3,500 pounds to a maximum of a 7,500 pounds. It also has a maximum payload of 1,860 pounds.
Today's article looks at the various Ford Ranger trim levels, their towing technologies, and why towing might not be as easy as you assume.
Furthermore, we'll be looking at how to load your Ford Ranger trailers accordingly for your truck's longevity and safety.
Let's get started.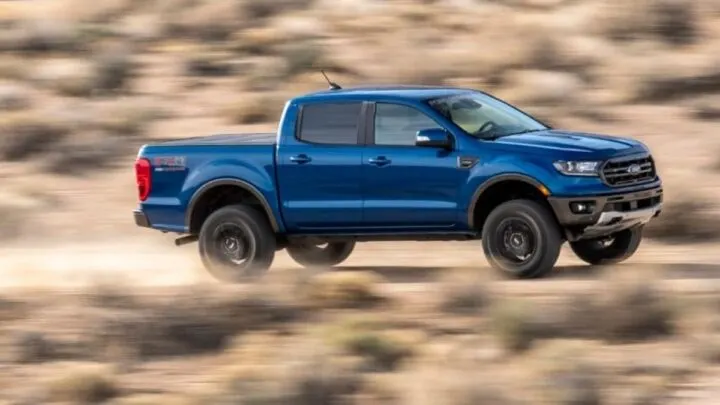 Ford Ranger Trims and Engine Specs
Throughout history, Ford has been renowned for making robust trucks with excellent off-roading and towing capabilities.
And, like any other model, the Ford Ranger has various trim levels you ought to know before making a purchase decision.
The Ford Ranger compact pickup has three trim levels: XL, XLT, and Lariat.
All three trims share the same 2.3-liter four-cylinder EcoBoost engine, with their differences being merely cosmetic.
Additionally, the three trims are robust and feature high-strength steel frames and frame-mounted steel bumpers suitable for towing.
Ford Ranger Towing Technology
The Ford Ranger has a handful of crucial features to make your towing experience smooth and successful. Here are the Ford Ranger's towing technology features.
Trailer Sway Control (TSC)
One challenging issue with towing is the effect of crosswinds and instability experienced, especially at high speeds or when overtaking.
Furthermore, improper loading of your trailer results in swaying, which transfers to your pickup and inadvertently leads to a loss of control.
And to prevent adverse swaying, Ford has a trailer sway control feature that pairs with Roll Stability Control (RSC), using sensors to determine the extent of swaying.
If necessary, the technology reduces the swaying by adjusting engine torque or applying asymmetric braking.
And note that the TSC is a safety feature, not an excuse for improper loading or reckless driving.
Therefore, distribute your trailer weight appropriately, with a maximum of 10 percent tongue weight.
BLIS with Trailer Coverage and Cross-Traffic Alert
The Ford Ranger is a towing truck equipped with the Blind Spot Information System (BLIS) with Cross-Traffic Alert.
The technology provides coverage for the truck and its trailer as an alternative to traditional towing mirrors.
However, the system supports conventional trailers only and turns off automatically when you select gooseneck or fifth-wheel trailers.
Rear View Camera
The rear view camera is another excellent towing feature with the standard package.
It has a dynamic hitch assist and a backup assist grid, allowing you to watch for obstacles behind your truck as you reverse and hitch your trailer.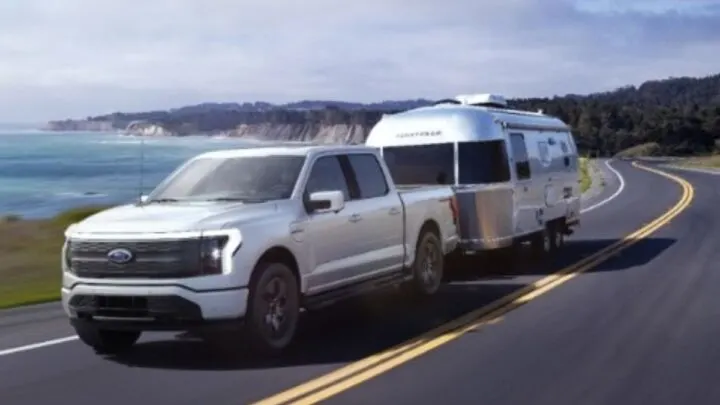 What Is the Ford Trailer Tow Package?
As we've seen, having a trailer tow package improves your truck's towing capacity from a bumper-only 3,500 pounds to 7,500 pounds. What is included in the tow package?
Well, a heavy-duty tow package includes robust features such as heavy-duty rear shocks, brake upgrades, and auxiliary transmission coolers.
However, Ford's system varies slightly, and finding the best configuration and package can sometimes be challenging.
The Ford Max Trailer Tow Package is only available on the F-150 trucks; hence you'll have to settle with the standard Trailer Tow Package.
The standard/basic package adds a class IV trailer hitch and 4/7 pin wiring harness for trailer connection.
Additional features include the Trailer Sway Control, 4×4 with neutral towing capacity, and a 10-speed transmission with a tow and haul mode.
Important Truck and Trailer Weight Terms
Towing more than your truck's capacity strains its powertrain and drivetrain components.
But genuinely, some people struggle while towing due to poor loading practices or lacking knowledge of important weight loading terms.
Here's a look at some weight terms that will aid you in knowing your truck's towing capacity.
GVWR: The Gross Vehicle Weight Rating is the maximum load a truck can handle without the trailer.
It includes cargo, passengers, and curb weight. Additionally, include the tongue weight in your GVWR calculations when towing.
GCWR: The Gross Combined Weight Rating is a manufacturer-determined rating that takes into account the GVWR and the trailer weight.
GTW: The Gross Trailer Weight is the weight of your trailer plus any load present.
The GTW is a measurement and not a rating; hence, you must ensure that it doesn't exceed the manufacturer-recommended trailer GVWR.
Tongue Weight: The tongue weight is the downward force a trailer exerts on your truck's hitch ball.
Conversely, it's the amount of trailer weight that transfers to your truck upon connecting the trailer coupler to the hitch system.
How Tongue Weight Impacts Your Ford Ranger's Handling
Ford states explicitly that the trailer load weight should be approximately 10% of the total loaded trailer weight.
Your truck's payload should also accommodate the tongue, cargo, and passenger weights without exceeding the rear GAWR (Gross Axle Weight Rating) or GVWR.
For example, a Ford Ranger XLT truck with a maximum towing capacity of 7,500 pounds can accommodate a maximum trailer tongue weight of 750 pounds.
If so, you may be asking yourself what happens when you fail to load a 10% trailer tongue weight. Well, it's very dangerous and not recommendable.
Let's look at the following two scenarios.
Scenario 1: Heavier Items at the Back of the Trailer
Loading heavier items at the back of your trailer transfers a greater percentage of the trailer weight to the back, while the front ends up lighter.
The result is that the trailer tongue weight becomes less than the recommended 10%.
If the tongue weight is less than 10%, the trailer will sway mildly at first and more aggressively as the swaying momentum increases.
Scenario 2: Heavier Items at the Front of the Trailer
If you load heavier items at the front of your trailer, the trailer tongue weight is greater than the recommended 10%.
The result is that it will overload your truck's rear axles, leading to a loss of front-tire traction.
The truck will sway sideways, become less responsive, and transfer the instability to the trailer.
Pro tip: I'd recommend loading most of your weight closer to the trailer axles.
That way, you won't have to stress so much about determining if you've satisfied Ford's trailer tongue weight recommendation or not.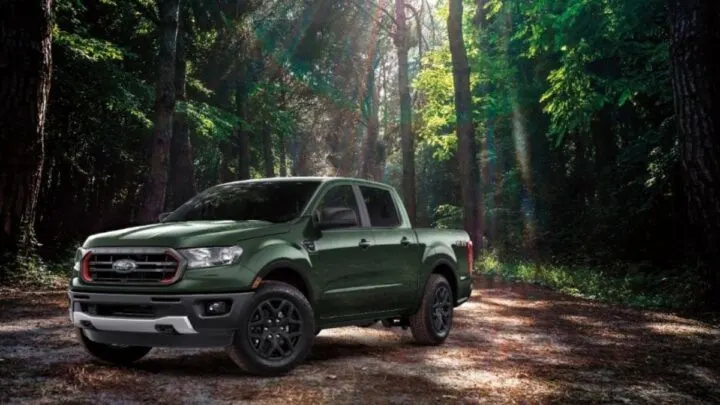 Final Remarks on the Ford Ranger Towing Capacity
The Ford Ranger is an impressive towing truck that's pretty straightforward.
Usually, other models have tons of drivetrain, transmission, and engine configurations that you may find it hard to get the one you desire.
For the Ranger, it's easier, as it has a single-engine configuration across all trim levels.
Therefore, you'll only add the towing package to improve your truck's towing capacity from 3,500 to 7,500 pounds.