A lot goes into the making of vans that most new buyers fail to notice.
And, to be honest, designing and building powerful machines that have to be efficient, affordable, durable, and reliable is problematic, to say the least.
Therefore, it's not surprising to find a van that has a great drivetrain but very poor fuel economy. Others have great interiors but underwhelming engines.
The Ram ProMaster is reliable and comes in a lot of different styles and tends to be better for those on a budget, whereas the Ford Transit offers better engine capabilities and interior amenities.
How do the vans compare overall though? Should you go with the Ram ProMaster or the Ford Transit? Well, it depends. Read on to find out why.
Engine Specs and Performance
Van enthusiasts tend to buy certain vans on personal preference, association with the brand, or performance.
And since most vans are used for commercial purposes, one area that's hard to ignore is their engine specs and performance.
Some vans have better drivetrains and payload capacities, while others have better maneuverability, reliability, and durability.
In this section, we're looking at the different engine capacities of the two vans.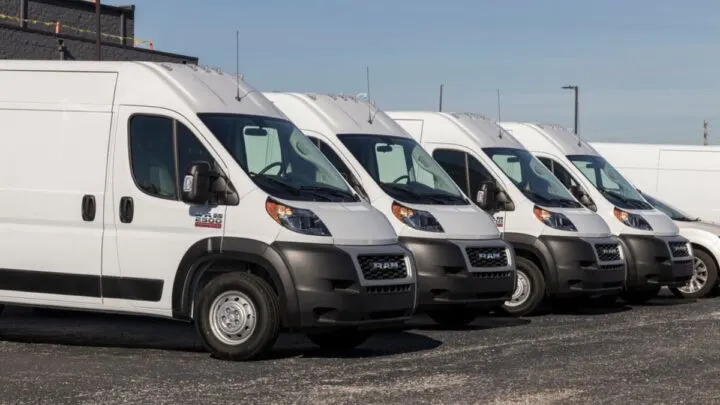 Ram ProMaster
The box-like Ram ProMaster van comes with a lot of versatility, several body styles, excellent payload capacity, and crew- or cargo-hauling interior layouts.
Any van enthusiasts, tradespeople, companies, or hikers will find something useful in this well-designed van from Dodge.
The van has four trim levels: the Cutaway, Chassis Cub, Cargo Van, and Window Van. Moreover, the Ram ProMaster comes with a 3.6-liter V-6 engine with 276 horsepower and 250 pound-feet of torque.
It's also equipped with a 9-speed automatic transmission that transfers much power to the front wheels, as the ProMaster is a front-wheel-drive (FWD) van.
The van is also decently quick, accelerating from zero to 60 mph in 8.1 seconds. That's quite quick for a van, but not as impressive as other vans in its segment.
The Ford Transit performs better with a zero to 60 mph in 6.8 seconds and the Nissan NV in 7.5 seconds. On the brighter side, it's still faster than the Mercedes-Benz Sprinter that covers the same run in a not-so-outstanding 12.4 seconds.
In terms of cargo, the Ram ProMaster has respectable weight ratings, but falls short compared to bigger vans such as the Mercedes-Benz Sprinter and the Ford Transit.
It has a gross vehicle weight rating (GVWR) of 8,550 pounds and a payload of 4,000 pounds.
When combined with a towing capacity of 6,910 pounds, the ProMaster has respectable but not outstanding features.
Regardless, the van is durable, reliable, and easy to configure to your preferences.
Ford Transit
The Ford Transit is arguably the king of American vans when it comes to reliability, muscle, convenience, and aesthetics.
The van comes in three trims: the Cargo Van, Passenger Van, and the Crew van.
Across the three trims, it has a 3.5-liter PFDi/EcoBoost V-6 engine, delivering 275-310 horsepower and 262 pound-feet of torque.
It also features a 10-speed transmission and a variable gross combined weight rating (GCWR) of 10,800 to 13,000 pounds.
The van's drivetrain produces sufficient full-load or towing power from either a 275 horsepower V-6 or a 310 horsepower twin-turbo V-6 engine.
Both engines come paired with rear-wheel drive (RWD) and a 10-speed transmission, but the twin-turbo engine is exclusively compatible with the all-wheel-drive (AWD) option.
In terms of acceleration, the Ford Transit achieves 0 to 60 mph in an amazing 6.8 seconds.
Given its massive curb weight of 3,581 to 7,187 pounds, depending on the trim and how well it's equipped, its acceleration is still amazing.
And that's not the best part of the van.
Whether you're going on a road trip across the state or you need to tow your boat to the lakeside, the Ford Transit won't disappoint.
With a massive towing capacity of 7,500 pounds and a well-tuned suspension, the van handles well and is a true workhorse.
Interior and Comfort
Gone are the days when vans performed well but lacked the aesthetics and features that enhance driver comfort and safety.
And today, the Ford Transit and the Ram ProMaster are the front-runners when it comes to interior space, comfort, and cargo.
Ram ProMaster
The ProMaster's interior features have been modernized and upgraded from the previous models.
It features a bigger, sleek 7.0-inch Uconnect 5 infotainment system similar to Chrysler, Dodge, and Jeep.
While the interior may seem a little "old school" compared to other vans, the ProMaster focuses more on functionality than cosmetic appeal.
Therefore, the van only has the necessary non-redundant features.
Also, the interior mainly consists of hard, durable plastics but is equipped with many comfort features.
The dash is large, accessible, and easy to work with while driving.
Furthermore, the van has wireless Apple CarPlay and Android Auto, Integrated Alexa In-Vehicle Assistant, and simultaneous connectivity for two Bluetooth-enabled phones.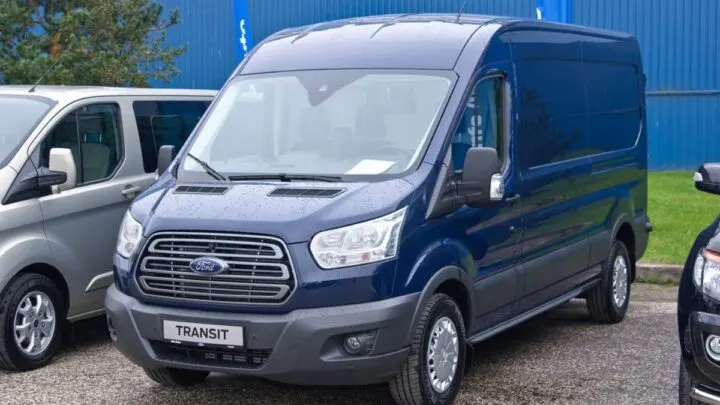 Ford Transit
The Ford Transit is equipped with many great features and amenities that are really useful, especially for long drives.
For example, the Transit Passenger trim has USB charging ports in each row and state-of-the-art audio systems available with either the 4" or 8" screens.
The passenger wagon is also strong and comfortably seats up to 15 passengers with more than enough head and legroom. Other standard features across the four trims are:
Bluetooth phone and music streaming

Four speakers

A WiFi hotspot

A 4-inch multi-function display
You'll also get an optional Sirius XM satellite radio, Apple CarPlay/ Android Auto smartphone integration, an 8-inch display screen, and integrated navigation.
Manufacturer's Suggested Retail Price (MSRP)
The competing vans are relatively equally priced, with the Ford Transit being slightly costlier than the ProMaster.
Listed below are the MSRP of both vans, but remember that the figure is bound to change with time, location, and trim.
Here's a look at the MSRP of the Dodge/ Ram ProMaster trims.
Cutaway – $37,5540

Chassis Cub – $38,190

2500 Cargo Van – $38,965

1500 Cargo Van – $39,770

3500 Cargo Van – $40,260

3500 Window Van – $44,550

2500 Window Van – $44,830
Here's a look at the MSRP of the Ford Transit trims
Cargo Van – $39,970

Crew Van – $42,335

Passenger Van XL – $46,645

Passenger Van XLT – $49,155
Fuel Economy and MPG Ratings
Since full-size commercial vans and trucks are exempt from the EPA fuel tests, it's hard to have a specific MPG rating for both vans.
From our tests, the Ford Transit has a 17 MPG overall fuel economy rating, whereas the Ram ProMaster has a 14 MPG.
Final Remarks on the Ford Transit vs. Ram ProMaster
One feature that's unfortunately missing as a standard in the Ram ProMaster is the Blind Spot Assist.
The Ford Transit does have a Blind Spot Assist that's really helpful, especially when towing.
The system has trailer coverage that informs you when a vehicle is either behind or alongside your trailer.
You can also combine it with the Lane-Keeping Aid to provide resistive steering torque and visual warning towards preventing a collision.
Regardless, the Ram ProMaster is squarer and easier to build and drive than the Ford Transit.
However, it's shorter, noisier, has poorer fuel economy figures, and lacks the aesthetic appeal of the Transit.
All in all, it depends on what your needs and wants are to truly compare these two vehicles. Make sure you do your research before buying, and happy shopping!