If you recently bought a Mini Cooper while the weather was sunny and warm, you may be wondering how your new vehicle will perform in the snow.
Since this will involve many factors such as where you live, road conditions, and other variables, you'll want to know all you can before you and your Mini Cooper cruise down a road covered with snow and ice.
So, how do Mini Coopers handle the snow?
Even though Mini Coopers may be small, they do extremely well in moderate amounts of snow. Featuring front-wheel drive and weighing around 2,000 pounds, Mini Coopers are known for having better traction than comparable vehicles, making them an all-around great option for winter driving.
In fact, the Mini Cooper is one of the best vehicles in its class for winter driving.
That said, there are some particular considerations you will still need to take into account when driving your Mini Cooper in the snow.
Winter driving can quickly become dangerous, so make sure you're equipped with as much info as possible so you know how best to handle your Mini in the snow.
Are Mini Coopers Good for Winter Driving?
When driving your Mini Cooper in the snow, most drivers report that it's best if you try not to accelerate too fast, since this can sometimes make it harder to get the best possible traction.
If the snow is a bit deeper than you like, accelerating at a steady pace will often yield much better results and keep you safe on those slick roads.
Are Minis Good on Ice?
Just as they can handle snow-covered roads with little difficulty, you'll be glad to know your Mini Cooper is also quite good at driving on roads that are covered with ice.
Since they have front-wheel drive, they do much better than vehicles equipped with rear-wheel drive, and thus offer you much better control.
Being somewhat low to the ground, we have found Minis can tackle ice-covered roads and be very resistant to sliding here and there.
Of course, much of how your Mini will perform under these conditions will be up to you and your skills and experience behind the wheel!
From choosing to accelerate at a slow, deliberate pace and taking advantage of your Mini Cooper's FWD and advanced traction control, driving on a winter day should be much less stressful than you expected.
How Much Snow Can the Mini Cooper Handle?
While you won't want to attempt to drive your Mini Cooper down a road that has not been scraped by a snowplow and thus has a foot of snow piled up, you may be astonished to learn that many drivers have reported being able to safely drive their Mini Coopers down roads that numerous SUVs can't handle very well.
In most situations, your Mini Cooper should be able to handle around six inches of snow without you having to worry about getting stuck.
Found to do well with moderate snowdrifts, the only drawback to the Mini Cooper in these conditions is its low ground clearance.
Should you find yourself in an unpredictable situation regarding snow, it's always possible conditions could change in a hurry and give your Mini a harder time.
When Mini Coopers have been road-tested in winter driving conditions, much of it has taken place in parts of Canada and states within the U.S. known for having harsh winters.
By doing so, the vehicle's manufacturer has been able to safely state what Mini drivers like you can reasonably expect to encounter during your travels on ice and snow-covered roads.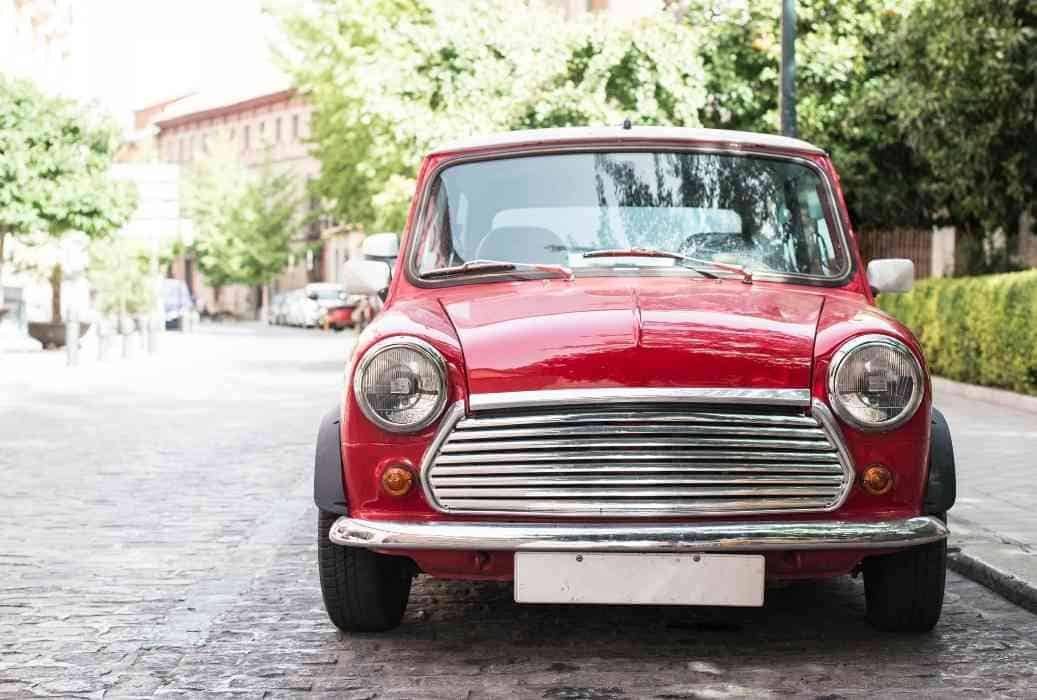 Ways to Improve the Mini Cooper Snow Performance
If you have had problems driving your Mini Cooper in the snow and think all hope is lost and that maybe you bought the wrong type of car for where you live, it's time to find the power of positive thinking.
In fact, you could not be more wrong about your Mini Cooper and how it can perform in snow.
As a great first step, you should consider investing in dedicated snow tires.
If you rarely see pavement on your roads during the winter, having these tires on your Mini Cooper will be as big a difference as night and day.
Though they can cost several hundred dollars, getting these properly installed on your Mini will instantly make you much safer on the road.
Another thing to do that will improve your Mini's snow performance is to turn off the traction control in certain situations.
For many drivers, doing so when they are driving on roads with plenty of curves has been better.
Instead of relying so much on traction control, you may instead want to give your Mini a bit more gas when making turns, which gives it more stability.
In some cases, you may think adding weight to your Mini will help it do better in the snow. However, this only makes your driving harder.
When you add weight to your Mini, you then have to increase your braking distance.
By doing this on winter roads, you'll have a much harder time recovering should you and your Mini find yourselves sliding on snow and ice.
Instead, go "skinny" as they say, and keep the Cooper light and nimble.
When driving on snow-covered roads that have tire tracks from previous vehicles, keeping your Mini Cooper's tires in those tracks as much as possible will help provide additional traction.
Finally, like you should do in these conditions no matter the type of vehicle you are driving, practice safe driving such as adjusting your speed as needed, staying aware of the conditions around you, and not trying anything with which you're not comfortable.
After all, you don't want to make a tough driving situation even worse and get your Cooper stuck in a snowdrift!
Can I Drive a Mini Cooper Off-Road in the Snow?
If you want to drive a Mini Cooper off-road in snowy conditions, you'll need to have a Mini Countryman to do so.
With a standard Mini Cooper, its ground clearance will be too low for you to get very far.
Along with the likelihood of getting stuck, you will also run the risk of damaging the underside of your Mini, leading to a very costly repair bill.
By driving a Mini Countryman, you'll have many advantages over your standard Mini Cooper.
To begin with, you'll enjoy a big increase in ground clearance that lessens the chances of you getting stuck or having a damaged vehicle.
Next, you'll have specially designed HD wheels and tires that are flanked much higher than a Mini Cooper.
Most of the time, this will enable you to conquer the toughest of snowy roads without too many problems.
However, always remember that even the best vehicles can only get through so much snow, so use your common sense when you are off-road in a Mini Countryman.
Frequently Asked Questions (FAQs)
How Does the Mini Countryman Handle in Snow?
The biggest Mini on the road, the Mini Countryman has been found to be an excellent choice for those drivers who are always driving on snow and ice-covered roads.
Often compared to various Subaru models in terms of handling tough winter driving conditions, the Mini Countryman can tackle moderate to heavy snow as well as any vehicle on the road today, and has the power and traction to climb very steep hills.
Wrap-up On Mini Coopers Winter Performance
Offering a variety of features that make it an excellent car to drive during the winter, your Mini Cooper will be surprisingly effective.
In fact, you may smile to yourself as you pass various four-wheel-drive vehicles having more trouble than your Mini!