The Jeep Wrangler is known for its superior off-road performance.
It has earned the right to wear the Trail-Rated badge, but many people tend to avoid them because of fear that they can tip over or roll more easily than other similar SUVs.
In this article, we will explore whether this reputation holds true or if the Jeep Wrangler is no more likely to tip over than any other SUV.
The Jeep Wrangler, just like any other SUV, is more prone to roll over than other vehicles. They have a high center of gravity and short wheelbase, which makes them more likely to tip over than vehicles that are heavier and have a longer wheelbase.
If you add these elements together and combine them with any type of lift, such as going over an obstacle on the trail that causes the vehicle to tilt to one side, it can cause them to flip more easily.
The Jeep Wrangler is more likely to tip than a long car or truck, but how do they compare with similar SUVs? To explore this question, let's go back in Wrangler history.
Why Do Jeeps Have A Reputation To Roll?
The Jeep brand began as a military vehicle known as the Willys. The first model for the public was the Jeep CJ.
The Jeep CJ had a short, narrow wheelbase, and inboard springs like the military version.
During that time, this was something new and novel for the general public, and many drivers were not used to this type of vehicle.
As a result, many drivers rolled their vehicles because they were not used to it.
This is where Jeep's reputation for being easy to roll began, but the Jeeps of today are nothing like their early predecessors.
They are heavier, longer, and have advanced systems to help keep them stable and prevent them from rolling over.
Of course, if you add lift kits or enormous tires, it will raise the center of gravity and the likelihood that you may tip over when going around a curve or if you are in an accident.
Similar SUVs and short wheelbase trucks all share the same problem.
Some other vehicles that have a reputation for rolling over are:
Toyota 4 Runner
Jeep Renegade
Cadillac Escalade
Chevrolet Tahoe
GMC Yukon
Dodge Nitro
Honda Element
Toyota Rav4
Most rollover accidents are a result of hitting an object rather than just driving down the road. Also, newer vehicles have advanced systems to help prevent a rollover.
As a general rule, the chances for flipping increase as the vehicle gets taller.
How Safe Is a Jeep Wrangler in a Crash?
If you would happen to get in an accident, how safe is a Jeep Wrangler?
The new Jeep Wrangler is equipped with over 75 active and passive safety systems to help prevent an accident and keep you safe if you do become involved in one.
Jeep Wrangler safety begins with its foundation. It has a high-strength steel frame and rigid chassis that are designed to help keep you safe in a crash.
This solid frame is combined with an advanced airbag system that has everyone covered. It also has a rollbar to help keep you protected in the event you flip your vehicle.
Some Jeeps offer driver-assistance features like a lane departure warning, blind-spot monitoring, and smart cruise control to help keep an eye out for hazards.
The Insurance Institute for Highway Safety (IIHS) rates the Jeep Wrangler as good overall, which is its highest rating category.
It received ratings of good for its structure and safety cage as well as driver injury measures. It also performed well in side-impact tests.
The National Highway Traffic Safety Administration (NHTSA) rated the Wrangler at a four out of five stars in a head-on collision test that involved running it into a wall.
The NHTSA did not perform any other tests on the Wrangler.
Some SUVs fared better and received a perfect score, but the Wrangler's focus on off-roading with its unique design and construction is thought to be one of the reasons for its lower performance.
These tests indicate that the Wrangler is a safe vehicle, even though some SUVs scored higher. The Wrangler scored a 3 out of 5 stars in rollover resistance, but this is similar to other vehicles in its class.
In this respect, the Wrangler was no better or worse than its competitors.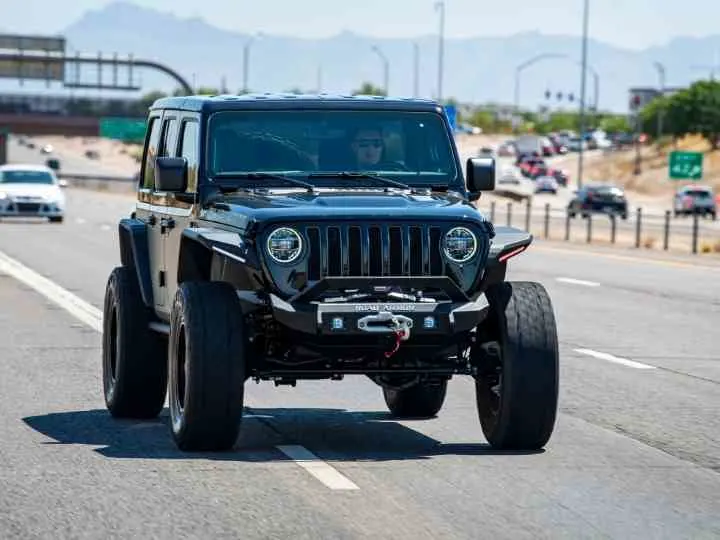 How to Prevent a Jeep Wrangler from Rolling
The key to keeping the Wrangler, or any other vehicle, from rolling is to drive carefully.
No vehicle is immune from flipping if you drive it carelessly and take curves too fast. Also, it is important to consider the effects on the center of balance if you alter anything in a way that goes against factory specifications. You should be cautious when installing aftermarket parts or kits.
One of the advantages of the Jeep Wrangler is its heavy-duty roof rail system.
One word of caution is to never load the roof racks with excessive weight or exceptionally tall items because this can cause the vehicle to become top-heavy.
The Wrangler is a lightweight vehicle, and putting something too heavy on top can cause it to tip over even under circumstances where it would normally be stable.
One of the main things to keep in mind is that the Wrangler is safe for drivers who do not like to test the limits. It might not be the best choice for teens or inexperienced drivers.
The Wrangler is not likely to roll over under normal driving conditions, but you should carefully consider your terrain when off-roading. Modern Jeep Wranglers have come a long way, and now, they are no more likely to tip over than other similar vehicles.
The key to keeping your Wrangler from rolling is to think about balance.
Never do anything that will alter the weight distribution of the vehicle. Also, make sure to drive carefully, especially in high winds, around sharp curves, and off-road.
As long as you keep these guidelines in mind, you should not have any trouble with your Jeep Wrangler keeping all four wheels on the road.