To drive safely, you need to be fully aware of the road conditions ahead, beside, and at the back of your vehicle. With side view mirrors, you're able to see what's beside and farther behind you. Rearview mirrors help you see what's directly behind you without turning your head.
There are times when one or both of your side-view mirrors are either damaged or missing. If you're driving around in such a vehicle, you may start wondering if doing so is legal.
In some states, driving without the side mirror is legal if you can comfortably use the rearview mirror. However, most states require that a road-legal car has at least two of the three mirrors. And one mirror has to be affixed to the vehicle's left-hand side.
The federal guidelines mandate that all vehicles must have side and rearview mirrors.
However, the guidelines apply to the vehicle manufacturers as individual states have varying laws regarding the number and positioning of mirrors necessary to drive safely.
Some states, such as Maine, Massachusetts, and Mississippi, require every motor vehicle to have at least one mirror placed in a way that can allow the driver to have a clear view of their vehicle's side and rear.
Read on if you're not sure whether it's legal to drive without a side mirror in your state.
Is Driving Without a Side Mirror Safe?
The answer as to whether it's safe or not to drive without rearview mirrors depends on other technologies that may aid you in getting a real-time visual of your vehicle's rear.
Most side mirrors give you visibility close to 200 feet to the rear of your vehicle. It's a slightly different case for vehicles that have rearview cameras. You can easily maneuver using the live feed from the rearview cameras for such vehicles.
Furthermore, how you can safely drive a car without side mirrors is tentative and depends on your skills and the state of the road. Driving without the side mirror is pretty easy for clear roads with minimal traffic.
If you're driving on the highway, and as an experienced driver, having one of the mirrors is sufficient to enable you to drive safely.
However, missing all three mirrors is dangerous and should never be attempted. You can't overtake with ease as you'll have problems telling whichever car is already in the lane and behind you.
Also, switching lanes becomes very hectic without side mirrors if you're approaching an exit.
Is It Illegal to Drive Without a Rear View Mirror?
If your vehicle has both side mirrors but lacks a rearview mirror, can you get in trouble for driving it on the road?
The answer is yes and no depending on the state you're driving in. Some states have lenient regulations regarding the presence and positioning of rear view mirrors.
For example, Missouri's statute on vehicle mirrors states that "All motor vehicles which are so constructed or loaded that the operator cannot see the road behind such vehicle by looking back or around the side of such vehicle shall be equipped with a mirror so adjusted as to reveal the road behind and be visible from the operator's seat."
You can interpret the statute to mean that you don't require a rearview mirror as long as you can turn your head and see what's behind you.
But that's considered a misinterpretation as driving without a rearview mirror in Missouri is a traffic offense.
State Rear and Side View Mirror Laws
Side and rearview mirror laws vary from state to state across the nation.
And even as the federal statutes mandate that all new vehicles must have all three mirrors, the number of mirrors you must have before hitting the road differs from state to state.
In Alabama, you can drive on the road as long as your car has at least one mirror that's placed in a way that doesn't interfere with other road users' space.
Missouri, Nebraska, New Jersey, and New York are some states that require all vehicles to have both side-view mirrors and the rearview mirror.
States That Require Both Left and Right Side Mirrors
In some states, all vehicles must have both side mirrors
Missouri
Nebraska
New Jersey
New York
Some states require vehicles whose structure makes it difficult to use the rearview mirror to have both side mirrors. These vehicles include buses and towing trucks.
Here's a list of the states that require both side mirrors on buses and towing vehicles
Arkansas
California
Colorado
Idaho
Iowa
North Carolina
Ohio
Oregon
States That Require at Least One Mirror
Here's a list of states that don't have strict laws on your vehicle's mirror placement.
It's legal to drive as long as one of the two side mirrors or the rearview mirror is in good condition.
The states are as follows:
| | |
| --- | --- |
| Alabama | Montana |
| Colorado | Nevada |
| Delaware | New Hampshire |
| Florida | New Mexico |
| Hawaii | North Dakota |
| Idaho | Oklahoma |
| Illinois | Pennsylvania |
| Indiana | Rhode Island |
| Maine | South Carolina |
| Minnesota | Tennessee |
| Missouri | West Virginia |
| | Wisconsin |
States That Require at Least Two Mirrors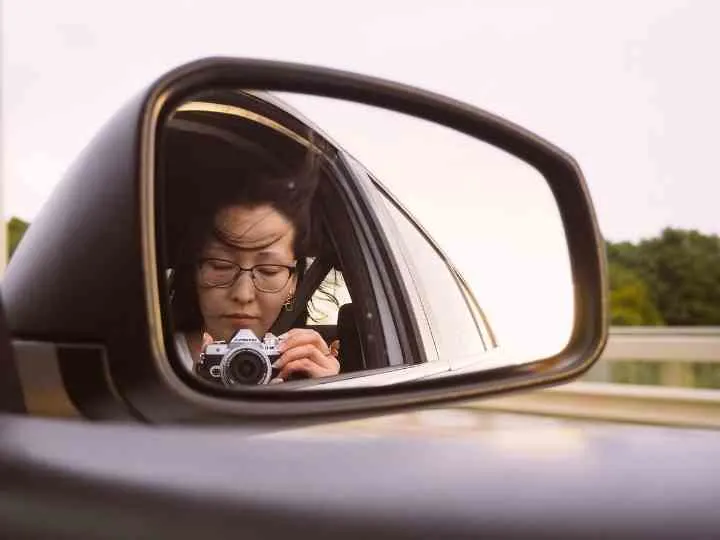 Some states require that all vehicles on their roads have either both side mirrors or one side mirror and the rearview mirror.
Here's a list of the states
| | |
| --- | --- |
| Alaska | Louisiana |
| Arizona | Maryland |
| California | Washington |
| Kansas | Wyoming |
| Kentucky | |
States That Require All Vehicles to Have a Rearview Mirror
Some states require a rearview mirror in all vehicles in addition to either one or both of the side view mirrors.
| | |
| --- | --- |
| Arkansas | North Carolina |
| Iowa | Ohio |
| Missouri | Oregon |
| Nebraska | South Dakota |
| New Jersey | Vermont |
| New York | Virginia |
Conclusion
Traffic and motoring laws vary significantly with each state and municipality.
If you're traveling across several states or cities, you must know some traffic laws to be on the safe side.
Furthermore, it doesn't hurt to have all mirrors installed on your vehicle.
But if you've recently damaged one of your mirrors or you've modified your vehicle to exclude one or two of the three mirrors, be fully aware of the traffic laws that apply to you.
Safety is paramount, and driving without three mirrors is very dangerous.
Related Posts