More than 50% of vehicles on American roads are either all-wheel or four-wheel drive. Generally, most off-roaders and SUV enthusiasts go for 4WD systems, as they're more robust.
On the other hand, most road and performance cars prefer the AWD system for its sophistication.
However, the fact that 4WD systems are getting more sophisticated while AWD drivetrains are more robust has led to confusion. The line between the two is getting thinner with each advancement in automobile technology.
Teslas do have an AWD system. It is very advanced and complicated, with a dual motor or tri-motor configuration. Unlike other AWD configurations, Tesla's adaptive computer systems send power to the wheel that needs it most.
What's the difference between AWD and 4WD? Does Teslas have 4WD or AWD? What about the rear-wheel drive (RWD)? Read on to find out.
Do Teslas Have 4WD or AWD?
There are many Teslas that have different types of driving power. They include:
Tesla Model X
The Tesla Model X has two motors and comes standard with AWD. It's a heavy car due to its huge battery, so you can't have an RWD option.
Tesla Model S
The current Model S comes standard with an AWD system. Before 2015, the Model S had two RWD options, the 60 kWh and 85 kWh models.
However, their low popularity and lower range forced Tesla to discontinue producing them.
Tesla Model Y
Like the Model S, the Model Y initially had two RWD models. As of today, all new Model Ys come standard with AWD systems.
Tesla Model 3
The Model 3 is the only Tesla with both the RWD and AWD options.
Here's a summary:
| | |
| --- | --- |
| Make | Current Engine and Transmission Layout |
| Model X | AWD |
| Model S | AWD |
| Model Y | AWD |
| Model 3 | AWD/ RWD |
Difference Between 4-Wheel Drive and All-Wheel Drive
Four-Wheel Drive
A traditional 4WD system has high- and low-range modes within its two-speed transfer case. The low-range mode sends more torque to the wheels, providing excellent traction in off-road or slow-speed settings.
The high-range mode works best on smoother off-road surfaces as well as in loose sand, snow, or icy conditions.
Full-Time 4WD
In a full-time 4WD system, all four wheels operate and receive power at all times.
Part-Time 4WD
A part-time 4WD typically distributes power to two driven wheels, mostly the rear.
When the road surfaces require more traction, the driver manually engages the other wheels by shifting a lever or pushing a button.
All-Wheel Drive
An AWD system allows all four wheels to gain traction independent of each other. It allows for superior handling and traction in all weather situations.
Unlike 4WD, AWD systems are on at all times and have three gearboxes on the car's front, center, and rear.
Full-Time AWD
The rear and front axles are always driven in full-time all-wheel drive systems. The system improves handling and performance, but results in a poorer fuel economy.
Part-Time AWD
Part-time AWD typically distributes torque to two driven wheels, either the front or the rear, depending on the vehicle's model and make.
The part-time system automatically engages the other two wheels when the road surfaces call for more traction. The current part-time AWD uses several electronic sensors to collect data and send it to a computer, which then controls the power sent to each wheel.
Are Teslas Good in Snow?
Absolutely! Teslas handle and perform well in snow, but you need to make some adjustments to adapt them to winter conditions.
For example, Tesla's regenerative braking can be dangerous on icy and slippery roads, as it can cause a sudden loss of traction.
Early electric or hybrid vehicles depended heavily on electronic traction systems when driving on the roads.
However, they were difficult to drive in the snow if you still had active traction control. Over time, traction control in electric vehicles (EVs) has improved significantly and will continue to do so.
Modern EVs handle extremely well in the snow, given their design and weight distribution. Modern advanced traction control systems don't interfere with a driver's experience, even on icy surfaces.
Why Teslas Handle Well in the Snow
There are four factors you need to understand when talking about cars and driving on certain road surfaces. The four are your tires, ground clearance, type of drivetrain, and weight distribution.
Type of Tires
The right tire type is very important regardless of whether you're driving a Tesla, a Toyota, or a BMW. Tires dictate your level of control, especially when you drive on surfaces with minimal traction.
Snow tires offer the best traction, braking, and handling characteristics for winter driving on snow and ice.
Due to the flexible nature of the materials used in their construction, snow tires can maintain their grip on the ground even in subfreezing conditions. Drivers in places with heavy snowfall may choose studded snow tires, which include surface openings through which metal studs can be fastened.
In contrast to other tires, snow tires must be mounted at the start of the snowy season and taken off once the weather warms up.
Drivetrain
Tesla's AWD drivetrain improves the electric vehicle's handling, ensuring you get through the snow safely. The dual motor assembly controls torque and power delivery to the front or rear wheels for maximum traction.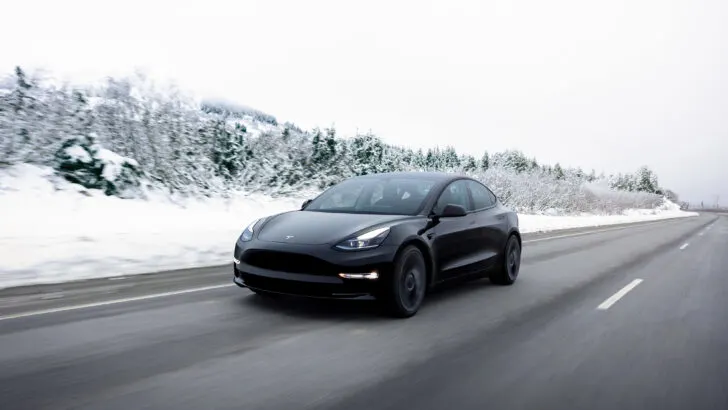 With sophisticated traction control technology, the dual motor assembly ensures you'll get superior traction for any road surface.
Weight Distribution
Teslas have one of the best weight distributions of any vehicles we have on our roads today.
Their batteries are low and centered to achieve a low center of gravity and equal weight distribution to all the wheels. 
Ground Clearance
Teslas don't have high ground clearances, but will serve you if you drive on roads with less than 8 inches of snow. The Model X has the most clearance with 8 inches, followed by Model Y (6.6 inches), Model 3 (5.5 inches), and Model S with 4.6 inches.
Final Remarks on Whether Teslas Have 4-Wheel Drive
AWD systems are more beneficial on surfaces with less traction, such as snowy or icy roads. And given Tesla's immense torques and horsepower, having the models be partially or wholly 4WD would have been unwise. 
Unless you are extremely careful, 4WD systems have poor traction and high chances of slipping, drifting or spinning on snowy surfaces.
Sources
https://www.auffenberg.com/manufacturer-information/awd-vs-4wd/
https://www.quora.com/How-well-do-Tesla-cars-handle-bad-weather-snow-rain-ice-etc-driving-How-safe-are-they