While you have heard of heated seats in motor vehicles, you may be less familiar with ventilated seats. Sometimes confused with cooling seats, ventilated seats are gaining popularity.
If your curiosity is peaked as to what they are, how they work, and what vehicles have these seats, here's all you need to know!
What are Ventilated Seats?
As we said, many people believe ventilated seats are the same as cooled seats, but they are not. The major difference between these two types of seats is that cooled seats circulate air that has been refrigerated via your car's air-conditioning system, while ventilated seats do not.
Instead, ventilated seats use several small fans in the seat's cushion and backrest to circulate air around you as you drive or sit in the front passenger seat.
Much like the air conditioning perforations you have on your vehicle's dashboard, ventilated seats also have perforations strategically placed on them to give you maximum comfort.
Even though the air is not refrigerated, the air coming from ventilated seats can still keep you and your passengers very comfortable on hot summer days.
In fact, the circulating air performs the task of drawing heat away from your body, allowing the part of you that is actually touching the seat to help regulate your body temperature more easily.
As a result, your body's perspiration is then able to work as it should and help cool you off.
How Do Ventilated Seats Work?
Though these seats do not use refrigerated air to help keep you cool, the way they work is still very efficient at making you comfortable inside your vehicle on a hot day.
Since ventilated seats use a combination of fans and ducts inside cushions and headrests to circulate air, they do this in one of two ways. In some vehicles, particularly various Chevy vehicles, the system sucks air into the seat and then circulates it around the seat's occupant.
In other vehicles, the fans blow air from the seat up toward the person sitting there, where it exits through the numerous small perforations in the seat's upholstery.
Just as it is with heated or cooled seats, you can turn ventilated seats off or on whenever you wish. In addition, you can adjust the power of the fans, allowing you to get more air if you are particularly uncomfortable.
In some cars, ventilated seats are made to automatically turn on when the remote start is used. Of course, this only occurs when the car detects the outside temperature to be above a certain level.
In situations such as this, the ventilated seats are designed to turn off automatically once the car is running. This gives you as the driver time to decide whether or not you need the extra air, rather than getting into a car and finding yourself inundated with a large amount of air you don't want.
With more and more cars, ventilated seats are being designed so that drivers can use automatic settings. If your car has this option, you can set the system so that your ventilated seats turn on when the temperature inside your car reaches a pre-set level.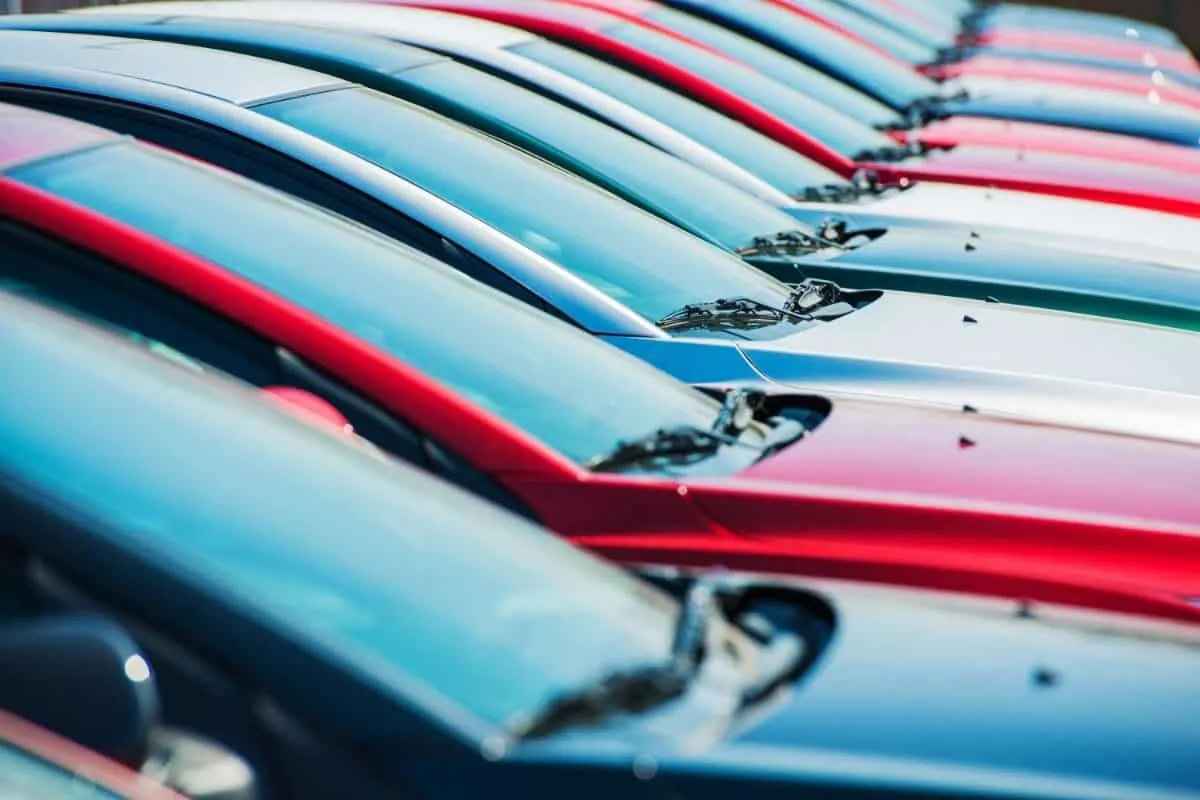 Cars with Ventilated Seats
If you think it will be hard to find the type of vehicle you want that contains ventilated seats, you may be surprised to learn that this is an option available on everything from cheaper compact cars to sedans, SUVs, crossovers, and pickup trucks.
In 2021, vehicles that offered ventilated seats include the Kia Telluride, Jeep Grand Cherokee L, Dodge Ram 1500, and the Hyundai Palisade. On each of these vehicles, you could get not only the front seats with this option but the rear seats as well, giving you and any passengers with you an even higher level of comfort.
Should you not be in the market for any of these vehicles but still desire ventilated seats, we've got you covered with several more options.
For example, if you want a car that has its own unique style and plenty of power under the hood when you cruise down the highway, the Ford Mustang has ventilated seats that will keep you cool while you look cool behind the wheel.
As for cars that will give you great fuel mileage and not bust your budget, we suggest such possibilities as the Kia Forte and Optima, Ford Fusion, Chevy Malibu, Hyundai Sonata, and the Chrysler 200.
Since each of these vehicles regularly gets high marks from their owners, it's a good bet you'll have a vehicle that offers you reliability as well as extra levels of comfort.
Benefits of Ventilated Seats
Like many other options on today's vehicles, ventilated seats are offered as a way to make drivers as comfortable as possible while behind the wheel, while also keeping passengers comfortable as well.
The biggest benefit to having ventilated seats is most obvious on hot summer days since the seats can greatly reduce the amount of sweating you do while in your vehicle. After all, you don't want to arrive at work, school, or a special occasion looking as if you just took a shower with your clothes still on!
Another benefit of having ventilated seats in your vehicle is that they can help to reduce the temperature of the seats when you first enter your vehicle!
As you know all too well, sitting down inside a vehicle that's been parked in the sun on a summer day means your legs and backside definitely feel the burn for those first few seconds. Since many cars activate these seats with the remote start, you'll never be on the hot seat again.
However, don't assume your vehicle's ventilated seats will only be useful to you in the summertime!
By using them in conjunction with your heated seats, the extra air that will be circulating will result in you having seats, and the air surrounding you feel even warmer than usual.
In fact, we bet that once you arrive at your destination, you'll be forcing yourself to exit the warmth inside your car.
Ventilated Seats vs. Cooled Seats
When you first heard of ventilated seats, you may have thought there was little if any difference between these seats and cooled seats found in many of today's vehicles. However, the major difference involves refrigeration.
In cooled seats, the process is similar to ventilated seats in that several fans are located in the seat to help circulate air. Passing through material that helps to diffuse the air, the air then exits through perforated or mesh openings on the seat's upholstery.
The key difference between air from ventilated seats versus that of cooled seats is that ventilated seats generally do not rely on refrigerated air. A cooled seat will use refrigerated air either from a cooling element found in the seat or cold air supplied by your vehicle's air-conditioning system.
One major advantage to using ventilated seats or cooled seats is that it is a much more efficient way to cool yourself while inside your vehicle. When you run your car's A/C full blast, it can greatly decrease your vehicle's fuel efficiency.
By using ventilated or cooled seats, you are cooling yourself and others in a more efficient manner, since you are not trying to cool off the vehicle's entire cabin.
Are Ventilated Seats Worth It?
When you are trying to decide whether or not ventilated seats will make enough of a difference in terms of comfort to justify spending additional money to have them as part of your vehicle, you'll need to take a few things into consideration.
First, think about how hot you tend to get inside your car during the summer. If you enjoy refrigerated air from the A/C, you may not think ventilated seats will be worth the extra expense.
However, since they can be combined with heated seats to bring you and your passengers more comfort on colder days or nights, adding this option to your vehicle may be something you come to rely on a great deal in the winter.
If you are like many drivers, you may come to decide that ventilated seats pair very well with vehicles that have heated seats and heated steering wheels.
Also, if you enjoy having a vehicle with as many features as possible, you may enjoy ventilated seats, especially if you spend plenty of time on the road.
Can You Add Aftermarket Ventilated Seats?
If you have been driving around in a vehicle that has not featured ventilated seats, you may now be thinking they would be a great addition to a vehicle you already love. If so, you will be excited to learn that you can add aftermarket ventilated seats to almost any vehicle.
However, unless you know what you are doing in terms of automotive electronics and interior redesign, you may not want to make this a DIY project on a weekend. Instead, you may want to turn your car over to a body shop that does customized jobs.
If there is one thing you do not want to do, it is to assume you can start cutting up your existing car seats and install fans inside them to make them ventilated seats.
Should you try this, you'll only be ruining your car's interior. In existing seats, these specialized features cannot be installed. Instead, you need new seats installed by those who know what they are doing.
In most cases, it is not hard for you or body shop personnel to find aftermarket seats that have the features you desire. Usually able to be bought at affordable prices from junkyards, installation is actually much more affordable than many people realize.
Counting labor and parts, you can expect to get this job done by professionals for between $1,000-$2,000.
If you prefer a cheaper and quicker option, you can choose to instead buy air-conditioned seat cushions that are portable and set right down on your existing car seat.
Plugging into your car's electrical system, these cushions cost well under $100 and provide you with very good levels of comfort. Best of all, you can take these cushions from one vehicle to another, which can be convenient for multi-vehicle families.
Do Ventilated Seats have Disadvantages?
While we think you will love having ventilated seats in your vehicle and will use them on a regular basis, some people do feel these seats come with certain disadvantages.
For starters, ventilated seats in certain vehicles have been termed to be too noisy by their owners. This has been reported as being more of a problem in cheaper makes and models of vehicles, rather than in luxury vehicles such as Mercedes-Benz and others.
Though the noise is not so much that it would force you to turn your car's radio up to its maximum settings, the noise can nevertheless be somewhat irritating.
Another problem reported in some vehicles is that of an ineffective ventilation system within the vehicle. Should this be the case, you have to turn your ventilated seats on to their highest settings to get the results you seek. If you don't, your back will probably still feel sticky and sweaty.
Finally, although most drivers and passengers love the feel of having enough air surround them to keep them feeling fresh, some people say having ventilated seats can take some getting used to initially.
Though not a big issue, some drivers have said it feels a bit weird having air blowing on their back. However, since you would have the option of turning off your seat if you want, this minor problem should not deter you from adding this option to your vehicle.
If you are on the road for thousands of miles each year, ventilated seats can make your driving experience very pleasant. Whether you use them in combination with heated seats on cold winter days or with cooled seats in the summer to keep you from sweating, we think when all is said and done you'll love having ventilated seats in your vehicle.
Related Posts