Towing can be an important function of your Subaru SUV or car. One question frequently asked by Subaru owners is about the car's towing capacity.
Towing capacity is an important number to know. While many Subarus are capable of towing, knowing how much they can tow increases your ability to tow safely and easily.
The highest tow capacity for a Subaru model is the Ascent, with up to 5,000 lbs offered for towing. The Subaru Outback can carry up to 3,500 lbs of additional weight, and the Subaru Forester and Crosstrek have similar capacities at 1,500 lbs, with the exception of the hybrid at 1,000 lbs.
We'll walk you through the towing capacity of many popular Subaru models to help gain a better understanding of the limits of each vehicle. We'll also review the capacities of different years when available and different trim levels.
Knowledge of towing is prized in the industry because explaining tow capacities to customers requires specific knowledge of what the manufacturer built.
We'll also look at what Subaru itself says about its capacities.
How Much Can a Subaru Outback Tow?
The Subaru Outback is one of the most popular Subarus in the last couple of decades. In the last few years, Subaru has updated its Outback for a higher towing capacity.
The 2019, 2020, and 2021 models are capable of towing up to 3,500 lbs. There is a significant difference between towing capacities based on the engine.
The Outback's standard 2.5-liter Boxer engine tows 2,700 lbs, while the 2.4-liter turbocharged engine has the max capacity of 3,500 lbs.
Consider checking the build sheet for the vehicle, looking under the hood, or asking the dealer which engine your Outback actually has.
You might like to know that the 2.5-liter engine is capable of 176 cubic feet of torque, while the turbocharged adds 101 cubic feet of torque to achieve 277 cubic feet.
This makes a big difference in towing!
Previous years and generations of Subaru Outback with the 3.6-liter 6-cylinder engine had less torque than the turbocharged model, but we're still capable of towing 3000 lbs.
How Much Can a Subaru Ascent Tow?
The Subaru Ascent is Subaru's big SUV. 2019, 2020, and 2021 models have a standard 2,000 lbs of towing.
The higher trim levels add significant torque and offer up to 5,000 lbs. The trailer does need to have its own brakes.
This is the highest towing capacity of all Subaru vehicles, and the first SUV Subaru has made that truly places its towing abilities within the competition of other SUVs.
A Subaru Ascent is the most likely Subaru to choose if you plan to tow a small boat and trailer, or any other equipment besides a small trailer.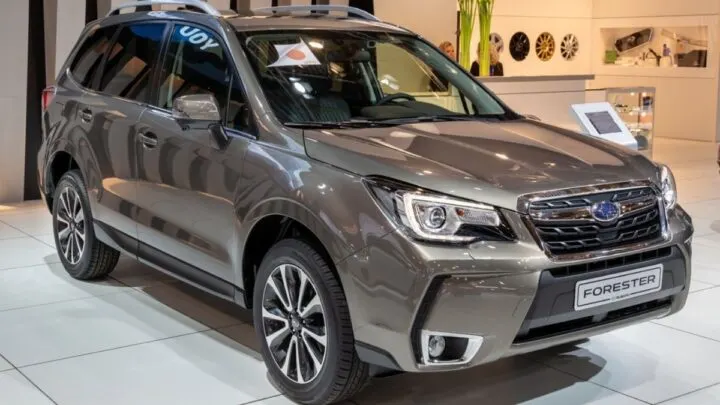 How Much Can a Subaru Forester Tow?
The very recent 2022 Subaru Forester can tow up to 3,000 lbs, putting it in the same league as the Outback.
Recent models of the Subaru Forester are capable of 1,500 lbs.
How Much Can a Subaru Crosstek Tow?
One of Subaru's newest SUVs is considered a small crossover.
The Crosstrek can tow up to 1,500 lbs in the non-hybrid editions of 2019, 2020, and 2021.
The hybrid model is capable of towing 1,000 lbs.
What Kinds of Things Can a Subaru Tow?
For reference, you'll want to do some math. Subtract your vehicle's curb weight from its Gross Combined Vehicle Weight Rating or GCVWR.
You'll also want to factor in the weight of occupants and things stored in your Subaru, especially if the resulting number is close to the GCVWR.
This is also often a measurement used for trucks, which have a significantly higher payload.
Boats, equipment trailers, ATVs, and other power equipment can vary significantly in weight.
Check the weight of your equipment, and even consider the weight of the things within your items, like tools and gasoline.
How Do I Know How Much I Can Tow?
As you can tell, the towing capacity can vary between trims or engines on a Subaru model.
This information is often available in the following locations.
Door Jamb
Your Subaru may have the towing capacity and GCVWR located within the driver's side door.
This is a white or otherwise light-colored paper and plastic panel that shows you many numbers about your vehicle, including tire air pressure.
Owner's Manual
The towing capacity is often included within the owner's manual. Don't fret if you lost the manual, as you can often find the information online.
Ask the Dealer
Some dealerships have information about towing capacity readily available.
You can call your local dealer and ask the service or sales department for information, including the build sheet.
Do I Need Equipment?
In some cases, your Subaru might have a tow hitch. The tow hitch is a metal bar extending perpendicular from your bumper that sticks out a bit, with a hollow metal tube designed to take a ball.
In most cases, you'll need a ball to hook up a trailer, regardless of type. These can be purchased at a dealer or many other places, especially those focused on camping.
A towing ball often costs a bit to install safely and properly, though it is possible to install on your own with the right tools.
What About Other Subaru Models?
We did leave out Subaru models, including the WRX, Legacy, Impreza, BRZ, and a few more, as these vehicles do not have a rated tow capacity.
Summing Up Subaru Tow Capacity
Many different Subarus have differing towing capacities. However, if you're looking to get the most tow out of a Subaru, you'll definitely want to invest in the Ascent.
Other makes and models will tow quite a bit as well, just make sure you look into the weight restrictions before attempting to haul anything too heavy.