The Ford F-150 EcoBoost and Dodge Ram Hemi are undoubtedly the most popular pickup truck engines on American soil.
Year in and year out, the two engines have been competing and performing beyond expectations, leading to a cult following among their followers.
But how do they compare? Which is the better all-rounded engine? Well, for now, we know that Ram trucks have more technological and storage features than the Ford F-series, which focus on towing and hauling capacities.
How then does this affect their engine designs and power delivery? Read on to find out.
EcoBoost vs Hemi: Engine Capacities
The 3.5-liter EcoBoost Engine
The larger-displacement but highly reliable EcoBoost engines have been serving the Ford F-series pickup trucks for nearly half a century.
Coincidentally, the F-series has been Ford's and America's best-selling truck for as long as they had the EcoBoost engines.
And the best is the F-150 3.5-liter EcoBoost V6 with a 10-speed transmission, capable of delivering 400 horsepower and an impressive 500 lb-ft of torque.
The 213 ci engine features aluminum blocks and heads, four valves per cylinder, twin independent variable cam timing (TiVCT), and 60-degree V6 sports-driven dual overhead cams (DOHC).
For its impressive features, the engine has a diesel-like low rpm performance that improves its towing capacity and off-the-line acceleration.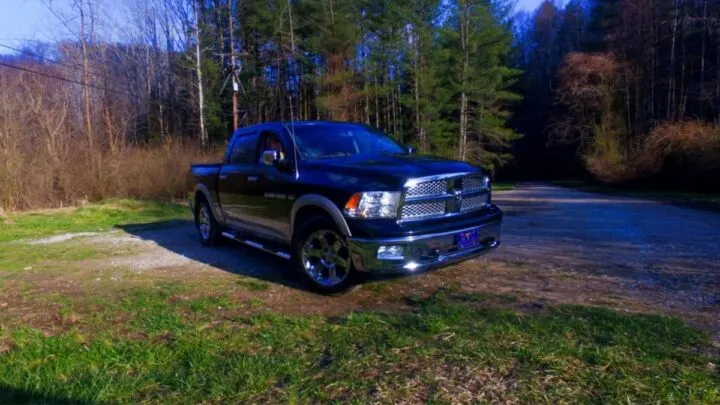 The Dodge Ram Hemi Engine
Ram has come a long way to challenge the big pickup manufacturers in the US. Before the turn of the century, their pickup trucks featured weak and unimpressive engines merely capable of standing out from the crowd.
Well, that was until they unleashed the power of the 5.7-liter Hemi V8 engine, delivering 395 horsepower and 410 lb-ft of torque.
The 345 ci engine features an iron block-aluminum head setup, 90-degree overhead valves (OHV), dual valve cylinders, and a single cam design.
It's also paired with an impressive TorqueFlite 8 eight-speed automatic transmission built by Chrysler LLC.
EcoBoost vs. Hemi: Fuel Injection Technology
One key difference between the F-150 EcoBoost and Dodge Ram's Hemi engine is the fuel injection technology.
The Ford series uses a direct injection technology in its engines for higher fuel pressures. In this way, the EcoBoost engines boast better power production and economical fuel consumption
Currently, Ford couples direct injection with sequential multi-port fuel injection for even better truck performance.
On the other hand, Dodge's 5.7-liter Hemi uses a coil-on-plug ignition system paired with the sequential multi-port fuel injection.
As a V8, the engine has two spark plugs per cylinder, culminating in a total of 16.
Additionally, it has a coil pack on one spark plug and a wire over the other to have a sequential firing.
The setup allows the second plug to power at the end of the power stroke. In effect, it improves power delivery while limiting carbon emissions.
EcoBoost vs. Hemi: Towing and Payload Capacities
The F-150 series is designed to haul loads, while the Dodge Ram trucks offer a blend of towing and luxury.
Therefore, it's no surprise that the top-end EcoBoost engine has better towing capacity than the highest-rated Hemi.
More specifically, Ford's 3.5-liter EcoBoost engine has a better maximum towing capacity of 14,000 pounds and a hauling capacity of 3,250 pounds.
In comparison, a Hemi-equipped Ram 1500 can tow a maximum of 12,750 pounds and haul a maximum of 2,300 pounds.
However, you'll have to add towing features such as autonomous steering for backing up to the trailer and a towing package to enjoy the maximum towing ratings.
Overall, the F-150 3.5-liter EcoBoost engine is a workhorse that outperforms the 5.7-liter Hemi regarding low-end torque and maximum towing rating.
Hence, if you need a towing vehicle, we'd recommend going the F-150 way.
EcoBoost vs. Hemi: Acceleration: Fuel Economy
Some people sacrifice good fuel economy figures for better towing and payload capacities.
To some, having a smoother luxury-oriented engine is better despite having a poorer fuel economy rating.
Nonetheless, the EcoBoost engine boasts better fuel economy and towing capacity figures than the Hemi.
According to the EPA estimates, the 5.7-liter Hemi gasoline engine delivers 15 MPG in the city and 22 MPG on the highway, leading to a combined rating of 17 MPG.
Conversely, the 3.5-liter EcoBoost engine boasts a better fuel economy with 18 MPG city, 22 MPG highway, and a combined MPG of 20.
However, expect significantly lower MPG figures when towing, as the Ford F-150's fuel economy suffers considerably under heavy loading.
But, on the brighter side, the 3.5-liter EcoBoost engine has a wide torque curve that enables it to deliver greater and balanced power and torque to the wheels.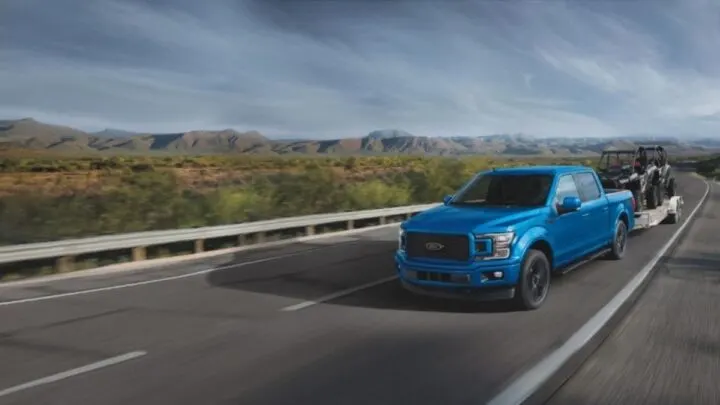 EcoBoost vs. Hemi: Acceleration
The EcoBoost is an excellent choice for individuals looking for commuter vehicles with decent fuel economy and better acceleration off the line.
When driven side-by-side, the EcoBoost-equipped F-150 trucks pull away faster from a stop and achieves 0-to-60 mph in the mid-five seconds range.
On the other hand, the Hemi-equipped trucks are a tad bit slower, achieving the same benchmark in the high five seconds range.
A reason for this is that Ford designs its EcoBoost engines to be lighter and consume less fuel than most of its competitor engines.
Conversely, the 5.7-liter Hemi has a smoother power delivery and is the go-to engine for most Ram loyalists.
However, while it may seem a perfect engine, the 5.7-liter Hemi has some minor or major drawbacks, depending on how you see it.
While they have premium-rated power and torque, the engines are generally heavier and more costly to produce.
Consequently, the higher production costs and weight are passed on to the consumer with higher price tags and lower fuel economies.
Final Remarks on Ecoboost vs. Hemi
The 3.5-liter EcoBoost engine outperforms the Hemi in practically every towing, fuel economy, and acceleration test.
Its low-end torque eliminates the worry of highway mergers or accelerating from stop-and-go traffic, even when towing heavier loads.
Nonetheless, the EcoBoost-equipped trucks lose a fraction of their control and smoothness once you hook up the trailer.
On the other hand, the Hemi-equipped Ram trucks lack the brute force of the EcoBoost engines, but maintain relatively high performance across varied load conditions.
And combined with great drivetrains, best-sound, and solid chassis, they make the Ram one of the most well-executed full-size pickup trucks in the market.